If you have ever bought a huge fennel from the market you may have been left wondering what to do with the fennel fronds. Don't throw it away, or throw it into the compost, there are so many delicious ways to use up that yumminess, and I have a lovely list just waiting for your perusal.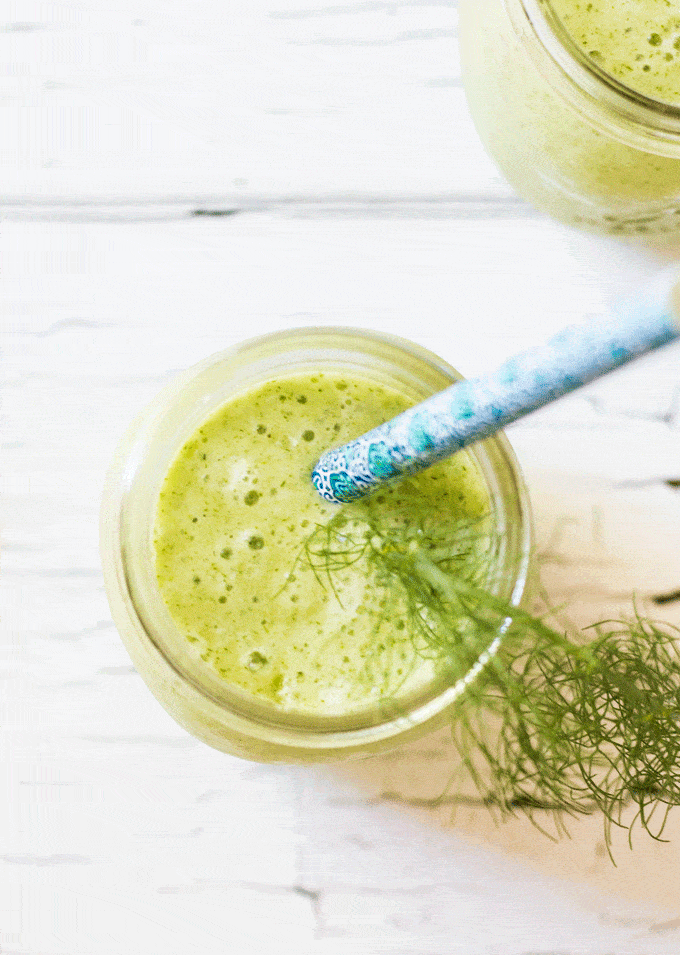 Jump to:
How To Use Fennel Fronds
Fennel fronds are an extremely versatile ingredient that can be used for lots of different recipes.
You can:
mix chopped fennel fronds into homemade pestos,
add to salsas,
sprinkle on top of, or mix through salads,
add to homemade stocks,
stir through pastas,
add to curries,
add to vinaigrettes and homemade salad dressings for an added hit of flavor and freshness;
use as a garnish on dips,
add to yogurt sauces,
sprinkle on scrambled eggs,
add to stir-fries,
use when cooking chicken, fish or meats,
sprinkled on top of roasted vegetables, and
add to a green smoothie or juice.
So many options for this versatile leafy green that usually ends up being chucked.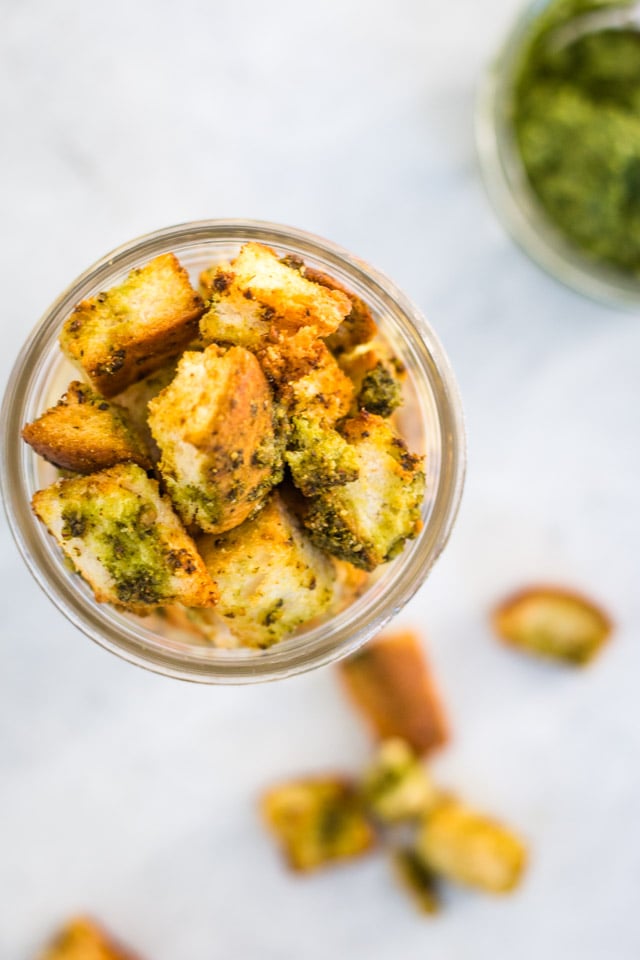 Pesto and Croutons
First and foremost, you can't go past a good ol' pesto recipe.
Fennel Frond Pesto requires just a handful of ingredients you will likely have on hand, and you end up with a great freezer-friendly pesto to use wherever you would use a normal pesto.
Fennel frond pesto is just amazing when served on top of fish or mixed through some pasta or through a cheesy dip like this one: Warm Pesto Chicken and Cheese Dip Recipe.
Fennel frond pesto can also be used to spruce up some Leftover Pesto Idea: Quick Pesto Croutons.
These are just perfect on top of a fresh bowl of soup.
Smoothies
Have you ever tried adding fennel fronds to a smoothie?
Stir things up and make your next smoothie a Fennel Frond and Pineapple Smoothie.
Chunks of frozen pineapple combine with the subtle anise flavor of the fennel fronds, making for a great refreshing drink.
Fennel fronds also pair really well with:
Cucumbers
Pears
Berries
Spinach
Banana
Mango
Citrus
Melon
Apple, and
Coconut
So why not come up with your own concoction using some of your favorite ingredients above and pop some fennel fronds in for good measure.
You can also try adding the fronds to your next homemade juice.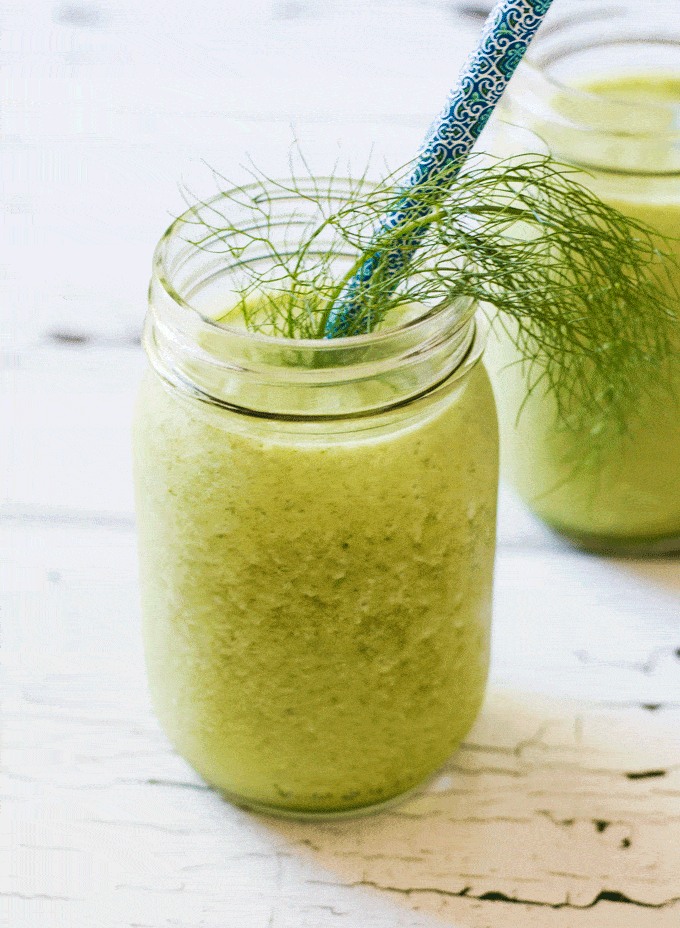 Fennel Fronds In Salads
Salad Recipes Using Fennel Fronds
Fennel fronds add a subtle but delicious flavor to salads. Whether they be mixed through the salad itself, or simply sprinkled on top as a garnish, they make the perfect addition when you want something that little bit different.
Fennel Fronds In Main Dishes
Fennel Fronds In Main Dishes
Adding a slight aniseed flavor to any dish, fennel fronds also add a pop of color and extra nutrition. They also look pretty and are a lot cheaper than the more commonly used microgreens.
And there we have it.
Ten amazing ways to use up an absolutely fantastic ingredient that usually ends up in the garbage!
How will you eat your fennel fronds?
I just love to hear from you, so be sure to pop back and leave a comment and let us know which recipe you tried or HAVE to try 🙂
What can I do with fennel fronds?
You can mix chopped fennel fronds into homemade pestos, salsas, salads, stocks, pastas, curries, and vinaigrettes for an added hit of flavor and freshness. They can also be used as a garnish on dips, yogurt sauces, eggs, stir-fries, chicken and meats.
They are also delicious sprinkled on top of roasted vegetables or added to a green smoothie or juice.
Can fennel fronds be frozen?
Yes.
Give the fronds a really good wash and dry with a kitchen towel.
Pop into a freezer-safe bag or container and freeze for about 6 months.
Happy eating.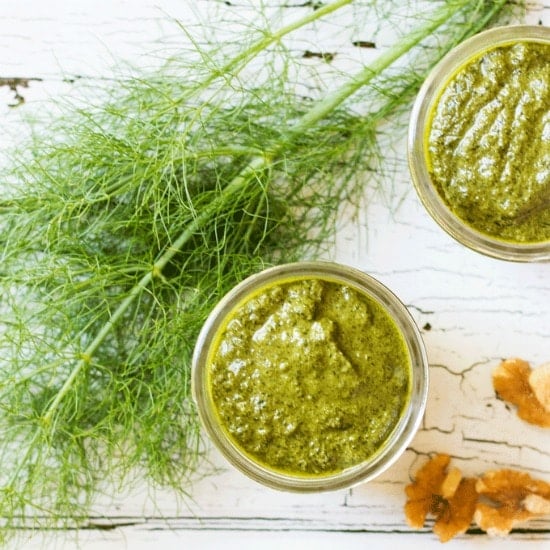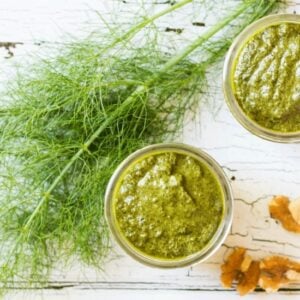 10 Great Ways To Use Fennel Fronds
This collection of 10 great recipes for using fennel fronds will have you saving those fennel fronds from the garbage bin every week. Add a pop of color and a delicious subtle flavor to your next dish.
Ingredients
500

grams

fennel fronds

other ingredients of choice
Instructions
Choose a recipe from the list that you think you and your family will love.

Make a shopping list and buy all of the ingredients.
Nutrition
Calories:
39
kcal
Carbohydrates:
9
g
Protein:
2
g
Fat:
0.3
g
Saturated Fat:
0.1
g
Polyunsaturated Fat:
0.2
g
Monounsaturated Fat:
0.1
g
Sodium:
65
mg
Potassium:
518
mg
Fiber:
4
g
Sugar:
5
g
Vitamin A:
168
IU
Vitamin C:
15
mg
Calcium:
61
mg
Iron:
1
mg
Tried this recipe?
Leave a comment HERE and let us know how it was!