These simple vegan whole wheat pancakes are a great option for breakfast. Super easy to bring together and store well in the freezer for future use.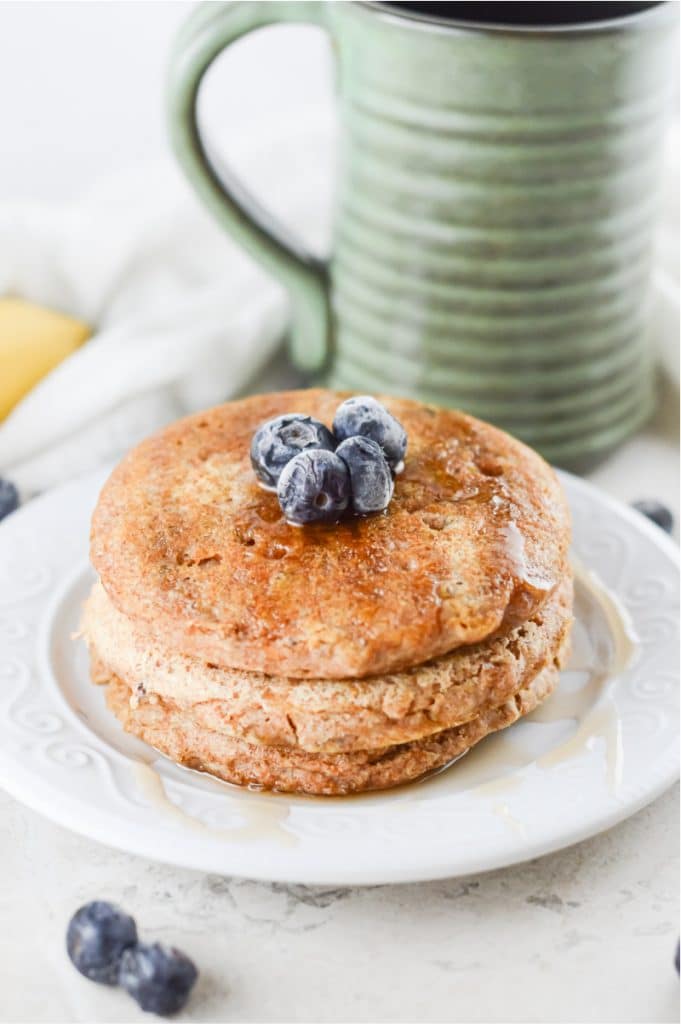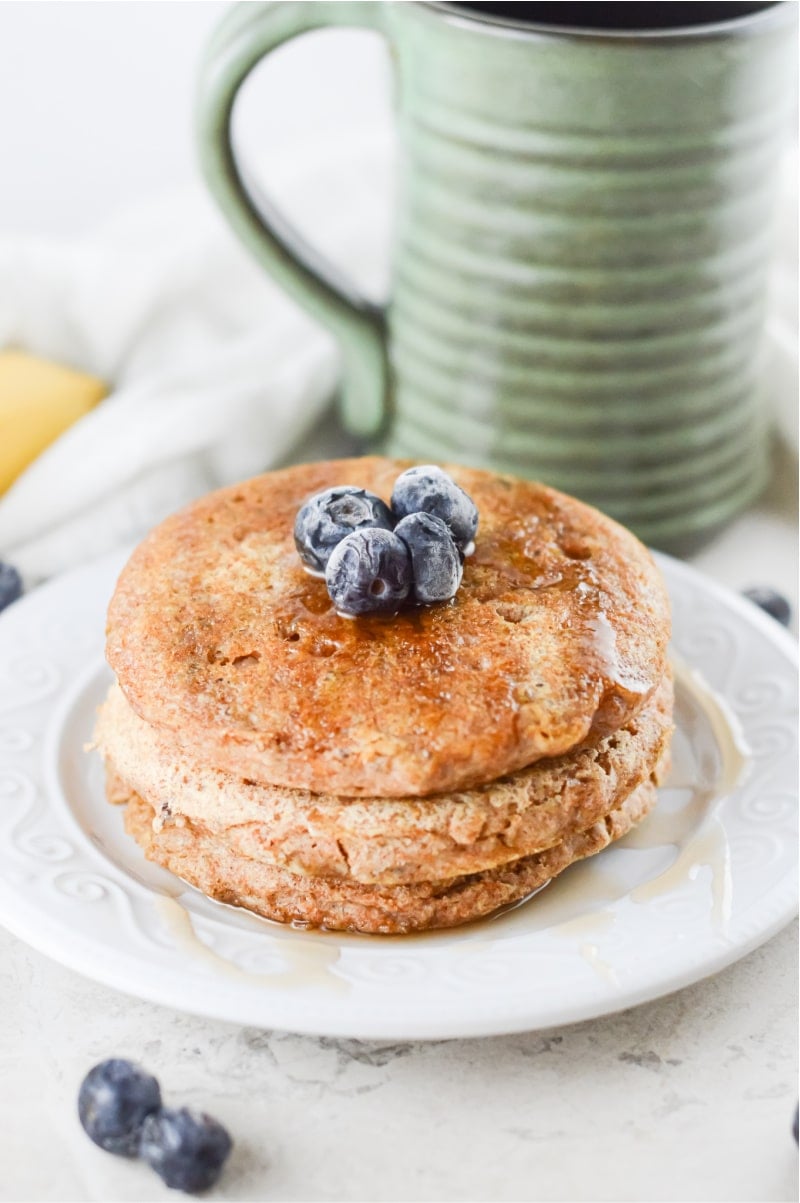 Fluffy Vegan Whole Wheat Pancakes
Jump to:
I love breakfast.
It is (on some days) my favorite meal of the day.
I guess this is probably because it can tend to be such a boring and rushed meal that when something special is made, like on the weekends, it seems so much more exciting.
At this point in my life, it is also the only meal my toddler will reliably eat.
So that helps.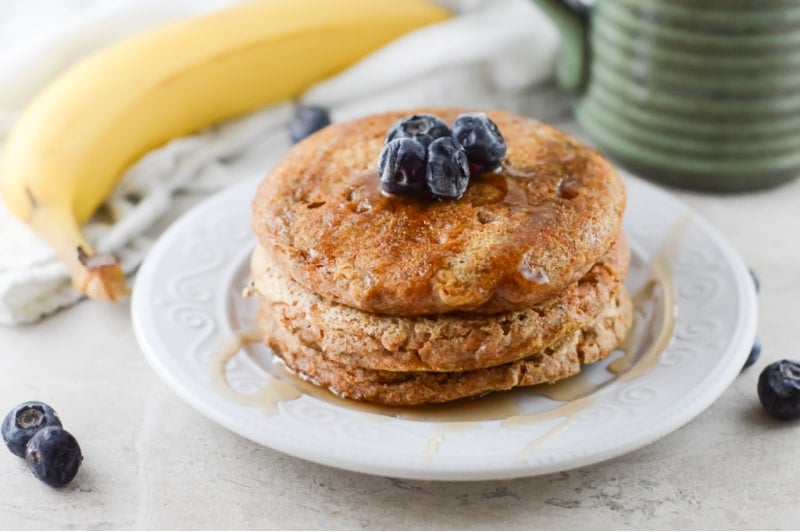 What Ingredients Are Needed For These Whole Wheat Pancakes?
We are going to keep it super simple.
No egg replacement powders or strange flours.
You will need:
1 tbsp ground flaxseed or chia seeds
1 cup whole wheat flour
1 tsp coconut sugar
1 tsp baking powder
¼ tsp baking soda
¼ tsp salt
1 ¼ cup almond milk or milk of choice
1 tsp apple cider vinegar or lemon juice
1 tablespoon melted coconut oil
That's it.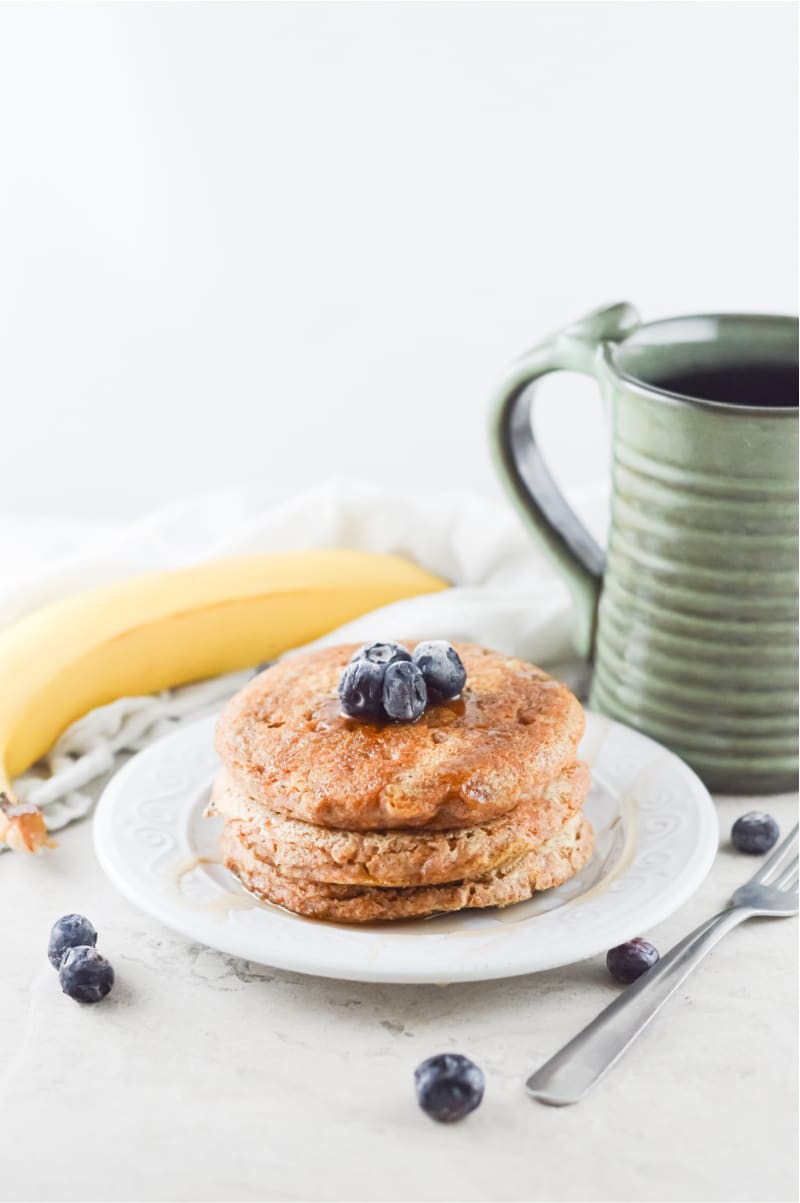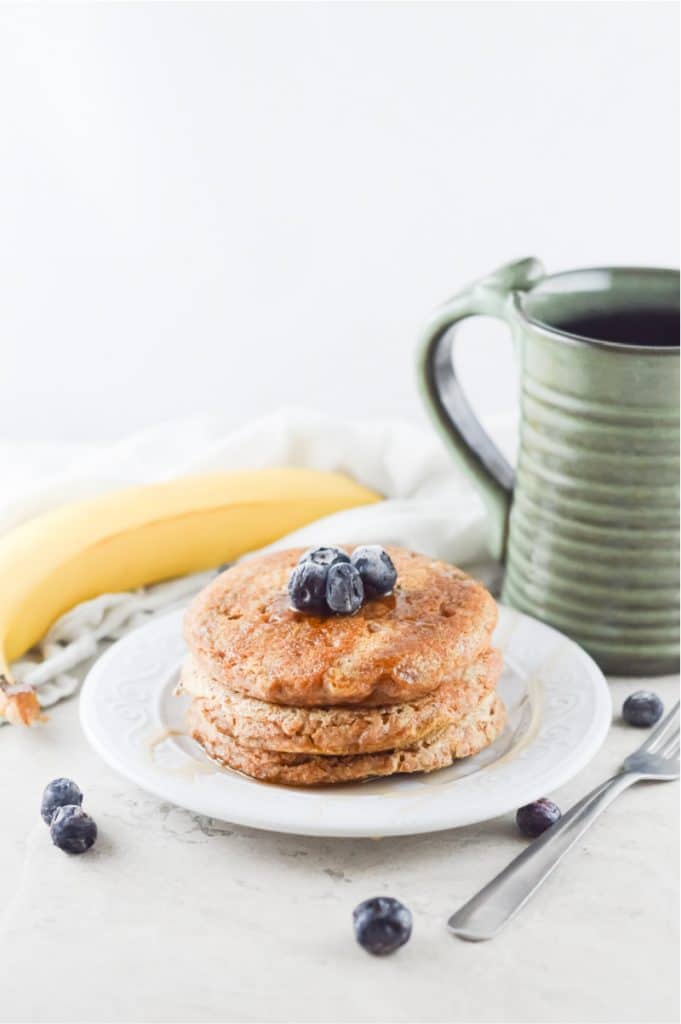 How To Make A Flax or Chia Egg
To get this vegan whole wheat pancake batter to work we are going to have to switch out the traditionally used egg.
For this, we are going to make our own egg-substitute from either chia seeds or ground flax seeds.
I prefer to use chia seeds as it is something I always have on hand, however, if you want a super-smooth texture you can sub out the chia seeds with some ground flax seeds.
To make the chia or flax egg simply:
Grind the flaxseeds in a blender until they resemble a fine flour. If you are using chia seeds there is no need for grinding.
Mix the ground flaxseed or the chia seeds with 2 ½ tablespoon of water and set aside until thick and gelatinous. This should take about 5-10 minutes.
The 'egg' will appear thick and gelatinous, if it is too runny then you should add more seeds, mix, and allow to sit for another 5 minutes.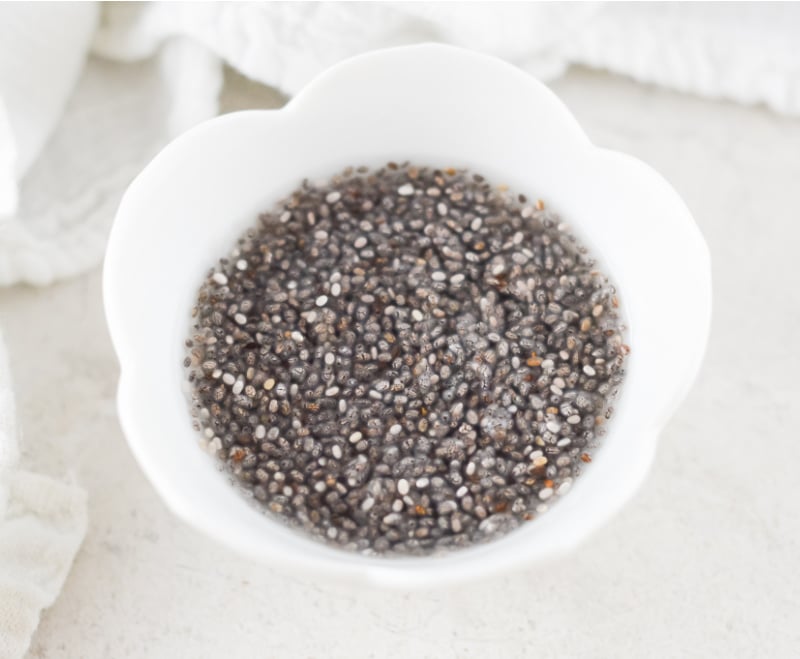 Can These Egg-Free Pancakes Be Doubled and/or Frozen
As these little egg-free pancakes are so popular in our house I always make a double batch.
We eat one batch and freeze the other half for an easy grab-n-go breakfast during the week.
To Freeze
To freeze simply lay the pancakes separately on a lined baking tray and pop into the freezer until frozen.
Once frozen you can transfer them to a freezer-friendly ziploc bag or container. This stops them from sticking together and makes it a lot easier if you just need to remove one or two.
To Thaw
To thaw you can either:
Remove them from the freezer the night before and just let them thaw in the fridge overnight; or
If you have a 'frozen' setting on your toaster you can just pull them out in the morning and toast them until ready.
Voila you have pancakes for breakfast with no effort involved.
Bonus!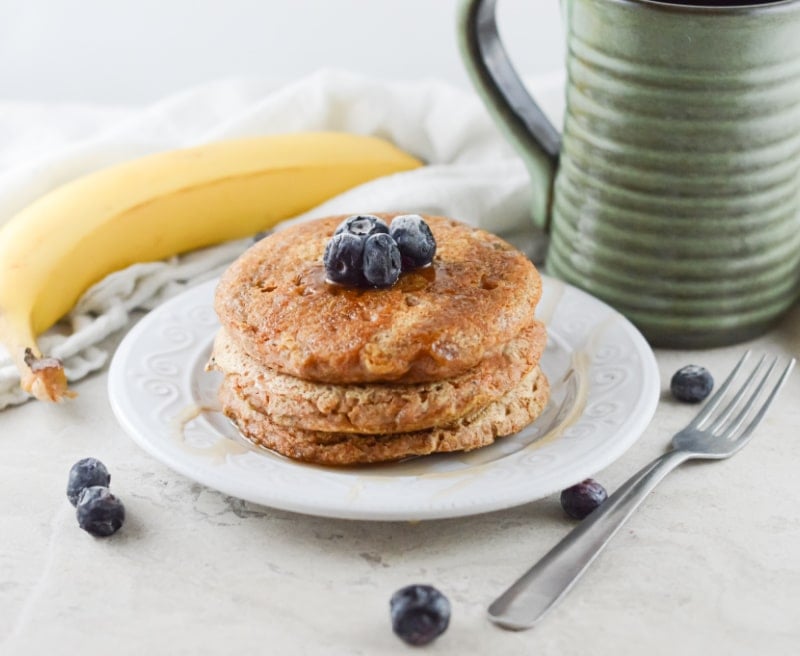 How To Make Sure These Whole Wheat Pancakes Are Light And Fluffy?
DO NOT OVERMIX.
Seriously don't do it.
A quick mix will suffice.
Lumps are not your enemy!!
If you overmix these pancakes they will become gummy and chewy in a not nice way.
Also, make sure the pan is super hot before adding the batter or they won't reach their full yummy and fluffy potential.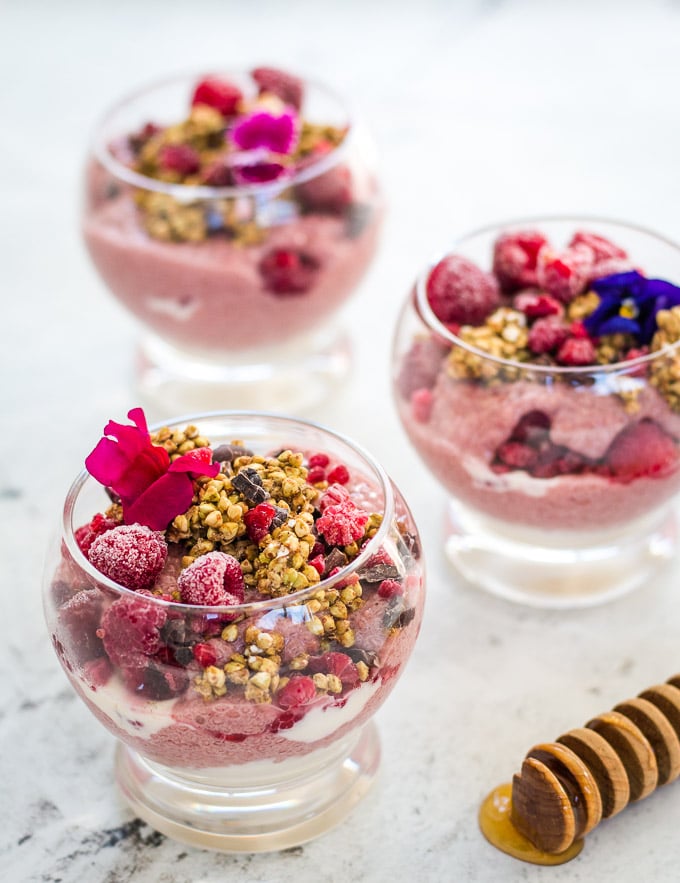 Need More Breakfast Options?
Once you have gobbled up these whole wheat pancakes you should check these breakfast recipes out:
Happy Eating
xx
Recipe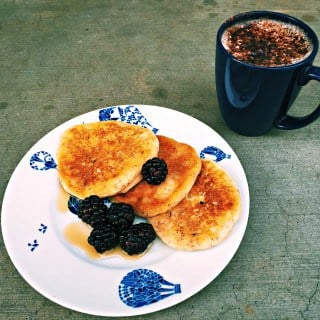 Fluffy Whole Wheat Vegan Pancakes
These simple whole wheat vegan pancakes are great for breakfast. Make sure you don't overmix (lumps are not your enemy).
Ingredients
1

tablespoon

ground flaxseed or chia seeds

1

cup

whole wheat flour

1

teaspoon

coconut sugar

1

teaspoon

baking powder

¼

teaspoon

baking soda

¼

teaspoon

salt

1 ¼

cup

almond milk

or milk of choice

1

teaspoon

apple cider vinegar or lemon juice

1

tablespoon

melted coconut oil
Instructions
Make your flax egg. Mix the ground flax seed with 2 ½ tablespoon of water and set side until thick and gelatinous. I have made these with 'chia eggs' and they worked just as well.

In a medium sized bowl mix together all the dry ingredients.

In a separate bowl mix together all the wet ingredients including the thickened flax egg.

Make a small well in the centre of the dry ingredients and pour in the wet mixture. Mix carefully until the ingredients are just incorporated - don't worry if there are a couple of lumps, this is fine.

Heat the pan over medium-high heat and add some coconut oil (or cooking oil of choice). Drop a little bit of batter into the pan and make sure it fizzles before adding enough batter for a whole pancake.

Pour ¼ cup of batter into the pan and cook for 1-2 minutes until bubbles form on the top. Flip and repeat. Depending on the size of the pan you should be able to do a few at a time.

Serve with whatever takes your fancy. We love fresh berries and maple syrup.
Nutrition
Calories:
40
kcal
Carbohydrates:
9
g
Protein:
1
g
Fat:
2
g
Saturated Fat:
1
g
Sodium:
131
mg
Potassium:
98
mg
Fiber:
1
g
Calcium:
71
mg
Iron:
0.6
mg
Tried this recipe?
Leave a comment HERE and let us know how it was!
The information shown is an estimate provided by an online nutrition calculator. It should not be considered a substitute for a professional nutritionist's advice.