These simple whole wheat vegan pancakes are a great option for breakfast. Super easy to bring together and store well in the freezer for future use.
I love breakfast. It is (on some days) my favourite meal of the day. I guess this is probably because it can tend to be such a boring and rushed meal that when something special is made, like on the weekends, it seems so much more exciting. At this point in my life it is also the only meal my toddler will reliably eat. So that helps.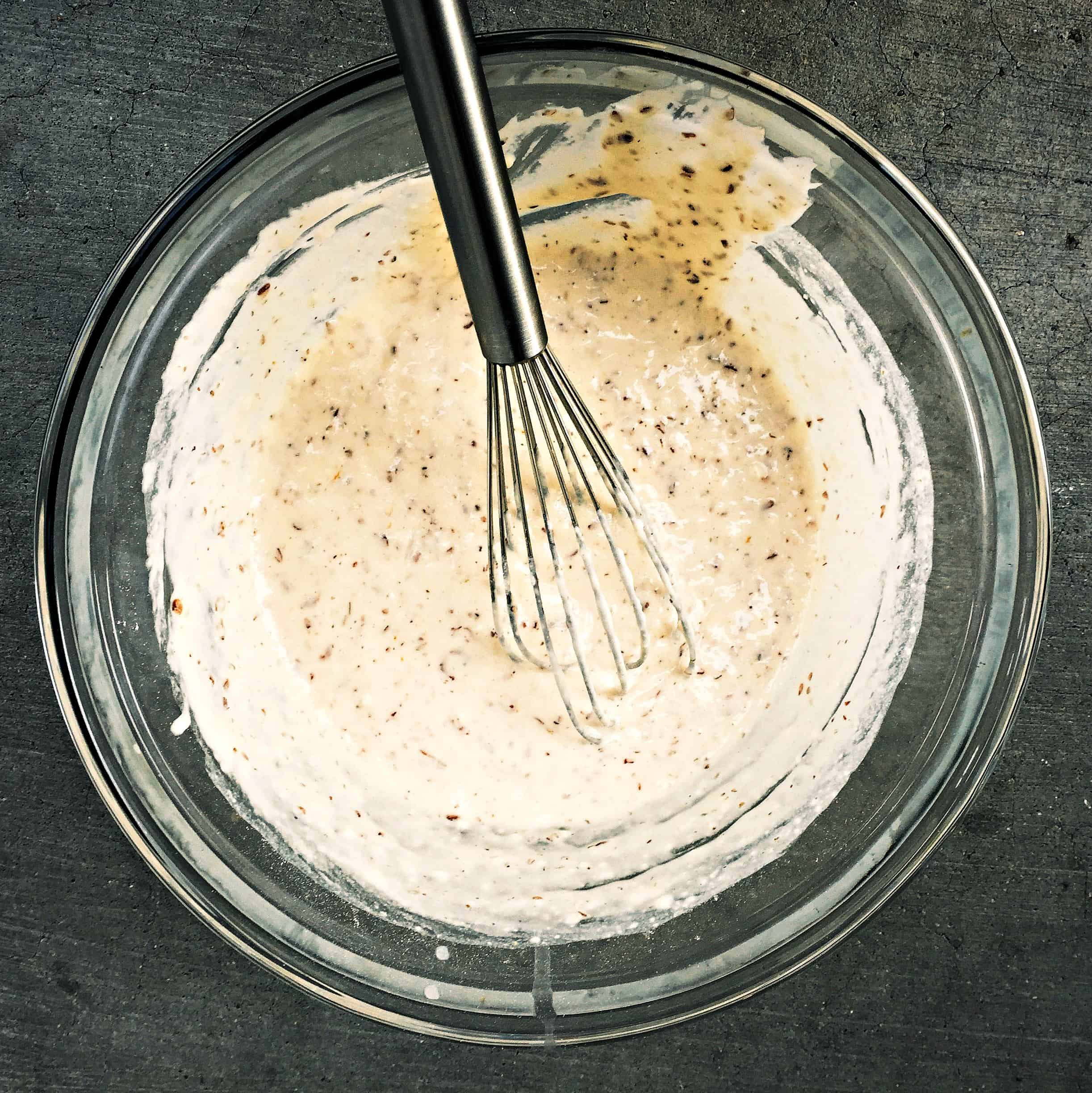 Don't get me wrong she can be a great wee eater when she wants to be. But there are days, and lately they are becoming more frequent (and painful?), where every meal offered is greeted with a request for 'something different' or her favourite one these days 'peanut butter toast please'. Those days suck! If I were a silver lining kinda person I would be thinking 'at least she said please'. But to be honest after spending a good half hour juggling babies and various cooking utensils (we use cast iron and that stuff is not light) I'm not usually in a silver lining kinda mood.
Breakfast is different. She loves breakfast and usually knows exactly what she wants as soon as she wakes up. I get to have my coffee and all is good with the world.
For the past couple of weeks she has been switching between pancakes and eggs as her dish of choice. Both are great but I don't want her loading up on too many eggs so I came up with this little egg free Fluffy Whole Wheat Vegan Pancake recipe to keep her going. Plus flaxseeds are supposedly great for shiny and healthy hair so there's that. These are great. She eats four of these things without blinking an eye and there is no snack seeking before lunch! Extra awesome as it gives me one less 'meal' to think about. Ah the ubiquitous snack....
As they are so popular in our house I always make a double batch and after frying them all up freeze the leftovers. Just grab some out of the freezer the night before and pop them in the toaster in the morning. Voila you have pancakes for breakfast with no effort involved. Bonus!
I also keep a few whole wheat vegan pancakes in the fridge for on the go snacks later - cold pancake sandwiches may not be the tastiest sounding snack in the world but they are sound favourites here when mixed with some Superfood Chia jam 🙂
Tips: Do NOT overmix. Seriously a quick mix will suffice and lumps are not your enemy. Also make sure the pan is super hot before adding the batter or they won't reach their full yummy and fluffy potential.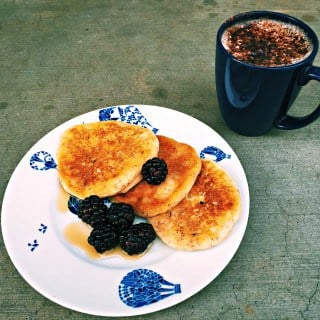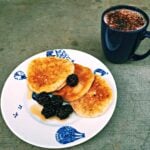 Print Recipe
Fluffy Whole Wheat Vegan Pancakes
These simple whole wheat vegan pancakes are great for breakfast. Make sure you don't overmix (lumps are not your enemy).
Ingredients
1

tbsp

ground flaxseed or chia seeds

1

cup

whole wheat flour

1

tsp

coconut sugar

1

tsp

baking powder

1/4

tsp

baking soda

1/4

tsp

salt

1 1/4

cup

almond milk

or milk of choice

1

tsp

apple cider vinegar or lemon juice

1

tablespoon

melted coconut oil
Instructions
Make your flax egg. Mix the ground flax seed with 2 1/2 tbsp of water and set side until thick and gelatinous. I have made these with 'chia eggs' and they worked just as well.

In a medium sized bowl mix together all the dry ingredients.

In a separate bowl mix together all the wet ingredients including the thickened flax egg.

Make a small well in the centre of the dry ingredients and pour in the wet mixture. Mix carefully until the ingredients are just incorporated - don't worry if there are a couple of lumps, this is fine.

Heat the pan over medium-high heat and add some coconut oil (or cooking oil of choice). Drop a little bit of batter into the pan and make sure it fizzles before adding enough batter for a whole pancake.

Pour 1/4 cup of batter into the pan and cook for 1-2 minutes until bubbles form on the top. Flip and repeat. Depending on the size of the pan you should be able to do a few at a time.

Serve with whatever takes your fancy. We love fresh berries and maple syrup.
Nutrition
Calories:
40
kcal
|
Carbohydrates:
9
g
|
Protein:
1
g
|
Fat:
2
g
|
Saturated Fat:
1
g
|
Sodium:
131
mg
|
Potassium:
98
mg
|
Fiber:
1
g
|
Calcium:
71
mg
|
Iron:
0.6
mg