These blueberry mini muffins are freezer-friendly and kid-approved. A great little grab-and-go snack in the summer months that fits nicely into lunchboxes. Naturally sweetened and perfect for meal-prepping fun-sized treats for the week ahead or for a quick snack or afternoon tea.
If you love having mini muffins on hand for easy snacking then be sure to try these Ginger Carrot and Apple Mini Muffins next.
Jump to:
Apple Vanilla and Blueberry Mini Muffins
As life gets busier with more activities on the books like hiking, day trips, and afternoons by the pool in summer, I find it so important to have things on hand that can be grabbed and packed into a little cool bag.
I tend to whip up a couple of batches of mini muffins at the start of the month and freeze a few big Ziploc bags or airtight containers full. On our way out the door, I will throw some in the snack pack and they will have defrosted by the time little bellies (and big bellies)start to rumble.
Warning: mini muffins do tend to disappear a lot more quickly than their regular-sized cousins - one pop and they are gone. They are perfect when you just need a little bite to keep you going, and don't want to invest in a whole big muffin. Or when the kids are popping in and out of the splash pad and just need a little bit of sustenance to see them through until dinner.
What's Good About These Muffins?
These mini muffins are:
freezer friendly
perfect for prepping ahead of time
naturally sweetened
kid-friendly
using fresh blueberries means they are packed full of the sweetness of real fruit
perfect for lunchboxes
full of whole grains
versatile in terms of substituting ingredients.
They are also simple and delicious!
Tips, Tricks, and Substitutions
If blueberries are not in season on your side of the world, or if they are still a bit on the expensive side, then you can definitely get away with using frozen blueberries or dried blueberries.
For this batch, I used some frozen organic wild blueberries from Trader Joe's which is why they are on the smaller side, and they made the best mini blueberry muffins.
If you do not have apple sauce you can sub in some mashed banana, pumpkin puree, sour cream, or regular yogurt in a pinch.
If you like a bit of crunch to your muffin tops you can always sprinkle on a little brown sugar, coconut sugar, or streusel topping before popping these sweet muffins into the oven.
TIP: be sure to use a nonstick spray for easy removal of the muffins from the muffin cups.
If you would like to make a full-sized muffin instead then use a standard muffin tin and increase the baking time to about 22 minutes. The muffins should be golden brown on top and a skewer should come out clean (i.e. there should be no wet batter on the skewer) when it is ready.
Freezing and Storing Leftovers
Leftover mini muffins can last all week if stored correctly by following these simple steps:
Allow the mini muffins to cool completely after removing them from the oven. This is best done by allowing them to rest in the muffin cups for about 5 minutes before transferring them to a wire rack.
Line an airtight storage container with paper towels. This will absorb any extra moisture and prevent the muffins from becoming soggy. If preferred, you can use a large Ziploc bag instead. Still line the Ziploc bag with a paper towel.
Arrange the muffins in a single layer in your chosen container. If you have an extra row of muffins to add, then be sure to separate them with another bit of paper towel.
Add a paper towel to the top of the muffins before popping the lid on.
The muffins should be stored at room temperature for up to 4 days.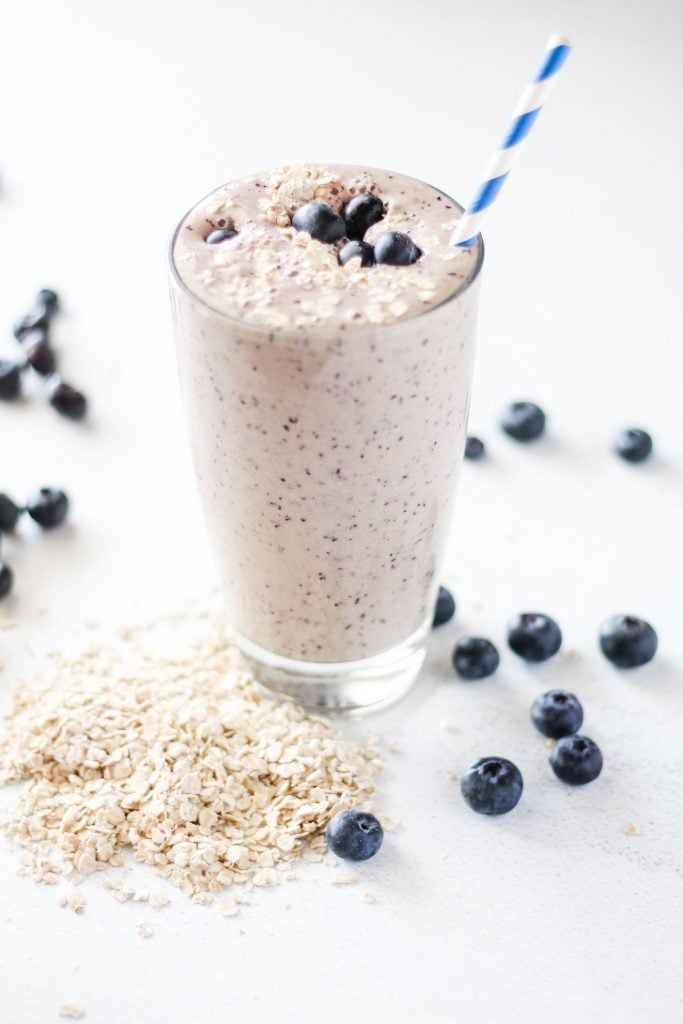 If you have leftover muffins after 4 days then these should be frozen.
To freeze place the muffins in a single layer on a baking sheet or another container that will fit into the freezer. Once the muffins have frozen, transfer them to a freezer-friendly container or Ziploc bag.
This method will prevent them from sticking together and allows you just to remove the muffins that you need, instead of a whole clump.
Allow to thaw at room temperature or gently reheat in the microwave if you want to eat them straight away.
Frequently Asked Questions
Can I use frozen blueberries in blueberry muffins?
Yes. Frozen, fresh or dried blueberries will work just fine.
How long do mini muffins last?
If stored correctly they should last about 4 days. They can also be frozen for about 3 months.
Can mini muffins be frozen?
Yes. See detailed instructions within the post on how to best freeze mini muffins in a freezer bag or freezer-friendly container.
Can I use this recipe to make larger muffins?
Yes. Simply increase the baking time to about 22 minutes and check for doneness before removing them from the oven.
Get out your mini muffin pans and get baking with these easy blueberry muffins that are the perfect size for a quick snack or as a side to your morning coffee.
Need more easy muffin recipes? Check these out:
Happy eating.
xx
Recipe
Freezer Friendly Apple Vanilla and Blueberry Mini Muffins
These blueberry mini muffins are freezer friendly and kid approved. A great little grab and go snack in the summer months
Ingredients
1

cup

white whole wheat all purpose flour

½

teaspoon

ground cinnamon

¼

teaspoon

salt

1

teaspoon

baking soda

4

tablespoon

unsalted butter

melted and cooled

½

cup

pure maple syrup

1

large egg

beaten

1

teaspoon

vanilla extract

½

cup

unsweetened applesauce

½

cup

fresh or frozen blueberries
Instructions
Preheat oven to 350°F

Coat a mini muffin pan with nonstick cooking spray (I use fractionated coconut oil)

Combine the dry ingredients (the flour, cinnamon, salt, and baking soda) in a large mixing bowl and whisk until thoroughly combined

In a second bowl, combine the wet ingredients (the butter, maple syrup, egg, applesauce and vanilla extract)

Add the wet ingredients to the dry and stir until just combined

Add the blueberries and stir until just combined

Fill each muffin cup in the pan to about ¾ full and bake for about 15 minutes, or until a toothpick inserted into the centre of a muffin comes out clean.
Notes
Storing
Store in an airtight container lined with paper towels to absorb any moisture. They should be stored at room temperature for up to 4 days.
Freezing
Store in a single layer in a freezer-friendly container for up to 3 months.
Thaw at room temperature or gently reheat in a microwave.
Nutrition
Calories:
57
kcal
Carbohydrates:
8.7
g
Protein:
1
g
Fat:
2.1
g
Saturated Fat:
1.2
g
Cholesterol:
13
mg
Sodium:
79
mg
Fiber:
0.6
g
Sugar:
4.6
g
Tried this recipe?
Leave a comment HERE and let us know how it was!