I don't know about you, but with two toddlers and a hungry man with a penchant for his kids snacks, I always have to have A LOT of snacks on hand, and these little blueberry mini muffins are just perfect as they can be stored in the freezer.
Portable snacks are definitely something that become so much more important come summer. With more activities on the books like hiking, day trips and afternoons by the pool, I find it so important to have things on hand that can be grabbed and packed into a little cool bag. I tend to whip up a couple batches of mini muffins at the start of the month and freeze a few big Ziploc bags full. On our way out the door I will throw some in the snack-pack and they will have defrosted by the time little bellies start to rumble.
Warning: mini muffins do tend to disappear a lot more quickly than their regular sized cousins - one pop and they are gone. They are perfect when you just need a little bite to keep you going, and don't want to invest in a whole big muffin. Or when the kids are popping in and out of the splash pad and just need a little bit of sustenance to see them through until dinner.
What's so good about these blueberry mini muffins?
Well I am glad you asked. They are
naturally sweetened
kid friendly
freezer friendly
packed full of fruit
perfect for lunch boxes
delicious
There you go! If blueberries are not in season on your side of the world, or if they are still a bit on the expensive side, then you can definitely get away with using frozen berries. For this batch I used some frozen organic wild blueberries from TJ's, and they did the job just perfectly. No one even noticed the difference.
Personally, when it comes to baked goods like muffins, I only tend to use fresh berries if I managed to pick up a lot at the end of the season for a good price. I keep the fresh berries for eating as is, or for desserts where you will really notice the difference.
I hope you love these little freezer friendly apple vanilla and blueberry mini muffins as much as we do! Happy eating.
You may also love these recipes: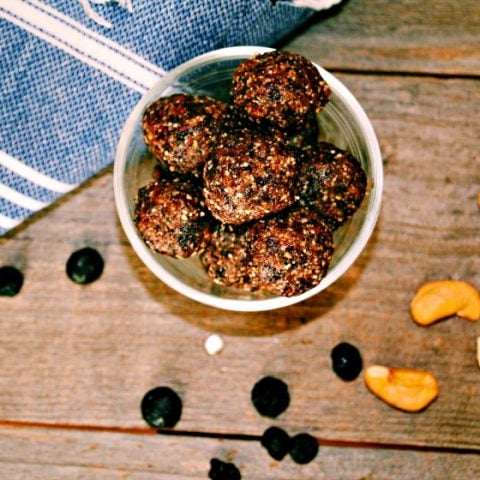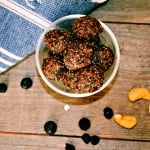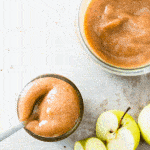 Freezer Friendly Apple Vanilla and Blueberry Mini Muffins
These blueberry mini muffins are freezer friendly and kid approved. A great little grab and go snack in the summer months
Instructions
Preheat oven to 350°F

Coat a mini muffin pan with nonstick cooking spray (I use fractionated coconut oil)

Combine the flour, cinnamon, salt, and baking soda in a mixing bowl and whisk until thoroughly combined

In a second bowl, combine the butter, maple syrup, egg, and vanilla extract

Add the wet ingredients to the dry and stir until just combined

Add the

applesauce

and blueberries and stir until just combined

Fill each cup in the pan to about ¾ full and bake for about 15 minutes, or until a toothpick inserted into the centre of a muffin comes out clean.
Nutrition
Calories:
57
kcal
Carbohydrates:
8.7
g
Protein:
1
g
Fat:
2.1
g
Saturated Fat:
1.2
g
Cholesterol:
13
mg
Sodium:
79
mg
Fiber:
0.6
g
Sugar:
4.6
g