Healthy rice bubble bars are a great little treat to get you through the afternoon slump. No guilt attached, and no need to hide in the cupboard so the kids can't see what you're eating.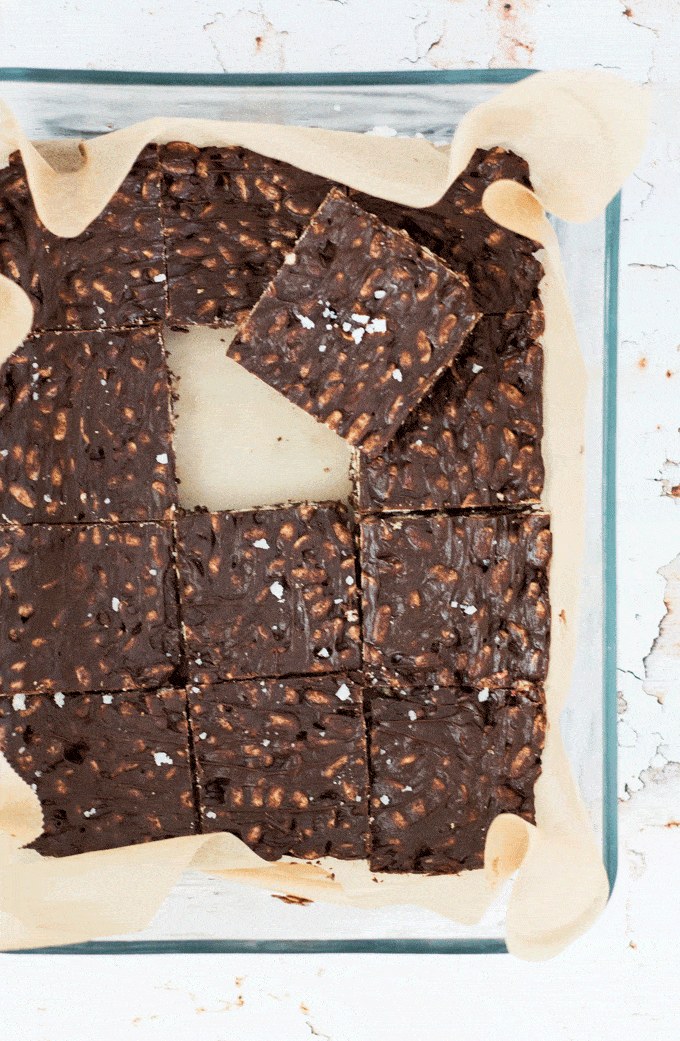 Healthy Rice Bubble Bars
We don't really do cereal in our house. If you have been hanging around Whole Food Bellies for any amount of time you may have noticed my slight obsession with homemade granola (see this Raspberry Dark Chocolate Granola and this Fresh Apple Cinnamon Granola).
But lately, with the new baby and everything, the homemade stuff isn't as regular, and we have bought some emergency supplies of cereal for those mornings when we actually have to leave the house at a reasonable time.
One of the cereals I tried out was some brown rice bubbles.
The kids were NOT impressed (and if I'm honest, neither was I)! I hate seeing good food go to waste though so we had to figure out a way to use up a whole box of bubbles, and these healthy rice bubble bars are what got the tick of approval.
Of course, I could have just put them in a batch of homemade granola....but logic did not prevail, and nursing makes me crave chocolate in unseemly amounts.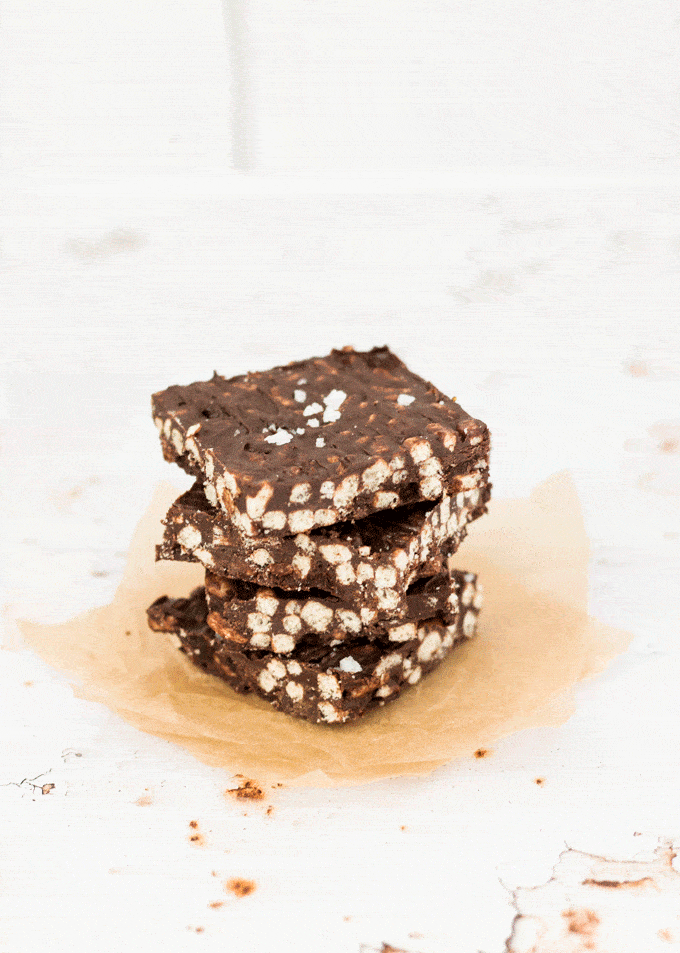 Did you make something like this when you were a kid?
We used to make them ALL the time, in fact, it's the only thing I really remember 'baking' as a kid. It was the go-to treat my mum would send in for a bake sale, and what I would always spend my money on there 🙂  
This version is healthier in that it combines unsweetened cocoa with coconut oil for the chocolate, and it is naturally sweetened with maple syrup.
But never fear, they are still delicious, and my little chocolate fiends were suitably impressed.
I hope you love this quick and easy healthy rice bubbles bar recipe as much as we did.
It is basically a homemade crunch bar combined with chocolate rice bubbles....delicious.
I always love to hear from you, so if you try them out be sure to leave a comment. Happy eating.
Recipe
Healthy Rice Bubble Bars
Snack away on these healthy rice bubble bars that taste just like a crunch bar, but without all of those ingredients you don't want. Get the kids involved in mixing everything up and have some messy fun!
Ingredients
½

cup

unsweetened cocoa powder

½

cup

coconut oil, melted

5

tablespoon

pure maple syrup

1

teaspoon

pure vanilla extract

1 ¼

cup

brown rice bubbles

pinch of salt
Instructions
Line a 9x5 pan with parchment paper or cling wrap

In a large bowl combine the cocoa powder, coconut oil, maple syrup and vanilla extract and a pinch of salt

Add in the brown rice bubbles and mix well to combine

Pour in the rice mixture and use a spatula to level it out so that it is relatively smooth on top

Pop into the freezer for 15 minutes until completely set. Once set remove from the freezer and use a sharp knife to cut into squares for serving. Store in the freezer, as the coconut oil will melt
Nutrition
Calories:
121
kcal
Carbohydrates:
10.2
g
Protein:
0.9
g
Fat:
9.6
g
Saturated Fat:
8.1
g
Fiber:
1.2
g
Sugar:
5.1
g
Tried this recipe?
Leave a comment HERE and let us know how it was!