Indulge in nature's unusual bounty with this naturally sweetened  Honey Loquat Butter, which is just begging to be spread on some fresh crusty bread or used as a sweetener in baked goods in place of apple sauce.
Loquat Butter
If you are lucky enough to have a loquat tree in your yard, or a neighbor with a loquat tree then you are going to just love this recipe.
Especially if your tree ripens all at once and you need to use up a LOT of fruit in a very short period of time....which let's face it, it does every time!
Where To Get Loquats
Loquats tend to be the type of fruit you have to get from a tree in your own yard, or from a friend's tree.
The fruit itself does not last very long once it has been picked, which is why it has not been sold in stores or farmer's markets over the years.
I have noticed them popping up at farmer's markets now and again though in recent years, so if you do happen to come across some be sure to snatch them up, they won't last long and they taste just delicious.
TIP: use within a day or two of being picked as they very quickly go from perfect to overripe.
Tips, Tricks and Substitutions
There is something oddly rewarding with preserving fruits and vegetables when you are faced with an unusual amount that needs to be used up quickly.
Using up loquats is certainly no exception.
I make massive batches of this loquat butter.
My last batch used 3 buckets of loquats!
Good thing it freezes well.
TIP: freeze in individual serving sizes, or in mini mason jars so that a small amount can be thawed at a time.
I used honey as a sweetener for my loquat butter as I find it pairs well with the flavor of the loquat.
I find the loquats sweet on their own, so don't find the need for much sweetener, but add more if you prefer.
You can always sub in another liquid sweetener of choice like maple syrup or agave syrup.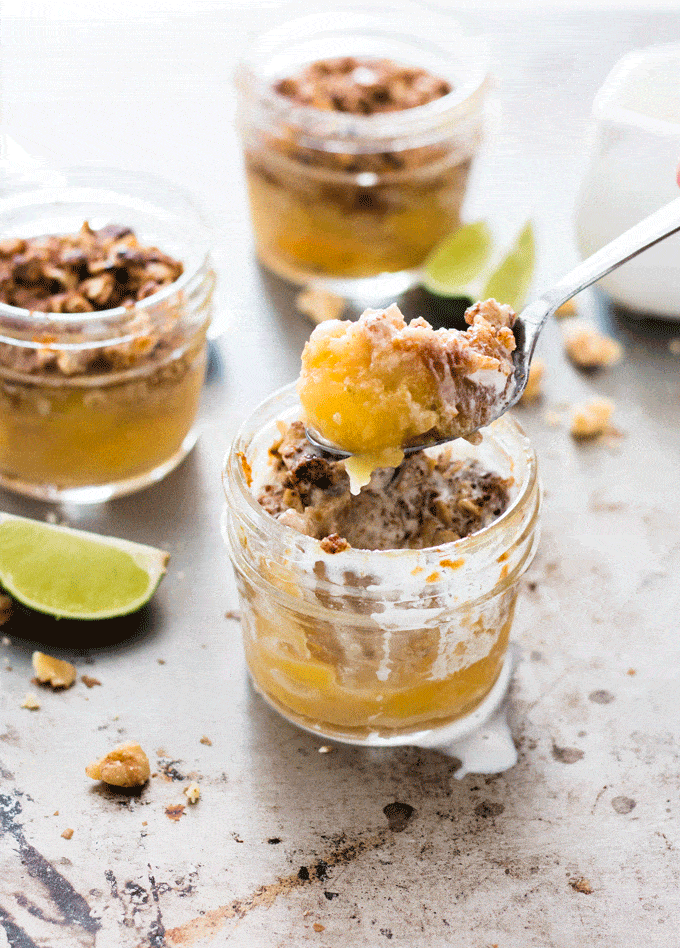 How To Use Loquat Butter
This stuff is pretty versatile.
Use wherever you would use a jam or a preserve.
You can also use:
in place of applesauce in baking;
in place of mashed banana in baking;
dolloped on some yogurt for breakfast;
dolloped on top of some pancakes or waffles;
in muffins or baked goods in place of eggs (I like using it in this Banana and Peach Butter Bread with a Chia Crunch in place of the peach butter).
Do you have any loquat recipes you love to use when spring hits and the loquats are plentiful?
Feel free to share them in the comments, I am sure everyone would love to hear all about them.
Happy eating.
xx
Recipe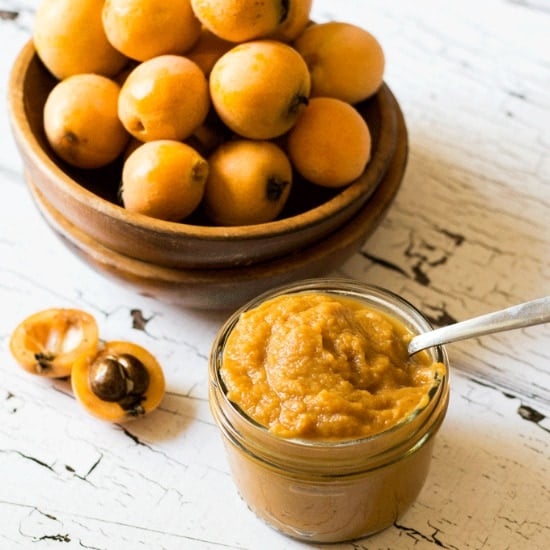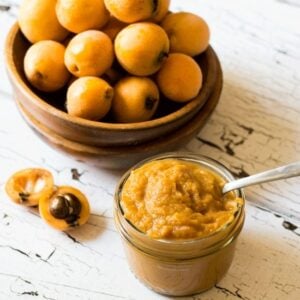 Naturally Sweetened Honey Loquat Butter
Indulge in natures unusual bounty with this naturally sweetened Honey Loquat Butter, which is just begging to be spread on some fresh crusty bread or used as a sweetener in baked goods.
Ingredients
3

lbs

loquats, halved and de-seeded

⅓

cup

honey

2

tablespoon

lemon juice
Instructions
Add the halved and de-seeded loquats to a large saucepan. Add enough water just to cover the loquats. Bring to a boil, once boiling, reduce heat and allow loquats to simmer for 15-20 minutes. Loquats should be tender but intact

Drain water from the loquats. Place loquats in a high powered blender and blend until desired consistency is reached (I like mine smooth but it can be chunky as well)

Put loquat puree back to the saucepan. Add in the honey and lemon juice and stir well to combine. Heat over a medium heat until the butter has thickened slightly, stirring often to prevent burning on the bottom. This should take 15-20 mins

Remove from heat and allow to cool completely before transferring to glass jars and storing in the fridge
Nutrition
Calories:
49
kcal
Carbohydrates:
13
g
Protein:
0.3
g
Fat:
0.1
g
Fiber:
1.2
g
Sugar:
4.9
g
Tried this recipe?
Leave a comment HERE and let us know how it was!