I have close to a million granola recipes on rotation. I wasn't planning on adding anymore...but then I had this idea. Clearly I had to add another one to my repertoire.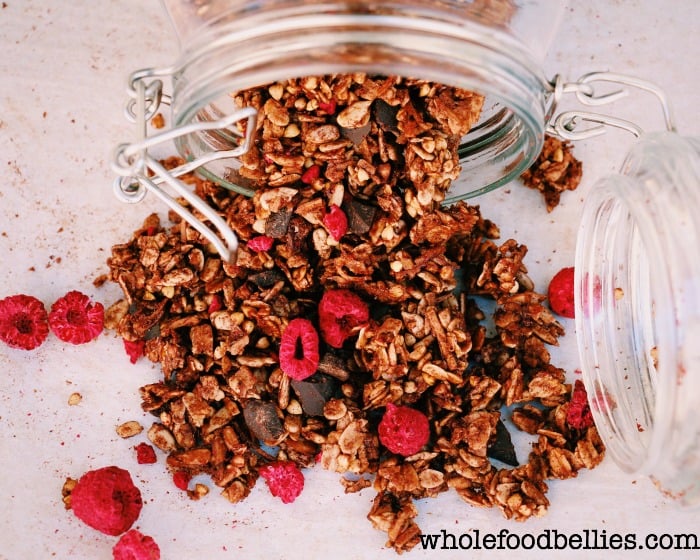 It came to me in a moment of desperateness caused by sleep deprivation. My youngest, in case you didn't know, (coz I don't talk about it every week or anything) doesn't sleep. He is ridiculous. Sooo...my morning coffee, followed by an awesome smoothie just doesn't provide the kick I need. I have found myself wanting chocolate (all the freakin' time)....but who can justify chocolate at 7.30 in the morning? Ah me, now that I have this sophisticated granola in my life 🙂
This granola is amazing! Raspberries and dark chocolate are pretty much the ultimate combination in my mind - throw them in your breakfast cereal and you are starting the day right! Seriously.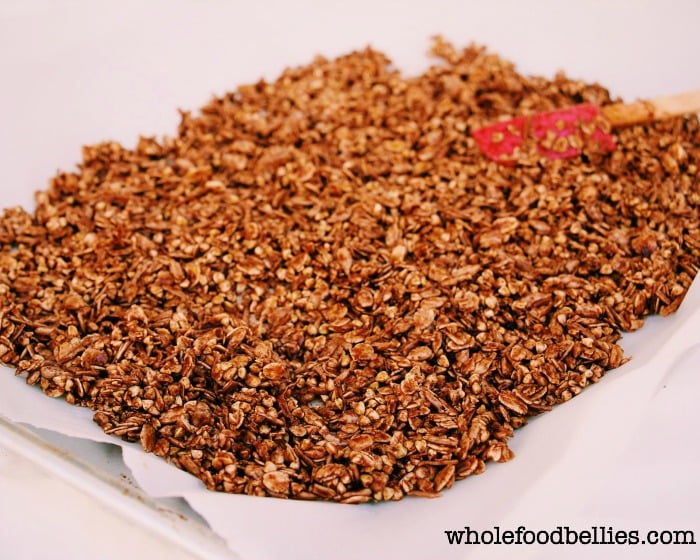 I tried out some raw buckwheat groats for the first time with this batch, just to change things up a bit: let's just say they will be featuring in a lot of my granolas from now on - so crunchy!
I hope you enjoy this beautiful granola as much as I do. Oh and my 2 year old....she was ecstatic to learn that there were chunks of chocolate hidden in her breakfast 'nola'. That's bad parenting for you right there (I call it survival....and it's still better than the boxed stuff so what the hey). I will deal with her growing dark chocolate addiction when I come out of my sleep deprived state.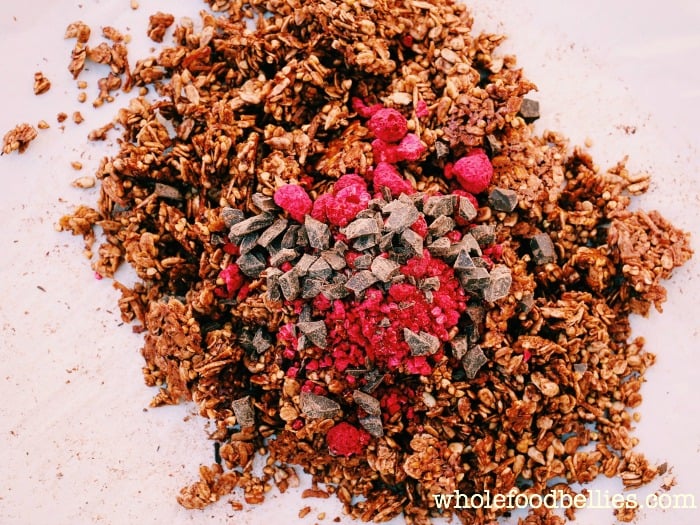 I made this a nut free version because we eat so many nuts throughout the week, but if you want to make it a bit more decadent, throw some hazelnuts in with step 2 (in the recipe below) - it takes it to a whole other level.
Do you eat chocolate for breakfast? (If you don't, you can always rectify that with this granola) I would love to hear from you! Leave a comment, like on Facebook, tweet on Twitter or pin to Pinterest for later.
Enjoy 🙂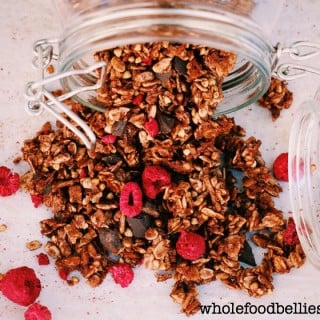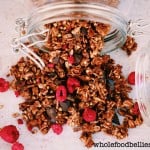 Print Recipe
Raspberry Dark Choc Chunk Granola
Start your day right with seriously amazing raspberry and chocolate chunk granola....or just eat it straight from the jar for a snack throughout the day - it's chocolate, how could you say no?
Ingredients
3/4

cup

gluten free rolled oats

1/2

cup

raw buckwheat groats

or more oats if you don't have any

1/2

cup

raw pepita seeds

1/2

cup

raw sunflower seeds

1/2

cup

shredded unsweetened coconut

1

tbsp

unsweetened cocoa

2

tsp

ground cinnamon

1/4

tsp

sea salt

1/4

cup

pure maple syrup

1/4

cup

melted coconut oil

2

tsp

pure vanilla extract

1/4

cup

freeze dried raspberries

1/4

cup

dark chocolate chunks

I used 72% cacao
Instructions
Preheat the oven to 275F and line a large rimmed baking sheet with some parchment paper

Add the oats, buckwheat groats, peptias, sunflowers seeds, coconut, cocoa, cinnamon and salt into a large mixing bowl and stir to combine

Add in the maple syrup, melted coconut oil and vanilla and stir to combine

Spread the granola onto the prepared baking sheet. Use a spatula to smooth it down to a layer about 1/2 inch high

Pop in the oven for 20 minutes. Then rotate the pan and bake for another 18 minutes - it should be golden and firm to the touch

Take the granola out of the oven and allow to cool for at least an hour - resist the urge to touch if you want clusters

Once cooled, break apart into clusters, mix in the raspberries and chocolate chunks

Store in a glass jar in the fridge. It should last 2-3 weeks (can also be frozen for about 5-6 weeks)
Notes
If you want to make it even more decadent throw in some hazelnuts in step two!
Time Saving Tip: Make a double batch. Keep one in the fridge and one in the freezer. When you are ready for the frozen batch, just remove from the freezer the night before you need it, pop into a glass jar and store in the fridge.
Nutrition
Calories:
157
kcal
|
Carbohydrates:
13.6
g
|
Protein:
2.7
g
|
Fat:
10.9
g
|
Saturated Fat:
7.3
g
|
Sodium:
48
mg
|
Fiber:
2.3
g
|
Sugar:
6.3
g