Popping some tortellini into a delicious and hearty Tortellini soup works so well, I don't know why I never thought to do it before.
I want to introduce you to a woman with the most beautiful soul I have come across in a long time. It's funny that I should be the one to introduce you actually, as technically, I have never met her myself. She is one of the moms in my local mommy Facebook group, but she is so famed around these parts (the local mommy community), that I feel like she is an old friend I just haven't talked to in a while.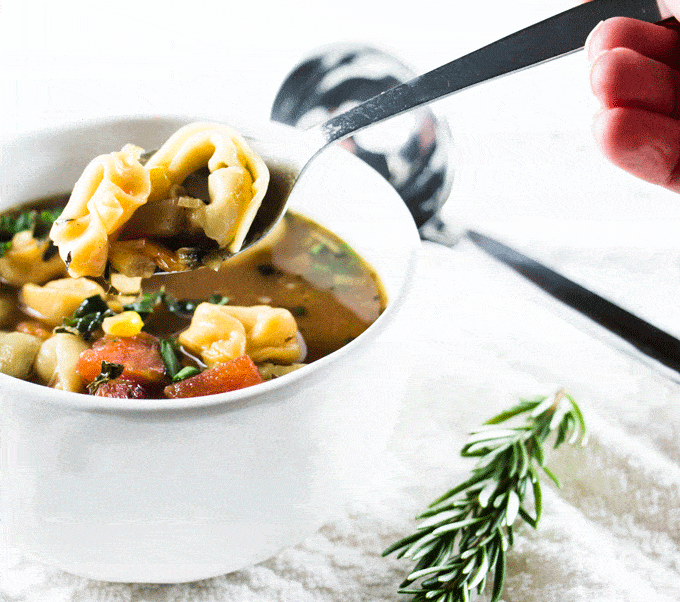 Sarah's day job is running her own home kitchen. She prepares and delivers home made food to local families wanting to eat healthy and nutritious food, but without the energy/time/wherewithal required to do it themselves.
However, her true passion is running a little program she calls the Kindness Campaign.  She uses this campaign as a resource to help lift up the community, and it certainly serves it's purpose! Recently one of the local mommies suffered a debilitating anxiety attack, and couldn't return to work. Sarah heard about it, reached out to her and showed up at her doorstep with a Kindness Quiche (the signature dish of the campaign), 6 meals and a $50 credit towards more meals when she needed them.
Another mom posted in the group one day asking for recommendations for comfort food that could be delivered, as she was sitting vigil with a dying relative. Sarah was tagged in the post, and the next minute food for the whole family was sorted and supplied courtesy of the kindness campaign. She really is an angel.
I know she would want to to mention that she does not do this alone. Eggs for the Kindness Quiche are usually donated by neighbours, other neighbours donate surplus vegetables from their gardens, and lots of locals donate money towards the campaign as well. It is simply amazing, and it really makes me love my little community even more everyday.
The best thing about this amazing campaign? It is inspiring and giving courage to others in the community to do similar things.
There are days when the news frightens the life out of me, when I seriously fear for the future of the world in which we live. I then happen to check out my little mommy group, and spurred on by Sarah's campaign (and others like it), one mom is spearheading a purse project for the homeless, another is making extra pies over Thanksgiving to hand out to anyone that needs one. There is a freezer meal party being organised to benefit someone in need, and another mom is reaching out to anyone in the group having a bad day - she wants to bring you a coffee. How nice is that?
As a blow in from Australia with two small kids and no family around, I can't begin to explain the level of comfort it provides knowing that there's a whole group of women (most of whom I have never even met) willing to lend a hand if and when I really need it, just because. Even if it's just a coffee and a smiley face...sometimes that can mean the world!
There really needs to be more of this 'I got your back' attitude in this world don't you think?
With cold season upon us, Sarah shared with our little group her recipe for the soup she delivers to family, friends and randoms when they are in need of a pick me up. Her Tortellini Soup for the Soul. And she was very happy for me to pass on the recipe to you guys.
She is the first to admit that she doesn't follow recipes herself, and just adds bits and pieces until the soup tastes right. As a lover of tinkering in the kitchen, I know exactly what she is talking about, but I also know my readers love specifics, so I have taken her recipe and given it solid form 🙂 I want to emphasise that you should make this your own though, with whatever veg you have on hand, and whatever herbs and spices you like.
'The most important ingredient you should never leave out of this tortellini soup is love. Think about who you are cooking for, I always do. And maybe my clients and friends are sentimental. But EVERY TIME I serve this soup I get a message thanking me and admitting that they can tell I made it with love. And they are right'.                    
- Sarah's Kindness Campaign
We have enjoyed Tortellini Soup in our home three times now, and I swear every time we have it, it makes me glow from the inside. Now, that could just be because I admire Sarah and her mission so much, BUT my littles have no idea about all that jazz, and they lap it up too, so there must be something there 🙂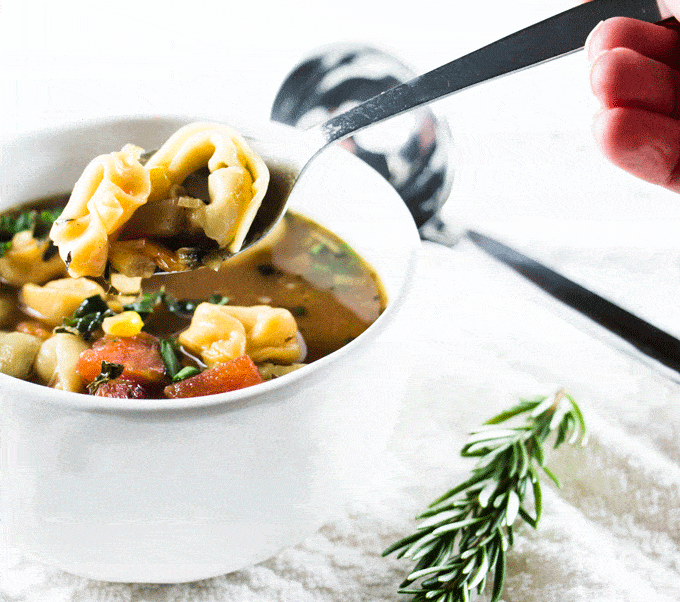 Tortellini Soup for the Soul
The ultimate in comfort food, this delicious soup is loaded with all of your favourite vegetables. The perfect dish when you need a pick me up.
Ingredients
4

carrots

1

onion

4

stalks celery

1

stalk leek

8

cups

homemade chicken or vegetable broth

sub with store bought

2

cup

chopped spinach or kale

1

can organic corn

1

can diced tomatoes

1

bag of tortellini

look for a version with only a handful of ingredients

1

tbsp

each of rosemary

thyme and oregano

parmesan to serve
Instructions
Heat 2 tbsp cooking oil (or butter) of choice in a large pot. Add in the carrots, onion, celery and leeks and coat in the oil. Sauté the vegetables until you really smell them before you stir them. You want them to burn/blacken just a little. This can take about 15 minutes

Once the vegetables have caramelized (burned) sufficiently, add in the stock

Pop in the spinach/kale, corn, and tomatoes and give it a good stir

Next, add the tortellini and herbs and let simmer until the tortellini has cooked through, about 15 minutes

Serve with a sprinkle of parmesan, some parsley and crunchy bread
Nutrition
Calories:
186
kcal
Carbohydrates:
33.4
g
Protein:
8
g
Fat:
3.5
g
Saturated Fat:
1.6
g
Cholesterol:
155
mg
Sodium:
344
mg
Fiber:
3.9
g
Sugar:
7.5
g