Meatless Monday just got a whole lot more exciting with this instant pot taco soup that is quick, easy, and delicious. Load up all of your favorite toppings and make the soup to suit your and your family's tastes. Leftovers pack well for lunch the next day, and can also be frozen so you are ready to thaw and reheat on a busy night. Vegetarian and naturally gluten-free.
We love turning a regular meal into a soup version like we also do in this Instant Pot Lasagna Soup and this Instant Pot White Chili Chicken Soup.
Vegetarian Instant Pot Taco Soup
Jump to:
Fast, easy, and delicious.
This instant pot taco soup ticks all the boxes for a weeknight meal loaded with goodness.
You are going to need:
Large onion: I used a yellow onion for this, but a red onion will work just as well if that is what you have;
Bell pepper: I serve mine with red bell peppers, but go with your favorite colored pepper, or why not try a mix? These should be cut into evenly sized chunks that are not too small, as we do not want them to go mushy when cooked;
Diced tomatoes: check the ingredient list to be mindful of the sodium content if you are buying canned tomatoes. Freshly chopped tomatoes works well also;
Red kidney beans: you can buy these canned or make your own beans from scratch with dry beans. Feel free to sub some black beans or pinto beans instead if that is what you have;
Corn kernals: fresh, frozen or canned corn will work;
Vegetable broth: check the salt content or make your own (Homemade Vegetable Broth)
Garlic powder;
Onion powder;
Ground cumin;
Chili powder;
Dried oregano.
The last few powders are for making the homemade taco seasoning.
Although technically you can sub in fresh garlic and onion etc, it is a lot easier to make taco seasoning with dried ingredients, so we will stick with that.
How To Make Taco Soup
Don't worry, this soup is super easy to bring together.
Simply add all of the ingredients to the pressure cooker, stir, seal, and cook on high pressure for 5 minutes. Allow to naurally release for about 10 minutes and you are ready to serve.
Now all you have to do is decide what toppings you want to add.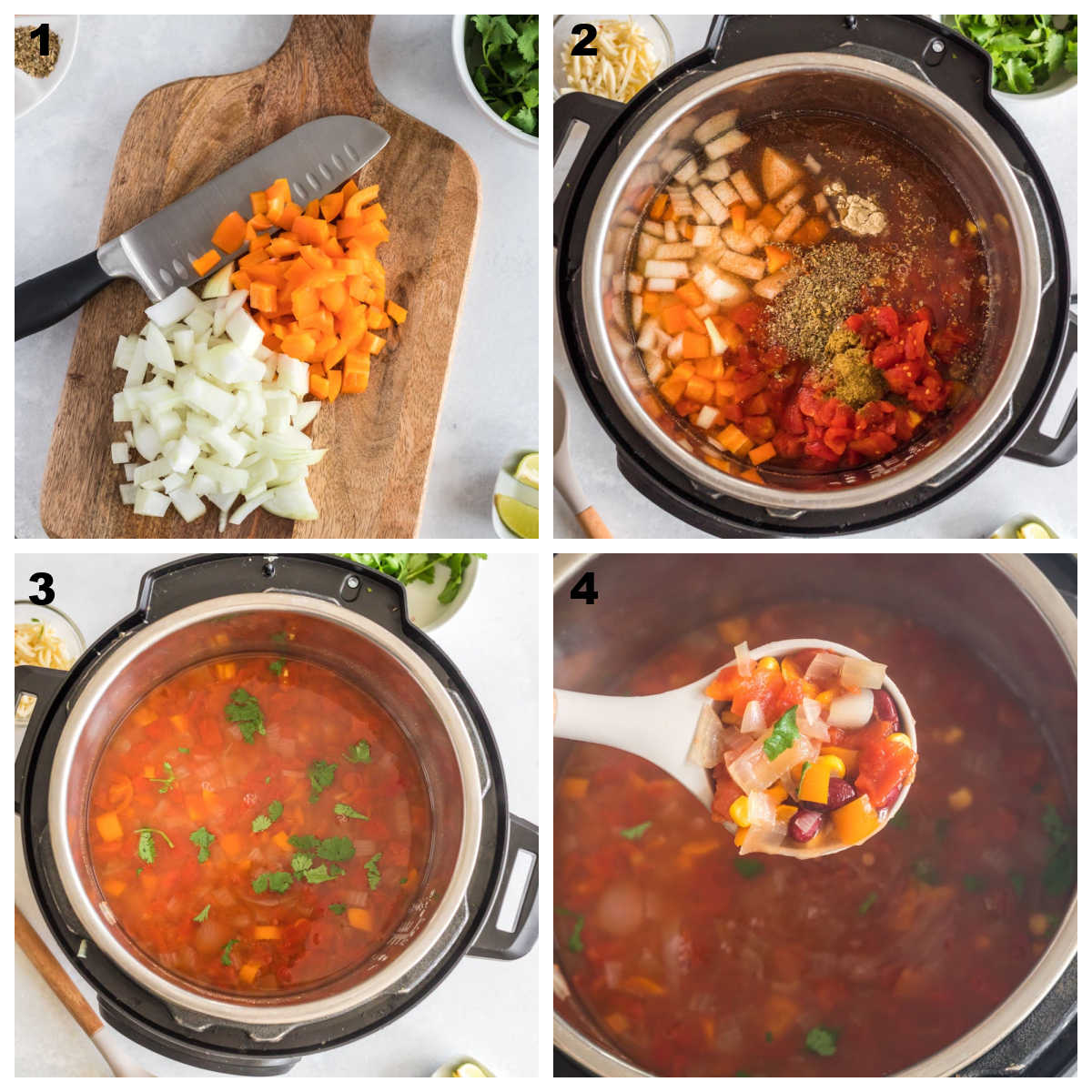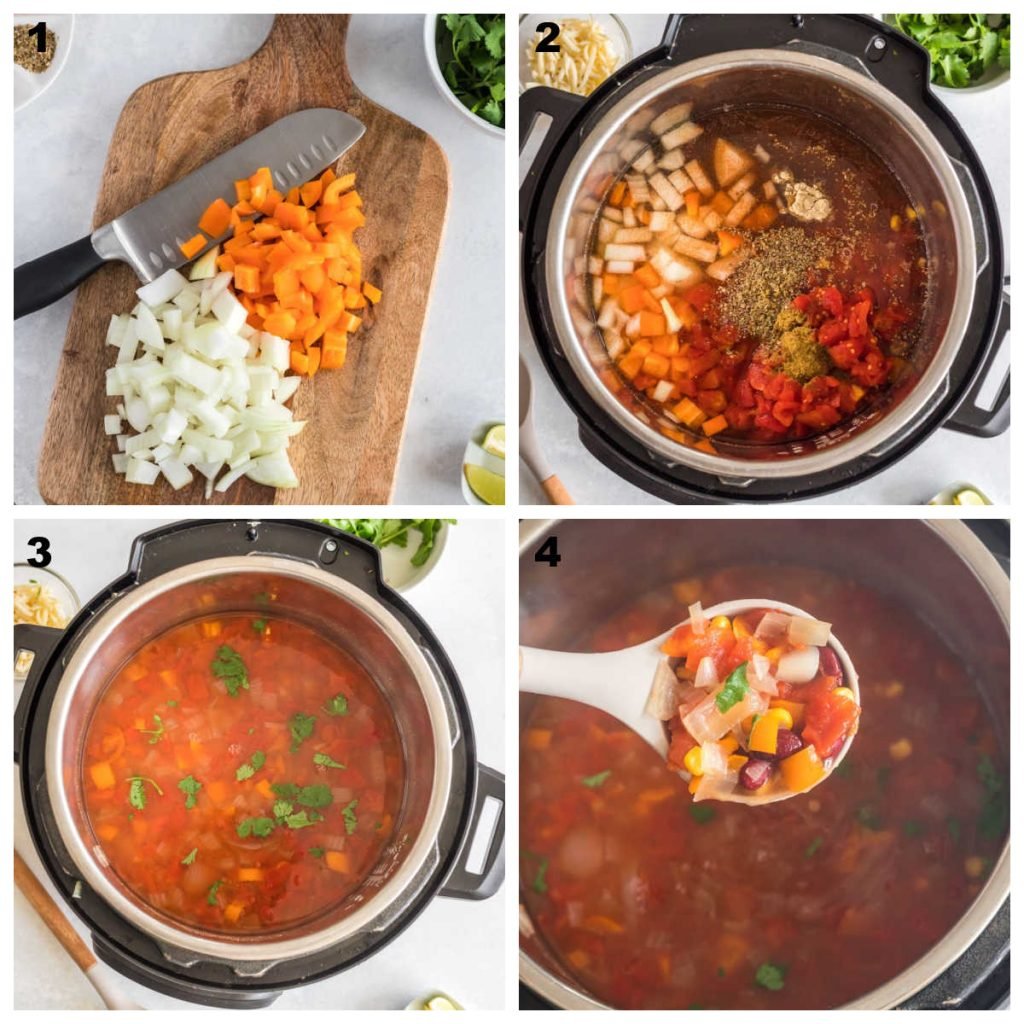 How To Serve: Load Up The Toppings
So you have the soup ready to go.
Now for the best part!
Loading up with your personal favorite toppings to really take this soup over the edge and make it yours.
Why not try adding:
Lime wedges: squeeze some lime juice over the soup just before serving to really pop the flavor
Grated Monterey Jack, cheddar cheese, or other cheese of choice;
Fresh cilantro (coriander);
Tortilla chips or tortilla strips;
Avocado slices;
Jalapenos, or other hot chili peppers or hot sauce of your choice if your prefer a spicy soup;
A drizzle of your favorite hot sauce;
A dollop of sour cream.
We love to set up for taco night with all of the toppings served on the table in individual bowls, and let each family member load up their bowl to make a tasty meal to match their preferences.
Meal Prepping, Storing and Freezing Tips
Storing Leftovers or Meal Prep Soup
Leftover or meal-prepped soup can be kept in an airtight container in the fridge for up to 5 days.
It is better to store the soup prior to adding the optional toppings, especially things like avocado, as these can become brown and mushy, which is unappealing.
Freezing Taco Soup
This makes the perfect freezer meal.
This soup can also be frozen for up to 3 months if stored correctly in an airtight container.
It is best to freeze in individual portions so you can just thaw what you need.

Simply reheat thawed soup in the microwave or on the stovetop, add the toppings and serve.
Can This Be Made In The Slow Cooker Or Stove Top?
Yes, it can.
With a few simple adjustments, you can easily make this delicious soup with whatever cooking method you prefer:
pressure cooker: use the instructions as listed in the recipe card;
slow cooker: follow the instructions in the recipe card and cook in the crock pot on low for 8 hours or on high for 3-4 hours;
stove top: follow the instructions in the recipe card and instead of cooking on manual in the pressure cooker, cook in a big pot on the stovetop for about 25-30 minutes.
The perfect one-pot meal makes for an easy clean up.
Tips, Tricks and Substitutions
Can This Be Made Into A Vegan Meal?
This easy taco soup recipe can easily be made to fit a vegan diet (or dairy-free) by simply leaving out the cheese, or by replacing it with a vegan cheese substitute.
Can I Add Taco Meat To This?
Yes, you can.
Simply use the sauté function on the pressure cooker and cook the ground beef in some olive oil until it is slightly browned.
From here, follow the instructions in the recipe card.
If you prefer to keep this vegetarian and simply add some taco meat at the end of please the entire family and their tastes, simply sauté the ground beef separately and add it as you serve.
TIP: double or triple the amount of spices used to make the taco seasoning, and keep stored in a glass spice jar with a lid, so that you always have some homemade taco seasoning on hand.
Does This Work As a Smooth Soup?
Absolutely.
Although I prefer to serve it chunky, some people may want to serve this soup smooth.
Simply use an immersion blender or a high-speed blender like a vitamix blender to blend the soup until it reaches your preferred consistency.
This is a great way to get nutrients into someone who for whatever reason needs their food to be in smooth soup form.
Need More Recipes Like This?
Having simple recipes that rely on pantry staples like this vegetarian taco soup recipe can be a real winner on a busy weeknight.
Especially if they can be made in one pot which means less mess for you!
Next time try one of these recipes:
Happy Eating.
xx
Recipe
The information shown is an estimate provided by an online nutrition calculator. It should not be considered a substitute for a professional nutritionist's advice.