We recently just got back from a food-fueled trip to Canada (that place has some amazing food, and if I wasn't too busy eating it I would have taken lots of photos for you 🙂 ). Yes we travel a lot, and yes my 3 year old has more stamps on her passport at 3 than I did by the time I was 20....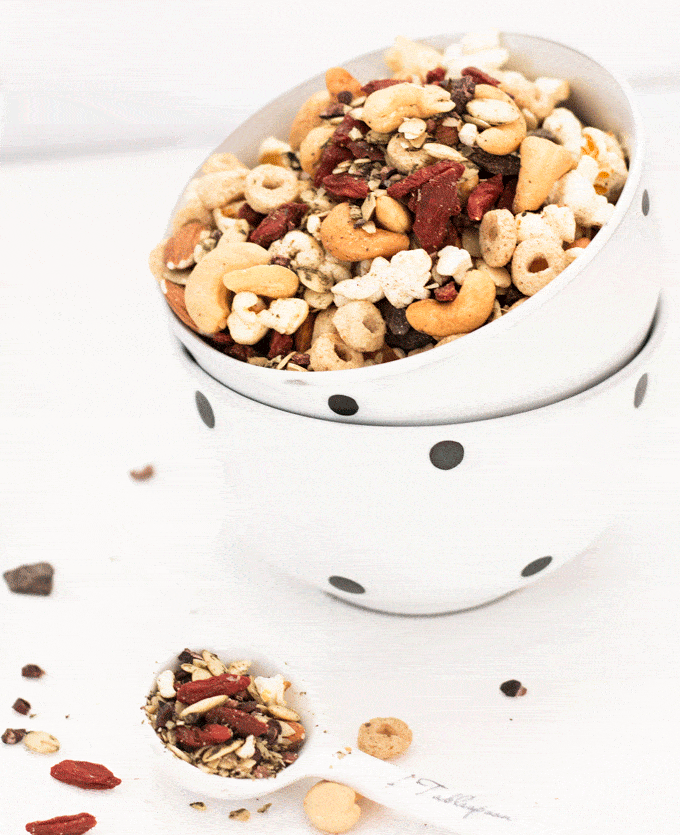 I digress. When we travel the 80% clean eating, 20% whatever I want rule tends to get a bit relaxed. If a place has some item of food they are famous for, I am going to be trying that food. For example, if there are 3 supposedly amazing doughnut shops, and 4 out of this world ice cream shops close to our accommodation - we will be venturing to them all. Same goes for poutine, I am going to be trying that in all it's forms and beauty. We may or may not have booked our accommodation based on the nearby restaurants. I admit nothing...
We (as in my husband and I) try and justify these excessive treats by renting an apartment through airbnb so that we can have a somewhat decent kitchen in which to make our breakfasts and snacks and the occasional meal (ok ok it was 1 meal in ten days other than breakfast - but who cooks on vacation unless you are camping or on some culinary retreat?)
I *always* make a big batch of fruit and nut mix to bring with us. It is the one thing I can whip up before we leave and be guaranteed that it will travel well. Plus it keeps the kids entertained during long flights (trying to find the couple of pieces of dark chocolate I have hidden in there is like 2 hours of entertainment right there). It is also really lightweight, so it's not going to weigh down your luggage. Fruit and Nut Mix also doubles as a great crunchy topping to add to some yoghurt in the mornings for a quick breakfast option - that's thinking ahead for you right there!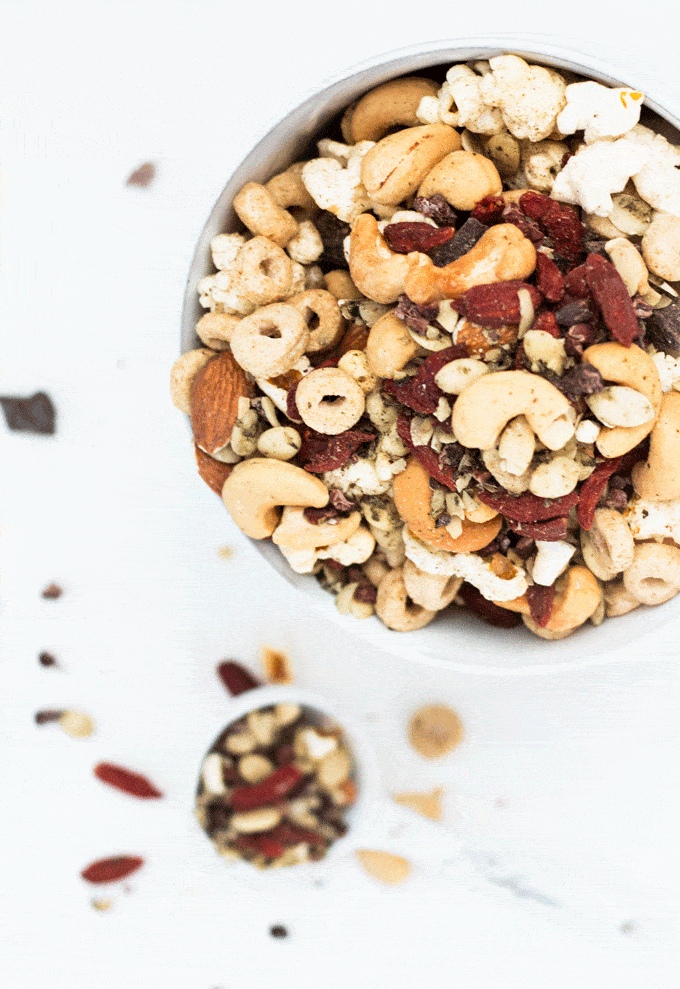 With back to school happening all over the U.S. at the moment, fruit and nut mix is the perfect healthy trail mix option for little ones during recess time, or for a quick after school snack that won't spoil their appetite for dinner.
As always, mix this recipe up with what you have on hand or your preferences. I have a whole drawer in my pantry dedicated to nuts, and can never decide which are my favorite, so a little bit of everything tends to get thrown in there. With this one I opted for some almonds, cashews and hazelnuts, but add what tickles your fancy - you can't go wrong. This is a great activity to get the kids involved in the kitchen as well (just don't expect the chocolate chunks to last)!!
Loaded Fruit and Nut Mix with Dark Chocolate Studs
Don't feel like you need to stick to the exact ingredients and measurements. Make this your own and have fun with it. If you have little ones, set out all of the ingredients and let them create their own special trail mix
Ingredients
1

cup

brown rice cereal O's

or cereal of choice

1

cup

natural pop corn

1

cup

nuts of choice (I used a mix of hazelnuts

cashews and almonds)

⅓

cup

pepitas

⅓

cup

sunflower seeds

⅔

cup

goji berries

¼

cup

cacao nibs

¼

cup

dark chocolate chunks

optional
Instructions
Put all of the ingredients together in a large bowl

Use your hands or a spoon to mix and combine well. Keep stored in an airtight container or resealable bag
Nutrition
Calories:
136
kcal
Carbohydrates:
8
g
Protein:
4
g
Fat:
10
g
Saturated Fat:
2
g
Sodium:
2
mg
Potassium:
138
mg
Fiber:
1
g
Sugar:
1
g
Calcium:
10
mg
Iron:
1.6
mg