Roasted strawberries pack a real flavour punch, and are perfect for summer, added to your favourite desserts, some overnight oats or milkshakes.
Strawberry season is in full glorious swing. Yay!
We (by we I mean me) went a bit gun-ho when they first started showing their rosy faces at the Farmer's Market and ended up with waaaaay more strawberries than we could possibly eat without being sick. Yes I realise this is becoming a recurring theme...I may have to make more of an effort to rein in my ridiculous enthusiasm for purchasing seasonal produce in bulk. I blame Costco for my obsession with bulk purchases.
Now, you know I hate to waste food (and wouldn't want to be admitting to my husband that yes, a whole tray of strawberries may have been going a wee bit overboard), so I had to come up with something I could do with them that would still take advantage of their full delicious abilities.
Two words: Roasted Strawberries. OH MY GOODNESS! Roasting the strawberries amps up the sweetness so much and also gives you this fantastic syrup to work with. You have no idea. But you will when you make them - so go do it.
I tried a couple of batches, some with maple syrup and some with vanilla beans, but in my humble opinion, strawberries all by their lonesome gave off the best flavour.
What do I do with them now I have roasted them? I am so glad you asked! I put them in oats for breakfast (pink oats = big hit with kids), whiz them up with some frozen bananas for an out of this world nice-cream, blend with some almond milk for a great strawberry milk alternative and blitzed with some dates to make a great strawberry sauce for dessert. I also have a few more ideas up my sleeve which will be coming your way soon 🙂 You will want to stay tuned, I can guarantee it!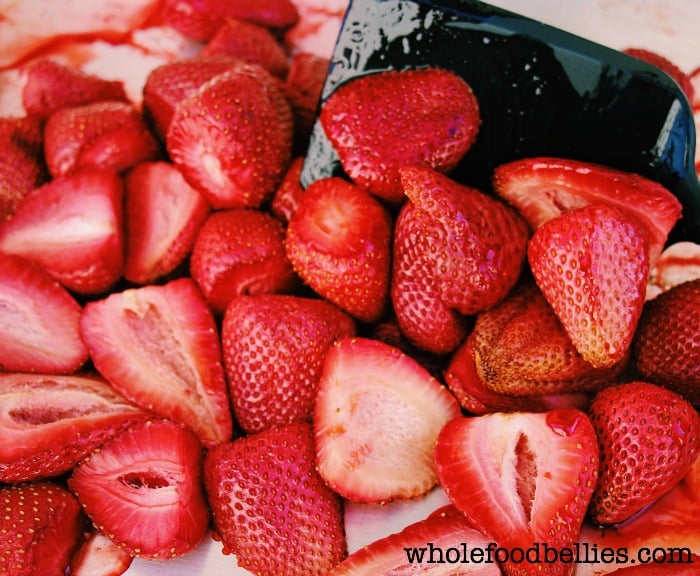 Waste Not Tip: Ok, you are paying a mint for fresh, organic strawberries so you want to use them to their full potential. All those leafy bits you cut off when you were preparing the strawberries - put them in a jug with some filtered water, pop it in the fridge for an hour or so and voila you have some refreshing strawberry water to enjoy. Kind of like the cucumber water you get in fancy day spas; but with strawberries, so better.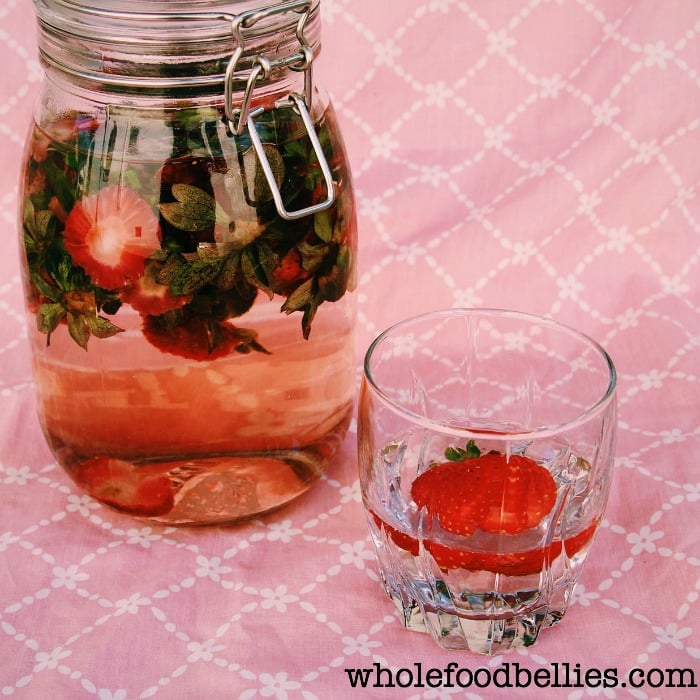 Tried them? Let me know what you think! Leave me a comment, like on Facebook or Pin on Pinterest. I would love to hear from you 🙂
Print Recipe
Roasted Strawberries
Ooey gooey roasted strawberries pack a real flavour punch, and are perfect for summer, added to your favourite desserts, some overnight oats or milkshakes. Use anywhere you want that real strawberry punch without adding any refined sugar
Instructions
Preheat oven to 250F and line a baking sheet with parchment paper

Rinse, dry and hull the strawberries. Speed on the baking sheet in a single layer

Pop in the oven and roast for about 50 mins until they are soft, dark and releasing an amazing strawberry aroma

Remove from the oven and allow to cool completely

Transfer to a glass jar and keep in the fridge until ready to use. The harder you squish them into the jar the more juices will be released, giving you a great strawberry syrup
Notes
Mix these strawberries in with your oats, chuck them in the blender with some frozen bananas for a beautiful ice cream, blend with milk of choice for a great milkshake - use your imagination! My babies like to eat them straight from the jar and make a sticky mess
Nutrition
Calories:
23
kcal
|
Carbohydrates:
5.5
g
|
Protein:
0.5
g
|
Fat:
0.2
g
|
Sodium:
1
mg
|
Fiber:
1.4
g
|
Sugar:
3.5
g