Before I start and you ask 'what the hey is a loquat cobbler???', just keep in mind that this recipe can be applied to any stone fruit. I have tried the same thing with peaches, nectarines and even plums, and it works perfectly every time. I just happen to be drowning in loquats lately, and they are so delicious I wanted to give them a recipe post of their very own - this loquat cobbler.
If you have a loquat tree in your yard, then there is a very big chance that you are looking for ideas on what to do with them. Especially if you are like me, and hate to see good fruit go to waste. Now in all honesty, unless you have someone out there picking and eating every single day, there will still be some that goes to waste, as those trees just keep on producing! But, if you get creative you can have some fun in the kitchen and enjoy these little gems for a while to come.
The kids and I were out there with a big bucket on the weekend and managed to pick a truckload of juicy loquats (and the tree is still full). I also happened to pick up some new little mason jars on the weekend (obsession anyone??), and the two have combined to make the perfect little grab-and-go breakfast.
Major plus - this little loquat cobbler can be baked right in the mason jar, so there is no need to transfer for individual portions. Just whip them up and store in the fridge until needed. My husband has been taking one for breakfast in the morning with a big dollop of yoghurt right on top. The kids have been enjoying them for little picnic treats in the afternoon as well.
If you don't have a loquat tree in your backyard (and most people don't), then you can always forage for some - a quick google search will give you lots of information on where you can forage in your city. If foraging is not your thing, then opt for another stone fruit - nectarine, peach, plum, apricot - all work so well!!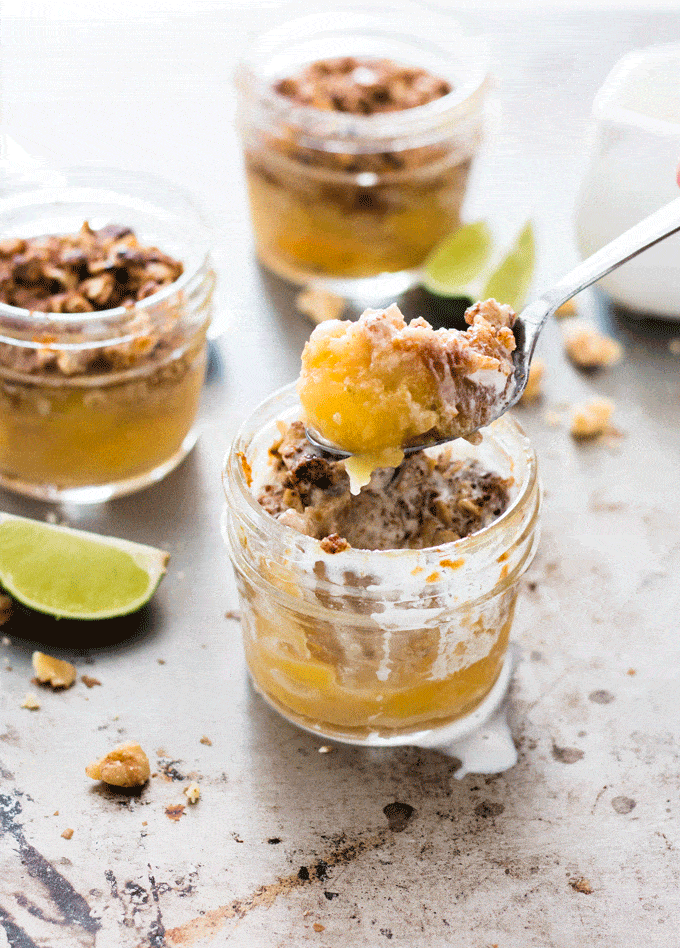 Have you tried a loquat? I have to admit I had never even heard of them until we bought our house, and it came with a massive one ripe with thousands of fruit right in the backyard. I would love to hear what you do with them! Be sure to leave a comment.
Ooh and if you are looking for more grab-and-go breakfast ideas then check these out: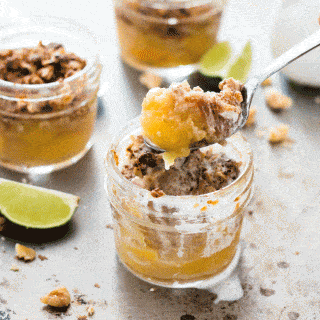 Gingered Loquat Cobbler in Mini Mason Jars
Gingered stone fruit cobbler baked right in a mason jar. Makes a great little pot of grab-n-go breakfast goodness, or pair with some ice cream and you have some super cute individual dessert pots
Ingredients
2

cups

stone fruit

peeled and chopped (I used loquats)

Juice and zest from 1 lime

1

inch

ginger

peeled and grated

½

cup

white whole wheat flour

¾

cup

rolled oats

¾

cup

chopped walnuts

⅓

cup

coconut sugar

¼

tsp

salt

¾

tsp

cinnamon

½

cup

coconut oil

softened
Instructions
Preheat oven to 350F

In a medium sized bowl combine the stone fruit, lime juice and zest and the grated ginger and set aside

In another medium sized bowl, combine the flour, oats, walnuts, coconut sugar, salt and cinnamon. Stir to combine. Add in the coconut oil, and use your hands to 'massage' everything together - don't worry if there are clumps

Fill 4oz jelly jars about ¾ of the way full with the stone fruit mixture, and then top with the crumble mixture, you should have enough for about 6 pots

Pop into the oven and bake for 20-25 minutes, until the crumble is nice and golden on top. Remove from the oven and set aside to cool slightly before serving. If using for breakfast, allow to cool completely before popping on the lids and storing in the fridge
Notes
I really suggest peeling the loquats (even though it adds about 5-10 mins), as the skin does not break down while cooking, and can be quite tough.
Nutrition
Calories:
391
kcal
Carbohydrates:
30.2
g
Protein:
6.7
g
Fat:
28.9
g
Saturated Fat:
18.7
g
Sodium:
98
mg
Fiber:
4.1
g
Sugar:
9.1
g