A healthier, vegan tamale recipe stuffed with adobo spiced potatoes and peas. The perfect big batch cooking project to get the whole family involved, especially around the Holidays. Make it even quicker by steaming in an electric pressure cooker (tips included).
Disclaimer: This post includes affiliate links, and I will earn a commission if you purchase through these links. Please note that I've linked to these products purely because I recommend them and they are from companies I trust and use myself.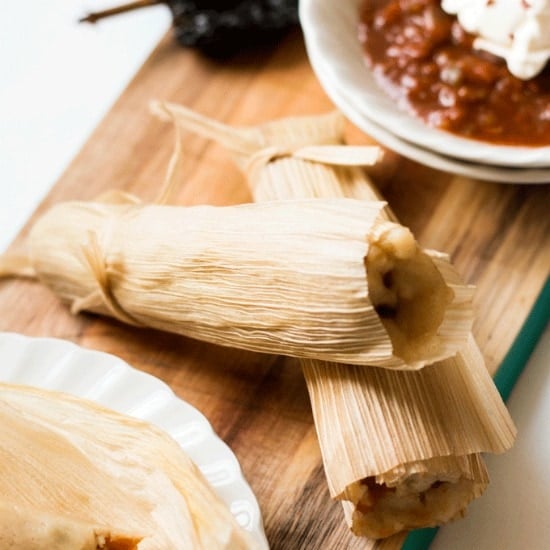 Although definitely not traditional guacamole, this Skinny Blender Green Pea Guacamole pairs well with these homemade tamales!
Jump to:
Vegan Tamales Unwrapped: Potato Adobo Vegan Tamales
I had the pleasure of meeting the lovely Dora Stone of Dora's Table at a food conference last year.
Dora's Table is a vegan Mexican recipe blog that provides delicious, easy, and accessible recipes that appeal to the heart and stomach.
She also shares my love of helping people to live and sustain a healthy lifestyle.
So of course I jumped at the chance to try out a recipe in her new, hot off the press, cookbook: Vegan Tamales Unwrapped.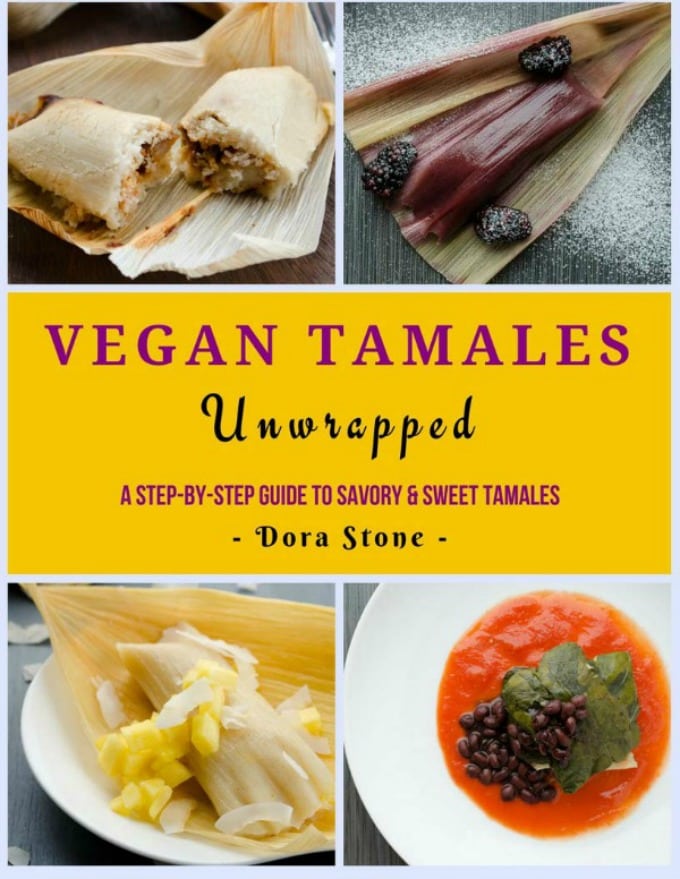 How To Make Vegan Tamales
Now I have to admit, up until I moved to the US, I had never even tried a tamale.
And that only changed because of my love of joining long lines!
There was a man with a little cart attached to his bicycle that showed up outside my local Trader Joe's every now and again, one day there was quite the line building up for whatever it was he was selling.
So I joined it to buy some....I ended up with something I had to google when I got home and the rest is history.
I now have a slight obsession with tamales.
It's Not Hard Once You Get Started!
If you have ever made tamales before, you will know it is a bit of a process.
But it is not hard.
Put on some fun music, grab a couple of friends or loved ones, and throw a tamale-making party to not only speed up the process but make it more fun!
What Do I Need For This Vegetarian Tamale Recipe?
If you are in the US or Mexico, the ingredients will be pretty easy to find in a well-stocked grocery store or a specialty Latin store.
You will need:
Potatoes
Peas
Ancho chiles
Pasilla chiles
Garlic
Onion
Cumin
Oregano
Cloves
Cinnamon
Vinegar
Vegetable Shortening or coconut oil (I used coconut oil)
Masa harina
Baking powder
Salt
Vegetable stock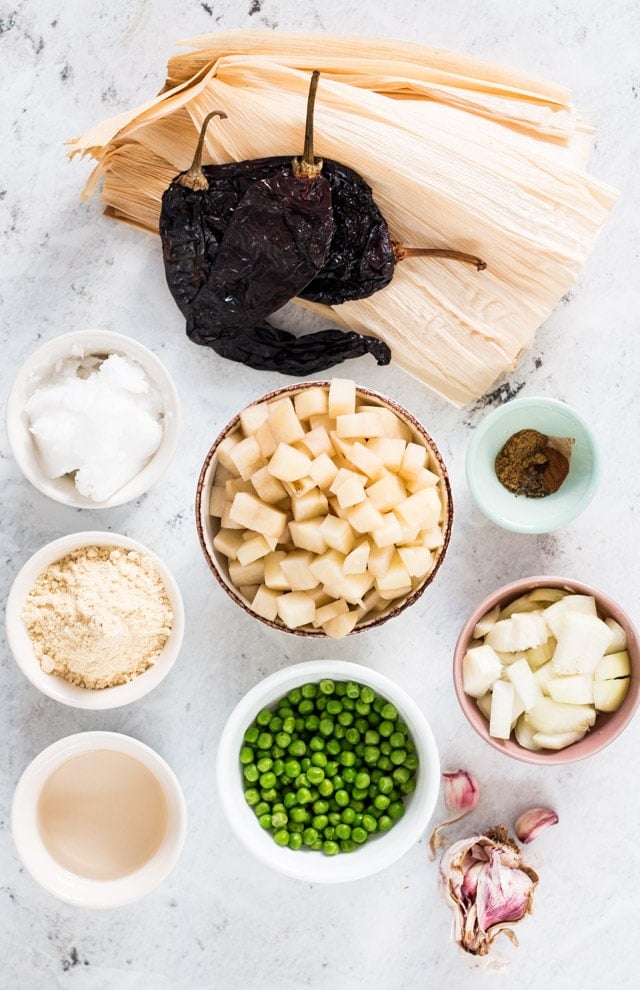 I know, I know...It's a long list.
But don't be put off.
TIP: I couldn't find the chilis when I first moved back to Australia and instead used the adobo from a can of chipotles in adobo (don't tell Dora!). It still tasted pretty great.
If you want to do it right and you are having trouble finding some of the more specialty ingredients, everything can be found on Amazon: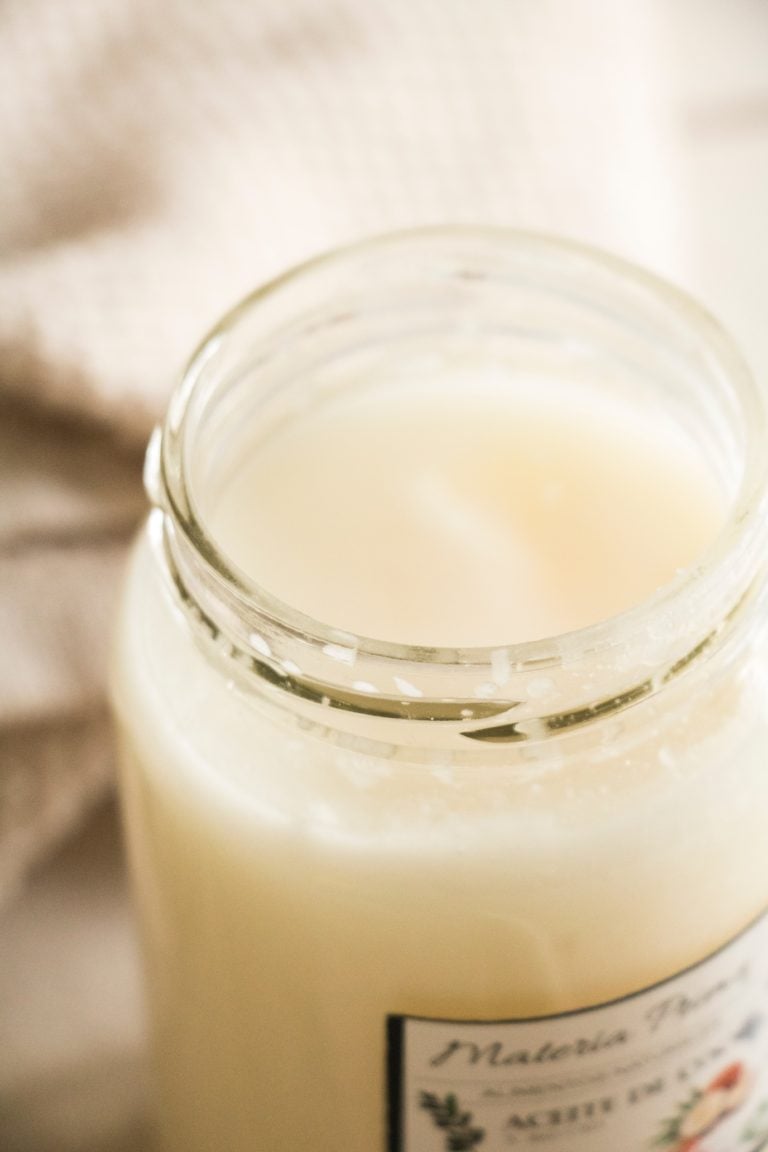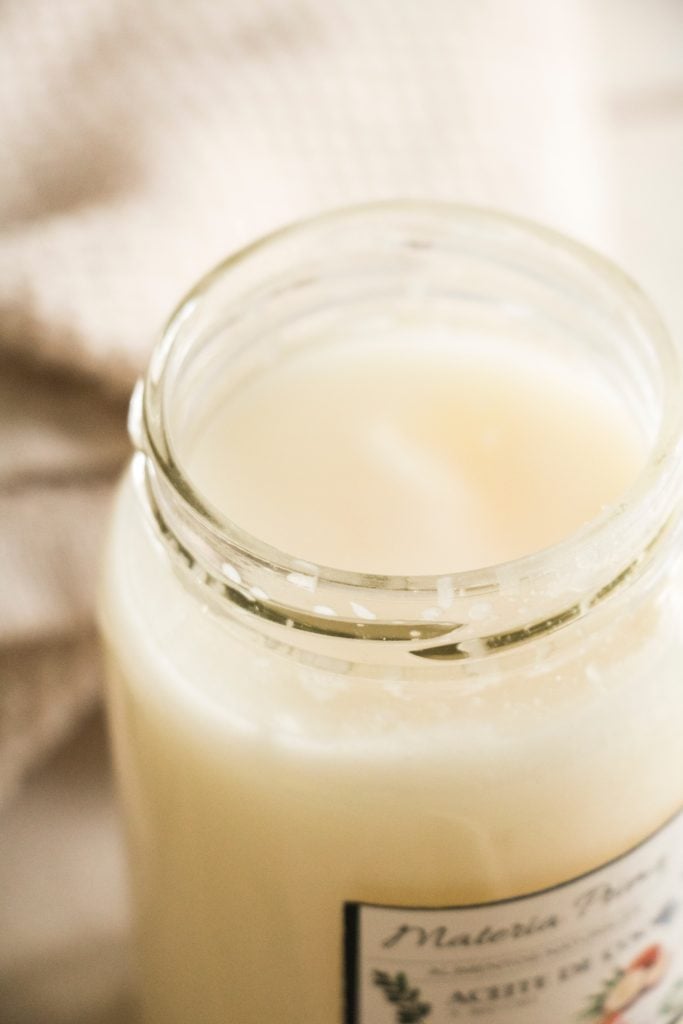 Coconut oil is the perfect oily fat for keeping the masa together without the need for lard.
Can Vegan Tamales Be Frozen?
Yes!
This is what makes them so perfect.
Once you have that tamale-making party you can wrap them up and pop them in the freezer and enjoy homemade tamales for a couple of months.
To freeze, arrange the food in a single layer on a baking sheet small enough to fit into the freezer. Pop into the freezer. Remove when frozen and transfer to a freezer-friendly container or Ziploc bag and pop back into the freezer until ready to use.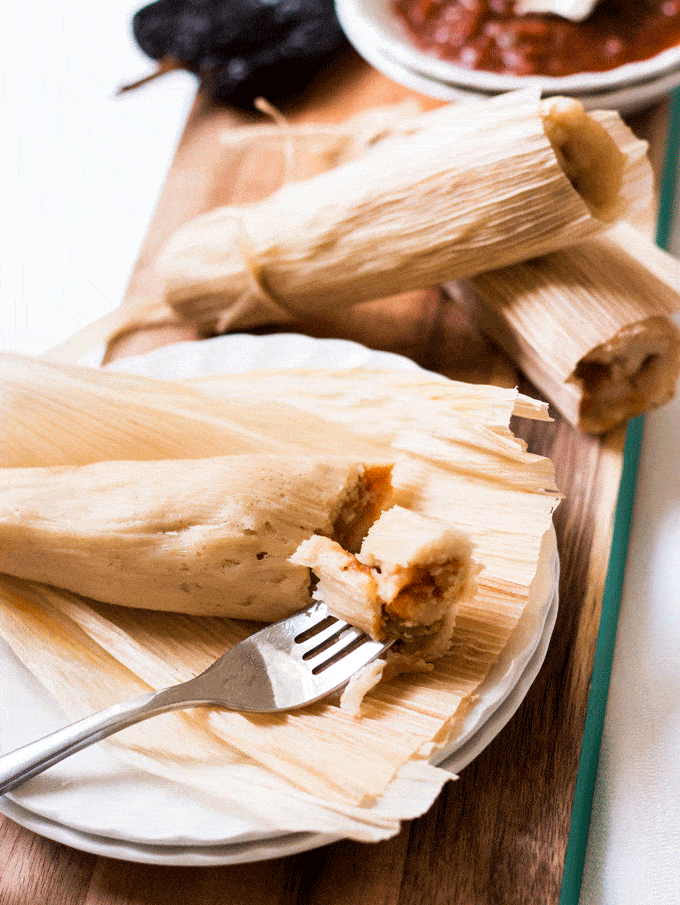 I Can't Find Corn Husks
It's crazy, in the US corn husks can be found in every grocery store!
In Australia, I have lucked out at every specialty store, and have had to pay a small fortune to order online.
Last year I forgot to order them, but the kids were adamant they could not have Christmas Eve without tamales.
Turns out baking paper is a great substitute!
Banana leaves work well also.
Simply use the baking paper or banana leaves in place of the corn husks in the recipe and you will be fine.
To tie the tamales I just used some cooking string.
Once they are cooked, the corn husks, baking paper, or banana leaves can be thrown out OR used as a plate!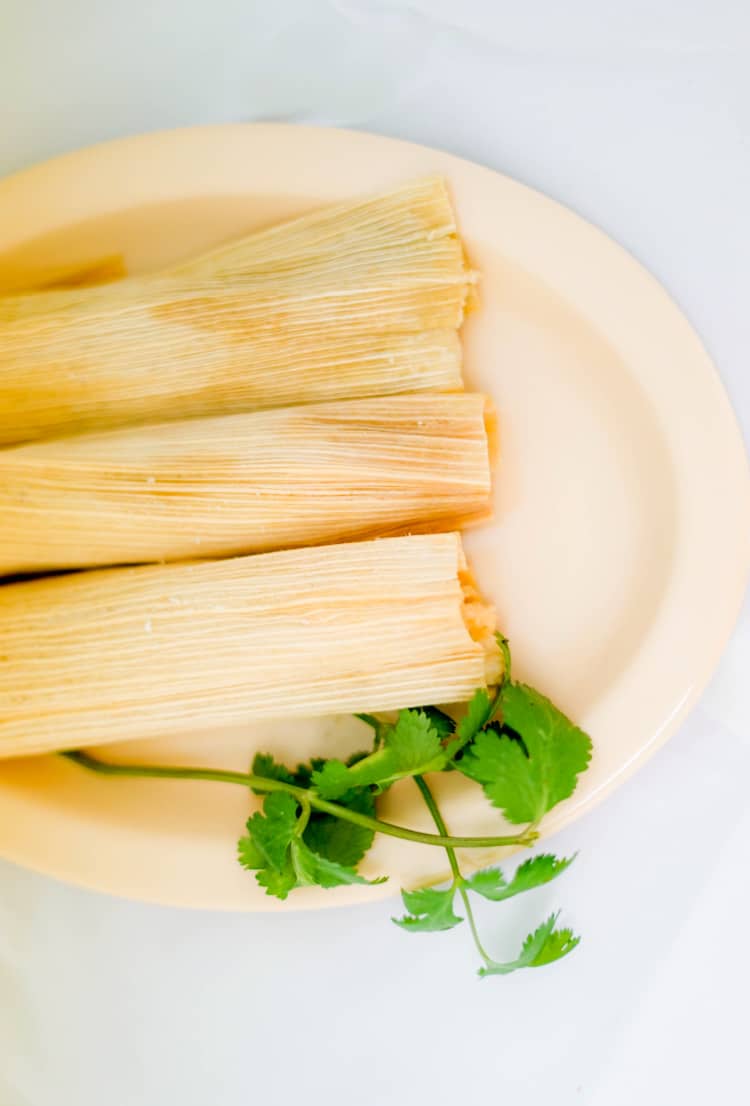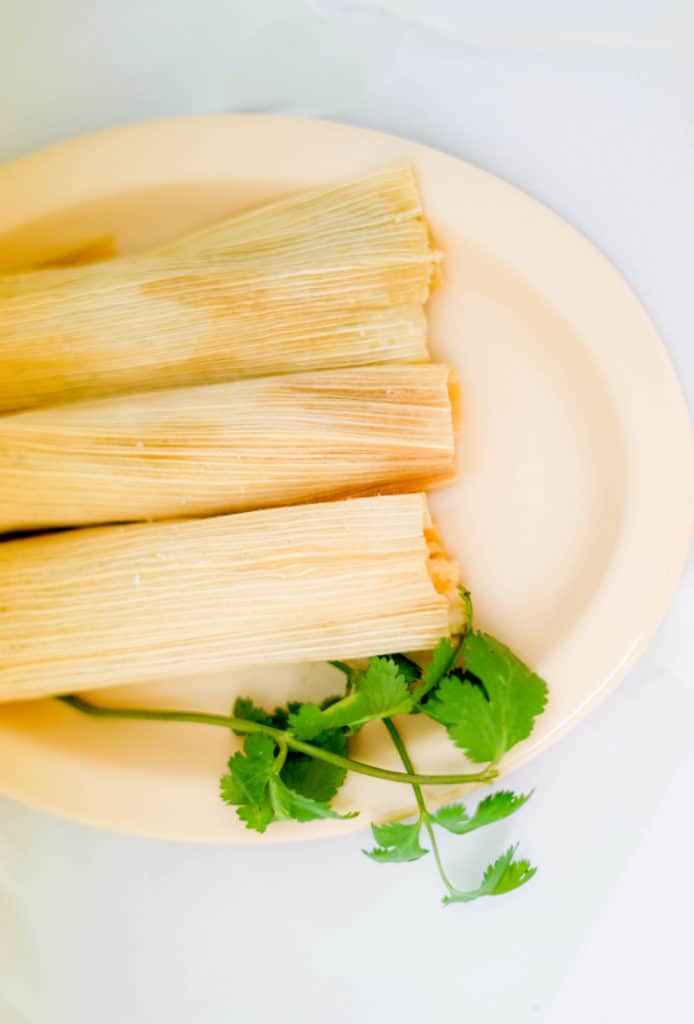 More About Dora's Vegan Tamales Book
Along with this delicious Potato Vegan Tamales Recipe, there are so many amazing sounding unique tamale recipes in this book (chocolate tamales anyone?), and I am seriously excited to try some more of them out.
Dora does a great job of 'holding your hand' for the tamale making journey, and provides step-by-step photos of the whole process, leaving no room for error.
For someone who had never made tamales before, I found it extremely helpful!
Pop over to amazon and grab a copy for yourself, or someone you know who loves tamales! Bonus: it's an ebook, so no need to wait for delivery, you can get it straight away and start that tamale party rolling!
Happy Eating
xx
Recipe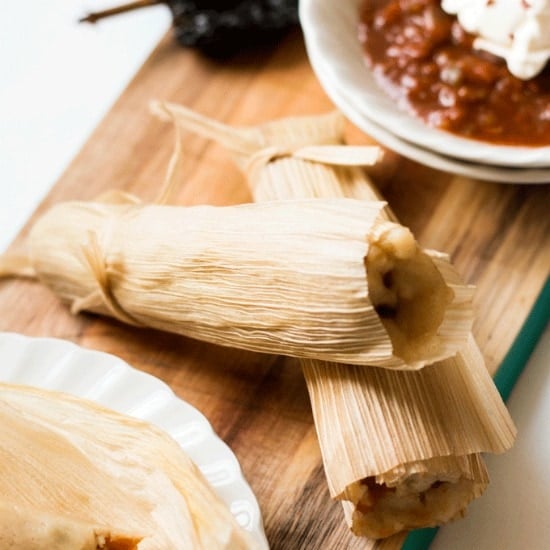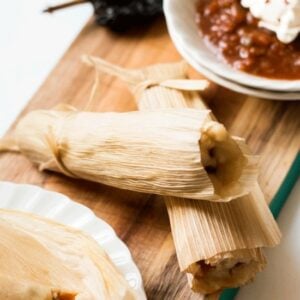 Potato Adobo Vegan Tamales
A healthier, vegan tamale stuffed with adobo spiced potatoes and peas. The perfect big batch cooking project to get the whole family involved
Ingredients
1 ½

lbs

Potatoes, peeled, cut into small dice

1

cup

Peas. fresh or frozen

3

Ancho chiles, dry, deseeded

1

½

Pasilla chiles, dry, deseeded

2

Garlic, cloves

¼

Onion, white

½

teaspoon

Cumin, ground

½

teaspoon

Oregano, ground

1

Clove, whole

¼

teaspoon

Cinnamon, ground

½

cup

Vinegar, white

½

cup

Chile soaking liquid

1 ½

cups

Vegetable Shortening or coconut oil

(I used coconut oil)

4

cups

Masa harina

1 ½

teaspoon

Baking powder

1 ½

teaspoon

Salt, kosher

4

cups

Vegetable stock or broth, warm

30

Corn husks
Instructions
Soak the corn husks in hot water, in a large pot or in your kitchen sink. Place a plate over them to weigh them down so they are completely submerged. Let them soak for at least an hour.

To make the filling, place the diced potatoes in a medium pot with salted cold water. Bring to a simmer and cook for about 6 min. or until the potatoes are slightly tender. When the potatoes are cooked, remove from the heat and pour the cup of peas into the water with the potatoes and let sit for 30 sec. Drain and set aside.


To make the adobo, bring a small pot of water to a boil. Remove the stems and seeds from the chiles and drop them into the water. Turn heat down to the lowest setting and let the chiles sit in the water for 10 min. Remove the chiles from the water and place in blender. Reserve ½ cup of the chile soaking liquid. Add the garlic, onion, oregano, cumin, cloves, cinnamon, white vinegar, and ½ cup of soaking liquid to the blender and process until smooth. Season with salt and pepper.


Pour the adobo on the cooked potatoes and peas, adjust seasoning, and mix well.


To make the dough, beat the vegetable shortening, on medium-high speed, with an electric mixer, until it has doubled in size and is nice and fluffy, about 3 minutes. Add the baking powder, salt, and beat for 1 minute to incorporate into the shortening.


Add half of the masa harina then add half of the vegetable stock. After it is completely incorporated, add the other half of masa harina and vegetable stock. Beat at low speed, until thoroughly mixed. It should have the consistency of a thick cake batter. If necessary, add more vegetable stock until you reach that consistency. Taste the dough, and add more salt if necessary. It should be a little bit salty.


For lighter and fluffier tamales, let the dough rest for an hour in the refrigerator. Remove the dough from the fridge and rebeat it, adding enough liquid to get it to the consistency it had before.


Remove the corn husks from the water and set on paper towels. Reserve the largest husks to wrap the tamales and the small ones to line the steamer.


To set up your steamer, fill the bottom with water making sure the water is not touching the steamer rack. Line the rack and sides of the steamer pot with corn husks. Set aside.


To wrap the tamales, pull 24 pencil thin strips off of the corn husks and set aside. Take a husk and dry off the excess water with a paper towel. Place the husk in your hand with the tapered side away from you and the smooth side up. Using a spoon, spread 2-3 tbsp. of the dough (¼ inch thick) onto the corn husk, forming a 3 - 4 inch square. Leave a border of at least ¾ inch on each side of the square.


Place 1 ½ tbsp. of the filling in the center of the dough. Bring the two long sides of the corn husk together, this will cause the masa to surround the filling, and roll them in the same direction around the tamal. (If the husk is too small, fold one of the long sides towards the center, and then fold the other long side on top.) Fold down the empty tapered section of the corn husk, forming a closed bottom. This will leave the top of the tamal open. Tie with a corn husk strip to secure the bottom of the tamal.


Place the tamal in the steamer vertically leaning against the side of the pot, with the open end on top. Repeat this process until you run out of dough and all the tamales are in the steamer. Cover them with a layer of corn husks. If the steamer is not full, fill the empty spaces with more corn husks. Cover the pot and bring the water to a boil. Turn heat down to medium and cook for 40 minutes. Check the tamales, when they separate easily from the corn husk it means they are done. If they are not done, steam for 10 more minutes and check again. (see notes for pressure cooker instructions)


Remove steamer from the heat and let sit covered for 10 minutes. Uncover and let cool for at least an hour. Don't be alarmed if the tamales seem really soft. As they cool, they will firm up.


Serve with some salsa, or pop in the fridge until ready to use. They last in the fridge for about 5 days in an airtight container. Alternatively, pop into a ziplock bag and store in the freezer for up to 6 months
Notes
If you would like to make these with fresh masa, replace the masa harina with 2 lbs. of fresh masa and reduce the vegetable stock to ¾ cup. To substitute the vegetable shortening, you can use 8 oz. of coconut oil. For tamales without fat, use 8 oz of cooked, unsweetened pumpkin.
Pressure Cooker: I don't have a steamer, so I actually cooked mine in the Instant Pot (electric pressure cooker). I followed the steaming instructions, but placed the uncooked tamales on the trivet within the Instant Pot, and cooked at high pressure for 10 minutes with natural pressure release for 10 minutes. They were perfect.
Nutrition
Calories:
350
kcal
Carbohydrates:
34.7
g
Protein:
4.7
g
Fat:
21.9
g
Saturated Fat:
6.4
g
Fiber:
4.9
g
Sugar:
3.4
g
Tried this recipe?
Leave a comment HERE and let us know how it was!
The information shown is an estimate provided by an online nutrition calculator. It should not be considered a substitute for a professional nutritionist's advice.
Need More Recipes?