These Chocolate, Pecan, and Pomegranate Cookies are just perfect for the Holidays or when pomegranate season hits. Showcasing delicious dark chocolate, pecans, and fresh pomegranate arils, they are refined sugar-free and packed full of flavor. Plus they are so easy the kids can help put them together with some adult supervision. No electric mixer is needed as these come together easily by hand.
I have been baking up a storm all week! We have been rolling out these 40 Minute Honey Wheat Dinner Rolls and this Honeyed Skillet Cornbread as well as these pomegranate cookies.
Jump to:
Pomegranate Cookies
When the weather gets cold and the winter woolies come out baking is a must!
Not only does it fill your belly with all of the comfort food yums, but having the oven running in the background also helps keep the house nice and warm.
Two birds, one stone, and all that.
These little gems are studded with bursts of fresh pomegranate, gooey dark chocolate, and crunchy pecans. They are simple and delicious. Plus they offer a healthier alternative for all the store-made cookies floating around at this time of the year.
For these cookies you are going to need:
melted coconut oil: given you are likely going to be making pomegranate cookies in colder weather your coconut oil will probably be solid. Simply gently melt in the microwave until it is soft enough to whisk in with the other ingredients;
coconut sugar: you can substitute raw sugar or brown sugar here if preferred;
vanilla extract;
egg: we are looking for a medium to large-sized egg, not a small one. If you do have a small egg then you may want to add 2. Substitute with a flax egg or a chis egg if you prefer these cookies to be egg-free;
all purpose whole wheat flour: you can substitute with an all-purpose gluten-free blend if preferred;
baking soda;
ground cinnamon;
dark chocolate: we will be chopping this into chunks, but you could also replace it with chocolate chips if preferred. Be sure to have a look at the ingredients to be sure whatever you decide to use aligns with your lifestyle choices;
fresh pomegranate arils: you can de-seed a fresh pomegranate yourself, or you can purchase the packets of pomegranate seeds from the cold section in the fruit aisles of well-stocked grocery stores. Don't worry if some pomegranate juice gets into the cookie dough, it adds flavor, sweetness and color;
pecans: use whole pecans and chop them yourself or purchase pecan pieces;
rolled oats: check the ingredients if you need this recipe to be gluten-free.
How To Make Healthier Oatmeal Cookies
These cookies are so easy to make they come together without the need for a stand mixer.
Simply whisk the coconut oil and sugar together in a large bowl until the sugar has dissolved. Add in the rest of the wet ingredients and whisk until well combined.
At this point, we are going to add in the dry ingredients and mix everything together until a cookie dough forms. Use a spatula for this part or you will end up with a sticky mess inside the whisk.
The cookie dough will seem dry at first, and as though you have added too many ingredients, but with some elbow grease they come together just perfectly.
TIP: be sure to place the scooped cookie dough into the fridge or freezer for about 20 minutes before adding them to a preheated oven. This helps the cookies to become crispy on baking.
Use a cookie scoop or a tablespoon to scoop the cookie dough into even-sized rounds to ensure each cookie bakes at the same rate and ends up at the same level of crispy.
I use an extra-large cookie sheet, but if you only have small cookie sheets, you will want to use two to allow enough room for the cookies to spread when baking.
Bake cookies to a beautiful golden brown color, allow the pomegranate cookies to rest on the baking tray for about 5 minutes before transferring them to a wire cooling rack and allowing them to cool completely to room temperature. The cookies will crisp and harden up as they cool.
Result = the perfect cookie!
Tips, Tricks, and Substitutions
If the weather is cold the coconut oil will likely become a solid which will make it hard to whisk with the sugar. To rectify this, simply melt the coconut oil in the microwave in a microwave-friendly dish until it is softened.
Be sure to leave sufficient space on the baking sheet for the cookies to spread as they bake. If you do not have a large baking sheet then you may want to divide this recipe between two baking sheets.
Want to change things up? Why not try:
adding white chocolate chips instead of dark chocolate
using two cookies and a scoop of ice cream to make an ice cream sandwich
adding some orange zest
Leftover cookies should be stored in an airtight container for about 3-5 days.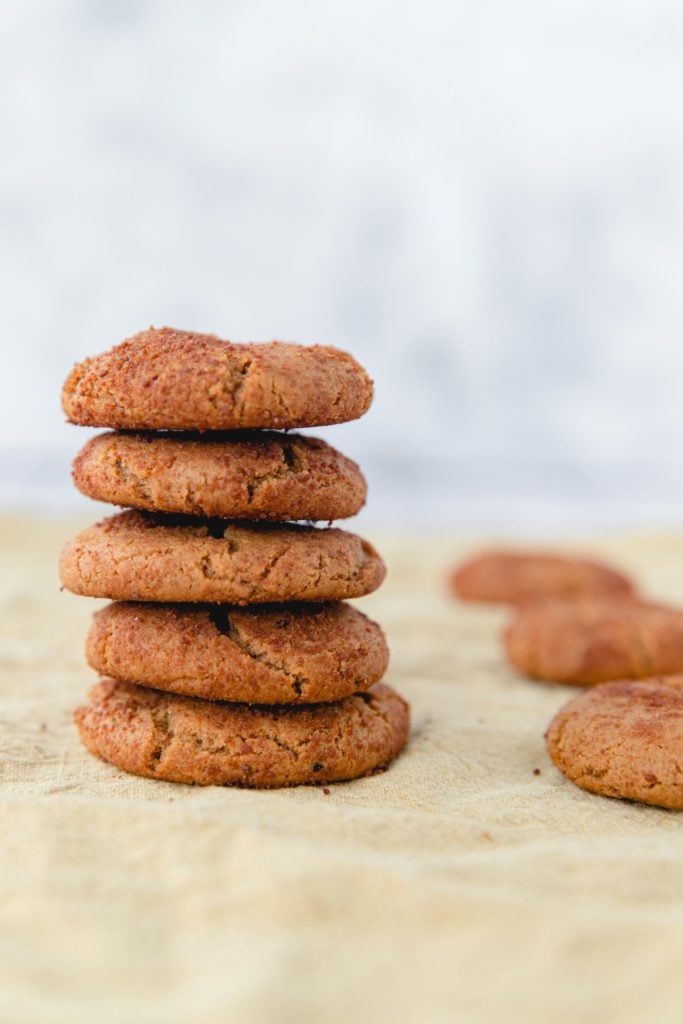 Need More Healthy-ish Cookie Recipes?
Once you start making your own cookies at home it can become a little addicting. Especially come the holiday season!
After you have perfected these pomegranate oatmeal chocolate chip cookies why not try some of these recipes out next:
What are your favorite cookie recipes?
Happy eating.
Recipe
 Chocolate, Pecan, and Pomegranate Healthy Oatmeal Cookies Recipe
This Chocolate Pecan and Pomegranate Healthy Oatmeal Cookies Recipe are just perfect for the Holidays. Showcasing delicious dark chocolate, pecans and fresh pomegranate arils, they are refined sugar-free and packed full of flavor. Plus they are so easy the kids can help put them together with some adult supervision.
Ingredients
½

cup

softened coconut oil

⅔

cup

coconut sugar

½

teaspoon

pure vanilla extract

1

large egg

¾

cup

whole wheat flour

½

teaspoon

baking soda

½

teaspoon

ground cinnamon

½

teaspoon

sea salt

½

cup

dark chocolate

chopped into chunks

¼

cup

pomegranate arils

¼

cup

pecans

chopped

1

cup

rolled oats
Instructions
Add the coconut oil, coconut sugar, vanilla extract and egg to a large mixing bowl. Cream them together until as smooth as possible

In a separate bowl, whisk together the flour, baking soda, cinnamon, and ½ teaspoon of sea salt

Stir the flour mixture and the coconut oil/sugar mixture together until just combined. Add in the oats, chocolate chunks, pomegranate arils and pecans. Mix well

Scoop tablespoon sized balls of the batter onto a baking tray lined with parchment paper (you should get about 16). Pop the tray with the cookies into the fridge/freezer for about 20 minutes. This will make them crispier when baked

Whilst the cookies are in the freezer, pre-heat the oven to 350F

Pop the cookies into the oven and bake the cookies for about 14 minutes, until they are just beginning to look golden

Remove from the oven and let them sit on the baking sheet for five minutes, then transfer them to a wire rack to cool. Enjoy
Notes
If you don't have a huge baking sheet, then you will want to do this on two baking sheets (or in two batches), or they will stick together when they spread
Nutrition
Calories:
133
kcal
Carbohydrates:
7.6
g
Protein:
1.7
g
Fat:
7.6
g
Saturated Fat:
6.4
g
Cholesterol:
10
mg
Sodium:
56
mg
Fiber:
0.7
g
Sugar:
8.3
g
Tried this recipe?
Leave a comment HERE and let us know how it was!