Be sure to look after your vegetarian and vegan friends at your Game Day party (or any other day), with these Beet Balls.
Oh my gosh, my first Game Day in the U.S was HORRIFIC! My husband made friends with this great younger couple, with no kids, a lovely house and two Chihuahuas. He dragged us along to watch the Super Bowl at their place, saying it would be super relaxed and fun. I won't go into the specifics, but it was neither. Lets just say small kids, smaller dogs, and fancy houses don't mix very well…
Plus, those games are frickin long!
This year we will be watching at our own place, with some friends, and I have been enjoying coming up with some snack ideas to keep everyone's bellies full and happy during the festivities. Hubby loves the standard chicken wings, chip and dip fare, so that was easy to sort out, but I wanted something a bit fancier for our vegetarian friends. This is where the beet balls come in.
Beets are absolutely fantastic at the moment, and I have been going through a ridiculous amount, with our smoothies every morning. I decided to pair them with some lentils and herbs to make them into little vegetarian meatballs (aka beet balls), and they are great.
For game day, I plan on just serving them straight up, with some home-made tomato ketchup, to keep things simple. But if you want to make it into a proper meal you can throw together a salad with some arugula, pickles and tomatoes with a mustardy dressing. I will be sharing my awesome beet ball sub salad I served up with our leftover beet balls with you soon. Apparently it tastes like McDonalds in a salad….I think that was supposed to be a compliment, although for a healthy food blogger, that's not exactly what I was shooting for hey!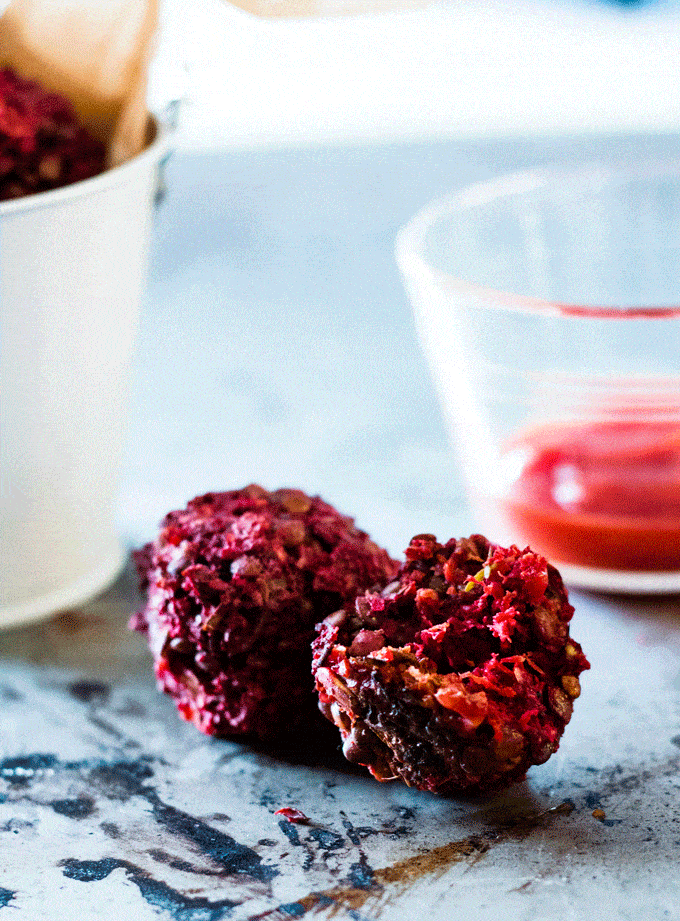 Game Day Beet Balls
Look after your vegan and vegetarian friends with these delicious little morsels packed full of goodness. Beet Balls combine beets with lentils, bulgur and spices to create a great meatball alternative
Ingredients
2

cups

homemade vegetable broth

store bought is fine also

1/2

cup

brown lentils

uncooked

1 1/2

tsp

dried thyme

1/2

cup

uncooked bulgur wheat

1

small finely minced brown onion

1/2

lb

beets

peeled and grated

1

tbsp

avocado oil

2

tbsp

tomato sauce

2/3

cup

quick cooking oats

2

tsp

smoked paprika

1

tsp

dried oregano

salt and pepper to taste
Instructions
Combine the broth, lentils and thyme in a medium saucepan and bring to a boil. Once boiling, reduce the heat to low and allow to simmer, uncovered, for 35 mins

Add in the bulgur, give a quick stir, and pop the lid on. Set aside for 20 minutes, until all the liquid has been absorbed

Preheat the oven to 400F. Line a large baking tray with parchment paper and spray with coconut oil

Add all other ingredients to the lentil mixture, and stir to combine. Keep mixing until the mixture resembles a moist dough - you may need to get in and get your hands dirty here, depending on how juicy your beets are

Using a cookie scoop (if you have one - otherwise just use a tbsp and form into a ball with moistened hands), scoop balls of the dough onto the parchment lined tray

Spray the balls with a little bit more coconut oil and bake for 30 minutes. The balls should be a little bit crunchy on the outside, and really hot on the inside. Remove from the oven, and serve with your favourite dipping sauce
Recipe Notes
I use fractionated coconut oil, which can be sprayed from a can like cooking spray (I use the one found at trader joes)
Nutrition Facts
Game Day Beet Balls
Amount Per Serving
Calories 131
Calories from Fat 30
% Daily Value*
Fat 3.3g5%
Sodium 102mg4%
Carbohydrates 22.5g8%
Protein 4.3g9%
* Percent Daily Values are based on a 2000 calorie diet.
If you are looking for some more inspiration for game day snacks, be sure to check out these guys: