Belly warming and made with love, this slow-cooked minced pork ragu is the perfect way to celebrate the weekend. Pour yourself a glass of wine and spend some time in the kitchen preparing this heavenly dish for you and your loved ones.
Slow Cooked Minced Pork Ragu
I have been making this Slow Cooked Minced Pork Ragu recipe for many years now, and I just can't believe I haven't popped it on the blog for you guys yet!
It was one of the first 'scary/too hard' recipes I attempted in my early twenties, and I have to say, it has evolved into something amazing over the years.
It certainly comes from a place of love.
I first came across a recipe for Italian pork ragu in a random discarded newspaper I was reading on my lunch break. It was one of those recipes that sounds so tantalizing your mouth automatically starts watering and you would give anything for a big bowl of whatever it is to just appear before you Genie-style right there and then.
It didn't.
Unfortunately, no Genie was around to supply such things, and I wasn't doing much cooking at that point in my life either.
In fact, I hadn't even heard of the cut of meat they were using in the recipe, and we had just bought a new house so we had no money for fancy cuts of meat anyway. The little recipe was promptly clipped from the food section and sadly languished on my desk for a long time.
Fast forward a few years and I discovered that I actually quite liked cooking.
The pork ragu recipe became one that I made over and over again until it looked nothing like the original and turned into my signature dish when we had people over for a nice dinner...then I forgot about it for years again.
So I am sure you can imagine my sheer delight when I stumbled across my much-edited clipping and prepared a big heavenly pot last weekend. The kids gobbled up 3 bowls each, and my husband was super jealous when he discovered what we had been eating without him.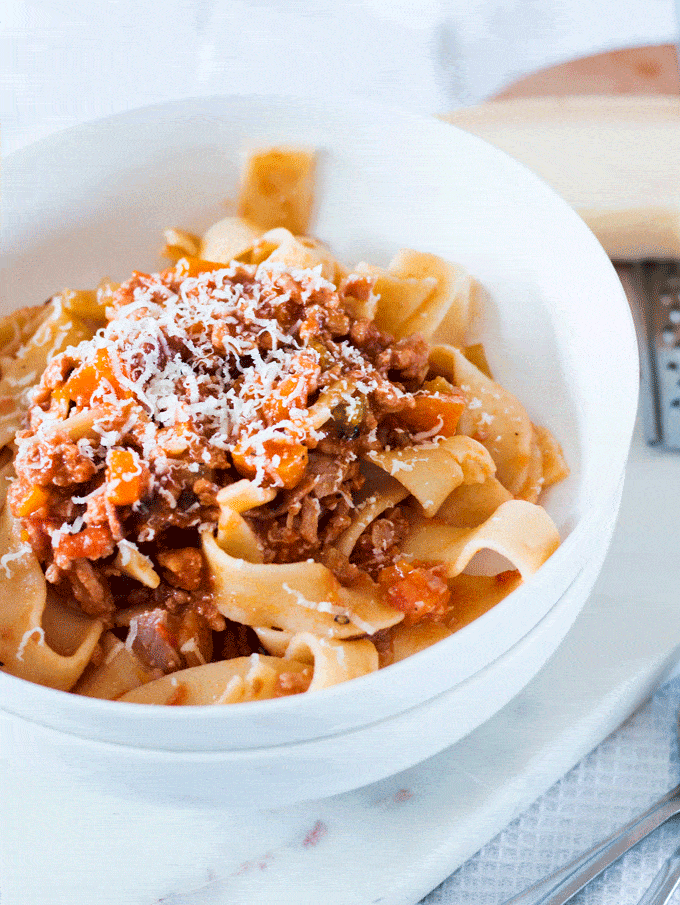 This version of slow-cooked minced pork ragu is nothing like the original found in that old dusty newspaper.
Here's why:
It doesn't use crazy expensive ingredients found on the other side of town;
there are no crazy cooking skills involved;
and it doesn't need to be reserved for special occasions;
big plus: you can freeze the extra sauce to have a delicious meal on hand during a busy week.
This is your 'everyday, everyman' ragu and it is quite the dish! I just hope you love it as much as we do.
Need more comfort food inspiration? Check these yummies out: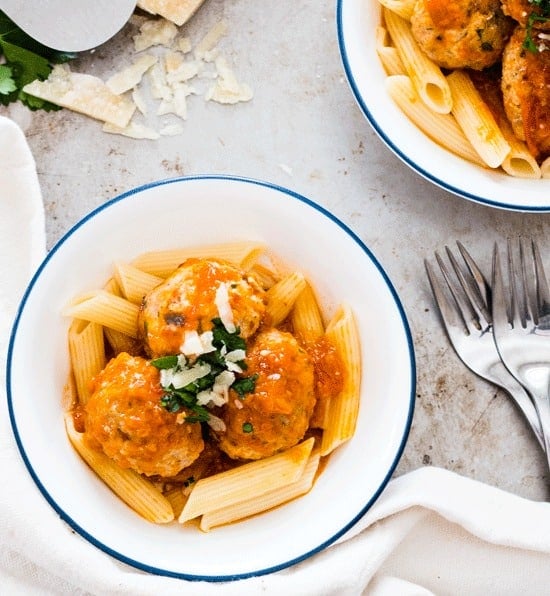 Baked Turkey Meatballs with Ricotta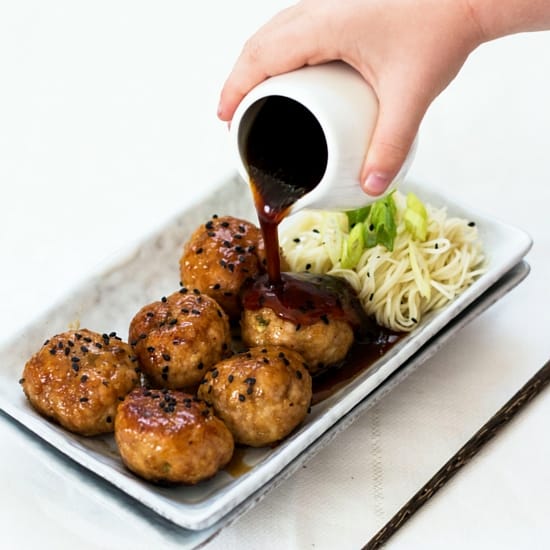 Honey Ginger and Garlic Pork Meatballs
One Pan Za'atar Pork Tenderloin
Do you have a signature dish you have been perfecting over the years? I would love to hear all about it so be sure to leave a comment. Happy eating.
Recipe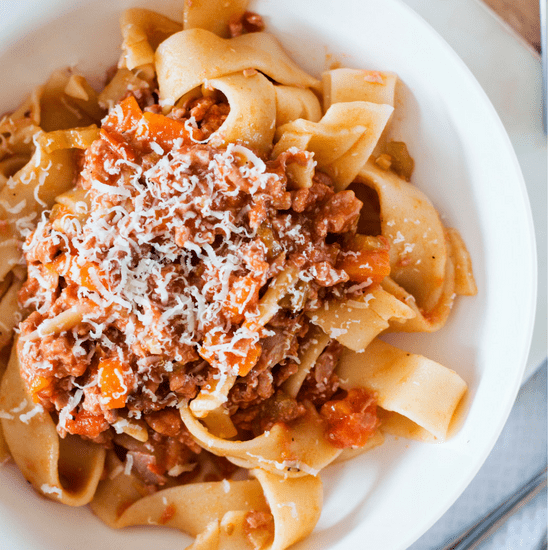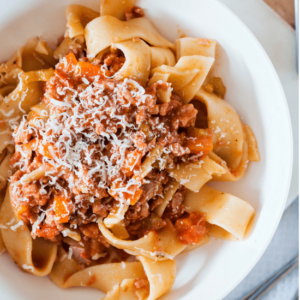 Slow Cooked Minced Pork Ragu
Belly warming and made with LOVE, this slow cooked pork mince ragu is the perfect way to enjoy a quiet weekend. The ULTIMATE comfort food, it pairs well with some freshly cooked pasta. Make a double batch and freeze half for a busy week.
Ingredients
½

lb

bacon

finely diced (look for bacon free of sulfites/sulfates)

1

large carrot

diced

2

celery stalks

diced

1

small onion

diced

1

lb

pork mince

look for pasture raised where possible

½

cup

dry red wine

2

tablespoon

tomato paste

1

cup

chicken stock

1

cup

whole milk

salt and pepper to taste

pappardelle

freshly cooked to serve

parmesan

finely grated to serve
Instructions
Fry bacon gently in a saucepan. Once cooked, add in the carrots, celery and onion and cook softly until slightly brown and the onion is translucent

½ lb bacon,

1 large carrot,

2 celery stalks,

1 small onion

Add in the pork mince and stir constantly until browned (see notes re fat)

Add in the wine, tomato paste and a little of the stock. Stir to combine

½ cup dry red wine,

2 tablespoon tomato paste,

1 cup chicken stock,

1 cup whole milk,

salt and pepper to taste

Simmer for two hours, gradually adding in the remaining stock and milk during that time. Season to taste with salt and pepper

To serve ladle a scoop of the meat mixture over some freshly cooked pasta and top with parmesan cheese
Notes
Store: leftovers in an airtight container in the fridge for about 3 days
Freeze: the pork ragu sauce freezes really well and can be frozen in an appropriate container for about 3 months. I would not freeze it with the pasta, instead prepare some pasta on the day that you serve.
Bacon: If you are using a particularly fatty bacon and/or pork mince (such as what is commonly available in the US), you might want to drain the fat after cooking the bacon and pork mince.
Nutrition
Calories:
375
kcal
Carbohydrates:
7
g
Protein:
18
g
Fat:
27
g
Saturated Fat:
10
g
Cholesterol:
76
mg
Sodium:
327
mg
Potassium:
489
mg
Sugar:
4
g
Vitamin A:
1885
IU
Vitamin C:
3.6
mg
Calcium:
69
mg
Iron:
1
mg
Tried this recipe?
Leave a comment HERE and let us know how it was!
The information shown is an estimate provided by an online nutrition calculator. It should not be considered a substitute for a professional nutritionist's advice.
Check out these easy pork mince recipes for some inspiration on what to do with that pork mince you have in the freezer.