Throw some onions, garlic and dry beans into the slow cooker, walk away, and in 4 hours you have enough savory black beans for a fair few meals. Plus it is cheaper than buying the canned version. Sound good? Read on.
I have been making my refried beans in the slow cooker for a long time. I luuuurve refried beans, but not all the added salt in the canned version. I decided to give the same recipe a shot, using some black beans, to change it up - because I am a rebel like that...I can now say I have stepped away from canned savory black beans for good! It's now Slow Cooker Savory Black Beans, or nothing.
I am all about the frugal, if it doesn't take me a million years to make, AND I can get a few serves knocked out at once for the freezer. This recipe ticks off all the boxes. Just 4 ingredients, not much in the way of prep work at all, half the price of the store bought version, and gives me 8 servings of savory black beans for future use. Plus you are in charge of the salt content, which is a huge plus when serving up to little ones.
We usually have a 'make your own salad bowl' one night a week (when I CANNOT cook another meal), and black beans are great for filling the salad out and giving a kick of flavour. You can also chuck them into some burritos, or whip up some Sweet Potato and Black Bean Burgers. Such a versatile bean to have on hand.
Do you have a favourite staple you cook up in the slow cooker? I would love to hear what you have to say. Be sure to leave a comment, like on Facebook, tweet on Twitter or pin to Pinterest for future use! Happy eating 🙂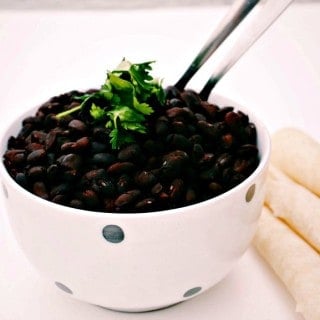 Savoury Slow Cooker Black Beans
Black beans are such a versatile staple to have on hand. This slow cooker home-made version is a fraction of the cost of store-bought, plus you have control of the salt content. Oh and they are delicious
Ingredients
1

lb

dried black beans

1

onion

peeled and quartered

3

cloves

garlic

peeled and smashed with the end of a knife

2

bay leaves

6

cups

of water

2

tsp

salt
Instructions
Rinse and sort your black beans, being sure to remove any small stones

Pop all of the ingredients, except the salt, into a slow cooker and cook on high for 3-4 hours. Length of time will depend on your slow cooker - be sure to check after 3 hours (see notes)

Once ready, stir in the salt and store in an airtight container in the fridge, or freeze. Tip: I usually keep a bit of the leftover liquid in with the beans when storing - it stops them from drying out, especially if you plan on freezing
Notes
To check for doneness - just remove a bean from the slow cooker, and squeeze between two fingers. If it is soft, and crushes, the beans are ready
Nutrition
Calories:
198
kcal
Carbohydrates:
36.6
g
Protein:
1.21
g
Fat:
0.8
g
Sodium:
80
mg
Fiber:
9.1
g
Sugar:
0.1
g