Black beans are such a versatile ingredient to have on hand. These slow cooker black beans are made for a fraction of the cost of store-bought canned beans, plus you have control of the salt content. Meal prep made easy, these freezer-friendly savory beans will soon become a staple in your house. They are perfect for burritos, salads, veggie bowls, or stuffed in flour tortillas with some sour cream, avocado, and rice for a simple bean wrap.
If you make these homemade black beans you might want to try them in this Spicy Chipotle Tofu Burrito Bowl.
How To Make Slow Cooker Savory Black Beans
Jump to:
Throw some onions, garlic, a bay leaf, and a bag of black beans into the slow cooker, walk away, and in 4 hours you have enough tender beans for a fair few meals.
Plus it is cheaper than buying the canned version.
Sound good?
For the basic version of this black bean recipe you will need:
dried beans: for this recipe, I use dried black beans, but this recipe will also work well for other types of beans such as pinto beans or red kidney beans. I buy my dried beans from the bulk bin at my local store, but they can also be found in bags in the same section of your grocery store where you would find canned soup;
bay leaf;
minced garlic;
chopped onion: I use a brown onion for this recipe, but a red onion would work just as well;
water or a low-sodium broth.
Want to change things up? Scroll down to the tips, tricks, and substitutions section for some tips on how to change this up and find the best way to make this recipe for you and your family.
I can guarantee that once you have tried this homemade black beans recipe it will be this or nothing.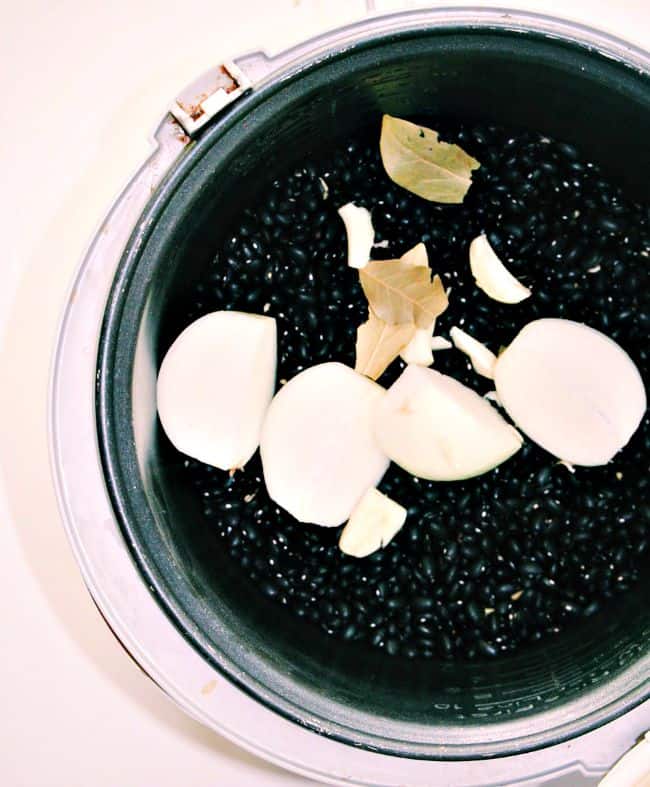 Why Make Slow Cooker Black Beans At Home Instead of Buying From The Store?
I tend to make a lot of things from scratch that can easily be purchased from the store.
But it has to be worth it!
It is worth making slow cooker black beans at home because:
It doesn't take much in terms of time investment. You simply add the ingredients to a slow cooker, set it, and walk away.
They only require 4 simple ingredients, so no need for a big complicated shop before you can get to work
They work out to be a fraction of the cost of store-bought canned black beans
They are the perfect candidate for making a big batch and storing in the freezer for future use
You don't have any wasteful packaging to deal with
You get to be in charge of the salt content (a lot of store-bought canned black beans come with a hefty dose of salt and require rinsing if you are sensitive to large amounts of salt)
With this huge list of benefits, why wouldn't you make your own black beans at home in the slow cooker?
(Oh and added benefit - they make the house smell pretty good too!)
Tips, Tricks, and Substitutions
Use a slotted spoon to remove the beans from the cooking liquid before using in a recipe, otherwise, you will have too much liquid.
The ingredients listed are for the basic recipe, however, you might want to change things up a bit and add some extra flavor by trying:
chili powder, chipotle peppers, red pepper flakes, or hot sauce if you like spicy food
taco seasoning or ground cumin for some Mexican black beans
onion powder or garlic powder to amp up the flavor
more garlic cloves
vegetable broth or chicken broth instead of water for more flavor
chopped bell pepper for some hidden veggies
Use pinto beans instead of black beans and use an immersion blender to blend which will give you refried beans.
These cooked beans can be used as refried black beans by using an immersion blender or potato masher to mash.
In terms of the cooking process, you can change this recipe by cooking on the stovetop or in the instant pot, or in another pressure cooker instead of a crock pot.
For the instant pot cook on high pressure for 30 minutes if you have unsoaked beans, or for 15 minutes if you have soaked beans.
For the stovetop, you will want to cook one medium heat for 1.5-2 hours, or until tender.
Cooked beans should be allowed to cool completely before storing them in the fridge or freezer.
Freeze on cup portions for easy thawing so that you only grab what you need from the freezer.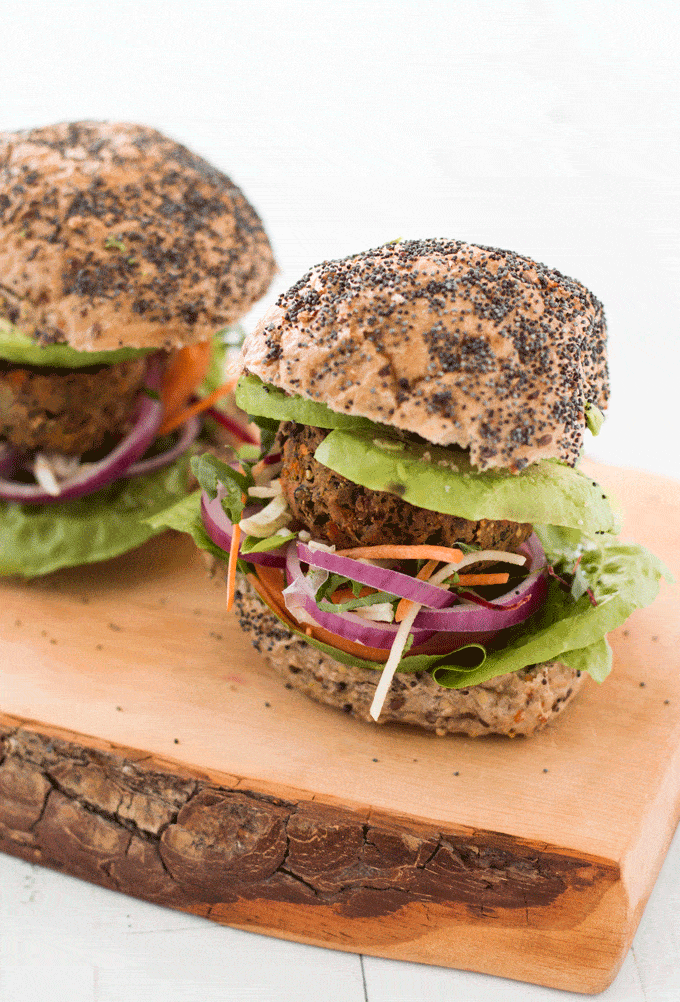 How To Serve Savory Black Beans
This easy recipe is super versatile and so handy to have on hand in the fridge or freezer to bulk up meals.
Try out these suggestions for serving your slow cooker beans.
Top with some sliced green onions for a delicious side dish with some tortilla chips for scooping
Throw them into a salad (a Mexican-style salad would work really well)
Throw them into a vegetable soup to fill it out or use in a slow cooker black bean soup
Grab some sweet potatoes and make these sweet potato and black beans burgers as a super satisfying main dish
One of my favorite ways is to use them in these beef and bean enchilada cups
For a super simple but complete meal serve with some brown rice, cilantro/coriander, and avocado chunks, Try adding a tortilla for some black bean tacos;
Add to burritos or quesadillas
This easy slow cooker recipe is such a versatile recipe to have on hand!
Happy Eating
xx
Recipe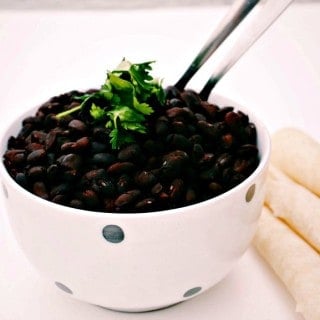 Savory Slow Cooker Black Beans
Black beans are such a versatile staple to have on hand. This slow cooker home-made version is a fraction of the cost of store-bought, plus you have control of the salt content. Oh and they are delicious.
Ingredients
2 ½

cups

dried black beans

1

onion

peeled and quartered

3

cloves

garlic

peeled and smashed with the end of a knife

2

bay leaves

6

cups

water

2

teaspoon

salt
Instructions
Rinse and sort your black beans, being sure to remove any small stones.

Pop all of the ingredients, except the salt, into a slow cooker and cook on high for 3-4 hours (see notes). To check for doneness simply remove a bean from the slow cooker, and squeeze between two fingers. If it is soft, and crushes, the beans are ready.

Once ready, turn off the slow cooker and stir in the salt.

Store in an airtight container in the fridge. Leftovers can also be frozen in smaller portion sizes and simply thawed and reheated when needed.

Tip: keep a bit of the leftover liquid in with the beans when storing them - it stops them from drying out, especially if you plan on freezing.
Notes
Slow cooker: Cooking time may vary between different brands of slow cookers. Check the beans for doneness after 3 hours by removing one bean from the slow cooker and squeezing it. If it crushes easily, then the beans are cooked and can be removed from the slow cooker Store: store in an airtight container in the fridge for about 2-3 days. Freeze: freeze in smaller one-cup portion sizes so that they can be used in individual dishes without the need to thaw and use the whole batch. 
Nutrition
Calories:
198
kcal
Carbohydrates:
36.6
g
Protein:
1.21
g
Fat:
0.8
g
Sodium:
80
mg
Fiber:
9.1
g
Sugar:
0.1
g
Tried this recipe?
Leave a comment HERE and let us know how it was!
The information shown is an estimate provided by an online nutrition calculator. It should not be considered a substitute for a professional nutritionist's advice.