You know you have managed to make tofu taste amazing, when your husband, a very outspoken naysayer when it comes to tofu, is heaping some of your tofu burrito bowl on top of his own pork filled dinner. It is a very satisfying feeling indeed.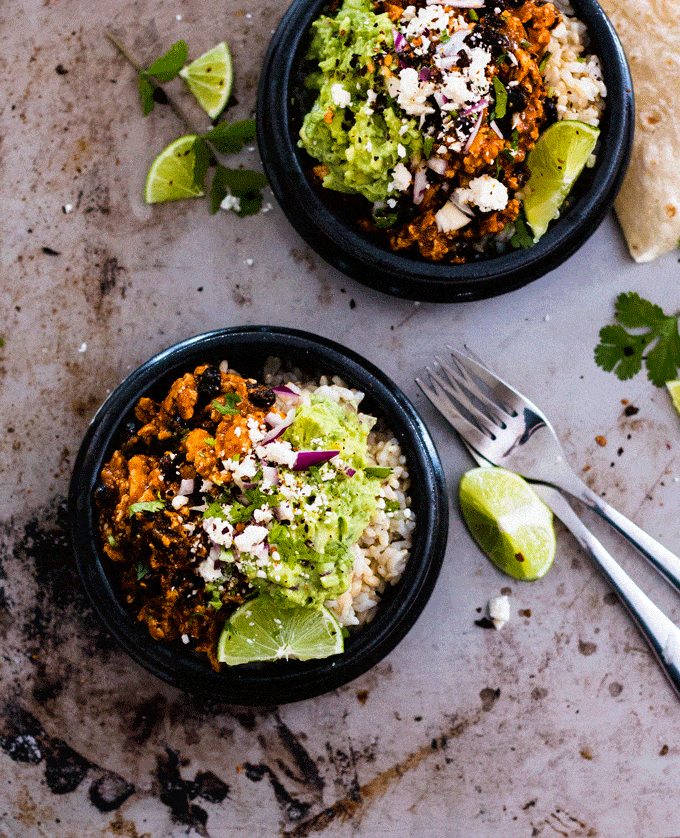 Ok, so you all know I turned 30 recently (you didn't? you can hear all about it here – pop over, have a read and come back – I will wait :)). What you didn't know, is that I also decided to go back to being vegetarian as of my thirtieth, well pescetarian….as I have yet to give up sushi – but it's a work in progress. It's not that big of a deal in my day to day life, as I was already only really eating meat once a week, but I felt like I needed to make the commitment out loud to myself. And now there's no going back seeing as I have told you all 🙂
The only real change is that once a week when I make chicken/meat etc for the family – I have to make a separate veggie meal for myself. Sounds like a pain, BUT it means that once a week I can indulge in a super spicy meal, which I otherwise wouldn't be able to eat as the only spice-lover in the house. See, there's always a silver lining to be found 🙂
I am all about the spicy food over here, but this burrito bowl is the first spicy meal that I have made at home in what feels like forever!! And I am totally hooked. It is so quick and easy and it really tastes delicious. I may have had a spicy burrito bowl for breakfast on more than one occasion this week….don't judge until you have tried it yourself.
Make sure you get the extra firm tofu. It will work with the firm stuff (I have tried it out), but the texture is so much better with extra firm, trust me. Load your bowl up with some brown rice, a huge dollop of guacamole, some queso fresco (vegan? leave it out) and a squeeze of lime. I also add some extra chipotle chilli flakes just because I can 🙂
I hope you love this bowl as much as I do. I would love to hear from you – make sure you leave a comment if you try it out. Happy eating.
As a side note, you should totally be making your own black beans. I use this slow cooker recipe, so they are made in a cinch, and they cost a fraction of the store-bought versions loaded with salt and other unnecessary ingredients.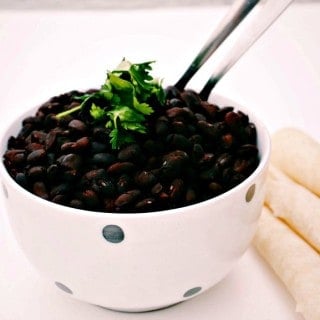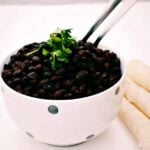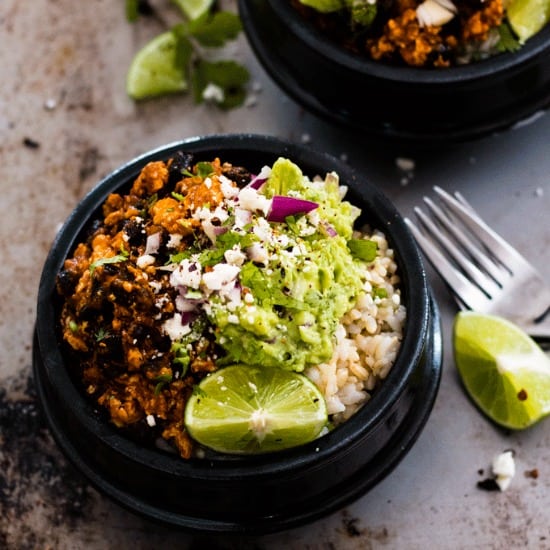 Spicy Chipotle Tofu Burrito Bowl
Spicy chipotle tofu layered over brown rice, a huge dollop of freshly made zesty guac and some nice queso fresco - the perfect quick and easy vegetarian burrito bowl to whip up on a weeknight
Ingredients
4

individual chipotle peppers in canned adobo sauce

2

tablespoons

of the adobo sauce

3

cloves

garlic

1/2

cup

fresh tomato salsa

2

tablespoons

olive oil

1/2

teaspoon

salt

a pinch of coconut sugar

1

cup

uncooked brown rice

5

limes

2

handfuls of fresh cilantro

chopped

16

ounces

extra firm tofu

1

cup

black beans

rinsed and drained

2

large avocados

1/2

cup

minced red onion

queso fresco and extra cilantro for serving
Instructions
Make the rice: Cook the rice according to the directions on the packet. Once it is cooked, add in the juice of 2 limes and a handful of chopped cilantro

Pop the chipotle peppers, adobo sauce, salsa, oil, salt, and sugar into a blender and pulse until it becomes smooth

Slice the block of tofu into about 10 slices and press with paper towels to remove any excess moisture. Heat some oil over medium high heat and stir fry the tofu until it's starting to get a little bit golden. Once slightly golden, use a whisk to mash and scramble the tofu into small bits

Once scrambled, add in the chipotle sauce, with ½ cup water, and the black beans. Simmer for 15 mins and then remove from heat

For the guacamole mash the avocados in a medium bowl, add in the juice from 3 limes, the rest of the cilantro and the onion. Add some salt if you feels it needs it (I usually don't) Stir well to combine

To serve: Pop some rice into the bowl, top with the chipotle tofu mixture, a dollop of guacamole and some queso fresco. Enjoy
Nutrition Facts
Spicy Chipotle Tofu Burrito Bowl
Amount Per Serving
Calories 410
Calories from Fat 192
% Daily Value*
Fat 21.3g33%
Cholesterol 3mg1%
Sodium 572mg25%
Carbohydrates 42g14%
Protein 19.4g39%
* Percent Daily Values are based on a 2000 calorie diet.