Spicy chipotle tofu layered over brown rice, a huge dollop of freshly made zesty guacamole, and some nice queso fresco (sub in feta or a nice vegan cheese alternative if needed) make this chipotle burrito bowl the perfect quick and easy dinner to whip up on a weeknight. Leftovers pack well for lunch the next day, and the whole dish is great for meal planning for a busy weeknight. A simple chipotle copycat that will quickly become a new favorite.
gluten-free. meat-free. meal plan friendly. freezer friendly.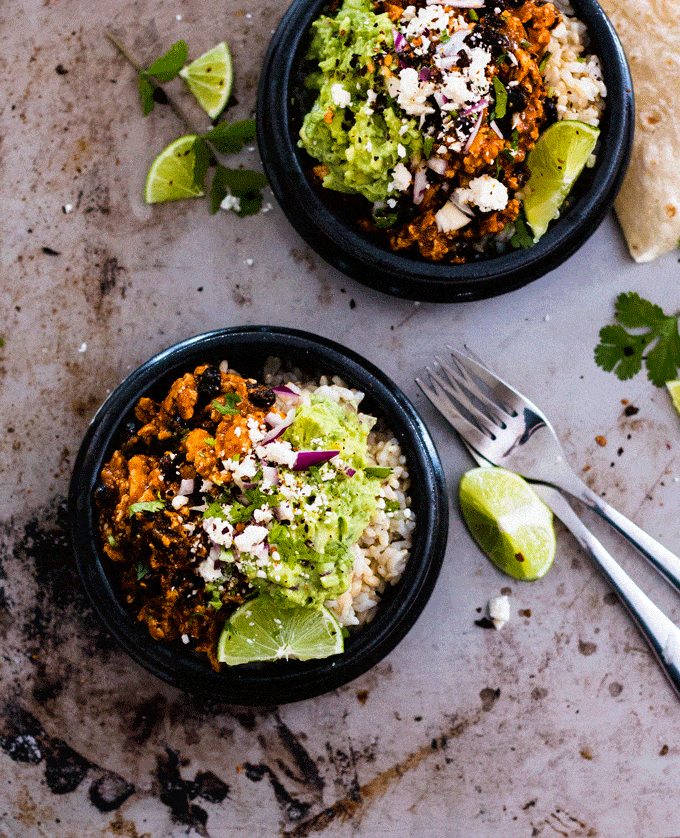 If you love a good burrito bowl recipe for a busy week then check out this Baked Almond Crunch Falafel Bowl next.
Spicy Chipotle Tofu Burrito Bowl
Jump to:
You know you have managed to make tofu taste amazing, when your husband, a very outspoken naysayer when it comes to tofu, is heaping some of your tofu burrito bowl ingredients on top of his own pork-filled dinner.
It is a very satisfying feeling indeed.
This spicy tofu bowl is so quick and easy to whip up, is super comforting, and it really tastes delicious.
I may have had one of these bowls for breakfast on more than one occasion this week....don't judge until you have tried it yourself.
A Note On Ingredients
The ingredients used in this spicy chipotle bowl are all fairly simple, however, you should note a few things.
Tofu
Make sure you get the extra firm tofu.
The bowl will still work with the firm stuff (I have tried it out), but the texture is so much better with extra firm, trust me.
It is IMPORTANT that you use a potato masher or a whisk in this recipe to get the right texture on the tofu.
The tofu should resemble minced meat, so you will really have to put some effort into mashing it up.
Chipotle in Adobo
This can be a little bit trickier to find if you are outside of the U.S. and Mexico etc, however, if you check the Mexican section or the International food section in a well-stocked grocery store you should be able to find it.
Otherwise, you can always find it in a specialty food store or online.
This can be quite spicy, so use less if you are serving up to the whole family, and simply add some more when serving for those who like a bit of a kick.
If you can't find it you can use in some mild chipotle seasoning mix or taco seasoning.
Tomato Salsa
You can make your own simple tomato salsa or you can buy tomato salsa in a jar.
Black Beans
These can be bought premade and canned, or you could always make your own slow cooker black beans, which taste amazing and give you control over the salt content.
You can also sub in pinto beans, or refried beans if preferred.
Serving Suggestions
Load it up!
This bowl is super versatile so let your imagination go wild when it comes to the toppings. Here are some ideas:
Serve the spicy tofu on top of some cooked brown rice, white rice, quinoa, or cilantro lime rice;
If you prefer to keep it lighter, or grain-free, then serve it on top of some lightly sauteed cauliflower rice or broccoli rice. This has the added bonus of sneaking some extra veggies into the meal;
Guacamole (to keep it a bit lighter why not try a skinny blender green pea guacamole);
Queso fresco (if you are vegan leave it out, if you cannot access queso fresco use some crumbled feta instead);
A dollop of sour cream or vegan sour cream alternative (why not try this amazing recipe for vegan tofu from forks over knives);
some tortilla chips for scooping;
A squeeze of lime juice and some lime wedges;
Some extra tomato salsa or pico de gallo;
Chopped red onions;
Chilli flakes;
Chipotle chili flakes.
Add your favorite burrito bowl ingredients to your bowl to make it your very own creation. I love to add strips of red bell pepper or fajita veggies when I feel the need to bulk it out with extra vegetables.
The tofu mixture also works incredibly well stuffed in a tortilla for lunch with some shredded romaine lettuce!
TIP: I reheat any leftovers the next day, and add a poached egg on top for a delicious breakfast with a twist.
Storing Leftovers
Leftover chipotle tofu can be stored in airtight containers in the fridge for about 5 days. Store warm components and fresh components in separate containers.
If you would like to meal prep this, the tofu mixture can be made and stored in a freezer-friendly container for up to 2 months. Do not store it with guacamole.
To serve simply thaw and reheat. It may have a little bit of excess liquid after being thawed, but this should disappear if you reheat it on the stovetop.
TIP: you should totally be making your own black beans. I use this slow cooker recipe, so they are made in a cinch, and they cost a fraction of the store-bought versions loaded with salt and other unnecessary ingredients.
Need More Easy Dinner Ideas?
We love filling bowls for easy dinners and lunches the next day. Why not try one of these hearty bowl recipes next:
I hope you love these chipotle burrito bowls as much as I do. I would love to hear from you, so be sure to leave a comment if you try it out.
Happy eating.
xx
Recipe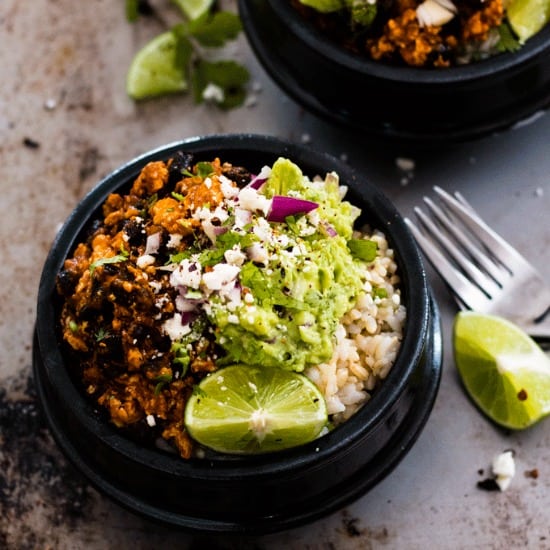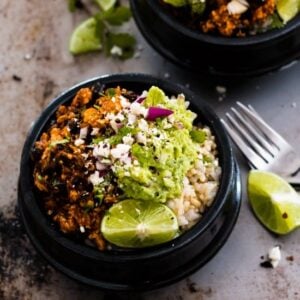 Spicy Chipotle Tofu Burrito Bowl
Spicy chipotle tofu layered over brown rice, a huge dollop of freshly made zesty guac and some nice queso fresco - the perfect quick and easy vegetarian burrito bowl to whip up on a weeknight
Ingredients
For The Rice
1

cup

uncooked brown rice

2

limes

juiced

1

handfuls of fresh cilantro

chopped
For The Tofu
4

individual chipotle peppers in canned adobo sauce

2

tablespoons

of the adobo sauce

3

cloves

garlic

½

cup

fresh tomato salsa

2

tablespoons

olive oil

a pinch of coconut sugar

½

teaspoon

salt

16

ounces

extra firm tofu

1

cup

black beans

rinsed and drained

2

large avocados

3

limes

1

handful cilantro

chopped

½

cup

minced red onion

queso fresco and extra cilantro for serving
Instructions
Rice
Make the rice: Cook the rice according to the directions on the packet. Once it is cooked, add in the juice of 2 limes and a handful of chopped cilantro.
Chipotle Tofu
While the rice is cooking add the chipotle peppers, adobo sauce, salsa, oil, salt, and sugar into a blender and pulse until it becomes smooth.

Slice the block of tofu into about 10 slices and press with paper towels to remove any excess moisture. Then chop the tofu into small squares.

Heat some oil in a saucepan over medium-high heat. Add the chopped tofu and stir fry until it's starting to get a little bit golden. Once slightly golden, use a whisk or a potato masher to mash and scramble the tofu into small bits, it should resemble minced meat (ground meat).

Once the tofu has been scrambled, add in the chipotle sauce, ½ cup water, and the black beans. Stir to combine and simmer for 15 mins. Remove from the heat.
Serving
For the guacamole mash the avocados in a medium bowl, add in the juice from 3 limes, the rest of the cilantro, and the onion. Add some salt if you feel it needs it (I usually don't) Stir well to combine.

Add some cooked rice into the bowl, top with the chipotle tofu mixture, a dollop of guacamole, and some queso fresco. Enjoy
Notes
Vegan: the queso fresco can be left out and a vegan alternative can be used instead.
Queso Fresco: if queso fresco cannot be found, some feta can be used instead.
Chipotles in Adobo: can be found in the Mexican section of the grocery store, or in an international food store.
Leftovers should be stored in an airtight container in the fridge for up to 5 days.
The tofu mixture can also be prepped and frozen for up to 2 months. Freeze separately from the rest of the bowl ingredients.
Nutrition
Calories:
410
kcal
Carbohydrates:
42
g
Protein:
19.4
g
Fat:
21.3
g
Saturated Fat:
3.1
g
Cholesterol:
3
mg
Sodium:
572
mg
Fiber:
17.3
g
Sugar:
6.6
g
Tried this recipe?
Leave a comment HERE and let us know how it was!
The information shown is an estimate provided by an online nutrition calculator. It should not be considered a substitute for a professional nutritionist's advice.
This post has been updated from the original April 2016 version to provide more information for the reader.