Breakfast for dinner. Ooh yeah! I LOVE it. It's something that makes me feel like I am a little kid and doing something naughty, which makes it even more enjoyable 🙂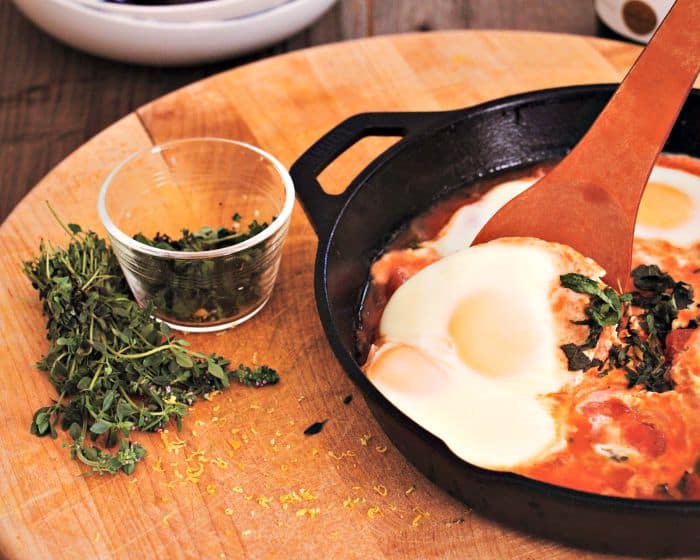 My husband has been working a lot lately, plus his band is recording an EP. So, there have been a lot of nights where its been just me and the kids. Sometimes its hard to get the motivation to cook something fancy when it's just you and two toddlers. Especially when you know they would be just as happy eating a plate of cheese and tomatoes, as they would say a fancy roast chicken with all the fixings.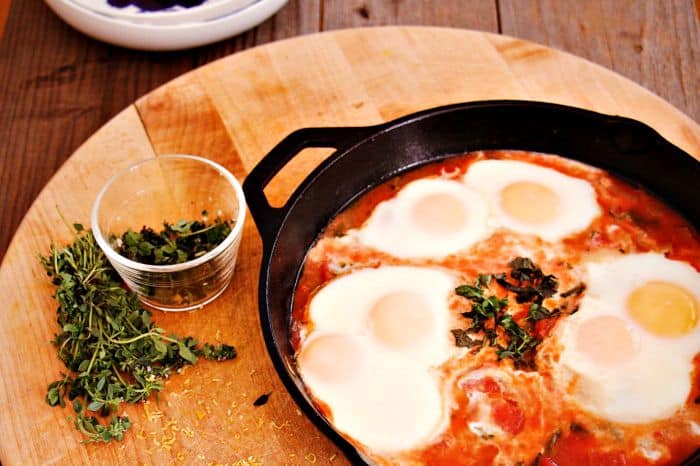 But tonight, It's Saturday night and I wanted to make it fun and fancy (as fun and fancy as you can, when staying in with two kids, that is). My littlies love, love, love eggs....so we made eggs for dinner. And we danced in the backyard afterwards (see I told you it would be fun :)).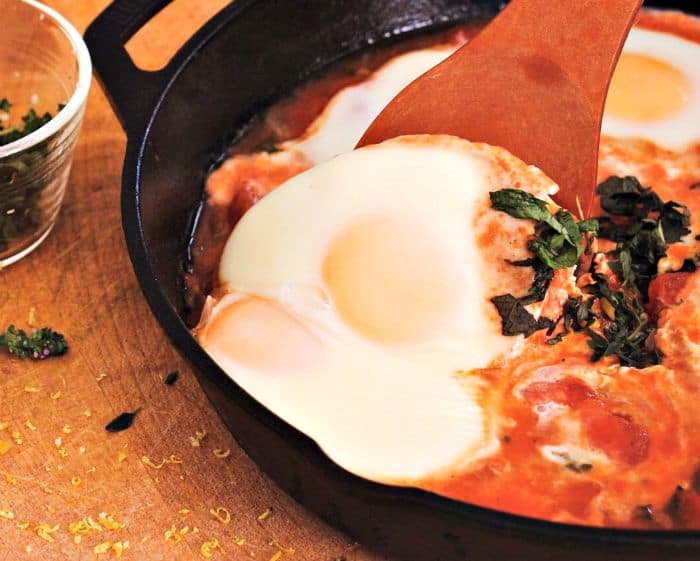 This recipe is a throwback to the eggs, chips and baked beans my mum used to make us for dinner (note: I grew up in the UK, where that was a totally normal meal). It's one of those meals I always look back on with happy thoughts. I have jazzed it up a bit, of course; switched the deep-fried chips for some sweet potato fries, steamed the eggs instead of frying etc.  And OMG this is now one of my favourite dishes!
This one is based on a recipe I found in a random book I picked up in Powells on our last trip to Portland. It is called Cooking Slow by Andrew Schloss, and it is full of great ideas for cooking slow.
So next time you want breakfast for dinner, or even a brunch, try some Slow Steamed Herby Eggs with a side of sweet potato fries. Divine! Or if you are looking for something a little bit different then check out my Creamy Barley and Smoked Salmon Brunch Bowl.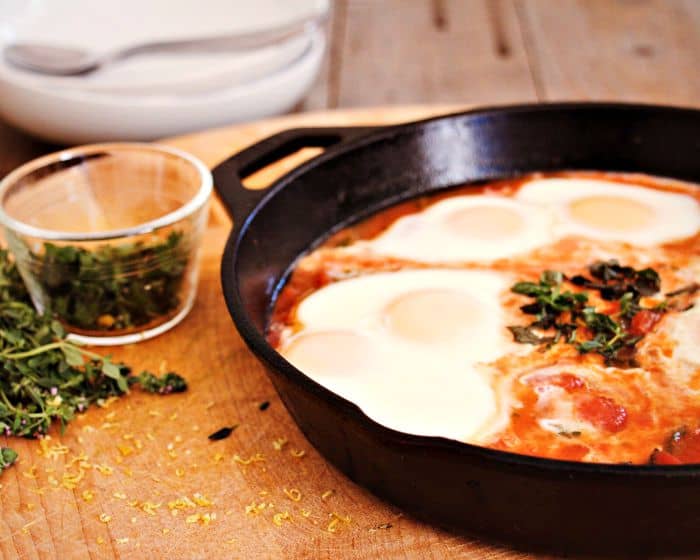 Remember to leave a comment, like on Facebook, tweet to Twitter, or pin to Pinterest for when you feel the urge to indulge 🙂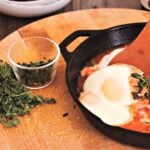 Print Recipe
Slow Steamed Herby Eggs
Slow steamed ages produce something amazing - a cross between the perfect soft boiled egg and a poached egg. So good in the herbed tomato sauce! Serve for brunch with some nice crunchy bread, or for dinner with some sweet potato fries!
Ingredients
1

tbsp

avocado oil

1/2

yellow onion

finely chopped

2

cloves

garlic

minced

1/2

cup

dry white wine

One can of diced tomatoes

2

tbsp

each chopped mint

basil and thyme

6

large eggs

Zest of 1/2 lemon

Salt and pepper to taste
Instructions
Heat the avocado oil in a large skillet with a lid over med heat. Add the onion and sauté until translucent

Raise the temperature to high and add half the garlic and the wine. Bring to a boil. Reduce the heat and add in the tomatoes, season with salt and pepper and simmer for about 5 minutes

Reduce the heat to low, until the liquid is just bubbling at the sides of the skillet. Stir in half the herbs

Crack 2 eggs at a time into a small bowl, and gently slide on top of the tomato mixture. Do this with all 6 eggs

Pop on the lid and allow the eggs to steam for about 40 minutes, until they are set

Combine the rest of the herbs with the remaining garlic and the lemon zest

When the eggs are set, serve two to a plate with some of the tomatoes and a sprinkling of the herbs
Nutrition
Calories:
157
kcal
|
Carbohydrates:
3.7
g
|
Protein:
10.1
g
|
Fat:
11
g
|
Saturated Fat:
2.7
g
|
Cholesterol:
278
mg
|
Sodium:
132
mg
|
Fiber:
0.8
g
|
Sugar:
2.3
g