Crispy, crunchy, and moreish, these Air Fryer Eggplant Fries are quickly going to become your new favorite savory snack! Like a normal fry, but different, eggplant fries are crispy on the outside, creamy and tender on the inside, and loaded with all the goodness of eggplant without the bitterness. The perfect snack or appetizer, especially when feeding a crowd and looking for something that little bit different.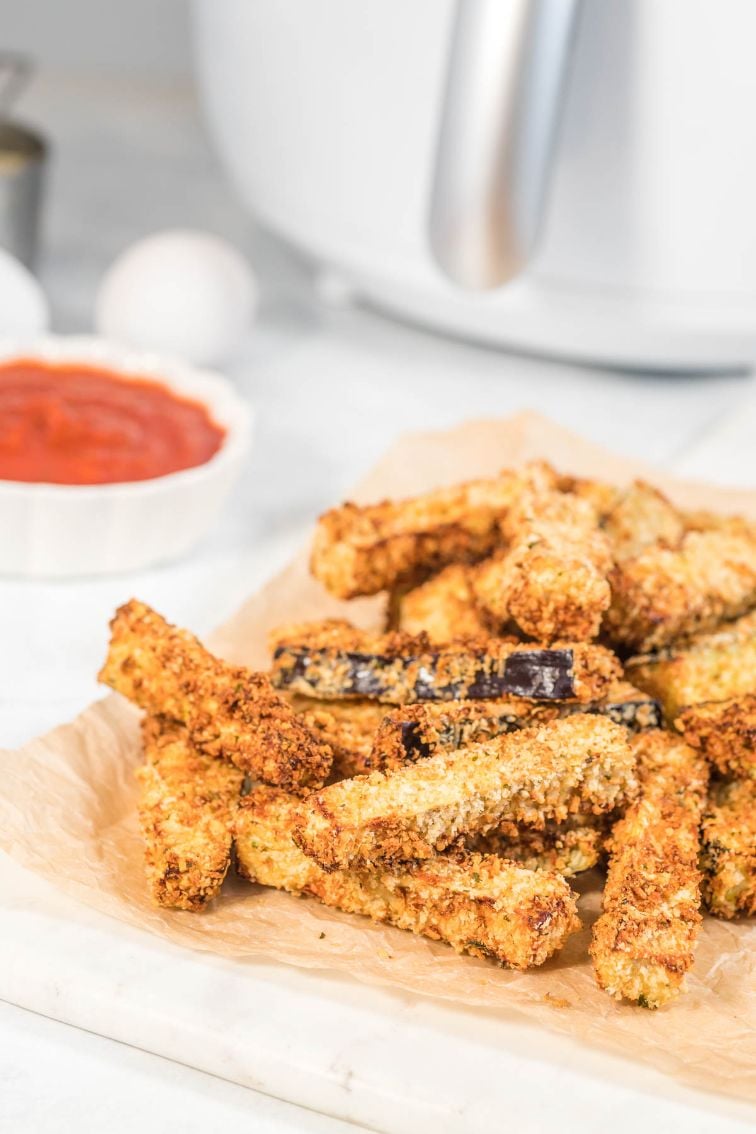 Who can resist the crispiness of something coated in breadcrumbs and cooked in the air fryer? One of our other favorite air fryer recipes is these Roasted Za'atar Chickpeas.
Air Fryer Eggplant Fries
Jump to:
You may have started seeing crispy eggplant done in the air fryer on social media lately.
People have started to catch on that lots of veggies make for excellent fries, especially when done in the air fryer, which provides the perfect amount of crisp and crunch you have come to expect from a traditional fry.
And what's not to love with a simple ingredients list?
You are going to need:
eggplant: kind of a no brainer that you will need eggplant for eggplant fries. Look for a medium sized eggplant that will be easy to cut into evenly sized sticks;
panko breadcrumb: do not sub this out for regular breadcrumbs or you will not have the same amount of crunch we want from these veggie fries. Panko can be found in the Asian or international section of a well-stocked grocery store;
grated parmesan: I am a firm believer in grating your own cheese so you can skip the preservatives and powdery texture of pre-grated cheese, but you do you;
garlic powder: found in the spice section. Best to stick to the powder, and not fresh garlic for ease;
eggs: we will need 2 average sized eggs for this recipe;
cooking spray of choice: avocado oil is great for this recipe, but you can also use olive oil or coconut oil, depending on what you have.
Feel free to change up the seasoning to match whatever you are pairing the fries with.
Why not try some Italian seasoning, onion powder or cajun seasoning.
You may also want to be sure you have whatever sauce you enjoy eating with homemade fries.
I am partial to an aioli or ranch, but good old ketchup works a treat also.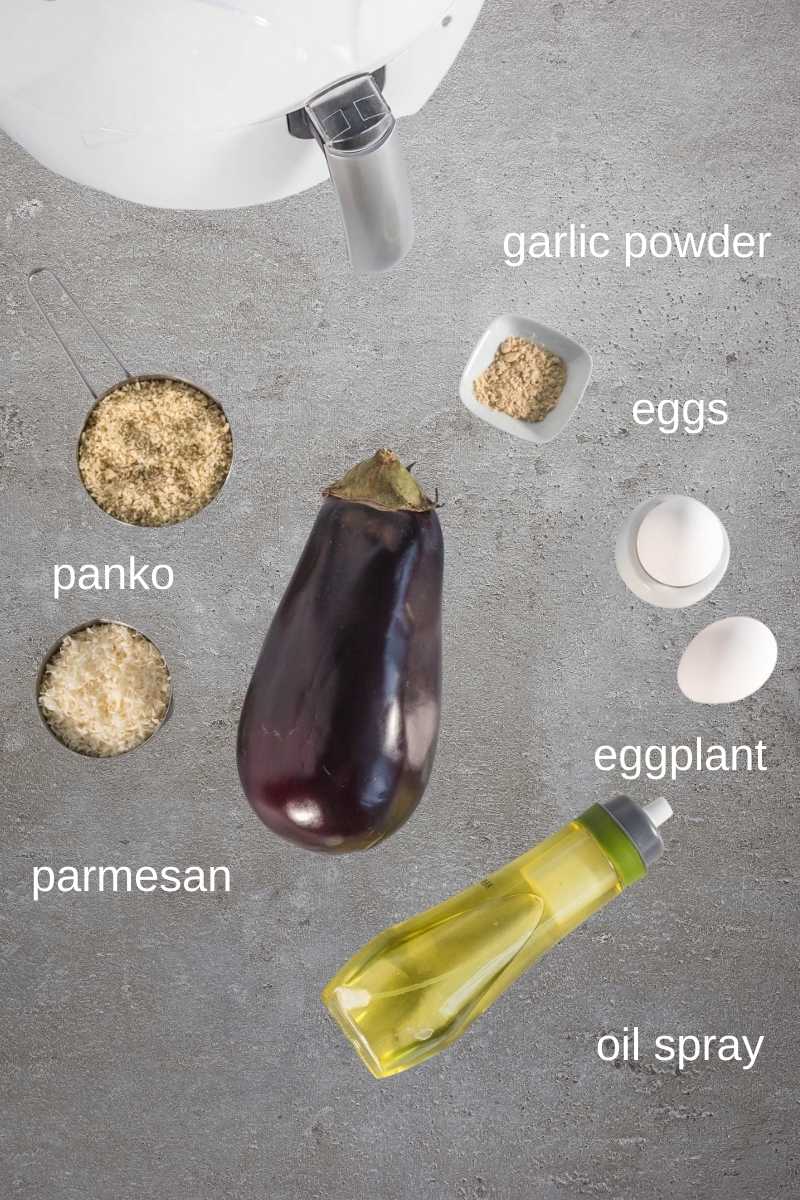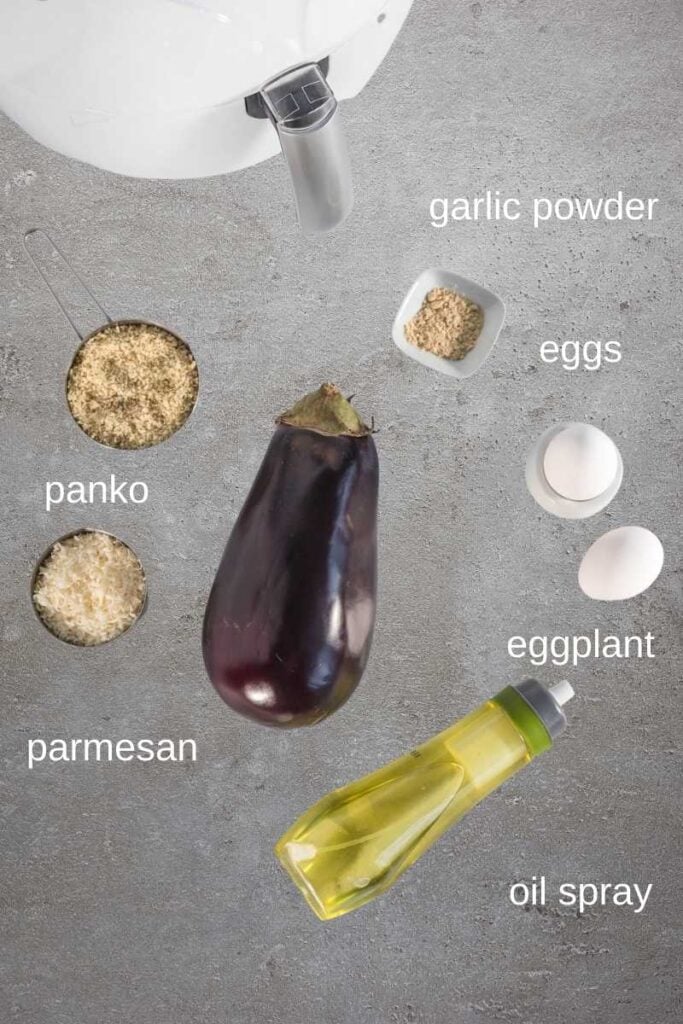 How To Make Eggplant Fries
Eggplant is a great alternative for potatoes when making homemade fries.
The breadcrumb mixture sticks to the eggplant super easily, making it a quick process to get the breading on there.
Have everything ready to go before you start making the fries. If you leave the egg mixture on the eggplant fries for too long before coating in crumbs, it may become soggy.
Set up a dredging station comprising of:
eggplant sliced into evenly sliced sticks, similar to a traditional thick cut fry
a shallow bowl with the whisked egg
a large bowl with the panko breadcrumbs, parmesan and garlic powder combined
a prepped air fryer
Once you have everything set up you are good to go.
TIP: if you don't work fast you can add the breadcrumb mixture to a Ziplock bag, throw in the egg-covered eggplant and give everything a good shake if preferred. This will help to prevent the fries from becoming soggy.
We are simply going to dip the sliced eggplant into the egg wash, followed by the panko mixture, evenly space the fries in a single layer in the air fryer basket, and cook.
Too easy.
Serve hot, fresh, and golden brown with a sprinkle of salt.
If the fries seem a little greasy (perhaps you were a little heavy-handed with the olive oil), you might want to blot up the excess oil with a paper towel before serving.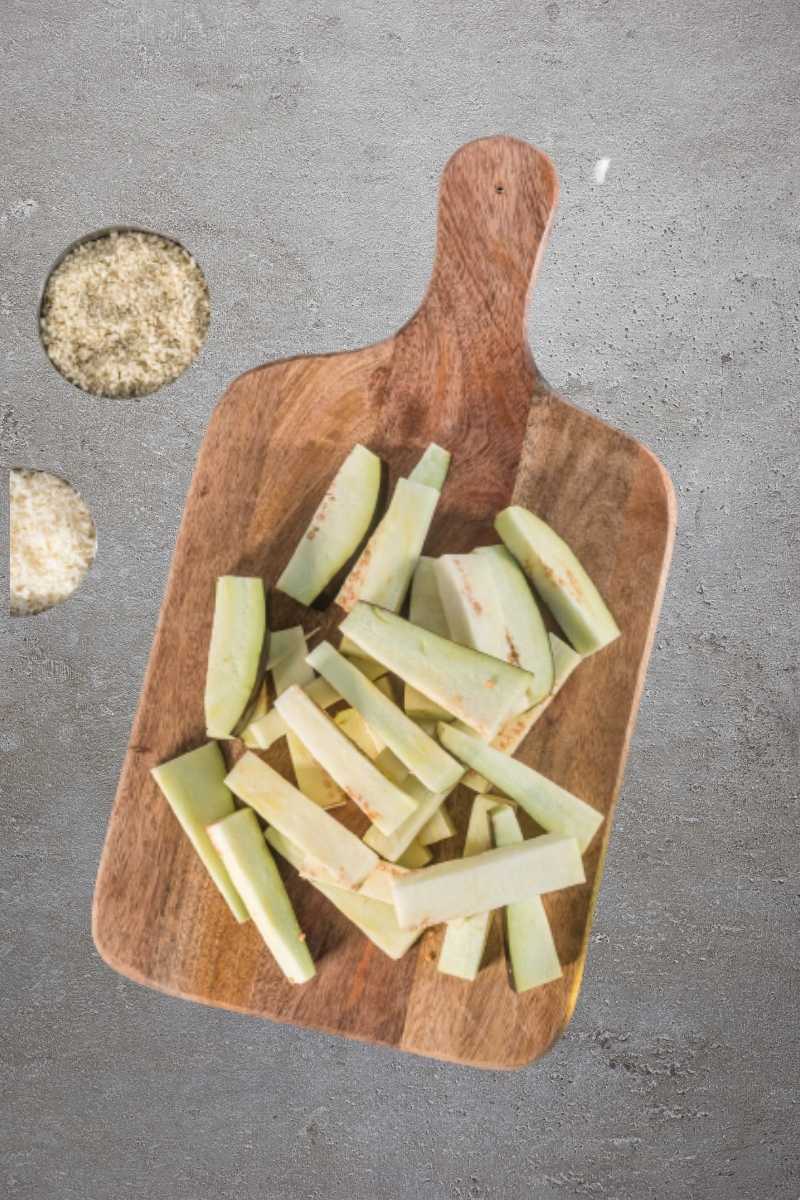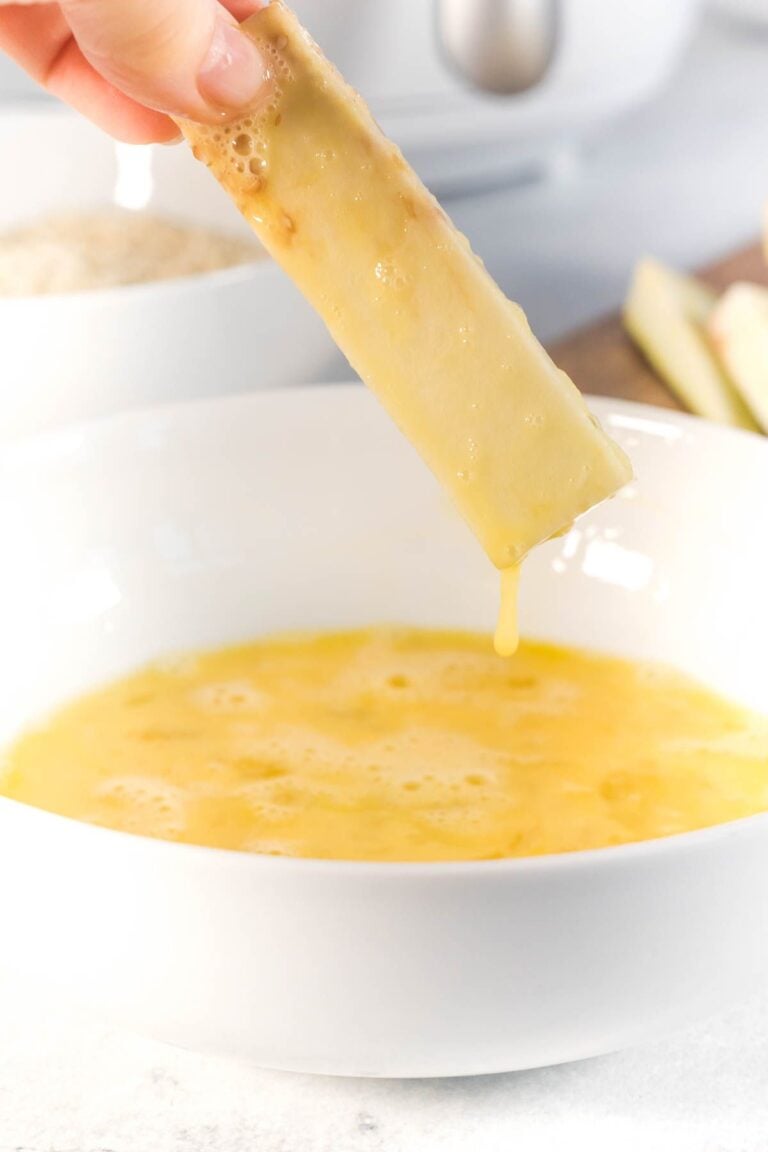 Tips and Tricks For Better Fries
Be sure to evenly coat the eggplant sticks in the breadcrumb mixture so that they are crunchy all over when cooked.
If you have small eggplants you may want to cut them into evenly sized eggplant rounds instead of sticks.
If you have a large eggplant, you may want to do long, thin slices lengthwise.
You do not have to peel the skin from the eggplant.
In fact, the skin helps the eggplant sticks hold together once cooked.
Note: on exceptionally large eggplants the skin can become quite tough, so if this is what you have you may want to consider peeling it before use.
Please note: cooking times can vary depending on the thickness of your fries and the type of air fryer being used.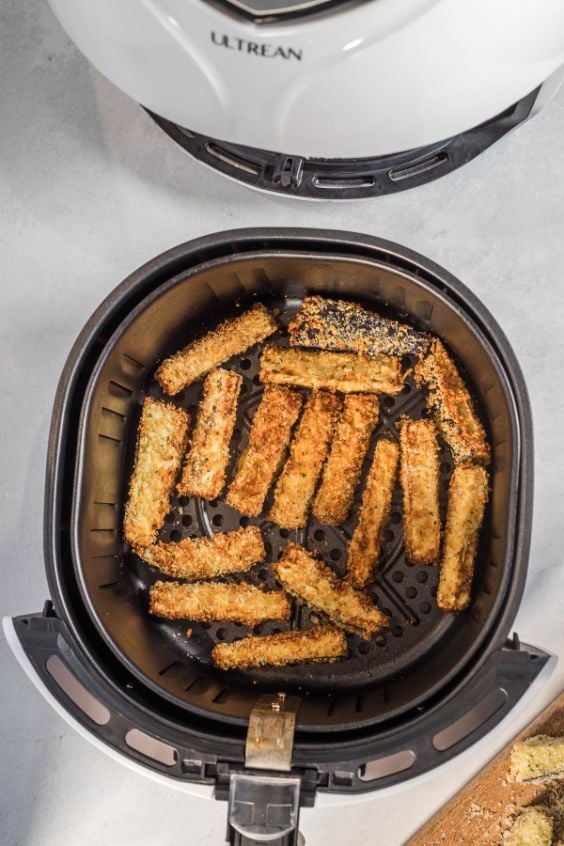 Storing, Freezing and Leftovers
These fries are best eaten hot and fresh.
They can become soggy once allowed to cool, and for this reason, I do not recommend storing leftovers.
If you do have leftovers you can reheat them in the air fryer to give them that crispy texture before serving.
Tip: Make a big batch and freeze half of the coated eggplant pieces for a great addition to your next salad.
If you like to have things prepped and ready in the freezer then prepare the eggplant fries as directed in the recipe card, flash freeze on a baking sheet, and then store in a freezer-safe bag/container for up to 6 months.
When you're ready to use them simply thaw them in the refrigerator and air fry as directed.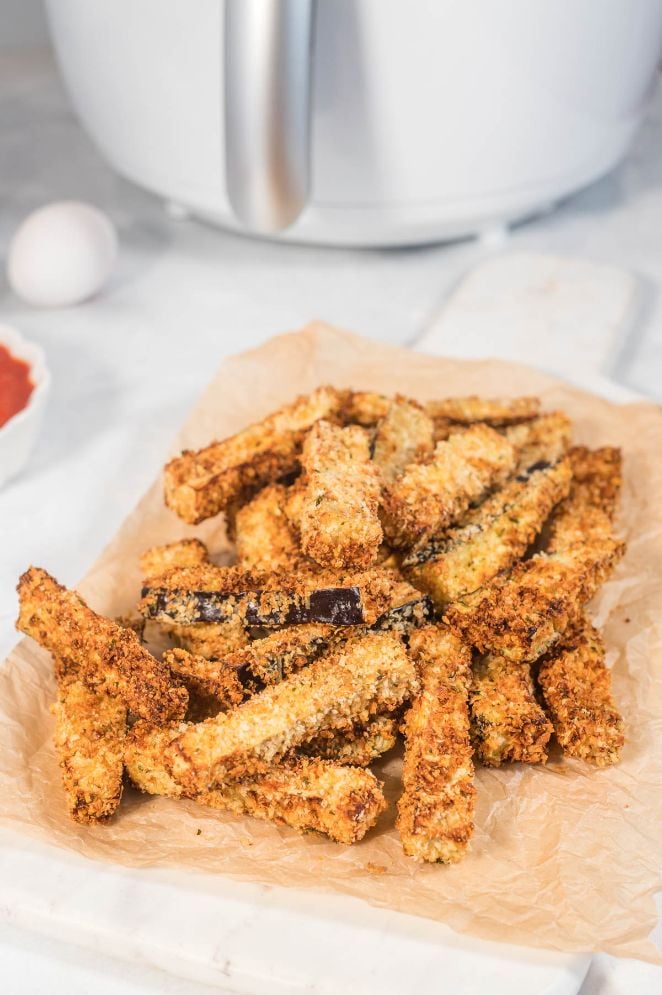 How To Serve Eggplant Fries
These eggplant fries are just perfect for dipping into a nice dipping sauce.
Why not serve with one of these:
marinara sauce
pizza sauce
a yogurt dip
ranch
aioli
tomato kethcup
this peri peri sauce
The options are limitless!
Alternatively, enjoy them as a healhty side dish, as a main dish when added as a cripsy addition to a green salad, dipped in a runny egg, or in a salad wrap for lunch.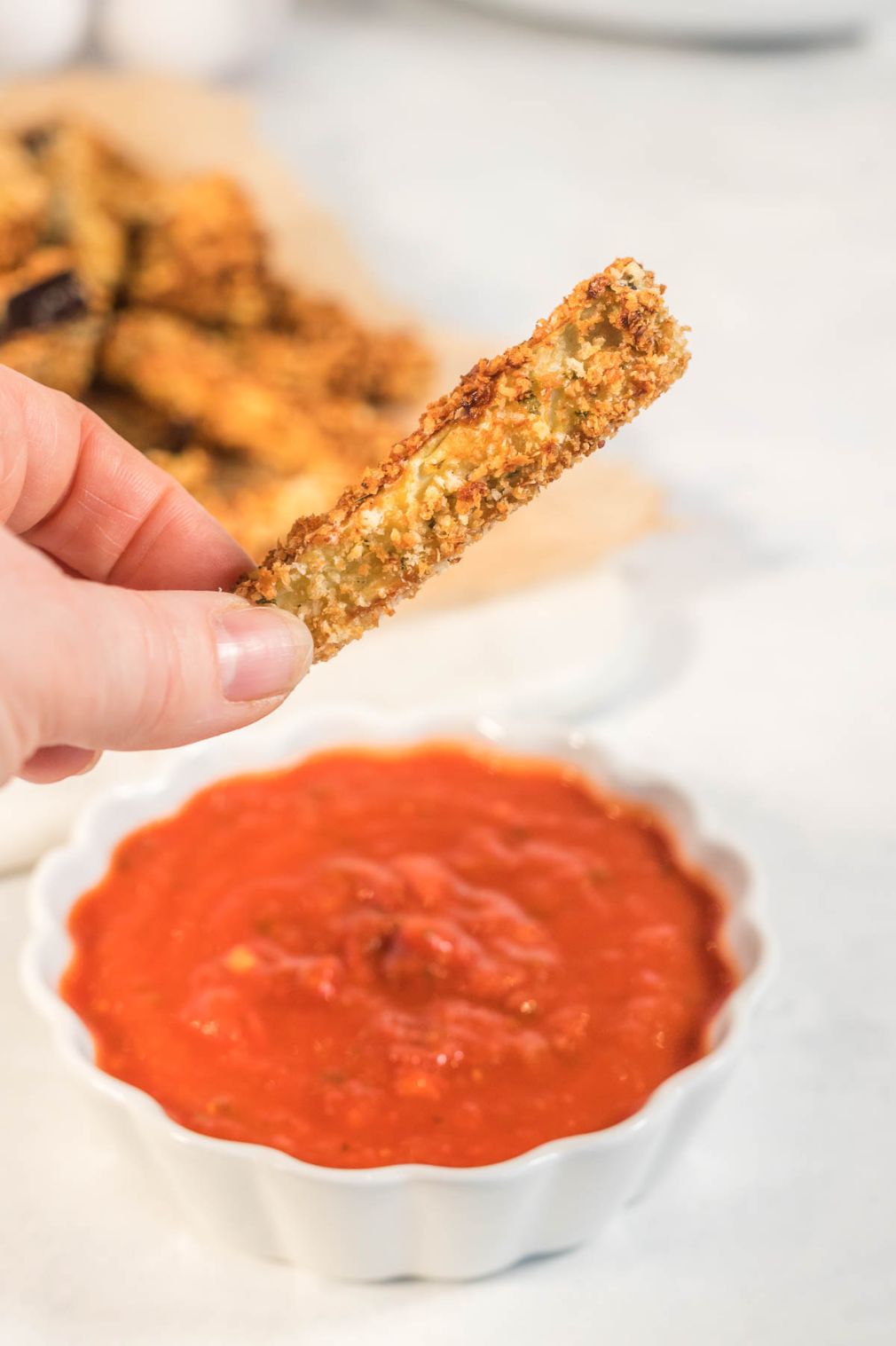 Frequently Asked Questions
Do you peel eggplant before air frying?
If the eggplant is young and tender and on the smaller side then you do not have to peel it.
If it is a larger eggplant you may want to peel it before using it in this recipe as the skin can sometimes be tough.
Can these be baked instead?
Yes.
Bake for 15-18 minutes at 425ºF/220ºC.
Can eggplant fries be frozen?
Yes.
Make a batch and freeze before cooking. Simply thaw in the fridge and cook as directed when needed.
Can eggplant fries be made gluten-free?
Yes.
Replace the breadcrumbs with a gluten-free crumb like rice crumbs. You can also use almond flour instead.
Can eggplant fries be made vegan?
Yes.
Swap the egg for plant-based milk and the cheese for nutritional yeast.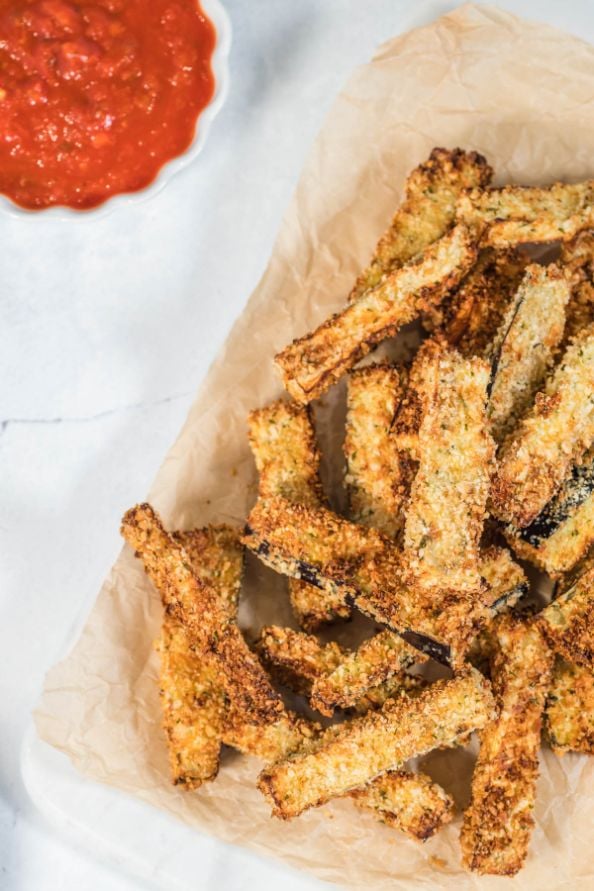 Whether you eat them as a snack, as a side to the main dish (how good would these go with a Sweet Potato and Black Bean Burger or Air Fryer Paleo Meatloaf Sliders), or as a crispy addition to a green salad, I hope you love these crispy eggplant fries as much as I do!
Need another great recipe using eggplant?
Try these Eggplant and Bean Vegan Sausage Rolls next!
Loved this air fryer eggplant recipe or have a question? Leave a comment below or leave a 5-star rating on the recipe card.
Happy Eating.
xx
Recipe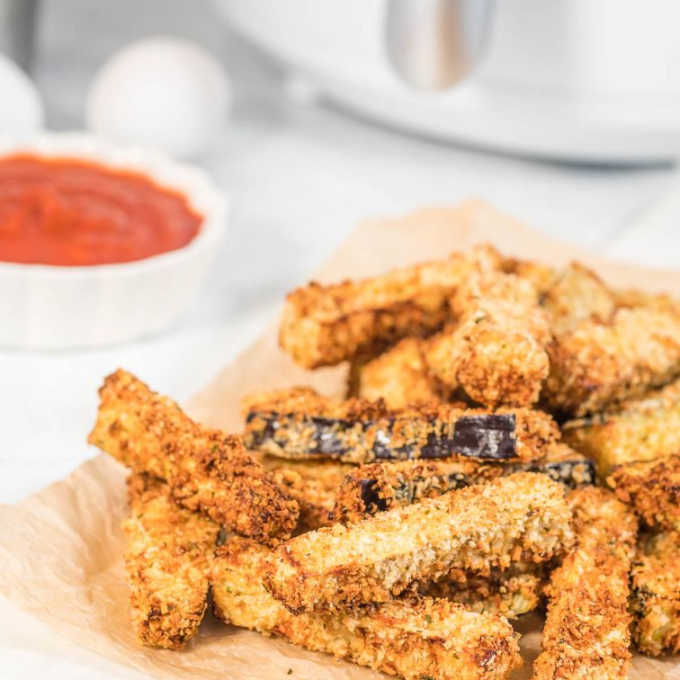 Super Crispy Air Fryer Eggplant Fries Recipe
Air fryer eggplant fries are the perfect side dish. Easy to make and super crispy, they make a great substitute for regular potato fries.
Ingredients
1

medium eggplant

washed and dried

1

cup

panko breadcrumbs

½

cup

grated parmesan cheese

1

teaspoon

garlic powder

2

eggs

oil spray

sea salt for serving
Instructions
Cut the eggplant into evenly sized sticks resembling thick-cut fries. You do not have to remove the skin of the eggplant.

In a medium-sized bowl, mix the panko breadcrumb, the parmesan, and the garlic power.

1 cup panko breadcrumbs,

½ cup grated parmesan cheese,

1 teaspoon garlic powder

In a second bowl, whisk the eggs together.

Take one eggplant stick at a time and dip it in the eggs.

Transfer to the panko mixture bowl and press the stick on all sides, so it's covered with panko mixture. You will want to do this step quite fast to prevent the eggplant from soaking in the egg mixture and becoming soggy.

Spray the bottom of the air fryer's basket with oil, add the eggplant fries, and spray again on top.

Cook at 400 ˚F (200C) for about 8 minutes, flipping them halfway. 

Sprinkle with sea salt and serve hot and fresh.
Notes
Meal Prep/Freezing Ahead
Make a batch, flash freeze, transfer to a Ziplock bag, and store in the freezer for up to 6 months.
Allow to thaw in the fridge and then cook as directed.
To Make Vegan
Replace the egg with plant-based milk and the parmesan with nutritional yeast.
To Bake In the Oven
Make eggplant fries as directed in the instructions but bake at 425F (215C) for 15-18 minutes.
Nutrition
Calories:
174
kcal
Carbohydrates:
20
g
Protein:
10
g
Fat:
7
g
Saturated Fat:
3
g
Polyunsaturated Fat:
1
g
Monounsaturated Fat:
2
g
Trans Fat:
1
g
Cholesterol:
93
mg
Sodium:
363
mg
Potassium:
354
mg
Fiber:
4
g
Sugar:
5
g
Vitamin A:
253
IU
Vitamin C:
3
mg
Calcium:
161
mg
Iron:
1
mg
Tried this recipe?
Leave a comment HERE and let us know how it was!
The information shown is an estimate provided by an online nutrition calculator. It should not be considered a substitute for a professional nutritionist's advice.