If you are on the lookout for a moreish snack that is also healthy and easy to make, then you are in luck. This Roasted Za'atar Chickpeas in The Air Fryer recipe has been on repeat around here for the past couple of months. Roasted chickpeas are little powerhouses of goodness, and the punch of flavor you get from the za'atar is just delicious. These pack well in lunch boxes, and also make a tasty addition to salads and dips. I love adding a little handful to the top of a fresh batch of Roasted Garlic and Pumpkin Hummus for some extra flavor and crunch.
Roasted Za'atar Chickpeas in The Air Fryer: A Note On Ingredients
Jump to:
My favorite thing about making crunchy chickpeas is the tiny list of common ingredients!
You are going to need:
A can of garbanzo beans (can of chickpeas): you will need to drain these and rinse them well. Alternatively you can make your own chickpeas from scratch using a recipe like this one from the wimpy vegetarian;
Za'atar spice blend: this can usually be found with the other spices in the grocery store, or in the International section. Alternatively you can make your own using a recipe like this one from Feasting At Home;
Maple syrup: look for pure maple syrup, not maple flavored syrup;
Olive Oil: you can also sub in some avocado oil, or other cooking oil of choice, depending on your preferences. You can also use a cooking spray or olive oil spray instead if that is what you have. The aim is for minimal oil.
That's it!
This is a great way to use up some leftover chickpeas, just be sure to vary up the amounts of the spice blend and oil you are using to match the number of chickpeas you need to use.
Important Notes Before You Start
Before I tell you anything else I have one BIG IMPORTANT tip:
Do NOT store your roasted chickpeas in an airtight container. Without airflow they will go soggy and will no longer be crispy. Use a container with the lid slightly loose, or with no lid at all.
Louder for the ones in the back: do NOT store your air-fried chickpeas in an airtight container.
You need to leave them in an open container, or at least a container with some airflow, or they will go soggy.
No one wants a soggy snack, we want to keep that crispy texture and crunch.
Note: As they are cooking the chickpeas can make popping sounds. Almost like the sound you would hear if you were making popcorn. This is normal, and nothing to be concerned about.
How To Make Crispy Air Fryer Chickpeas
Ok so now you have the do's and don'ts, how about I tell you how to actually cook these little bites.
We are going to:
Rinse and drain the chickpeas. You will then want to dry off any excess water from the drained chickpeas with some paper towels or a clean kitchen towel to get them as dry as possible;
Add the chickpeas, the za'atar, maple syrup and olive oil to a medium bowl and mix everything well to combine;
Add the chickpea mixture to the air fryer basket in a single layer, set the temperature to 390F (200C) and air fry for 15 minutes, stopping every 5 minutes, to shake the basket. This makes sure that the chickpeas cook evenly and do not burn.
Once they are cooked through, pull the basket from the air fryer and allow the crispy chickpeas to cool completely before serving.
Once you are done, feel free to serve the za'atar chickpeas as a snack or save them to serve on top of a salad in place of croutons.
They also go really well served on top of some labneh or hummus for a nice bit of added crispiness and flavor.
Note: All brands of air fryers are different, so monitor the chickpeas when you take them out to shake at 5 minutes to make sure they aren't getting too burnt as they cook.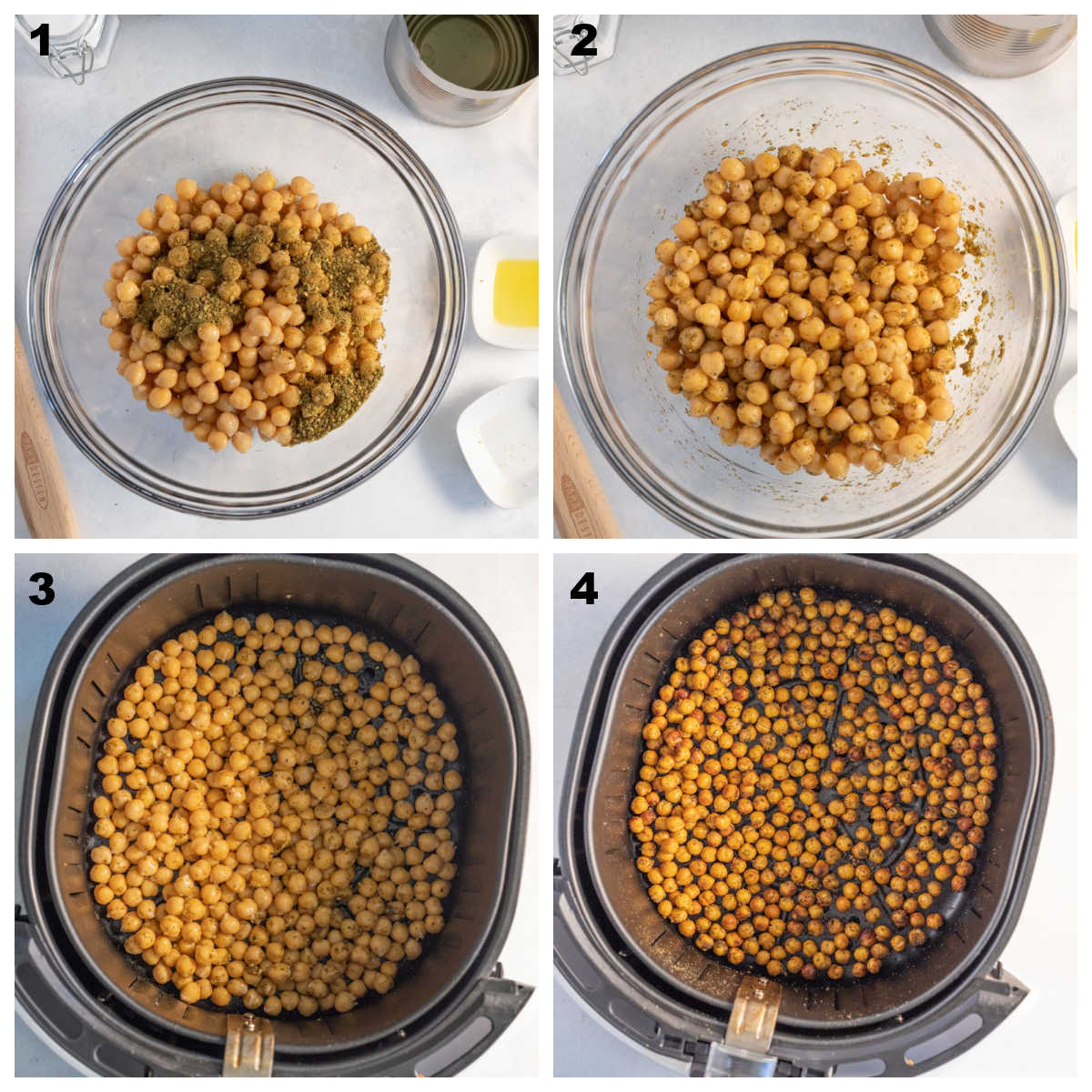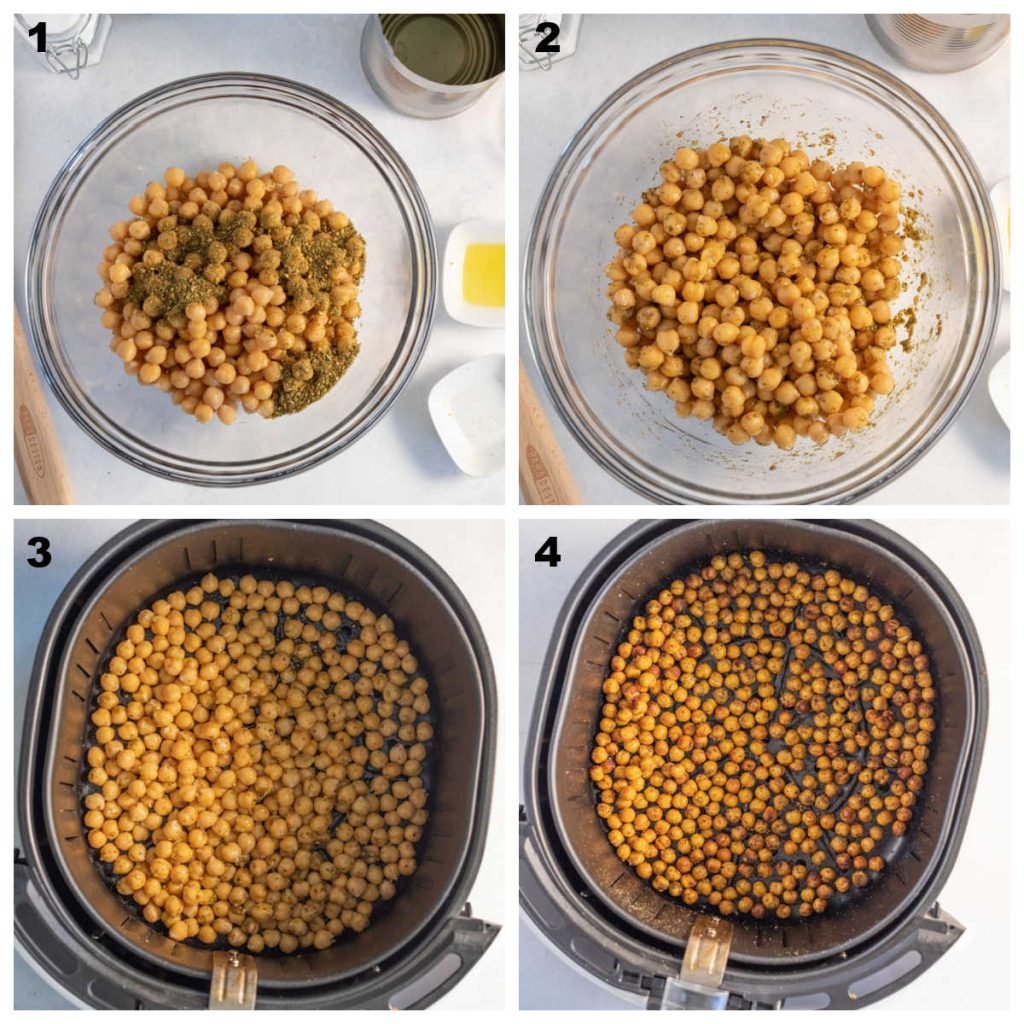 Tips, Tricks and Substitions
Is There Anything I Can Use Instead of Oil?
No oil?
Why not try using aquafaba instead.
It works just as well, however, the chickpeas may be a little less crispy.
Aquafaba is the liquid the chickpeas come in when you buy them in a can.
Instead of draining this liquid down the sink, simply drain it into a bowl and use it in place of oil.
There are so many other uses for the aquafaba if you don't want to waste it, check out this mega list from Cooking On Caffeine.
Huge Fan of Za'atar?
Like a real pop of flavor on your crunchy snacks?
Why not try doubling the spice mixture when adding it to the chickpeas?
Tip: you can always sprinkle some fresh za'atar onto the cooked chickpeas if you feel like they need more flavor after being roasted.
Not A Huge Fan of Za'atar?
If you aren't a huge fan of za'atar, or it's not something you tend to have on hand, then you can always change up the spice mix you use.
Why not try:
a simple blend of sea salt and garlic powder;
Cajun seasoning;
Creole seasoning;
Italian seasoning mix;
everything bagel seasoning;
some parmesan cheese powder;
a simple blend of salt and black pepper and maybe some red pepper flakes;
some lemon juice or lime juice in place of the maple syrup;
cinnamon sugar for something sweet (although personally I would use ground cinnamon and maple syrup, as actual sugar can burn in the air fryer).
The possibilities are endless!
How To Store Crispy Chickpeas
Store your air-fried chickpeas at room temperature in an open container, or one with some airflow (i.e. put the lid on slightly, not completely).
Storing them in an airtight container can lead to the chickpeas becoming soggy.
They should last about 3-5 days on the countertop or can be frozen for up to 2 months.
Serving Za'atar Airfryer Chickpeas
My favorite way to serve seasoned chickpeas is as a simple snack all by themselves.
However, there are lots of other ways to enjoy them:
use as croutons on a salad;
use as a nut alternative;
add a couple of za'atar chickpeas on top of a dip like hummus (why not try this Roasted Garlic and Pumpkin Hummus) or on top of some labneh for a pop of color and texture;
they make a great snack as is;
add them to a savory trail mix or nut mix;
add to some plain Greek yogurt with an extra sprinkle of za'atar, spoon into some pita bread and you have a whole meal;
use a food processor to blend them into a breadcrumb like consistency and use them in place of breadcrumbs for dishes like crispy chicken etc.
As always, you do you.
Use your imagination and serve these chickpeas as you see fit.
Need More Easy Snack Ideas?
I am a huge snacker, so I always double or triple batch things like chickpeas in the air fryer, so that I have a healthy snack on hand at all times.
Try these next:
Happy Eating.
xx
Recipe
The information shown is an estimate provided by an online nutrition calculator. It should not be considered a substitute for a professional nutritionist's advice.