No hot cocoa mixes are required here. Just a combination of real milk (or a dairy-free alternative if that's your preference) and real dark chocolate and you get the most flavorsome dark hot chocolate you have experienced to date. Plus it comes together in a flash! Make it a little more fun by adding ½ a teaspoon of vanilla, coconut, orange, or peppermint extract.
Once you have that hot chocolate ready to go you are going to need some cookies for dunking, right? Why not try these Easy Chocolate Peppermint Almond Flour Cookies or these Crispy Gingersnap Cookies Without Molasses.
The Best Dark Hot Chocolate Recipe
No premade cocoa mix is required here, this Dark Hot Chocolate Recipe uses only a handful of real ingredients to make the ultimate indulgence in drink form.
You will need:
Dark chocolate (either dark chocolate chips or a good quality dark chocolate bar broken up into smaller pieces);
Milk of choice (I use almond milk but full cream cow's milk works great as well);
Optional extras: if you feel like getting a bit fancy then you might want to try adding a drop of peppermint, orange or vanilla essential oils or extract.
You will also benefit from having a high-speed blender if you want to get a good froth on the hot chocolate without an extra step of frothing up the milk.
But don't worry, I have instructions for you if you only have a regular blender or even if you have no blender at all (and it is still super easy).
Making A Dark Hot Chocolate In A High Speed Blender
When I say high-speed blender I mean a blender like the Vitamix.
With a machine with this much power, we can heat the hot chocolate in the jug without any extra steps (this is even better if you have the Aer disc attachment as you will get a lot more froth - but it is definitely not necessary).
It is as simple as adding the ingredients, turning the machine up to high, and waiting until the chocolate has melted and the mixture is warm.
I do have one major tip though:
Use small chocolate chips or a bar of dark chocolate broken up into smaller bits. This will allow the chocolate to melt a lot more quickly, which means it will be incorporated into the milk without everything overheating.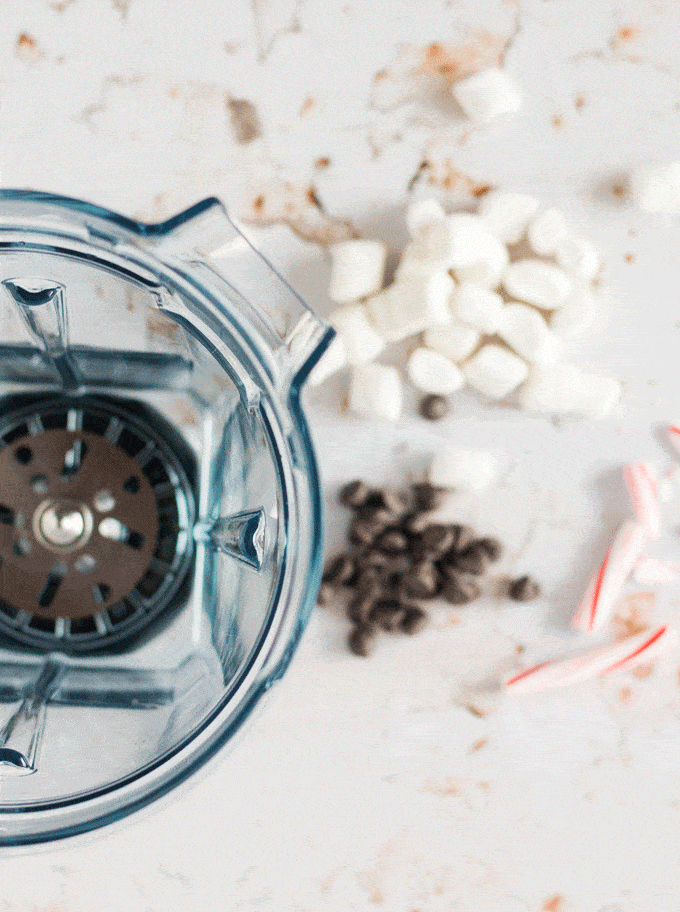 How To Make A Dark Hot Chocolate On The Stovetop
If you don't have a high-speed blender don't worry, you will still be able to get your hot chocolate fix!
In fact, if you take your time and have a little bit of patience you can still get great results on the stove top.
This is how I used to do it in Uni when good quality electrical appliances were a thing of dreams.
Simply:
Gently heat the milk in a saucepan on the stovetop until it starts to bubble. It should be warm, but not scalding;

Add in some finely chopped dark chocolate. Here is best to use a dark chocolate bar that you have chopped up extra finely or even grated. We want it to melt really quickly, so the smaller the chocolate the better.

Whisk the milk and chocolate together briskly until the chocolate has melted and the mixture is fully incorporated. You can always cheat and melt the chocolate in the microwave before adding to the milk for a guaranteed super smooth result.

Optional extra depending on supplies. If you have a milk frother then froth some milk and pour on top of the hot chocolate before serving.
Voila, dark hot chocolate on the stovetop without any hassle.
Make It A Gourmet Hot Chocolate
Use a good quality dark chocolate for the best results.
I go for about 72% cocoa so no further sweetener is required.
If you like it sweeter you might want to add a little bit of raw sugar or use a bar of milk chocolate instead.
You know what you like!
Optional Add-Ins and Add-Ons
You can always add a swirl of melted dark chocolate or some whipped cream to the top of your hot chocolate for some extra indulgence.
For the ultimate hot chocolate experience, we love to add in some fun flavors.
Try these:
½ teaspoon coconut extract;
½ teaspoon pure vanilla extract;
½ teaspoon peppermint extract;
add a big dollop of nutella to the mixture when blending or heating;
1 drop of food grade peppermint essential oil (great for a Christmas time feel);
1 drop of food grade wild orange essential oil;
1 drop of food grade turmeric essential oil or some ground turmeric;
top with some whipped cream, melted chocolate drizzle or some fun sprinkles.
Use your imagination for the best hot chocolate experience!
Need Some More Hot Chocolte Recipes
Cold and rainy days are just perfect for enjoying hot chocolate at home.
Why not try one of these combinations next time the urge hits:
I would love to hear what you think.
I have been having such fun with mine and would love some more ideas to try out so let me know your favorites in the comments.
Happy Drinking.
xx
The information shown is an estimate provided by an online nutrition calculator. It should not be considered a substitute for a professional nutritionist's advice.
Don't forget to follow Whole Food Bellies on Pinterest for more recipe inspiration! Or if Pinterest isn't your style, bookmark this post! Let's keep the conversation going- join my Facebook group!