No hot cocoa mixes required here. Just a combination of real milk (or a dairy free alternative if that's your preference) and real dark chocolate and you get the most flavorsome dark hot chocolate you have experienced to date. Plus it comes together in a flash! Make it a little more fun by adding ½ a teaspoon of vanilla, coconut, orange or peppermint extract.
I received this product for free from Moms Meet (momsmeet.com) to use and post my honest opinions. Compensation for this post was provided and this page may contain affiliate links. I will earn a commission if you purchase through these links. Please note that I've linked to these products purely because I recommend them and they are from companies I trust and use myself.
The Best Dark Hot Chocolate Recipe
No cocoa required here, this Dark Hot Chocolate Recipe uses only a handful of real ingredients to make the ultimate indulgence in drink form:
Dark chocolate (either dark chocolate chips or a good quality chocolate bar broken up);
Milk of choice (I use almond milk but full cream cow's milk works great as well)
To change things up add a drop of peppermint, orange or vanilla essential oils.
This gourmet hot chocolate comes together in one jug all thanks to the new Vitamix Aer Disc Container.
But don't worry, I have instructions for you if you only have a regular high speed blender or even if you have no blender at all (and it is still super easy).
If you have been hanging around Whole Food Bellies at all then you are well aware that I am a HUGE Vitamix fan and use mine pretty much every day.
I love making hot chocolates in the Vitamix because it gives them such a great consistency.
I have been using the regular ol' container for years for my hot chocolates using real chocolate and they have always turned out great, except that I can't get the foam you would get in a cafe style drink without having to pull out the milk frother as well.
And more dishes at this time of year is really not what I need.
Using the Aer disc container I got an amazing amount of froth without having to do anything more than putting all the ingredients in one jug and turn up the speed. Amazing.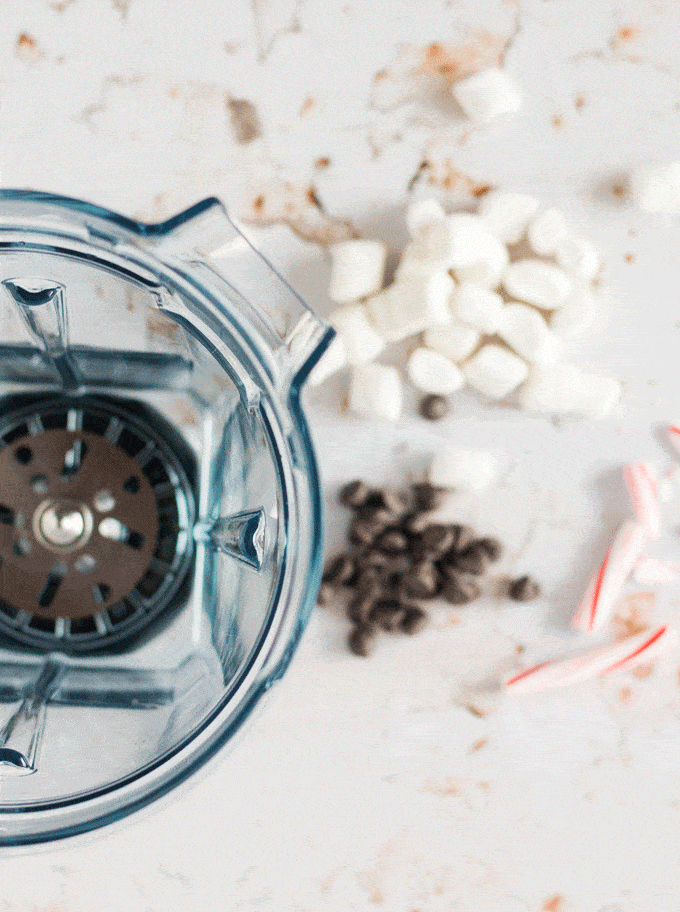 How To Make A Dark Hot Chocolate On The Stovetop
My kids and I love nothing better than snuggling on the sofa enjoying hot chocolates and watching Christmas movies while the rain pours outside.
It's something I look forward to every year.
If you don't have the Aer Disc container to get your hot chocolate fix, don't worry, you can still get great results on the stove top. This is how I used to do it in Uni.
Simply:
Heat the milk in a saucepan on the stovetop until it starts to bubble
Add finely chopped dark chocolate (here it is best to use a dark chocolate bar as is it easier to chop than chocolate chips) and whisk briskly until fully incorporated (optional: melt the chocolate fully before adding for a guaranteed super smooth result)
If you have a milk frother then froth some milk and pour on top of the hot chocolate before serving.
Voila, dark hot chocolate on the stovetop without any hassle.
Make It A Gourmet Hot Chocolate
Use a good quality dark chocolate for the best results. I go for about 72% cocoa so no further sweetener is required.
If you like it sweeter you might want to add a little bit of raw sugar.
If you are wondering how to make your hot chocolate with a chocolate bar, simply chop it up or break it up into small chunks before adding to the blender. If you are making it on the stovetop then you want to make sure the chop is super fine.
For the ultimate hot chocolate we love to add in some fun flavors:
½ tsp coconut extract;
½ tsp pure vanilla extract;
1 drop of peppermint essential oil (great for a Christmas time feel);
1 drop of wild orange essential oil
1 drop of turmeric essential oil.
Use your imagination for the best hot chocolate experience!
If you enjoyed this recipe then you might want to try these:
I would love to hear what you think. I have been having such fun with mine and would love some more ideas to try out so let me know your favourites in the comments.
The information shown is an estimate provided by an online nutrition calculator. It should not be considered a substitute for a professional nutritionist's advice.
Don't forget to follow Whole Food Bellies on Pinterest for more recipe inspiration! Or if Pinterest isn't your style, bookmark this post! Let's keep the conversation going- join my Facebook group!
Be sure to join me over on Instagram for some tips, tricks, and behind the scenes.