Need a quick and easy almond flour cookie recipe that is perfect for the Holiday season or all year round and will satisfy any sweet tooth? These easy almond flour cookies combine simple ingredients like almond flour, chocolate chips, butter, and a touch of peppermint to make them a chocolatey, brownie, fudgy cross that is so moreish. Leaving you with gluten-free cookies that can easily be made dairy-free and/or egg-free with simple substitutions!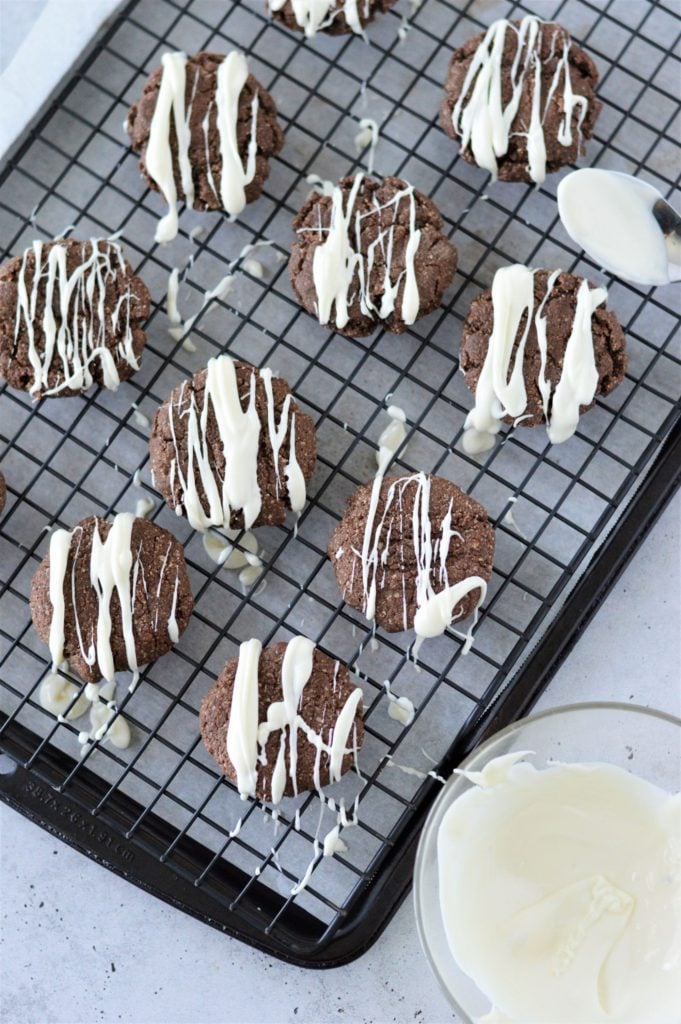 I just love the combination of chocolate and peppermint together! Next time try it in this Creamy Homemade 4 Ingredient Peppermint Chocolate Sauce. Why not try another Holiday-themed healthy cookie recipe with these moreish Crispy Gingersnap Cookies Without Molasses.
Easy Chocolate Peppermint Almond Flour Cookies
Jump to:
These cookies are really easy and use only a handful of pantry staples that can be easily found at most major grocery stores. That is if almond flour or almond meal is a pantry staple for you....and seeing as you are on an almond flour cookie recipe I am guessing it is.
You are going to need:
almond flour or almond meal: see tip below for making your own;
cocoa powder: I love to use Pana organic dark chocolate powder as it is rich and flavorsome, but use your favorite cocoa powder. Whether you choose sweetened or unsweetened will change the nutritional information and level of sweetness in the cookies, so keep this in mind;
chocolate chips: just like the cocoa powder above, choose chocolate chips that align with your way of eating. I tend to use Noshu chocolate chips which are free from refined sugars, but choose whatever works for you. Once again, keep in mind that this will change the nutritional information and sweetness level of the cookies;
egg: this can be subbed with a flax egg or a chia egg if needed;
butter (you can sub in some coconut oil or vegan butter if you would prefer the cookies to be dairy-free, however after multiple tests, I can assure you that the texture works out a lot fudgier with butter);
peppermint extract: you can use peppermint extract which can be found in the baking section of the supermarket, or you can use one or two drops of food-grade peppermint essential oil (see notes below);
Optional: melted white chocolate & your sprinkles of choice (or add some crushed candy canes for extra pops of peppermint).
As noted above, the type of cocoa powder and chocolate chips you choose to use will have an effect on the overall sweetness and flavor of the cookies. Choose what you use depending on your preferences.
How To Make Easy Almond Flour Cookies
Lucky for you, these cookies are super easy to make.
Simply:
melt the butter (or coconut oil, you choose!) with the chocolate chips;
in a large mixing bowl whisk the egg and peppermint extract and slowly add in the melted chocolate mixture while stirring continuously until everything is combined;
add the dry ingredients (the almond meal and the cocoa powder) to the wet ingredients and use a spatula to combine well;
pop the cookie dough into the fridge for about 5-10 minutes. This will make the batter easier to handle;
scoop with a tablespoon cookie scoop onto a lined baking sheet or cookie sheet and bake for 9 minutes;
allow them to cool completely to room temperature before either topping with melted white chocolate or enjoying them as is.
Putting the almond flour cookie batter into the fridge for about 5-10 minutes will make the batter more scoopable and in my opinion gives you the best cookies. This is handy if you prefer rounder cookies. If you don't mind a more rustic shape, then feel free to skip this step.
Taking the cookies out of the oven at 9 minutes gives them an almost fudge-like brownie texture.
If you prefer a harder cookie or one with crispy edges, then leave them in for an extra minute or two.
Cookies are ready when they are slightly crispy on the edges and have soft centers.
The cookie batter will only be able to be rolled into balls as above if they have been allowed to sit in the fridge for about 5-10 minutes before scooping.
Tips, Tricks, and Substitutions
Using almond flour for these cookies make them gluten-free, and also lends well to the fudgy texture you get after baking.
If you don't have almond flour, it is easy to make your own. Simply add almonds to a high-speed blender, and blend until they have a flour-like consistency. You should end up with a fine almond flour.
Here are some more tips and substitutions to make your almond cookies more to your liking:
Butter: if you prefer a dairy-free cookie and would prefer not to use butter then you can substitute some coconut oil.
This will give the cookies a slight coconut taste, and a slightly less brownie-like texture, but they will still taste delicious.
Chocolate Chips and Cocoa: the type of chocolate chips and cocoa you use will change the overall flavor of the cookies.
As there is no added sweetener, the sweetness of the almond flour cookie will be dependent on the sweetness of the chocolate chips and cocoa powder used.
If you prefer a healthier cookie you can use unsweetened dark chocolate chips and dark chocolate cacao, however, please keep in mind this will make a more intense, almost savory cookie.
I tend to use slightly sweetened versions of both and it works really well.
Peppermint Extract vs Peppermint Oil: if you have a food-grade peppermint essential oil you are happy with then you can use 1-2 drops of that.
Otherwise use peppermint extract, which can be found in the baking section of the supermarket alongside the vanilla and food coloring.
The amount of peppermint extract used in this recipe gives a subtle hit of peppermint. If you prefer a more intense peppermint flavor in your peppermint cookies then add a little more.
If you prefer not to use peppermint extract then simply add in some vanilla extract or almond extract instead.
For best results allow them to cool before scooping: The almond flour cookies work out a lot better if you allow them to rest in the fridge for about 5-10 minutes before scooping. This is especially so if you prefer a rounder, more uniform shape.
Icing Your Almond Cookies
Completely optional, but you can always add a nice little white chocolate drizzle and some sprinkles to the top of your chocolate peppermint cookies.
This is especially fun if you are serving up over the Holidays.
Simply melt some white chocolate chips (or milk chocolate chips if that is what you have), stir until smooth, and drizzle over the cooled cookies.
Once you have added the chocolate drizzle add some sprinkles or some crushed candy canes or peppermint lollies and then allow to rest for about 10 minutes so that the chocolate hardens.
Why not try adding a drop of peppermint extract to the white chocolate drizzle for an even bigger peppermint hit?
Storing Peppermint Cookies
These homemade cookies should last for about 3-5 days if kept in an airtight container.
Allow your cookies to cool completely before storing them, otherwise, they may become soggy.
As these almond cookies contain peppermint it is best not to store them with other types of cookies, as then the other cookies will take on the peppermint flavor as well.
For this reason, I would avoid storing them in a cookie jar as the peppermint smell will linger and can pass on to the next batch of cookies you bake.
These are best eaten fresh, however, if you do want to freeze them I have a few tips:
Line a freezer-friendly container with parchment paper;
Lay the baked cookies onto the parchment paper, ensuring they are not touching;
Pop into the freezer for a couple of hours, or until frozen through;
Transfer the frozen cookies to a freezer-friendly container, or a Ziploc bag and pop them back into the freezer until needed.
If stored correctly almond flour cookies should last for about 3 months in the freezer.
Pull out and allow to thaw completely before eating.
Need More Cookie Recipes?
There is always room for a new cookie recipe!
We love cookies around here and tend to try to keep them on the healthier side by adding lots of nuts, fruits, and oats.
Plus chocolate.
We love chocolate!
After enjoying a batch of the best almond flour cookies why not check out these easy cookie recipes for your next baking project:
Frequently Asked Questions
What is almond flour and almond meal?
Almond flour and almond meal is a naturally gluten-free flour made from ground almonds. Almond flour is a lot finer than an almond meal as it is processed for longer until flour-like. Almond meal is more textural.
Happy Eating.
xx
Recipe
Easy Peppermint Chocolate Almond Flour Cookies
Need a quick and easy almond flour cookie recipe that is also perfect for the Holiday season? These easy almond flour cookies combine almond flour, chocolate chips, butter, and a touch of peppermint to make them a chocolatey, brownie, fudgy cross that is so moreish. They also just happen to be gluten-free (and can easily be made dairy-free with one easy substitution)!
Ingredients
½

cup

chocolate chips

see notes

¼

cup

unsalted butter

see notes for dairy-free

1

egg

½

teaspoon

peppermint extract

(or 1-2 drops of food grade peppermint oil)

1 ⅓

cups

almond flour

1

tablespoon

cocoa powder

see notes

pinch of salt

melted white chocolate and sprinkles

optional extra for decorating
Instructions
Preheat the oven to 350 Fahrenheit or 175 Celcius.

In a bowl, melt the chocolate chips and butter. I do this in 30-second intervals in the microwave until everything is melted and can easily be stirred together.

Let the melted chocolate/butter mixture cool slightly. Then add in the egg and the peppermint extract. Stir well to combine.

Add the almond flour and cocoa powder and stir well to combine.

Pop the mixture into the fridge for about 10 minutes. This hardens up the mixture and makes it more easily scoopable.

Remove the mixture from the fridge. Using a tablespoon, spoon the mixture and roll it into small balls. Place the balls on a prepared baking sheet and flatten slightly with a fork (don't flatten too much or you will not have the fudgy texture in the middle once baked).

Bake the cookies for 9 minutes.

Remove the cookies and allow them to cool completely on a wire rack. 

Optional: once the cookies have cooled, drizzle with melted white chocolate and top with white sprinkles or crushed candy canes.
Notes
Chocolate Chips: The type of chocolate chip you use will determine the sweetness of your cookie as there is no other sweetener added.  Butter: using butter gives these cookies a more brownie-like texture. If you prefer a dairy-free option, then use some coconut oil instead. Cocoa Powder: again, the type of cocoa powder you use will determine how sweet your cookies turn out. If you use unsweetened cacao it will lead to an almost savory style cookie. If you use a sweetened cocoa powder, it will lead to a sweeter cookie. You know your preference, so choose accordingly. Storing: store the cookies in an airtight container for about 3-5 days. Do not store with other cookies, as the peppermint will seep into anything they are stored with. Freeze: freeze the cookies in a single layer before transferring them to a Ziploc bag or freezer-friendly container. They will keep frozen for about 3 months.
Nutrition
Calories:
148
kcal
Carbohydrates:
8
g
Protein:
3
g
Fat:
12
g
Saturated Fat:
4
g
Polyunsaturated Fat:
1
g
Monounsaturated Fat:
1
g
Trans Fat:
1
g
Cholesterol:
28
mg
Sodium:
6
mg
Potassium:
9
mg
Fiber:
2
g
Sugar:
5
g
Vitamin A:
157
IU
Vitamin C:
1
mg
Calcium:
38
mg
Iron:
1
mg
Tried this recipe?
Leave a comment HERE and let us know how it was!
The information shown is an estimate provided by an online nutrition calculator. It should not be considered a substitute for a professional nutritionist's advice.