You need one of these pomegranate, kale and coconut smoothies in your life asap! All the great ingredients jammed in there will help keep you healthy and sniffle free. Plus it tastes so delicious the little ones will drink it up without a word.
Disclaimer: This post includes affiliate links, and I will earn a commission if you purchase through these links. Please note that I've linked to these products purely because I recommend them and they are from companies I trust and use myself.
I am the first to admit that I was very late to the smoothie bandwagon. Don't get me wrong, I tried early on in my clean eating days, but somehow my smoothies always ended up a terrible looking brown colour, and I just couldn't get around that. I could not for the life of me, drink the brown and enjoy it....so I gave up for a while.
I persevered though, and here we are.
A Few Tips For The Best Smoothie
I have become a bit of a smoothie buff over the years and would love to pass on my newfound knowledge to you to help you get the best out of your smoothie making adventures.
Keep regularly used fruit in the freezer and add this to the smoothie instead of ice cubes. I always have pomegranate arils, pineapple and bananas in the freezer;
Buy spinach in bulk, make a puree in a high-speed blender (I usually add a little bit of water), freeze in silicone muffin moulds and then transfer from the moulds to a freezer bag. They are perfectly portioned ¼ cup spinach blocks;
My kids are harder to convince with a green smoothie if it has bits. I use a high-speed blender to make sure it is completely smooth. I have been using a Vitamix for years and have definitely gotten my monies worth. A good green smoothie should be absolutely, perfectly smooth, with a bit of heft from higher-fat ingredients (think nut butters, avocado, Greek yogurt, coconut oil);
If you have a high-speed blender, a great substitute for nut milk is ¼ cup of raw nuts and 1 to 2 cups of water. If you have a regular blender, a tablespoon of nut butter per cup of water works as well.
This is the blender I have and have been using for years. I have tried pretty much every other blender over the years and in my opinion this one is hands down the best.
This smoothie is so good that even though my kids watched me put in a handful of
kale
green stuff
into the blender and they still drank the whole thing up and asked for more. The colour itself is AH-mazing. Vibrant green - oh so pretty.
If you aren't a fan of green, I can guarantee that this Pomegranate, Kale and Coconut Smoothie will turn you. If not, you are beyond saving 🙂
If you really can't get past the idea of a green smoothie, then you should pop over and check out my Energizing Chocolate Matcha Smoothie instead. We still add in some goodies like avocado and matcha powder, but with the addition of the cacao, banana and dates you won't even notice the green.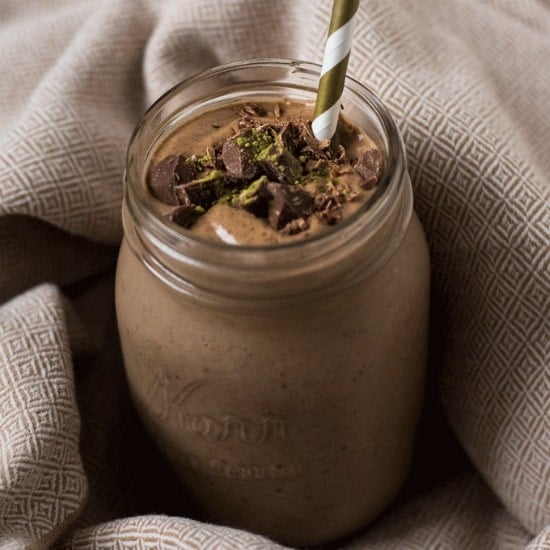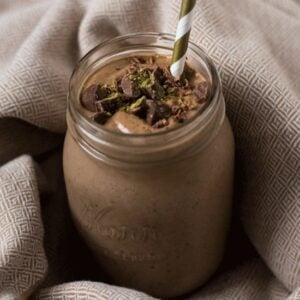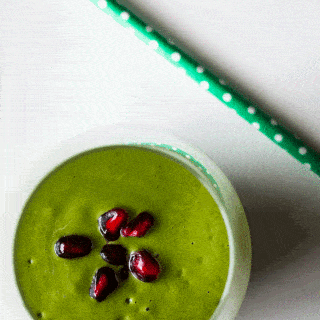 Pomegranate, Kale and Coconut Smoothie
Jam packed with superfoods, this smoothie will pull you through the holiday season feeling your best. It is so delicious, it will convert even those 'no green food' people out there!
Ingredients
2

tbsp

unsweetened coconut flakes

2

tbsp

crushed pecans

1

Frozen Banana

5

Dates

1

Handful of Kale

¼

cup

pomegranate arils

½

cup

coconut water
Instructions
Pop everything into the blender, except for the coconut water. Start blending

Slowly add the coconut water until you get a smooth consistency. Enjoy
Nutrition
Calories:
238
kcal
Carbohydrates:
41.2
g
Protein:
4
g
Fat:
8.6
g
Saturated Fat:
5.4
g
Sodium:
79
mg
Fiber:
7
g
Sugar:
23.6
g