Homemade croutons and homemade pesto are two of the easiest things to make at home, combining them to make homemade pesto croutons just makes sense! These croutons can be made in the air fryer if you would like a super quick method, or they can be made in the oven. Pesto croutons are the perfect way to use up leftover bread and leftover pesto so nothing goes to waste, and you get a great little pop of flavor to your next soup or salad.
We tend to make pesto all year round with whatever surplus herbs or greens we have in the garden. Next time you have a bumper crop and don't know what to do with it, why not try one of these homemade pestos on for size: Carrot Top Pesto, Mint Pesto, Oregano Pesto, or Fennel Fronds Pesto.
Easy Pesto Croutons
If you have ever found yourself with a spoonful or two of pesto hanging out in the back of the fridge, then this is the post for you.
You don't want that deliciousness to go to waste, especially if it has been made with homegrown herbs and greens.
Am I right?
This simple pesto crouton recipe will soon become your new best friend (where leftover pesto is concerned that is).
It is:
Super easy to make. We are simply going to rip up some stale bread, coat it in some olive oil and your leftover pesto, and bake it in the air fryer or the oven until crunchy and delicious.

Easy to store. These homemade croutons can be stored on the bench, in the fridge, or even in the freezer.

Super versatile. It doesn't matter how much pesto you have leftover, we can make this work.

Easily made gluten free, dairy free or vegan. Just use whatever bread and pesto works well with your lifestyle, and you are good to go!
If you don't have homemade pesto, the premade stuff bought in a jar is just fine.

Easy to use all year round. Croutons are the perfect accompaniment to both soups and salads, so they can be used all year round, regardless of the season.
Grab your favorite pesto, a loaf of bread going stale on the countertop, and some good quality olive oil, and you will be good to go.
A Note On Ingredients
Nothing fancy is needed here, but I do have a few expert tips and tricks to make sure you end up with the best homemade croutons.
what type of bread works best?
A nice big thick loaf (such as a cob) that is starting to turn stale is just perfect as it can be cut into nice big even chunks that can soak in the olive oil and gets nice and crunchy once baked.
You can definitely make homemade croutons work with lots of different types of bread though, so don't worry if that's not what you have:
Fresh bread: you will just need to add one or two minutes to your cooking time, or leave the bread out on the bench for an hour or two after cutting it into chunks.
Sandwich bread: although this is a lot thinner it can definitely work.
Simply chop the bread into smaller sized chunks and cut your cooking time in half.
You may also need less oil, as there is less fluffy bread to absorb it.
These will basically be mini-croutons, and work really well added to a cup or mug of soup.
Stale bread: as long as it isn't going moldy this will work perfectly.
You may need to remove a minute or two from your cooking time if it is already super stale.
When you chop the bread into chunks, you want it to be cut roughly evenly, so that each piece cooks at the same rate and they are all ready at the same time.
These can be made with gluten-free bread as well if that is your preference.
how much oil is needed?
How much oil you use is going to again depend on the type of bread you are using (see above).
If you are using relatively fresh, big chunks of bread like what you see in the photo above, then you are going to need more oil, as it absorbs it pretty easily.
If you are using more stale/less fresh bread or thin slices from a sandwich loaf etc, then you will need less as it doesn't absorb the oil as much.
You can't go wrong as long as you don't add so much oil that the bread becomes soggy.
Just add a bit at a time and see what works for you.
Assembly Instructions
Once you have your bread cut into even-sized chunks, making the croutons will be pretty simple:
Add the bread chunks, the pesto and the olive oil to a large bowl. How much oil you use is going to depend on how you are planning on cooking the croutons, so be sure to read through the recipe card and decide on a method before starting;

Mix well to ensure everything is evenly coated. You want each bread chunk to be evenly coated in some olive oil and some pesto.
Don't be afraid to add more of either as this will be completely dependent on the amount and size of your bread chunks (it is hard to go wrong here, just don't drown the bread in oil);

Arrange the coated bread chunks in an even layer on a rack in the air fryer or on a baking tray for the oven. Spread them out as much as you can in one single layer.
We do not want them to be stacked one on top of the other, as they will not cook properly this way, and you will not end up with crunchy croutons;

Allow the croutons to cool completely once cooked. As the croutons cool they will become more crunchy, so if you want super crunchy croutons, give them at least five minutes to cool down;

Store in a glass jar or container. Although they can technically be stored in plastic without any drama, crunchy foods tend to stay more crunchy if they are stored in glass.
Use common sense when adding the ingredients. If you think you need more oil, then add more oil. It is hard to go wrong here.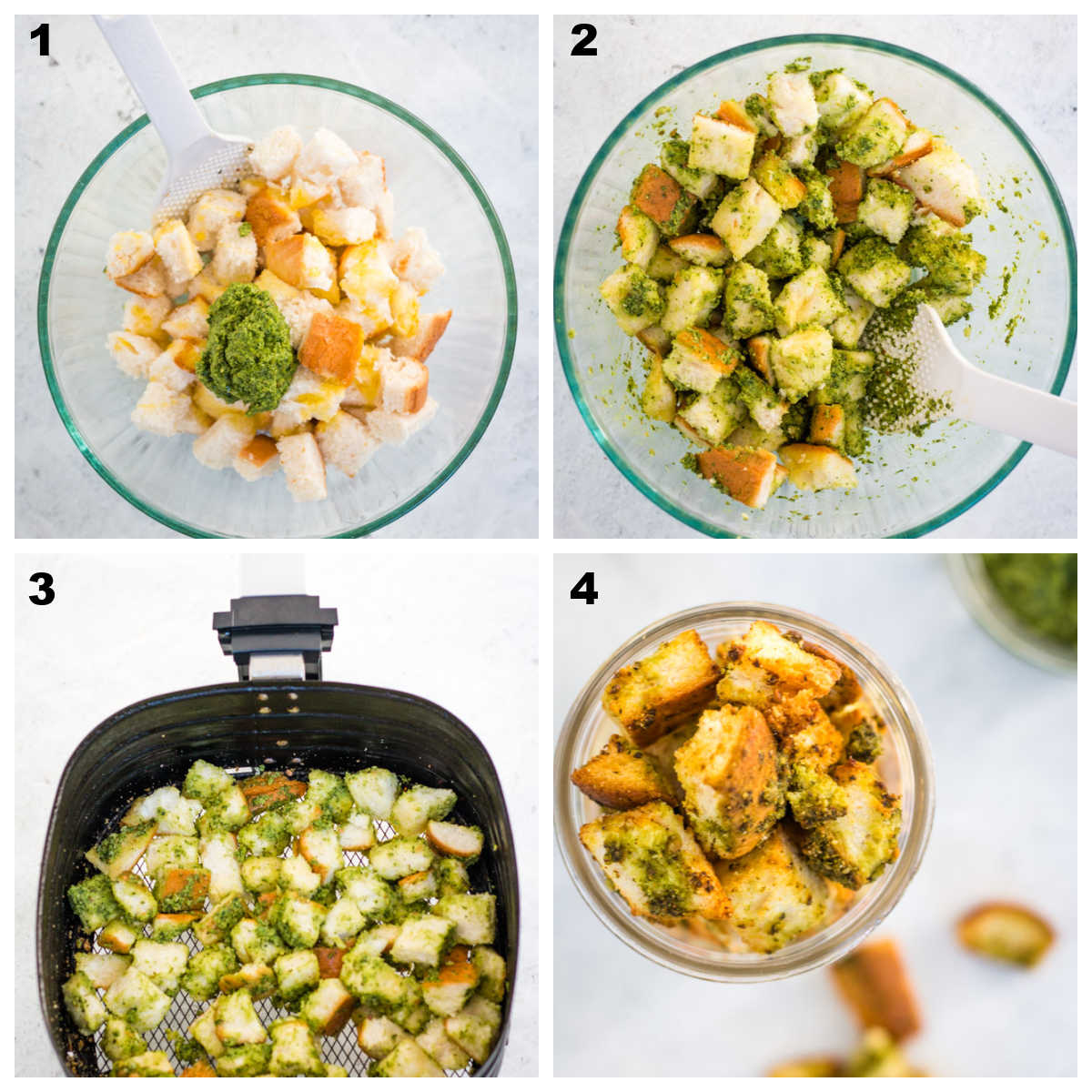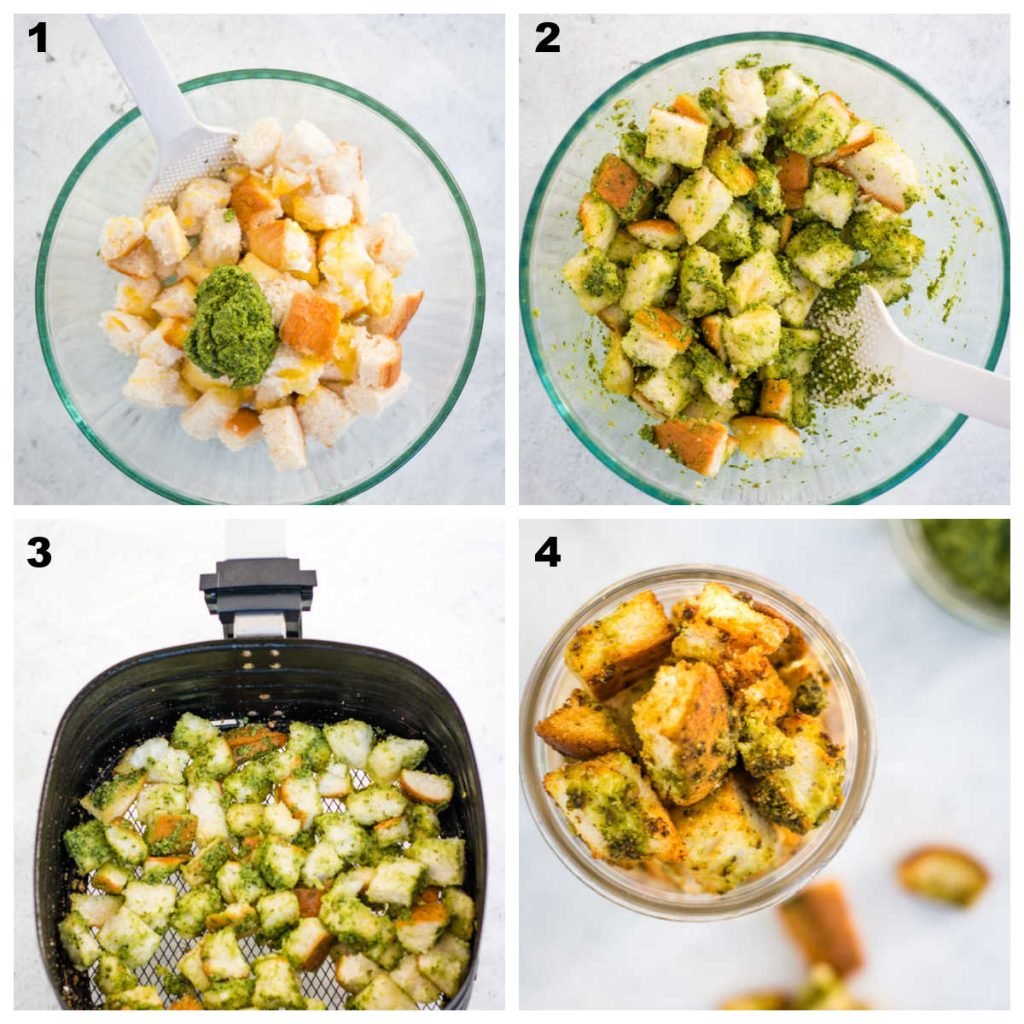 Expert Tips and Substitutions
How Do I Know When The Croutons Are Ready?
When you put the chopped bread into the air fryer be sure to evenly layer them on the rack so that they all cook at the same time.
Start with 6 minutes in the air fryer and adjust from there.
Keep in mind, once again, that the cooking time is going to depend on the type of bread you are using.
as a rule of thumb, start with 6 minutes in the air fryer or 15 minutes in the oven, check, and then add more time if needed.
To check: simply pull the tray from the air fryer or oven and give the bread a squeeze.
It should be firm and relatively crunchy.
If the bread still has a lot of give, then pop the tray back into the air fryer or oven for a minute or two, before checking again.
Storage Instructions
To store, let the croutons cool completely, and then place them in a glass jar with a lid to retain their crunchiness.
You can leave them on the bench for a couple of days, or pop them into the fridge to make them last longer.
Freezing Instructions
While perfecting the temperature and timing of these croutons I made multiple batches….so we had A LOT to experiment with.
I now have first-hand knowledge of how well these can freeze, and we have a whole drawer of croutons in the freezer just waiting for the right opportunity to shine their light!
Make sure the croutons have cooled completely before putting them into a container for storage, otherwise there will be a build-up of moisture and you will end up with soggy croutons.
If that does happen, you can always crisp them up again by popping them back into the air fryer or oven for a minute or two.
To freeze, arrange the cooled croutons in a single layer on a baking sheet small enough to fit into the freezer.
Pop them into the freezer until nearly frozen solid.
Once nearly frozen solid, remove from the freezer and transfer to a freezer-friendly container or Ziploc bag.
Pop back into the freezer until ready to use.
Need More Recipes That Use Pesto?
There is nothing worse than having a leftover dollop of pesto at the end of the jar and not knowing what to do with it (well I mean technically there is a lot that is worse than that....but it is definitely a pet peeve of mine).
Try these recipes for some interesting pesto uses:
If you love using leftover greens to make new meals as we do with homemade pesto, then you need to check out this post for using up fennel fronds: What to do with Fennel Fronds: 10 Great Recipes.
Happy Eating.
xx
Recipe
The information shown is an estimate provided by an online nutrition calculator. It should not be considered a substitute for a professional nutritionist's advice.