Winter Farro Salad with Feta and Citrus Vinaigrette has a lot going on. The nuttiness of farro shines through in contrast to the sweetness of the winter fruit. Feta gives it just that little bit of zestiness needed. And the nuts and seeds give it enough crunch to make this a well-rounded salad that is as much at home as a side on your dinner table, or as the star of the show at a picnic.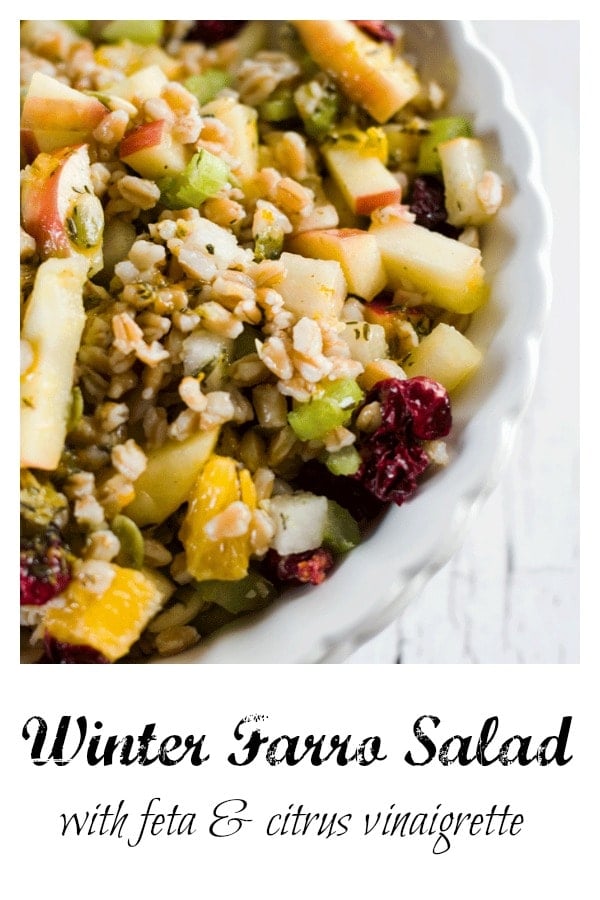 Winter Farro Salad with Feta and Citrus Vinaigrette
I am a wee bit late to the whole farro game.
I mean I use quinoa ALL the time.
I have millet, sorghum, and barley on regular rotation when dinner time comes.
So the ancient grains game is strong in the Whole Food Bellies house, but somehow this particular grain hasn't received much love.
I did, however, happen upon some 10 Minute Farro at TJ's last month and just had to give it a whirl. Happy to say, it was well-received and is now part of our grain rotation (thank goodness TJ's have the quick-cooking version!)
This is one 'cheat' I am happy to take on board.
Adding Fruit To Your Salad Is A Good Idea!
I just LOVE adding fruit to my salads, and fresh winter fruit makes such a great addition to contrast the nuttiness of the farro.
Oranges are rampant right now, so I paired them with some chopped pears, and dried cranberries, along with some nuts and seeds for the ultimate light winter feast.
Looking for some more Winter salads to BRIGHTEN up your day? I'v got ya covered:
Can This Grain Salad Be Made Ahead Of Time?
Winter Farro Salad is great for making ahead of time and serving up for lunch throughout the week.
If this is your plan, I would make the salad but keep the dressing separate and just drizzle over the top before serving. Otherwise, you run the risk of sogginess.
Just keep stored in an airtight container in the fridge until ready to eat.
I Can't Get Quick Farro, Can I Use Regular Farro?
Absolutely.
You will just need to add more time to your expectations.
Instant Pot Cooking Instructions for Farro
Put the farro along with one cup of water to the instant pot. Pop on the lid and seal the valve.
Set to manual mode for 12 minutes.
Quick pressure release once complete.
Once pressure has been released, remove the farro from the pot and set aside.
Stove Top Cooking Instructions for Farro
Bring a large saucepan filled water to a boil.
Add farro; reduce heat to medium and simmer 20 minutes or until slightly chewy.
Drain and serve.
Happy Eating
xx
The information shown is an estimate provided by an online nutrition calculator. It should not be considered a substitute for a professional nutritionist's advice.
Don't forget to follow Whole Food Bellies on Pinterest for more recipe inspiration! Or if Pinterest isn't your style, bookmark this post! Let's keep the conversation going- join my Facebook group!
If you need some more ideas using Farro then check these recipes out from around the web: