I don't know about you, but I am definitely a bit of a salad junky. In fact, if someone invites me over for dinner and asks me to bring something, it's pretty much always going to be a salad (and some wine, of course). They are just so versatile, and can change so much from one season to the next.
As a result I am always on the lookout for unique salad recipes, as I like to mix it up from the usual blend of tomatoes, cucumber and lettuce (hubby's favorite). So I turned to my lovely foodie blogger friends and asked them to send me their most unique salad recipes. I have bundled them all up for you here in this bumper round-up of Unique Salad Recipes. I am super confident that you will find something that entices you 🙂
Fruity Salads:
(FYI I may have gone overboard on the fruity salad recipes, but I REALLY love fruit in my salads)
Ok so lets start off this round-up of unique salad recipes with this Zesty Heirloom Tomato and Nectarine Salad from Whole Food Bellies (that's me). This has been my favorite salad for the past few weeks, and I just know you will love the bright summer flavors going on here.
Pomegranate, mint, Israeli couscous, and Halloumi take this salad to the next level. So much flavor and so filling it can be enjoyed as a main meal in itself.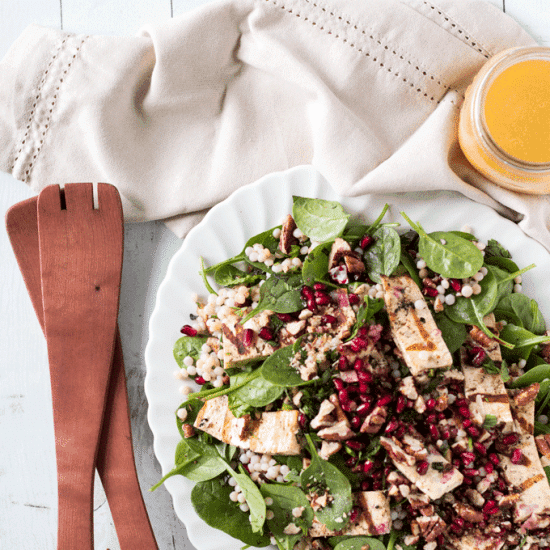 This Shaved Apple and Radish Salad from The View from Great Island definitely screams warm sunny days. It just looks and sounds so fresh and tempting. I love the variations Susan provides so you can really make it your own.
This Citrus Salad with Orange Dijon Vinaigrette from What a Girl Eats is just too pretty!! I would love to serve this up at a dinner party - it just looks so fancy 🙂
This Avocado Chicken Salad Recipe with Passion Fruit Vinaigrette is seriously over the top delicious. Loaded with thinly sliced avocado, red onion, cucumber, cherry tomatoes, perfectly cooked chicken and passionfruit you are going to find a lot of amazing flavors going on in here. Oh, and did I mention the candied pecans to top it all off?

Ummmm yum!! I don't really need to say more than that about this Pickled Ginger-Citrus Salad with Creamy Wasabi Dressing and Spicy Fried Rice from Cooking on the Weekends. All kinds of amazing going on right there.
Vermillion Roots shared this Mandarin Rainbow Salad with Avocado Tahini Salad, and I am in love - yum! And the colors are just outstanding.
Another fruity salad from Whole Food Bellies (that's me again). This Summer Antioxidant Salad is jam-packed full of summer fruit and nuts and seeds. It is super fresh and vibrant.
The colors and flavor combinations in this Fruit & Nut Spinach Salad from Spend with Pennies are just amazing!!
Ok ok, I wasn't going to include any more fruity salads, but then this Stone Fruit Salad with Yogurt, Honey and Mint from Will Cook For Friends popped up, and I just couldn't say no. So pretty.
Salads with Grains and Legumes:
I am a sucker for corn in my salad, so this Charred Asparagus, Popped Corn and Quinoa Salad from Kelley and Cricket has my name all over it!
Take your next summer BBQ to another level with this delicious Quick and Easy Quinoa Salad from Whole Food Bellies, which is just packed with beautiful colorful summer veggies and a surprising burst of flavor.
So pretty, fresh and delicious. This Golden Beet and Lentil Salad with Strawberries from The Rhubarbarians is a mix of sweet, savory, salty and tangy - all a yes in my books!
You know I love quinoa, so I just had to include this Super Food Quinoa Salad from Pretty Wee Things. I love the simplicity of this salad, and it really would make the perfect make-ahead lunches for the week.
I think I have shared this Raw Vegetable with Farro and Pecans Salad from Pinch and Swirl on my Facebook page a few times. I really love it, so so yummy! Farro is such an underrated grain - definitely worth checking out if you have never tried it.
While we are on the subject of Farro, lets throw another Farro based salad into the mix. This Spring Farro Salad with Asparagus and Shiitake from Crumb Blog sounds absolutely delicious.
How pretty is this? I am absolutely loving the colors in this Blood Orange Quinoa Salad from Emilie Eats. Yes I know I snuck another fruity salad in, but this one has quinoa 🙂
Don't you just love these overflowing bowls of Orange Lentil Greek Salad from Two Purple Figs? Just how I like my salad - in abundance 🙂
And for another quinoa bowl, this Mission Macro Bowl from A Life Well Consumed sounds fantastic! Tip: make up a big batch of quinoa at the start of the week, and you can just throw it into your salads as needed.
Twists on Traditional Salads:
Florentina from Ciao Florentina always has the prettiest food, and this Cucumber Tomato Salad is no different. A beautiful twist on the traditional cucumber and tomato salad - this is definitely something I would be proud to share at my dinner table.
Mon Petit Four is another blog that is super pretty. Her Concombre a La Menthe is so simple and yet so stunning. I love it!
This! This is a salad I could eat just about everyday. Roasted Broccoli and Guacamole Salad from Nourish Everyday has everything I love - loaded with veggies and a bit of crunch. Yum
Thai flavors in a salad are just amazing. Raw Spiraled Thai Salad from Strength and Sunshine is right up my alley - so fresh!
I love Robyn's recipes, and the simplicity of this Shaved Asparagus Salad is just perfect. I love eating seasonally, and this just sounds divine. From Simply Fresh Dinners.
From the Farm and Sea:
I am in LOVE with this Watercress Salad with Basil Clementine Dressing from Green Healthy Cooking. Not only is it super pretty, but the list of ingredients just makes me want to whip one up right now!!
This salad from Whitty Paleo is definitely a meal onto itself! Spicy Cajun Chicken and Plantains with a Sweet Paprika Dressing - I am having cravings over here.
Ummm yes please! Chicken and Melon Salad with Coconut Sambol from The Flavor Bender ticks all the boxes in the salad department.
This Mixed Greens with Pork, Sliced Pears and Spicy Pecan Salad from Home and Plate is just gorgeous! I love the crunchy element going on here with the spicy pecans.
You know I love Salmon, and this Salmon Waldorf Salad recipe from Nutritioulicious sounds just amazing. The perfect meal.
I have to say, I have never been a mackerel fan, but this Smoked Mackerel Salad with Mango from Brian at Krumpli has me wanting to try it again (plus every recipe I have tried from him has been amazing, so I trust it will be good). Seriously, how great does this look?? Now to find some mackerel....
Salad in a roll is definitely ok by me. These Shrimp Spring Rolls with Strawberry Almond Sauce from Healthy Nibbles and Bits look just delightful.
Cheesy Salads:
I just love cheese in my salad, and this Grilled Pear Salad Bowl from The BBQ Bastard just has me drooling over here. I mean yum!!
Greens, Persimmon, and Ricotta Salad with Orange Dressing is definitely a salad I want to be trying as soon as persimmons are back in season! From My Food Story.
And to finish it off we have this great looking Wedge. I LOVE wedge salads, like really love them, and this Eccentric Wedge Salad from Platings and Pairings will definitely be finding a place on my table.
I don't know about you, but I am definitely craving some salad right about now!! Did you find any unique salad recipes that tickle your fancy? I would love to hear which one (or ones?) sounds good to you, so be sure to leave a comment below 😀