This BBQ Roasted Chickpea and Rice Veggie Bowl is another family-favorite version of a classic grain, bean, and veggies bowl. These roasted vegetables are so good that in our house, the kids are usually found eating them straight from the baking tray. We're lucky if we have enough left to make our veggie rice bowls! With sticky BBQ sauce coating the roasted chickpeas and perfectly roasted vegetables, this dish is always a winner.
Big rice veggie bowls like this one, and this Rainbow Brown Rice and Sesame Veggie Bowl make perfect weeknight meals for the whole family.
BBQ Roasted Chickpea and Rice Veggie Bowl
This bowl is super easy to bring together and is super comforting to boot.
A great meal for the whole family, it combines brown rice with roasted bbq chickpeas and lots of roast vegetables.
Top it off with a drizzle of bbq sauce and some fresh cilantro and you have a perfectly balanced meal that will have you feeling satisfied and full in no time.
Depending on the BBQ sauce that you choose to use, this rice veggie bowl can be vegan, vegetarian, dairy-free, and gluten-free.
Ingredients
I feel like when non-vegans think of cooking vegan meals they freak out about using new ingredients, and things they wouldn't usually have in the kitchen, or don't want to buy because they will never use them again.
This isn't the case here.
The best thing about this veggie bowl is the selection of simple pantry and fridge staples used to make it.
There's nothing fancy going on here, you will need:
chickpeas: used canned chickpeas to save on the time required to prep your own from dry chickpeas. If you do prefer to prep your own, then you can use a recipe like this one, but you will obviously need to start the prep a lot earlier;
broccoli: we are going to use a whole head of broccoli here, be sure to chop the florets into even-sized pieces so they cook at the same rate;
red bell peppers: you can use green bell peppers, or yellow bell peppers if prefered, or you could even use some mini peppers so you can get green, yellow and red peppers in there for some extra color;
red onion: this adds a great pop of color to the rice veggie bowl, but you can always sub in a brown onion if prefered;
olive oil: or any other cooking oil of choice;
brown rice: you could also use wild rice or white rice if prefered, or some quinoa or couscous or other whole grains of choice;
avocado: use a fresh ripe avocado chopped into even sized chunks;
cilantro; feel free to sub in some other fresh herbs of choice is cilantro isn't your thing;
BBQ Sauce: I have provided a recipe for a homemade BBQ sauce in the recipe card below. If you prefer to use store-bought then by all means, but make sure you check the ingredients are in line with your lifestyle in relation to diet.
See, nothing out of the ordinary.
Is This Meal Prep Friendly?
Sure is.
This rice veggie bowl works just as well as a hot bowl as it does as a cold bowl for lunch the next day.
Roast all of your veggies and store them in an airtight container in the fridge until needed.
Tip: If planning on serving the bowl for lunch tomorrow, do not add the avocado until time to serve so that is fresh and doesn't end up brown and mushy.
The chickpeas can also be roasted in the bbq sauce and stored in an airtight container in the fridge.
They will not have the same crunch they would have if served hot from the oven, but they will still be deliciously moreish.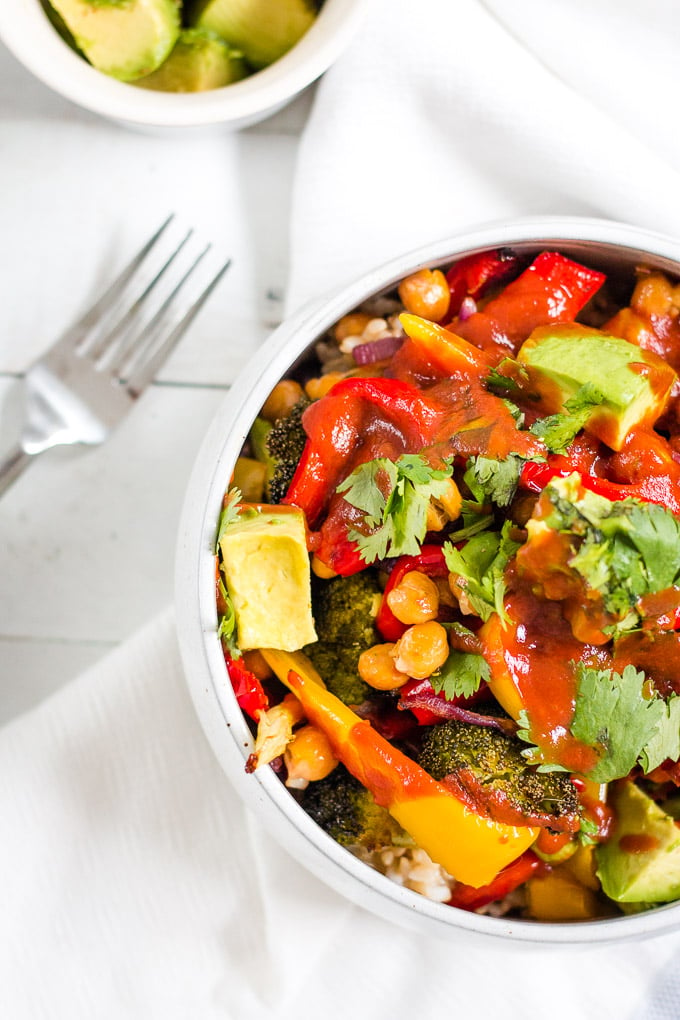 Tips, Tricks and Substitutions
Chickpeas
If you don't have chickpeas, or you don't like chickpeas, you can always substitute with some black beans or tofu instead.
I have a recipe here for Crispy Tofu which I use all the time in place of chickpeas.
Simply switch out the asian style sauce used in the recipe, for the BBQ sauce instead, and you are good to go.
Alternatively, you can skip the chickpeas altogether and use some roasted cauliflower florets in their place.
Simply prepare the cauliflower florets in the same way the chickpeas are prepared in the recipe card.
Roasted Veggies
Feel free to sub in whatever veg you have on hand.
Other vegetables that would work well in this BBQ rice veggie bowl are:
cauliflower;
zucchini;
sweet potatoes;
carrots;
radishes;
pumpkin;
mushrooms;
snap peas;
chopped green beans.
Use whatever veggie mix you have on hand.
Simply add all of the veggies to a sheet pan and follow the instructions in the recipe card until roasted to perfection.
Brown Rice
We use brown rice in this recipe, but feel free to use any other rice or grain of your choosing.
Wild rice, white long grain rice, quinoa, coucous or barley will all work well.
If you prefer to skip the rice and grains, you could always use some cauliflower rice or broccoli rice instead.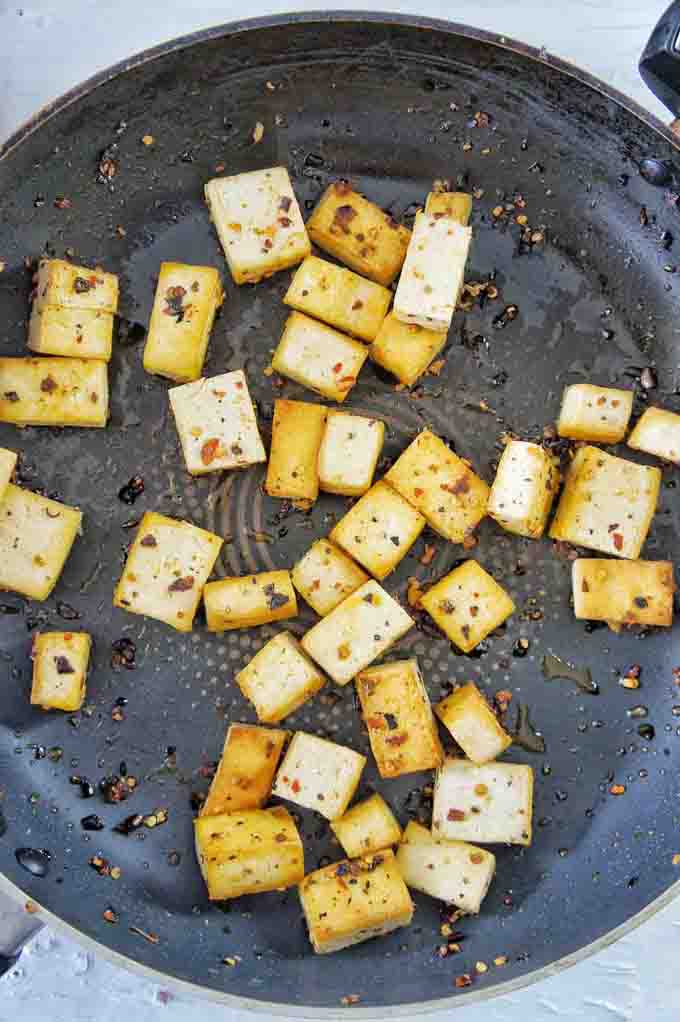 Need More Vegetarian Bowl Recipes In Your Life?
Once you start doing meatless Monday you will get the hang of adding quick and nutritious plant-based meals into your family's meal rotation.
Check these veggie bowls out for some more ideas:
Tip: Going meatless at least one day a week is a great way to improve your overall health, help the planet—and make weeknight cooking fun for the whole family!
If you need some more tips on incorporating more plant-based meals into your family's meal plan without blowing the budget out of the water, then check out this post.
Happy eating
xx
Recipe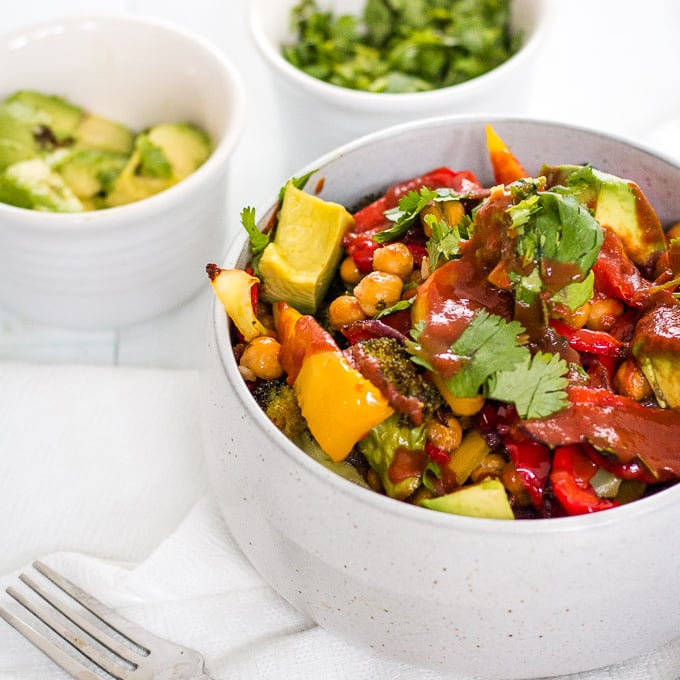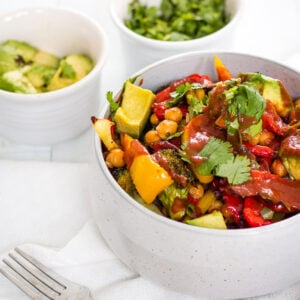 BBQ Chickpeas and Rice Veggie Bowl
This BBQ chickpeas and veggie bowl is another family-favorite version of a grains, beans, and veggies bowl. These roasted vegetables are so good, in our house, the kids are eating them off the hot-from-the-oven pan. We're lucky if we have enough left to make our bowls. I'm not complaining! With sticky BBQ sauce and addictive roasted vegetables, this dish is a winner
Ingredients
1

can

chickpeas

drained and rinsed

1

head

broccoli

chopped into bite-sized florets

2

bell peppers

color of your choice, seeded and sliced

1

red onion

halved and sliced

2

tablespoon

olive oil

¼

teaspoon

salt

or to taste

¼

teaspoon

pepper

or to taste

2

cups

cooked brown rice

1

avocado

peel and pit removed, diced

¼

cup

cilantro

chopped

1

cup

BBQ sauce

either homemade or store-bought (see notes)
Instructions
Preheat the oven to 370°F (190°C). Line 2 rimmed baking sheets with parchment paper. 

Spread out the chickpeas, broccoli, bell peppers, and onion on the baking sheet. Drizzle with olive oil, sprinkle with salt and pepper and toss to coat.

Spread them out in one even layer. Roast for 20 minutes, mix the veggies and swap the pans in the oven so the one on top is now on the bottom. 

Roast another 10 to 15 minutes, until the veggies are starting to char and the chickpeas are crispy (they will continue to crisp up as they sit).

Add ½ cup of cooked rice to each of 4 bowls. Divvy up the roasted vegetables, avocado, and cilantro equally among the bowls. Drizzle with  BBQ sauce.
Notes
BBQ Sauce
If you are buying a store-bought BBQ sauce be sure to check the label for the ingredients as they can sometimes contain lots of extra added sugar.
For a delicious homemade BBQ sauce try this one.
Storing Leftovers
Leftovers should be stored in an airtight container in the fridge for 3-4 days.
Meal Prepping
All components of this meal can be prepped ahead of time and stored in an airtight container in the fridge.
Avocado should not be added until the bowl is ready to be served to prevent it from becoming brown and mushy.
Nutrition
Calories:
334
kcal
Carbohydrates:
44
g
Protein:
9
g
Fat:
16
g
Saturated Fat:
2
g
Sodium:
204
mg
Potassium:
967
mg
Fiber:
11
g
Sugar:
7
g
Vitamin A:
2951
IU
Vitamin C:
219
mg
Calcium:
98
mg
Iron:
2
mg
Tried this recipe?
Leave a comment HERE and let us know how it was!
This fantastic family-friendly bowl is straight from Jenn Sebestyen of Veggie Inspired's cookbook 'Meatless Monday Family Cookbook'. I have been given permission to share in exchange for recipe testing.
The information shown is an estimate provided by an online nutrition calculator. It should not be considered a substitute for a professional nutritionist's advice.