This recipe for a super cheesy slow cooker potato leek soup is the perfect set-n-forget meal to whip up in your crock pot on a cold winters night. Full of herbs and cheddar it is luxurious and creamy. Made from scratch soup.
Disclaimer: This post includes affiliate links, and I will earn a commission if you purchase through these links. Please note that I've linked to these products purely because I recommend them and they are from companies I trust and use myself.
Slow Cooker Potato Leek and Cheddar Soup
Potato Leek and Cheddar Soup is a deliciously kicked up version of the original potato and leek soup, which is one of those dishes I am pretty sure everyone has experienced in their lives at least once.
I doubt I would be able to count the amount of times I have had it in my thirty years.
Growing up we had it ALL the time. It is both simple and delicious, and for me, it is basically the epitome of comfort food.
From now on, If it's cold, rainy and miserable outside, you know I will be having some potato, leek and cheddar soup (or at least would like to be).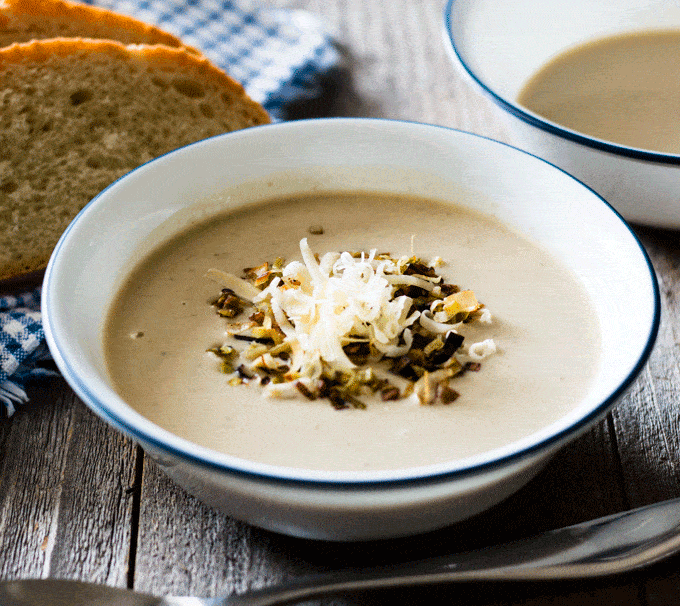 How To Make Your Potato Leek and Cheddar Soup Even Better
Now, I have made potato and leek soup in every way imaginable (obviously Potato Leek and Cheddar is now my favourite 🙂 ).
In fact, following thanksgiving, I made some with homemade broth from smoked turkey scraps (use everything guys!) - OMG, if you ever smoke a turkey for thanksgiving (or any other occasion) - be sure to make some broth with the bones, followed by some potato and leek soup, coz that my friends, is something else.
Over the years, I have noticed there tends to be a bit of a fierce argument when it comes to whether you are in the chunky or smooth camp (in regards to potato and leek soup).
For years, I was firmly in the chunky soup camp, I am pretty sure that's what my mum made growing up - and that's what you stick to right? Mum knows best 🙂
Unless you are married of course - and then apparently his mum knows best...Hubby is in the smooth soup camp (yep, his mum is to blame for that). And to get the level of compliments I need these days, I have to make things the way he had it growing up: so we are going smooth with our potato and leek soup (plus it turns out it's easier for the little ones to eat like this - but he doesn't need to know that).
I did change it up a bit. I had a busy day, so popped all the ingredients into the slow cooker, and let it do it's thing, making it a really simple leek and potato soup.
I also added some cheddar, because for some reason when it's cold, cheese is something I need, and Costco had Dubliner, so how could I possibly say no?
Potato Leek and Cheddar Soup was born, and there is no going back now, it's a keeper 🙂
For more cheesy goodness, check out these recipes too:
It was great. Really yummy. I suggest you try it! And, if you happen to have some homemade turkey bone broth, use that to give it an even bigger kick:)
I have been using the Instant Pot as my slow cooker for the last couple of weeks, and it has been great.

Don't forget to follow Whole Food Bellies on Pinterest for more recipe inspiration! Or if Pinterest isn't your style, bookmark this post! Let's keep the conversation going- join my Facebook group!
If you enjoyed this recipe then you might want to try these:
If you tried this recipe please comment and rate it. I love hearing your feedback and answering your questions! And if you make this please tag me on Instagram with @wholefoodbellies so I can share it <3