This recipe for a super cheesy slow cooker potato leek and cheese soup is the perfect set-n-forget meal to whip up in your crockpot (slow cooker) on a cold winter's night. Full of herbs and cheddar it is luxurious and creamy and comes together so easily. This made from scratch soup (none of that cream of whatever soup added) will satisfy the hungriest of bellies, especially if paired with a nice slice of crusty bread or two or some homemade air fryer croutons. Also happens to be gluten-free.
Slow Cooker Potato Leek and Cheese Soup
Jump to:
Potato Leek and Cheese Soup is a deliciously kicked up version of the original potato and leek soup, which is one of those dishes I am pretty sure everyone has experienced in their lives at least once.
I doubt I would be able to count the amount of times I have had it in my years.
Growing up we had it ALL the time.
It is both simple and delicious, and for me, it is basically the epitome of comfort food.
From now on, If it's cold, rainy and miserable outside, you know I will be having some potato, leek and cheese soup (or at least would like to be).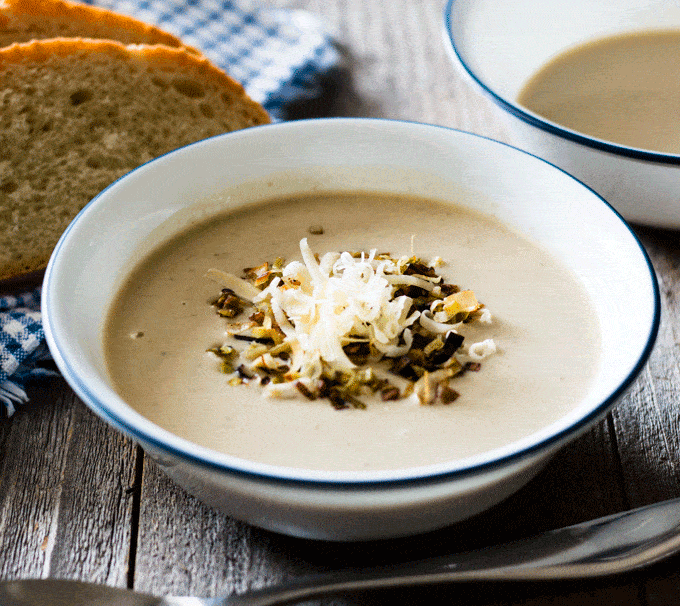 How To Make Your Potato Leek and Cheese Soup Even Better: A Note On Ingredients
Let's have a look at what we need to make this kicked-up version.
FYI: Following Thanksgiving, I made some with homemade broth from smoked turkey scraps (use everything guys!) - OMG, if you ever smoke a turkey for Thanksgiving (or any other occasion) - be sure to make some broth with the bones, followed by some potato and leek soup, coz that my friends, is something else.
You are going to need:
unsalted butter: using unsalted butter allows you to have control over how salty the final result is;
leeks: take your time and put some effort into properly cleaning your leeks. The tight creases between layers can hold a lot of dirt, so be sure to get in there and rinse everything. Also take your time in making sure you slice the leeks thinly and evenly so they cook at the same rate the whole way through;
garlic: measure this with your heart. This recipe calls for 4 cloves, but if I am being honest I routinely add a lot more, especially if it is cold and flu season and I want to chase away any potential bugs;
fresh thyme: I like to use fresh thyme, as I always have some growing in my garden. If you don't have fresh you can always use dry, just use about half the amount;
dried oregano: again, fresh is best, but if you only have dried then ise about half the amount called for in the recipe;
bay leaves
white wine: if you don't tend to have white wine in the house you can always leave this out, or replace the wine with some more stock;
vegetable broth: buy a good quality broth, and be sure to check the salt content. Otherwise you can easily make your own broth using a recipe like this one: homemade vegetable broth;
potatoes: I like to use a yukon gold or a kennebec. Look for a potato that goes creamy when mashed so that you get a nice consistency in the soup;
cream: I always use a full fat pure cream in my soups,but you could sub with a half and half if thats what you like, or a plant based cream if you would prefer to keep this soup vegan or dairy free
cheddar cheese: grate this yourself at home. Store-bought pre-grated cheddar cheese can give a grainy texture when melted, which is just not nice. You can always sub in a plant based cheese, or some nutritional yeast if you want to keep this soup dairy-free or vegan;
extra leeks and cheese for topping.
If you prefer a vegan potato leek soup or a dairy-free soup you can always sub the cream for a plant-based cream, and the cheese for a plant-based cheese or some nutritional yeast.
Slow Cooker and Stove Top Instructions
I like to make hearty soups like potato, leek, and cheddar in the slow cooker, as it is so nice to set and forget on a busy weekday!
Simply sauté the leeks and garlic in a skillet until soft and fragrant, put a couple of tablespoons of the mixture aside before adding all of the ingredients to the slow cooker and cook on low for 5 hours.
We are putting some of the sauteéd garlic and leeks aside to add as a topping when we serve the soup.
To Make It Chunky
If you like you potato and leek soup to be more on the chunky side, then remove about ⅓-1/2 of the mixture and blend until smooth.
Once smooth, add back into the slow cooker with the rest of the soup and stir to combine.
To Make It Smooth
If you prefer your soup to be completely smooth then use a handheld blender to blend the soup completely in the slow cooker until smooth.
If you do not have a handheld blender, then you will want to blend the soup in batches in a blender.
Remember to leave room at the top of the blender for the soup to expand as it is hot.
We do not want any explosions!
An even better option, if you are lucky enough to have an electric pressure cooker, is to use that, as you can sauté the garlic and leeks right in the pot before adding the other ingredients, so you will not have that extra dish.
Serving Suggestions
One of the reasons I like to sauté the garlic and leek first is so we can take a couple of tablespoons aside before adding the rest of the ingredients, and use them as a nice flavourful topping on the soup, along with some extra grated cheese.
You could also serve with:
A swirl of cream
A drizzle of white truffle oil
Some chopped parsley
Some homemade croutons like these air fryer croutons
Some kale croutons
Storing and Freezing Your Soup
Allow the soup to cool completely before transferring to a glass jar or container with a lid and storing in the fridge for about 3-5 days.
This soup can also be frozen in an airtight container for about 6 months.
Happy Eating
xx
Recipe
Slow Cooker Potato Leek and Cheese Soup
This recipe for a super cheesy slow cooker potato leek cheese soup is the perfect set-n-forget meal to whip up in your crock pot on a cold winters night. Full of herbs and cheddar it is luxurious and creamy. Made from scratch soup
Ingredients
2

tablespoon

unsalted butter

3

whole

leeks

cleaned and thinly sliced, white and light green (reserve 2 tablespoon for serving)

1

teaspoon

kosher salt

4

cloves

garlic

4

sprigs fresh thyme

1 ½

teaspoon

dried oregano

2

bay leaves

¾

cup

white wine

5

cups

vegetable broth

make your own

4

medium gold potatoes

peeled and diced, I used yukon

1 ½

cups

cream

or half and half

⅓

cup

grated cheddar cheese

extra leeks and cheese for topping
Instructions
Melt the butter in a skillet over medium heat. Add the sliced leeks (remember to keep some aside for serving) and salt and sauté until soft. Add the garlic; saute for 30 seconds and then remove from heat

Pop the leeks and garlic into the slow cooker. Add in the thyme, oregano, bay leaves, white wine, broth, and potatoes and give it all a good stir

Set the slow cooker to low for 5 hours

After the 5 hours, add in the cream. Stir to combine and then puree the soup until smooth. If you have a stick blender then use that right in the pot, otherwise blend in batches in a regular blender (remember the soup expands when it is hot, so don't put too much in there)

Pop everything back into the slow cooker and set to low for another 30 minutes

After 30 mins, stir in the cheese and serve with the extra leeks and cheese
Notes
For something extra special serve with:
a small drizzle of white truffle oil on top
a swirl of cream on top
some homemade croutons or kale croutons
some finely chopped parsley or chives
To store:
Keep in an airtight container with a lid in the fridge for about 3-5 days.
Freeze in an airtight container for about 6 months.
Be sure to allow the soup to cool completely before storing in the fridge or freezer, and remember to leave room for expansion in the dish if you plan on freezing the soup.
Nutrition
Calories:
173
kcal
Carbohydrates:
16.8
g
Protein:
3.6
g
Fat:
9.3
g
Saturated Fat:
5.8
g
Cholesterol:
28
mg
Sodium:
286
mg
Fiber:
2.7
g
Sugar:
5.5
g
Tried this recipe?
Leave a comment HERE and let us know how it was!
The information shown is an estimate provided by an online nutrition calculator. It should not be considered a substitute for a professional nutritionist's advice.
Don't forget to follow Whole Food Bellies on Pinterest for more recipe inspiration! Or if Pinterest isn't your style, bookmark this post! Let's keep the conversation going- join my Facebook group!