Creamy, zingy, comforting, and filling, this Pumpkin Goat Cheese Risotto with Pomegranate is everything you need on a cold Fall (or autumn as we like to call it in Australia) or winters night. Comforting and delicious, there is something so relaxing and romantic about taking the time to make a risotto from scratch. Extra bonus is that it packs well for lunch the next day, and reheats beautifully!
If you have an extra can of pumpkin after making this risotto recipe, why not try some chia pumpkin pie donuts for dessert?
Pumpkin Goat Cheese Risotto with Pomegranate
Jump to:
You guys need to try this Pumpkin Goat Cheese Risotto like yesterday!
It has everything - an intense creaminess from the risotto rice being cooked slowly, a little tartness from the goat cheese, earthiness from the pumpkin, and a nice little sweet surprise that complements the whole dish just perfectly when you bite into the fresh pomegranate arils.
I am hooked.
Now if you have been following along for a while you will know that I am a fan of the quick and easy, set and forget type of dinner.
Even when it comes to traditionally labor-intensive dishes such as risotto.
If you want to see what I mean then you have to have a look at my Baked Brown Rice Risotto which is cooked in a dutch oven, or my Creamy Edamame and Spinach Risotto in the Pressure Cooker and you will get the gist.
Quick and easy does the job around here, especially on a weeknight.
But for this pumpkin and goat cheese risotto, we are going to take it slow and make this comforting goodness using the more traditional method.
What Ingredients Are Needed And Some Substitutions.
Now I know the combination of pumpkin, goat's cheese, and pomegranate don't have the trappings of a traditional risotto, but I can assure you they work just perfectly together, and we don't need any 'out there' ingredients.
You will need:
vegetable broth: you can use a store-bought broth or a homemade vegetable broth. If you are buying from the store make sure to choose one that is of a good quality and doesn't have too much added salt.
pumpkin puree: you can use a 15oz (425g) can of pumpkin puree, or you can make your own by simply peeling a butternut squash or other pumpkin of choice, and roasting it until soft. Then simply purée until smooth. Alternatively, you can use a recipe like this one from An Italian In My Kitchen: Easy Homemade Pumpkin Puree.
unsalted butter - you can use salted butter if that is all you have on hand, but I prefer to use unsalted to have more control of the salt content by adding my own at the end of the cook. You could use some olive oil instead of butter if preferred, but I find the butter adds a lot more flavor to the dish.
shallot - this is the pink shallot, otherwise known as an eschallot. If you do not have eschallots on hand then you can use a yellow onion instead, however they are slightly stronger in flavour so you may want to consider using less than is called for in the recipe.
fresh thyme - yes you can sub in the dried variety if that is all you have, simply use half the amount called for in the recipe.
arborio rice - this is short grain rice specifically for making risotto and can be found in the rice aisle in the supermarket. Please do not use any other rice. This variety of rice is needed if you wish for your risotto to get the creaminess you need for a good risotto when you are using this method of cooking (if you only have brown rice on hand, then try this brown rice baked risotto instead).
dry crisp white wine: if you prefer to avoid using alcohol in your cooking then simply use some extra vegetable broth or white wine vinegar.
grated parmigiano reggiano (parmesan cheese): buy a block and grate the cheese yourself. Pre grated (or shredded in the US) cheese usually has added preservatives which can give it a grainy texture when melted. We do not want this.
fresh parsley: I always say fresh herbs are best, but you can sub in dried herbs if that is all you have, but use a third of the amount called for in the recipe.
crumbled fresh goat cheese: you can sub in feta if you don't like the flavor of goat's cheese. A block of good quality cheese is a must for the perfect creamy goat cheese risotto.
pomegranate arils: if you have access to fresh pomegranates then use those. If not, you can usually find little packets of pomegranate arils in the cold section of the fruit and vegetable section in the supermarket.
fresh lemon juice: we are just going to add a quick squeeze of lemon juice at the end to bring all the flavors together, fresh lemon is definitely best, however, the bottled stuff can be used if that is all you have.
You are also going to need a bit of time.
We are cooking this pumpkin goat's cheese risotto in the more traditional way, so pencil in about an hour, pour yourself a glass of whatever tickles your fancy, and put on some nice relaxing music.
You got this.
How to Make Pumpkin Risotto: Tips and Tricks
We are going to whip up this Pumpkin Goat Cheese Risotto with Pomegranate the good ol' traditional way, which involves a good 25 minutes of regular stirring.
The extra time required is totally worth it to get the perfect creamy risotto texture!
To make this pumpkin risotto PERFECT every time I have some tips:
Use a large heavy pot or a dutch oven for the perfect heat to cook this risotto. It will need to be a fairly large pot to allow for all of the stirring.
Once you have melted the butter over medium-high heat in the pan, add in the rinsed rice and give it a really good stir to make sure every single grain of rice has a nice coating of butter. If you feel like you need more butter to get that level of coverage, then go on ahead and add more. Measure that stuff by heart!
Do NOT add all of the pumpkin and stock mixture at once. Add about a cup of broth at a time and do not add more until the last batch has been absorbed. Adding it all at once will give you a soggy consistency which is not nice.
Remove the rice from the heat before it is completely soft. It should be softish to eat, but with a slight bite still remaining, otherwise known as al dente. The rice will continue to cook once it has been removed from the heat, so leaving it on until completely cooked will lead to a soggy, overcooked risotto.
Do not let the mixture end up too dry. If you get to the end and there isn't a little bit of excess liquid floating around on the bottom, then add a little broth. If you have no more stock left, then add a little bit of water (it will be ok)
Once the pumpkin risotto is ready give it a taste and season with a pinch of salt and some freshly ground black pepper to make it perfect, top with some extra crumbled goat cheese, pomegranate arils, and finely chopped herbs.
Yum!
What To Serve With Risotto
A plain green salad is the perfect pairing to go with the creamy texture of this rich risotto.
I love a simple salad consisting of greens, baby tomatoes, cucumber, and a simple lemon and olive oil dressing.
Some crusty bread and a glass of sauvignon blanc wouldn't go awry either!
Tip: want extra creamy risotto? Add a little butter once the dish has finished cooking, but is still hot, give it a couple of minutes to melt, and then mix it through. Divine!
Storing and Freezing Cooked Pumpkin Risotto: What To Do With Leftovers?
Serve the risotto hot with a healthy dose of goat's cheese and a sprinkle of pomegranate arils.
Any leftovers should be stored in an airtight container with a lid in the fridge for 3-5 days.
To reheat: pumpkin risotto can be reheated on the stovetop or in the microwave. Do this at a low heat setting and take it slow. You may find you need to add some extra liquid - use some vegetable stock or water if that is all you have on hand.
Can Leftover Risotto Be Frozen?
In a word....NO.
Cooked rice can become hard when frozen, which will give your risotto a grainy texture which is not desirable.
If you find you have too many leftovers after a day or two that no one wants to eat (this doesn't happen in our house, but we have a big family), why not try making some mozzarella stuffed arancini with the leftover risotto?
Frequently Asked Questions
Can I use fresh pumpkin instead of canned pumpkin?
Yes. Simply peel and roast the pumpkin until soft, and then purée in a blender until smooth and use as indicated in the recipe.
Can leftover risotto be frozen?
It's best not to. The rice can become hard after being frozen and can take on a grainy texture once reheated. Instead of freezing leftovers why not make some leftover rice balls instead?
If you give this recipe a try be sure to pop back and leave a comment to let me know how you went, I just love to hear from you!
Happy Eating!
xx
Recipe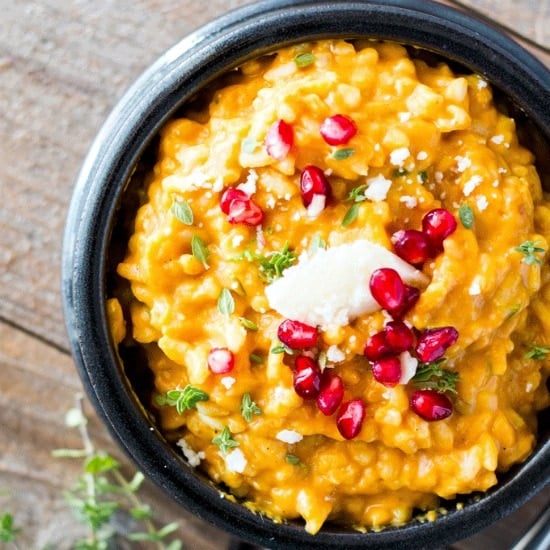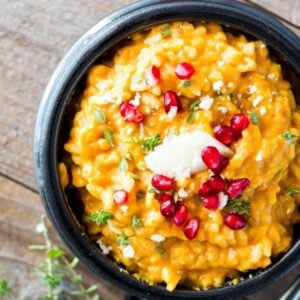 Pumpkin Goat Cheese Risotto with Pomegranate
Creamy, zingy, comforting and filling, this Pumpkin Goat Cheese Risotto with Pomegranate is everything you need on a cold Fall or winter night.
Ingredients
4

cups

vegetable broth

1

15oz can

organic pumpkin puree

(or homemade if you have it)

2

tablespoon

unsalted butter

1

large shallot,

minced

1

teaspoon

fresh thyme,

chopped

1 ½

cups

arborio rice

¼

cup

white wine

(see notes)

½

cup

parmigiano reggiano,

grated

¼

cup

fresh parsley,

chopped

2

teaspoons

fresh lemon juice

1

cup

crumbled goat cheese

1

cup

pomegranate arils

salt and pepper to taste
Instructions
Add the stock and pumpkin into a medium saucepan and whisk together over a medium heat. Bring to a simmer, reduce the heat to low and cover.

Melt the butter in a large saucepan over medium heat. Once hot, add the shallot and cook until softened. Add in the thyme and rice and cook for one minute.


Add the white wine to deglaze the hot pan. Once deglazed, add a ladle of the warm stock/pumpkin and cook, stirring occasionally, until the liquid has evaporated. 

Add another ladle of stock, and continue cooking until evaporated again. Continue cooking, adding a ladle of stock at a time, and allowing to evaporate in between each addition.


Cook until the rice is done, but has a bite to it, about 20-25 minutes.


Once cooked, add in the parmesan, parsley, lemon juice, and half of the goats cheese and season to taste with salt and pepper. 

Top with the remaining goat cheese and pomegranate arils. Serve immediately.

Notes
Wine
Use a crisp, dry white wine. If you prefer not to use wine then use a tablespoon of white wine vinegar and some extra broth in its place.
Storing
Store in an airtight container in the fridge for 3-5 days.
To reheat
Reheat slowly on the stovetop, or in the microwave. If it seems a bit dry then add some more vegetable stock or water.
Freezing
Risotto is best not frozen.
If you find you have leftovers then try making some leftover risotto cheesy rice balls. 
Nutrition
Calories:
582
kcal
Carbohydrates:
72
g
Protein:
21
g
Fat:
22
g
Saturated Fat:
14
g
Polyunsaturated Fat:
1
g
Monounsaturated Fat:
5
g
Trans Fat:
0.2
g
Cholesterol:
50
mg
Sodium:
1355
mg
Potassium:
238
mg
Fiber:
4
g
Sugar:
9
g
Vitamin A:
1738
IU
Vitamin C:
10
mg
Calcium:
246
mg
Iron:
5
mg
Tried this recipe?
Leave a comment HERE and let us know how it was!