Like the hand roll the kids always want from the sushi shop, but better, this cooked teriyaki salmon and rice poke bowl is so easy to make and tastes absolutely amazing. Hands down one of our favorite go-to meals on a busy night, this is loved by kids and adults alike.
Quick. Easy. Packs Well for Lunch. Family Friendly.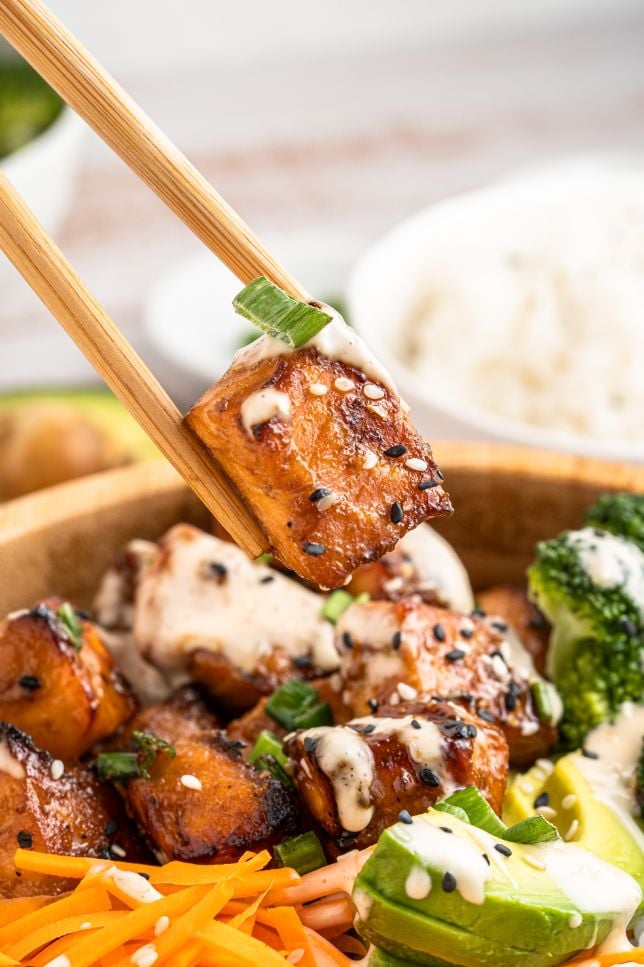 We love salmon for a quick and easy dinner during a busy week. Check out these Quick Teriyaki Salmon Lettuce Wraps or this Salmon Avocado BLT Salad With Herbed Ranch Dressing next.
Jump to:
Cooked Teriyaki Salmon and Rice Poke Bowl
You are going to love this simple salmon bowl.
It is:
super quick to make: we cook the salmon and the broccoli in the air fryer, so no need to babysit them over a hot stove.
great for lunch the next day: this meal is great for prepping and storing in lunch containers to eat hot or cold the next day.
budget friendly: most ingredients for this recipe are super budget-friendly (rice, in-season broccoli, etc). If salmon fillets are expensive why not use canned salmon instead? Just be sure to buy the variety without bones.
super versatile: this salmon poke bowl is perfect for changing up depending on the ingredients you have on hand and who you are feeding. I love to add cooked edamame beans to mine, as well as some shredded nori sheets.
TIP: speed things up by cooking the rice in the instant pot!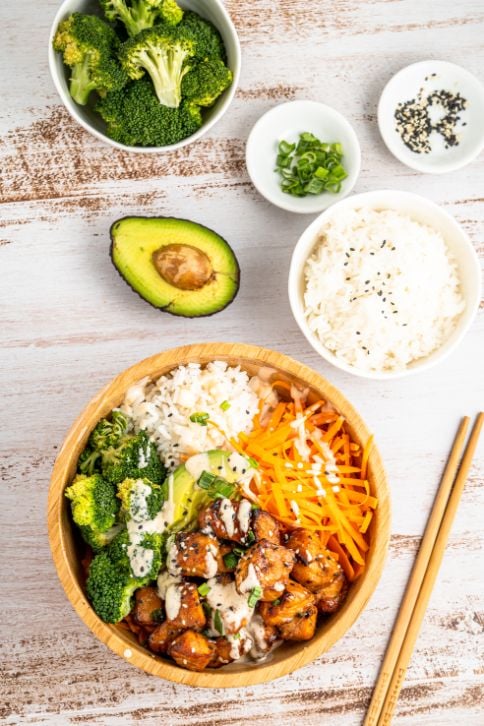 A Note on Ingredients
As I mentioned above, we are using relatively simple ingredients for this recipe, however, I do have a few notes on some of the ingredients in case you want to change things up a bit.
Teriyaki Sauce Ingredients
I use a homemade teriyaki sauce for this recipe as I like to control the ingredients.
However, if you have a pre-made teriyaki sauce in the pantry or fridge that you would like to use, or you would simply like to save time then go on ahead and use that.
Simply skip the step of making your own sauce.
tamari: I use this because it is gluten-free, and I also find it tends to be a lot more consistent in terms of saltiness than regular soy sauce. That said, if you have regular soy sauce in your cupboard you would like to use, then go right on ahead.
mirin: this can be found in the Asian or international section of most well-stocked grocery stores.
coconut sugar: this can be replaced with any other granular sweetener of choice such as raw sugar or white sugar.
cornstarch: this is necessary for giving the sauce a silky, almost creamy consistency. If you do not have cornstarch you can use all-purpose flour, arrowroot flour, rice flour, or tapioca flour. However please note that this may alter the texture of the sauce.
garlic: be sure to finely mince your garlic for a smoother teriyaki sauce.
Salmon Bites and Bowl Assembly
salmon filets: get skinless salmon fillets to speed up the process of cutting up the salmon. If you can only find skin-on, I would recommend cutting the skin from the salmon prior to chopping it up (see the tip below for what to do with it after removal).
white rice: you can absolutely replace this with brown rice, quinoa, or any other grain of choice depending on your preferences. You could also use sushi rice if preferred, I only use white rice as I tend to make extra, and white rice packs way better for lunches the next day in my opinion (unless it is mixed in a salad or something with a dressing, in which case the other grains hold up just as well).
broccoli: if broccoli is not in season, choose another green vegetable to replace it. I have served these bowls with sauteed asparagus and steamed bok choy before, and both times they turned out wonderfully.
toasted sesame mayonnaise, kewpie mayonnaise, sriracha, and sesame seeds: these are for serving and are completely optional depending on how much you want to dress up your bowl.
TIP: if you can only get skin-on salmon fillets then simply remove the skin before chopping. If you have a dog, he or she will likely love some salmon skin in their dinner. Otherwise, fry it up until it is nice and crispy and serve it in the bowl.
There are so many optional extras you may want to add to your salmon bowl to change things up.
We love adding steamed edamame beans, some seaweed salad, shredded nori strips, a big forkful of kimchi, pickled radishes, thinly sliced iceberg or gem lettuce, or sliced cucumber.
There are so many options to make this bowl your own, don't be afraid to use your imagination.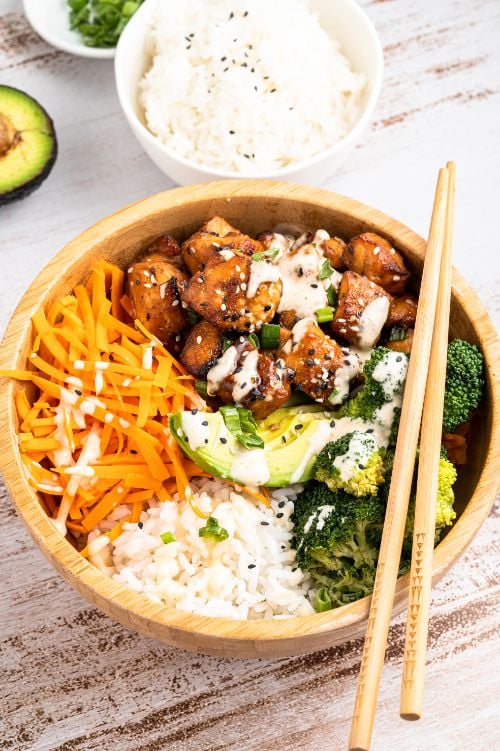 How To Make
You are going to love how simple this salmon and rice bowl is to bring together.
In fact, it is so simple I always get the kids involved when making this one.
Step 1: Gather all of the ingredients and chop all of the vegetables.
Step 2: Prepare the teriyaki sauce.
Step 3: Cook the rice according to the instructions on the packet. Once the rice is ready I throw the broccoli on top and pop the lid on for a couple of minutes. I find that this cooks it enough for our liking, but you may want to steam it for a little longer if you prefer it more cooked.
Step 4: Cut the salmon into cubes, coat it in the sauce, and cook it in the air fryer.
Step 5: Arrange your salmon poke bowl. Start with a layer of rice, followed by some salmon, veggies, and a drizzle of whatever sauce you like. Top with the sliced spring onions, and some sesame seeds and you are good to go.
This is a great meal for getting the kids involved. Prep the components of the meal and pop everything on a large platter. Let the kids build their own bowl and add whatever toppings they would like!
I love adding a drizzle of toasted sesame mayo and sriracha, but regular kewpie mayo works well, as does a good ponzu sauce.
Cooking The Salmon
It is important to cut the salmon into evenly sized chunks to ensure that it all cooks through at the same pace.
If you have some large chunks, and some small chunks you will find that some may end up overcooked and others will end up overcooked, which you do not want.
It is also important to allow the homemade teriyaki sauce to cool before brushing it on the salmon chunks, as if it is too hot it will start cooking the salmon before you even put it in the air fryer, which can lead to it becoming overcooked and dry.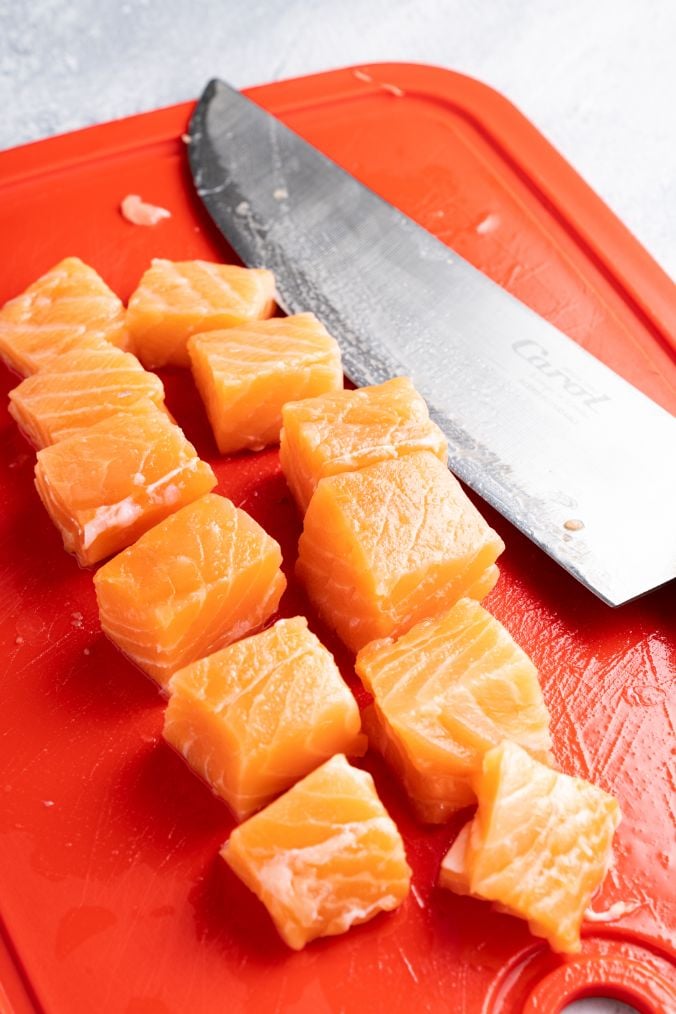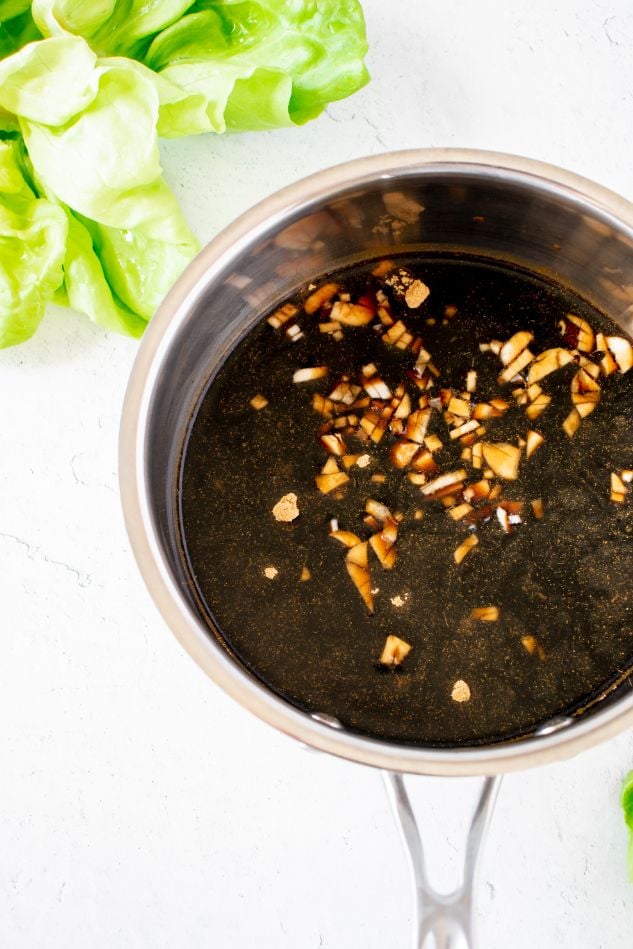 Use a silicone pastry brush to brush the cooled teriyaki sauce over the chunks of salmon.
If you have the time you might want to pop the salmon into a container and cover it with the teriyaki sauce for about 2 hours.
This is not necessary but will impart more flavor to the salmon.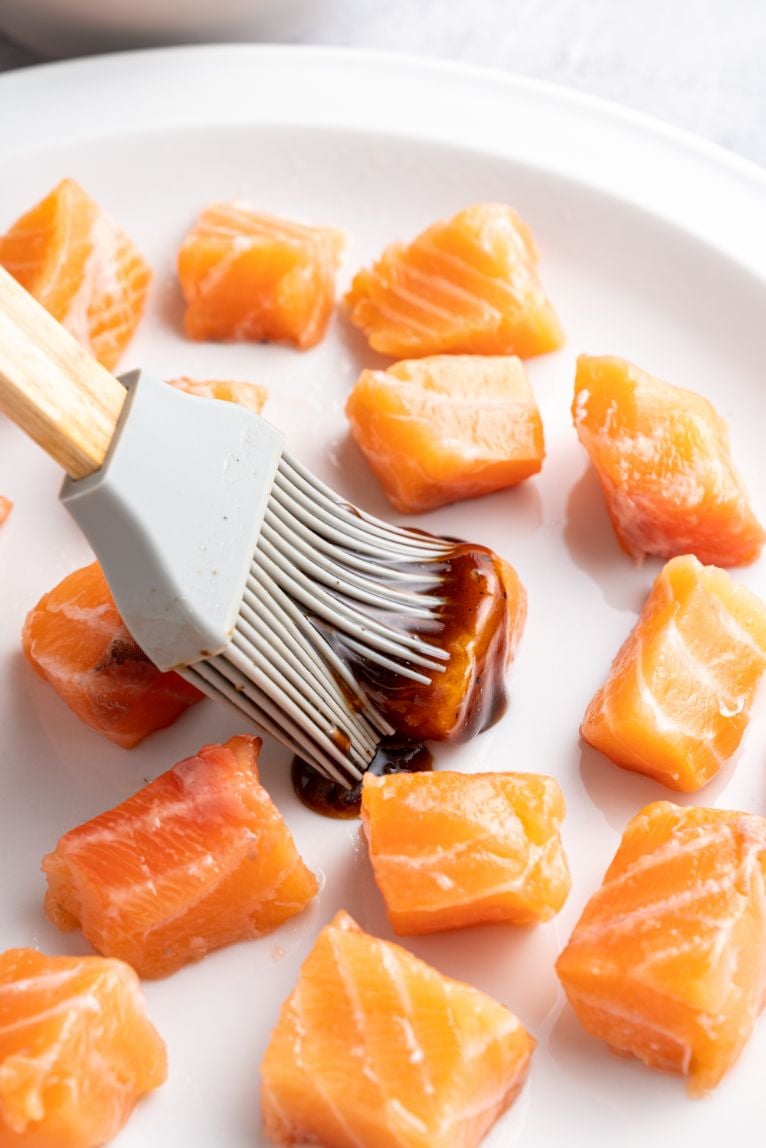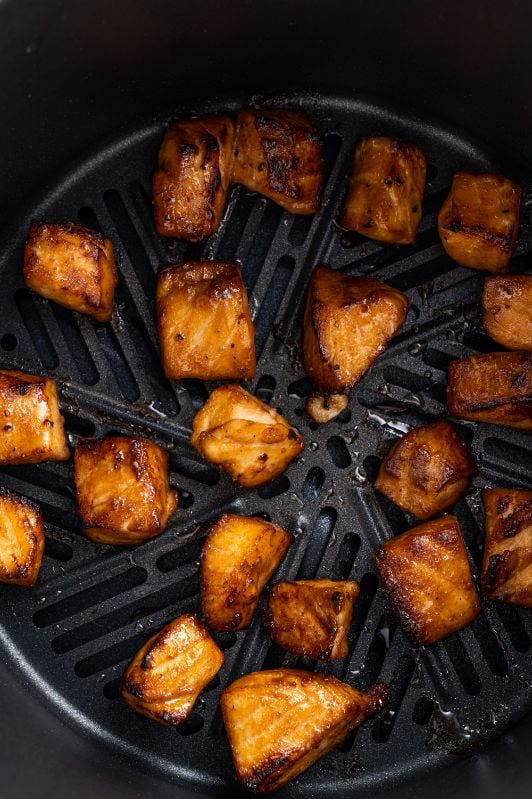 Arrange the salmon chunks in a single layer in the basket of an air fryer.
Do not overlap, and this will affect how the salmon cooks.
If you have too much salmon in your basket, simply cook it in 2 batches.
Alternatively, if you have a rack for the basket, then you can absolutely cook it in two layers.
Tip: depending on your air fryer and the airflow you can get in there you might want to use a small set of tongs to flip the salmon halfway through cooking time. I do not recommend shaking the salmon in the basket halfway through, as when it is not fully cooked the salmon may stick to the base of the basket and fall apart when you shake it.
The salmon is ready when it is slightly golden on the outside and cooked through on the inside.
Storing and Freezing Tips
Leftover salmon will last for about 3 days if stored correctly in an airtight container in the fridge.
Leftover rice can safely be kept in the fridge for about 6 days as long as you follow food safety guidelines and do not leave it out at room temperature for too long before storing.
The maximum amount of time rice can be left out at room temperature is two hours.
When temperatures are above 32° C (90° F), a maximum of 1 hour!
When reheating the rice be sure to heat it through until it is piping hot before serving.
Do not reheat the rice more than once.
Tip: If you plan to eat this for a couple of days just simply be sure to store rice in airtight containers in the fridge once it has cooled, and do not leave it out at room temperature for too long.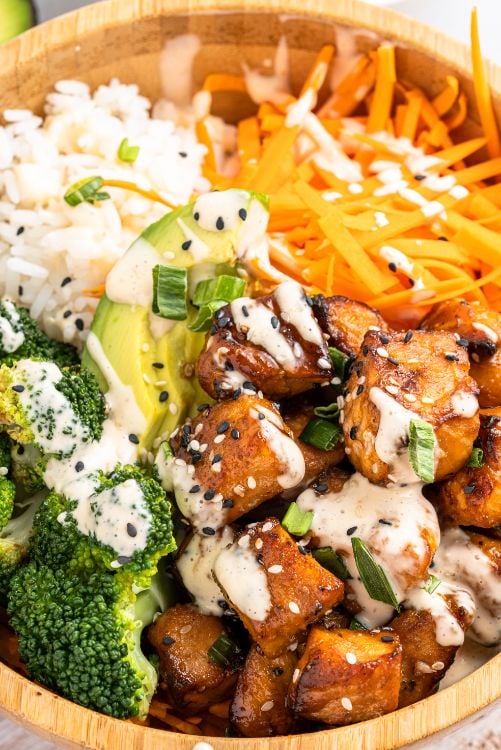 Serving Suggestions
Serve this delicious little salmon poke bowl with a drizzle of kewpie mayo, a drizzle of sriracha if you like a bit of spice, and a sprinkle of sesame seeds.
I also like to add:
shredded nori sheets
sliced spring onions
crispy fried shallots (you can find these in the Asian section)
Togarashi
chili oil
chili flakes
You do you and make the poke bowl work for your own personal preferences.
As mentioned above, this is the perfect meal for serving all of the cooked ingredients on a large platter and allowing everyone to build their own bowl.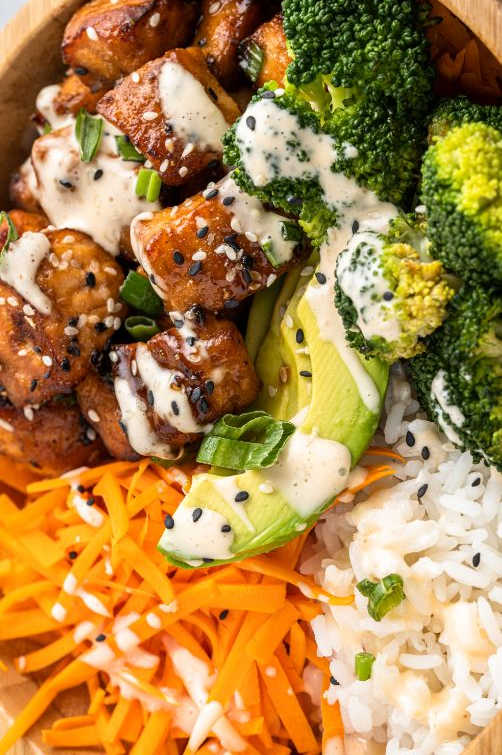 Need More Easy Bowl Recipes
Easy and nutritious bowls like this are a staple in our home, especially when served build-your-own-bowl style!
This is always a favorite with the kids, who refer to them as 'choose your own adventure bowls'.
Pretty cute!
If you need another air fryer salmon recipe then try this air fryer parmesan pesto crusted salmon fillets recipe from xoxo Bella.
Check out these other bowls to add to your easy meal rotations:
If you try this salmon poke bowl then be sure to pop back and leave a 5-star review on the recipe card, or a comment below the recipe card.
Frequently Asked Questions
How long can I store leftover rice?
Leftover rice can be stored for about 6 days in the fridge, and 6 months in the freezer if it is stored correctly in an airtight container.
Allow rice to cool before storing, but do not leave it at room temperature for too long.
You should never leave cooked rice out at room temperature aka the temperature danger zone between 4° C (40 °F) and 60° C (140 °F) degrees for too long! This is because leaving food out too long at room temperature can cause bacteria to grow to dangerous levels that can cause illness. 
Can I use canned salmon for this salmon bowl?
Absolutely, just be sure to use a variety of canned salmon that does not contain bones.
Simply drizzle the teriyaki sauce over the drained canned salmon before serving.
Happy Eating.
xx
Recipe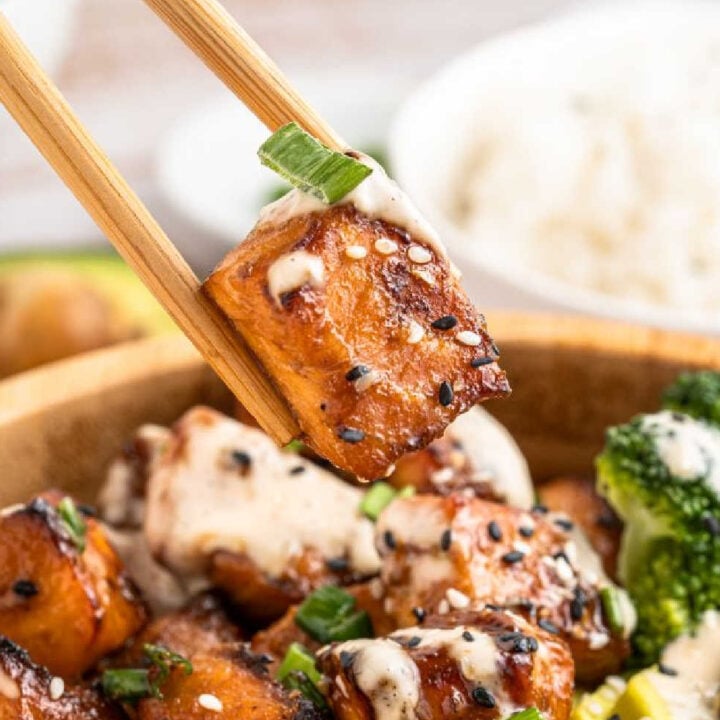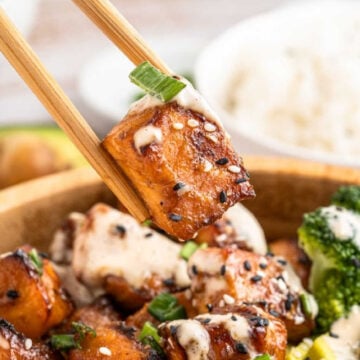 Cooked Salmon and Rice Poke Bowl
This teriyaki salmon and rice poke bowl is so easy to make and tastes absolutely amazing. Hands down one of our favorite go-to meals on a busy night, this is loved by kids and adults alike.
Ingredients
Teriyaki Sauce
½

cup

tamari

¼

cup

mirin

4

tablespoons

coconut sugar

2

tablespoons

honey

1

tablespoon

cornstarch

4

cloves

garlic

1

teaspoon

ground ginger
Salmon Bowls
2

cups

cooked white rice

(see notes)

1

broccoli head

steamed (see notes)

1

large carrot

shredded

1

avocado

sliced

1

green onion

finely chopped

toasted sesame mayonnaise, kewpie mayonnaise, sriracha, sesame seeds

optional for serving
Instructions
Teriyaki Sauce
Add the tamari, mirin, honey, coconut sugar, garlic, ginger to a small saucepan and whisk together until well combined. Over a medium heat bring the mixture to a boil.

½ cup tamari,

¼ cup mirin,

4 tablespoons coconut sugar,

2 tablespoons honey,

1 tablespoon cornstarch,

4 cloves garlic,

1 teaspoon ground ginger
Air Fryer Salmon
Chop the salmon filets into evenly sized cubes.

Use a pastry brush to brush about ⅔ of the teriyaki sauce on to the salmon pieces. Set aside the extra sauce to use as a drizzle when serving.

Preheat the air fryer to 350F (175C), then arrange the salmon pieces in the air fryer basket in a single layer. Do not overlap.

Cook the salmon for 6-8 minutes, or until the bites are cooked through.
Salmon Bowl
Divide the cooked rice between 4 bowls. Top with ¼ of the salmon bites and even amounts of the shredded carrots, sliced avocado, and steamed broccoli.

2 cups cooked white rice,

1 broccoli head,

1 large carrot,

1 avocado,

1 green onion

Top with sesame seeds, sliced green onion, and your favorite dressing. I recommend toasted sesame mayonnaise, kewpie mayonnaise, sriracha and some extra teriyaki sauce.

toasted sesame mayonnaise, kewpie mayonnaise, sriracha, sesame seeds
Notes
Rice and broccoli: To speed things up I cook the rice on the stovetop, and when it comes time to steam, I throw the broccoli heads on top and allow them to steam at the same time. Alternatively, you can steam the broccoli quickly in the microwave by adding a little bit of water, covering it, and microwaving it for about 4 minutes.
Meal prep: This is a great recipe to meal prep for the week. Allow everything to cool completely before storing it in meal prep containers (see FAQs above recipe card for tips on storing rice).
Leftovers: cooked salmon lasts three to four days in the fridge if stored in an airtight container. Cooked rice can last about 6 days if it is stored correctly in an airtight container in the fridge and you do not leave at room temperature for too long.
Substitutions: serve with brown rice, quinoa, or another grain of choice if preferred. Tofu can be prepared in the same way as the salmon, however, I would allow it to marinade in the teriyaki sauce for at least two hours to allow time for flavor to develop.
Cooking rice: cook rice according to the directions on the packaging. I tend to use the rice feature on the instant pot to cook rice to keep it easy.
Nutrition
Calories:
609
kcal
Carbohydrates:
69
g
Protein:
45
g
Fat:
19
g
Saturated Fat:
3
g
Polyunsaturated Fat:
6
g
Monounsaturated Fat:
9
g
Cholesterol:
94
mg
Sodium:
1899
mg
Potassium:
1727
mg
Fiber:
9
g
Sugar:
25
g
Vitamin A:
3666
IU
Vitamin C:
143
mg
Calcium:
125
mg
Iron:
4
mg
Tried this recipe?
Leave a comment HERE and let us know how it was!
The information shown is an estimate provided by an online nutrition calculator. It should not be considered a substitute for a professional nutritionist's advice.