If you tend to go through lots of hummus then you really need to start making your own at home. It is a lot more economical, and it is so easy to vary up the flavors and make something a little bit different like we do here with this golden turmeric hummus. This hummus recipe comes together so easily in the food processor and makes for the perfect after-school snack or centerpiece for your next cheese platter. Plus it has the added bonus of being loaded with the potential anti-inflammatory properties of turmeric. Pair with some chopped veggie sticks and some crackers.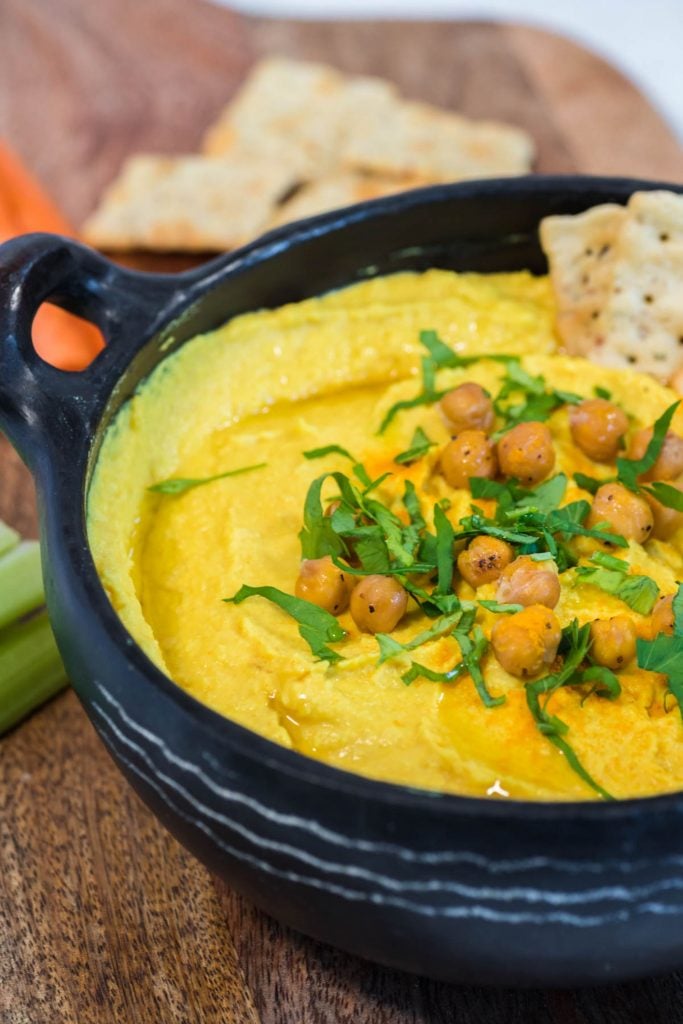 If you love hummus like we love hummus you might want to try switching up your regular rotation with homemade hummus recipes like this Roasted Red Pepper Hummus or this Roasted Garlic and Pumpkin Hummus.
Jump to:
Golden Turmeric Hummus
If you have some ground turmeric hanging out in your spice drawer, then go on ahead and grab it out.
You are going to need it for this twist on the classic hummus.
You will also need:
cooked chickpeas or garbanzo beans: personally I use pre-prepared canned chickpeas as it makes the whole process of making homemade hummus a whole lot quicker. However it would be cheaper to use dried chickpeas if you have the time and patience for the extra prep (use this guide from The Wimpy Vegetarian to make your own chickpeas from scratch);
garlic: we use a small amount of fresh garlic in this recipe but you can use more or less depending on your love for garlic;
tahini: this is basically ground sesame seeds, and can usually be found either near the honey and spreads, in the health food section, or in the middle eastern section in the supermarket (see notes below on what to look for)
fresh lemon juice: in a pinch you can sub in some lemon juice from a bottle, but if you can get your hands on some fresh lemons they taste so much better so I always recommend that;
olive oil: as olive oil is such an integral part of homemade hummus you should splurge a little and use a good quality olive oil, you will definitely taste the difference;
ginger: I use fresh ginger in this recipe as I love the zing and it is something I always have on hand. You can use ground ginger if yuo prefer a more subtle flavor;
ground turmeric: this can be found in the spice section of most well stocked grocery stores. I use ground turmeric as it gives more of a golden color than fresh turmeric, and that is what I am going for with this hummus variety. If you prefer to use fresh turmeric then go on ahead, just be sure to grate finely;
salt and freshly ground black pepper: do not skip the black pepper as this is needed to activate the curcumin in the turmeric, which is where all the goodness is at.
You may also want some pine nuts or curry powder for topping off your hummus before serving.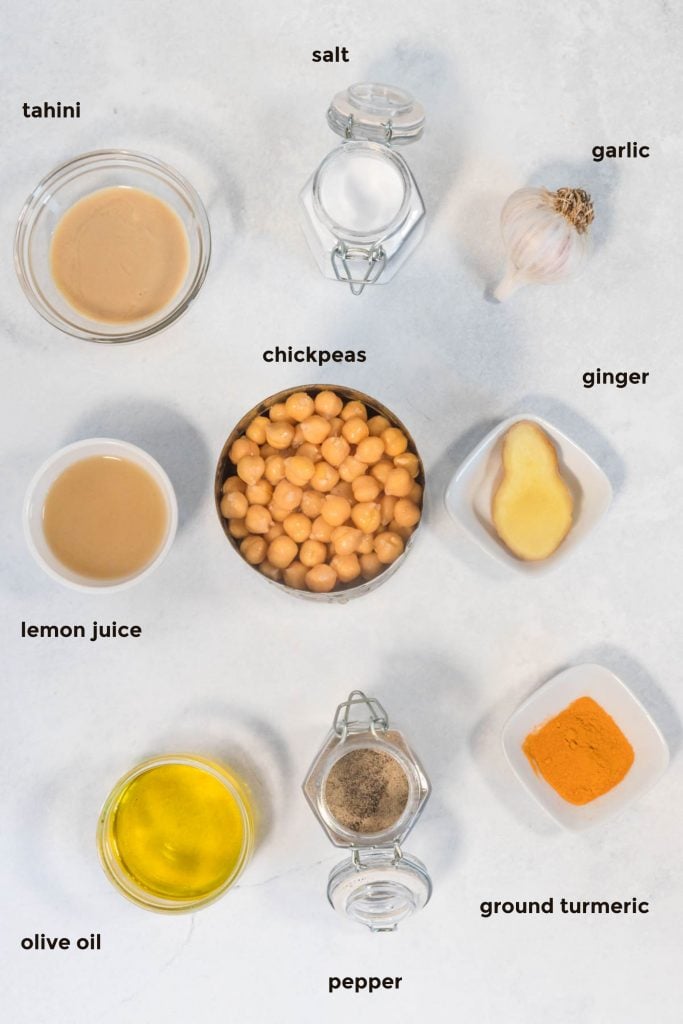 A Note On Tahnini
Not all tahini is created equally.
Be sure to mix all of the oil into the rest of the tahini mixture before adding it to the other turmeric hummus ingredients. If you skip this step you risk adding too much oil to the recipe, which will not taste good.
Have a look at the ingredients on the tahini paste.
It should mainly consist of ground sesame seeds and perhaps a little bit of salt, and oil.
If there is a layer of oil on top of your tahini when you open it, don't panic!
Simply use a spoon (or my go-to: a chopstick), to give everything a good stir, until the oil is fully incorporated.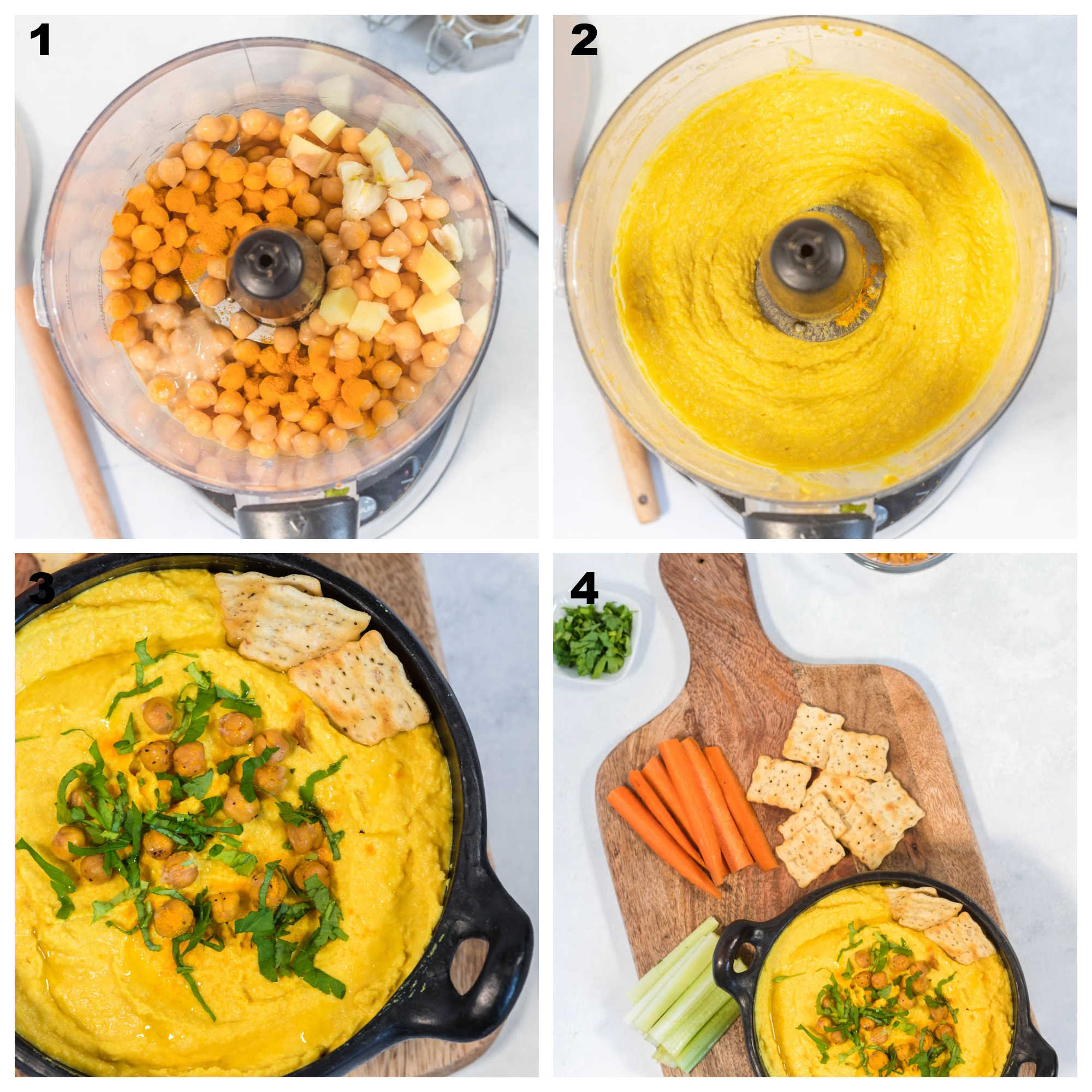 How To Make Homemade Hummus In The Food Processor
Making turmeric hummus at home is pretty simple.
Once you try it once you will realize there is nothing to it and it will become a staple part of your meal prep for the week.
Simply add all of the ingredients to the bowl of a food processor and blend until combined and smooth and creamy. Adjust seasoning according to your preferences, and away you go!
When serving up, top your golden hummus with some sesame seeds, a sprinkle of paprika, a drizzle of extra olive oil, some ground turmeric, and some crispy chickpeas (like these Roasted Za'atar Chickpeas in The Air Fryer) if you have them.
Storing and Freezing Instructions
Store homemade hummus in an airtight container with a lid in the fridge after it has been prepared.
It will last about 3-4 days.
Store-bought hummus will last longer, about 5-7 days, but this is usually because it has added preservatives, which we are avoiding by making hummus at home.
Leftovers? Don't worry, if you can't finish all of the hummus before it goes off, simply use it in one of the recipe ideas below, or pop it into the freezer in individual portions
freezing homemade hummus
Homemade hummus can also be frozen.
Do not freeze a huge batch all at once, as this will take a while to defrost.
Instead, split it into smaller, more manageable batches before freezing.
Why not try adding your hummus to an ice cube tray, or another small freezer-safe container so you can just take out an individual serving when needed.
Allow it to defrost fully before eating.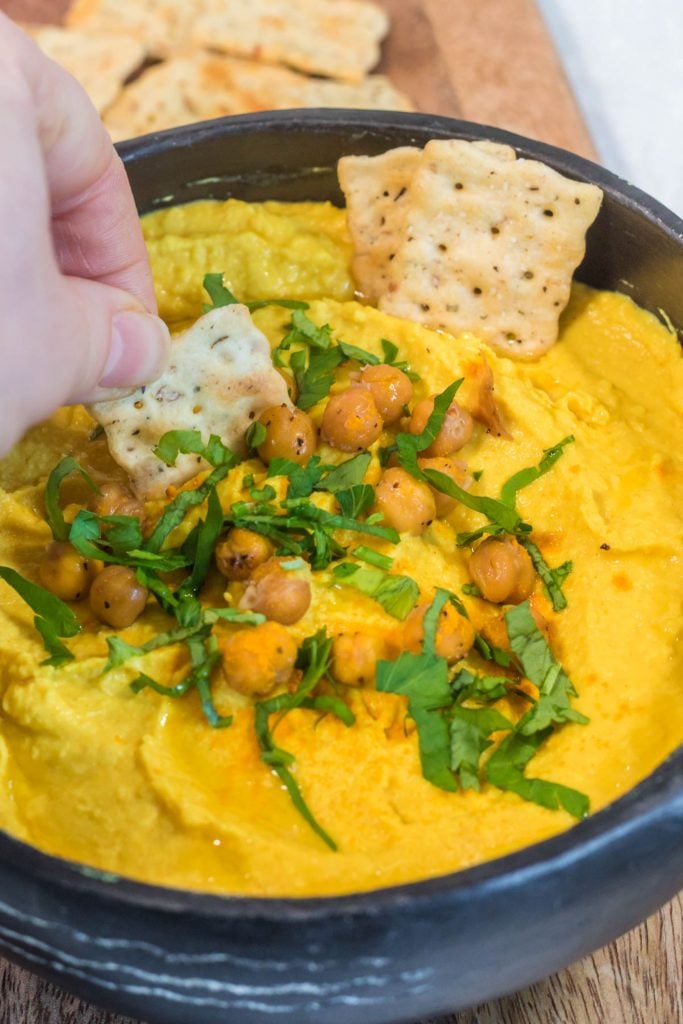 What To Serve With Turmeric Hummus
Hummus is such a versatile dip that can be used in so many ways.
It can be used as a snack dip all by itself, or it can be used in a number of other recipes.
Why not try out some of these options:
serve your hummus with chips, crackers, pita chips or pita breads;
serve with fresh vegetable sticks like carrots, cucumber, bell peppers and celery;
stir through some pasta to make a different pasta sauce;
stuff into some chicken breasts before cooking;
whisk a spoonful into your scrambled eggs for an extra pop of flavor;
use as a base on pizza instead of tomato sauce;
use as an alternative to butter in a sandwich or wrap;
use as a salad dressing when mixed with some olive oil to thin it out, like in this recipe Baked Almond Crunch Falafel Bowl with Two Second Dressing;
mix in with the yolk for some deliciously different deviled eggs. Top with a sprinkle of curry powder to really take it over the edge.
So many options to choose from!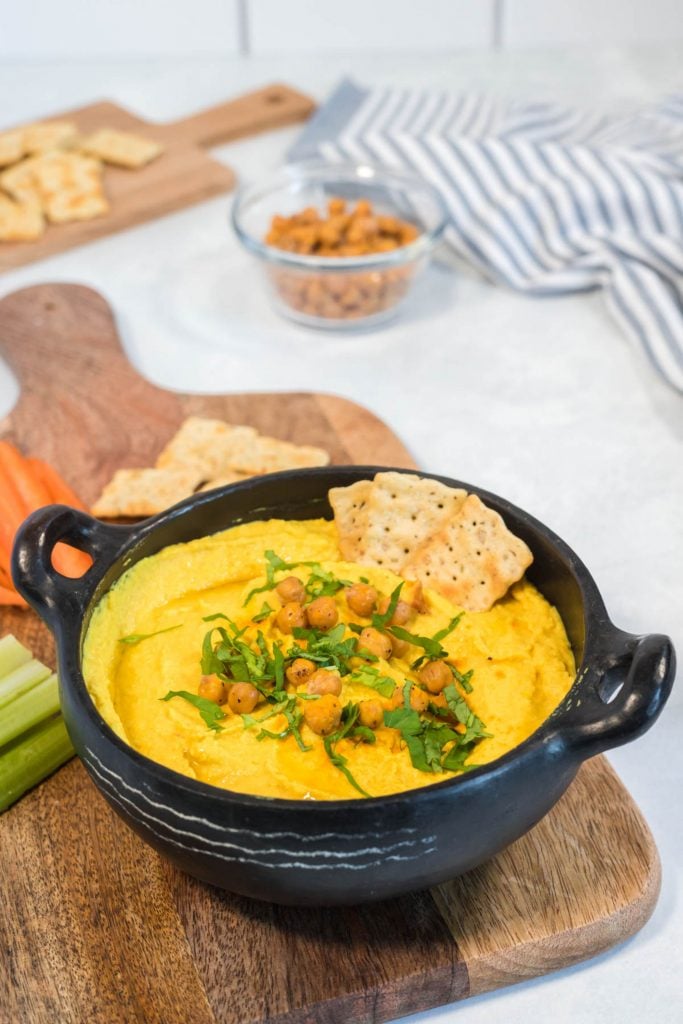 Need More Homemade Dip Recipes?
Entertaining is always made so much easier when you have a bunch of dips ready to serve upon the arrival of your guests.
Why not try these dips after you have mastered golden turmeric hummus: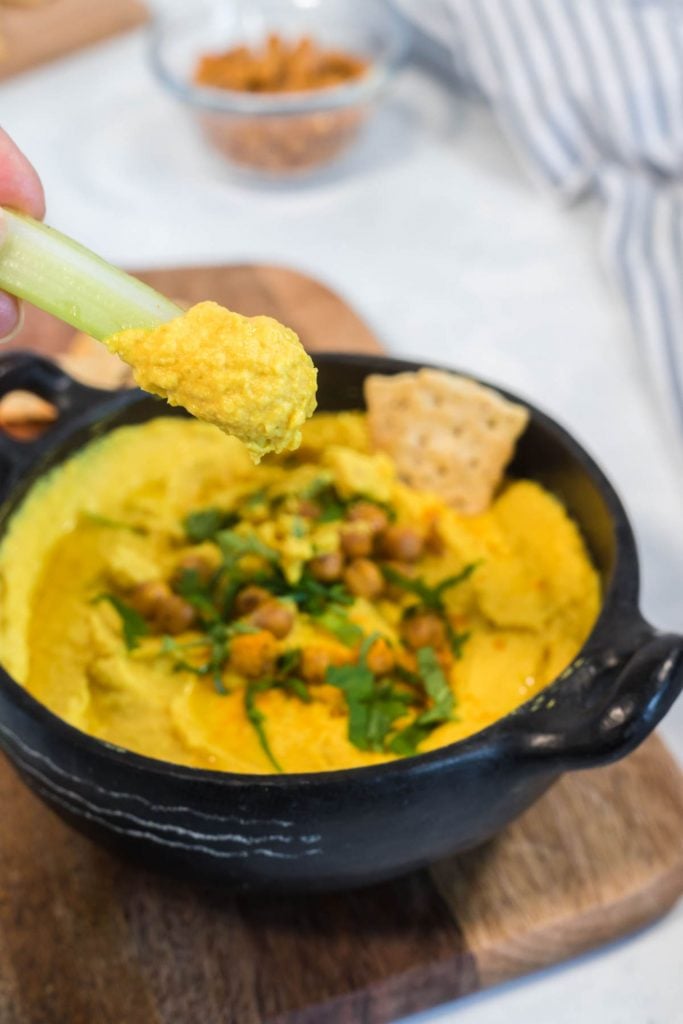 Happy Eating.
xx
Recipe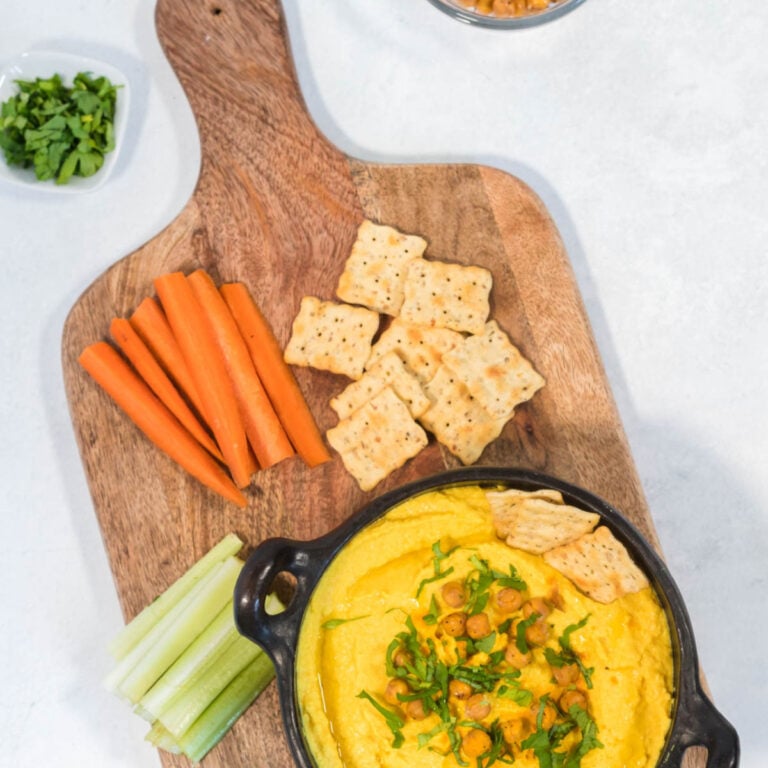 Golden Turmeric Hummus
Homemade hummus can be a lot more economical than buying lots of small containers at the store, and it is so easy to vary up the flavors and make something a bit more exciting like we do here with this golden turmeric hummus recipe. This recipe comes together so easily in the blender and makes for the perfect after-school snack or centerpiece for your next cheese platter. Plus it has the added bonus of being loaded with the goodness of turmeric. Pair with some chopped veggie sticks and some crackers.
Ingredients
1

can

(15oz) cooked chickpeas (garbanzo beans)

drained and rinsed

2

tablespoons

extra virgin olive oil

plus more for serving

2

tablespoons

lemon juice

1 ½

tablespoons

tahini

1

tablespoon

ginger

peeled and finely grated

1

teaspoon

ground turmeric

1

clove

garlic

minced

½

teaspoon

each salt and freshly ground pepper

optional: smoked paprika, pumpkin seeds, sesame seeds, ground cumin, chopped fresh parsley, roasted peppers, ground turmeric and extra chickpeas

for serving
Instructions
Place all of the ingredients except into the bowl of a food processor, and process for 3-5 minutes until smooth and creamy. You may need to stop once or twice and scrape down the sides to make sure everything is incorporated.

If the hummus is too thick, add more olive oil or filtered water 1 tablespoon at a time, while still blending, until the desired consistency is reached.

Taste, and add more salt if required.

To serve: scoop the hummus into a serving bowl and garnish with some smoked paprika, ground turmeric, fresh parsley, and extra chickpeas.
Notes
Storing:
Store leftover hummus in an airtight container in the fridge for 3-5 days.
Leftovers:
Can also be frozen for up to 3 months. Try freezing in small portions so that small amounts can be removed from the freezer and will thaw quickly.
Tip:
For better results, make sure to drain and rinse chickpeas. If you have more time, you can also simmer chickpeas in water over medium-low heat with 1-2 tablespoons of baking soda. This will help to get rid of chickpea skins that will result in ultra-creamy hummus. Wash and rinse under cold water.
Nutrition
Calories:
68
kcal
Carbohydrates:
2
g
Protein:
1
g
Fat:
7
g
Saturated Fat:
1
g
Polyunsaturated Fat:
1
g
Monounsaturated Fat:
4
g
Sodium:
2
mg
Potassium:
38
mg
Fiber:
1
g
Sugar:
1
g
Vitamin A:
3
IU
Vitamin C:
2
mg
Calcium:
7
mg
Iron:
1
mg
Tried this recipe?
Leave a comment HERE and let us know how it was!
The information shown is an estimate provided by an online nutrition calculator. It should not be considered a substitute for a professional nutritionist's advice.