It could not be easier to make air fryer edamame! Choose either fresh or frozen edamame, mix with some sesame oil, salt, and pepper, and you are good to go. These make the perfect side dish for an Asian-inspired dinner or a quick and easy afternoon snack for the whole family. Naturally gluten-free, vegetarian, and vegan. Popping the pods is always a big hit with the kids, so you know they are going to devour them as well!
Air fryers are great for making simple meals and snacks for the whole family. We have been loving making easy Baked Fish Fingers and Chicken Nuggets from scratch in ours and thought these air fryer edamame would be a welcome addition to the collection.
Air Fryer Edamame
Edamame is fast becoming a pretty popular snack, and can usually be found in sushi restaurants where it is offered as an appetizer.
My kids just love them in their lunchboxes and as an afternoon snack as well, so they have become a bit of a staple in our house.
Traditionally they are boiled or lightly steamed.
We have started making them in the air fryer for the simple reason that it saves on time, dishes, and babysitting eyes.
Don't worry, they taste just as good as boiled or steamed edamame.
A Note On Ingredients
Edamame is young soybeans that come inside a green fuzzy pod.
For this recipe, we are going to use edamame still in the pod, not shelled edamame.
Frozen Edamame
They can usually be found in the frozen vegetable section of a well-stocked grocery store.
You want to buy the frozen edamame that is still in the pod, not the individual soybeans that have already been removed from the pod.
If you can't find them in your usual grocery store, you will most definitely be able to find them in an Asian store or an international store.
Fresh Edamame
It can be harder to find fresh edamame.
Although as it is increasing in popularity, some better fruit and vegetable markets have begun to stock it, so they might be worth checking if you prefer to buy fresh produce.
Sesame Oil
Sesame oil will likely be a staple in your house if you do a lot of Asian-inspired cooking.
If not, you will be able to find it in the Asian section of most well-stocked grocery stores, or in an Asian specialty store or international grocery store.
Sesame oil adds great flavor to the soybeans, however, if it is not something you keep in your pantry, feel free to replace it with another oil of choice like olive oil.
Tips, Tricks and Substitutions: How To Flavor Cooked Edamame
I like to keep the seasoning on my home-cooked edamame rather simple, with just some sesame oil, salt, and pepper, so that they can be used in a variety of dishes.
However, if you plan on eating the edamame by themselves, making them the star of the show, then you might want to try something different.
Try adding these flavors to the shelled edamame beans to bring them to the next level:
flaky sea salt or smoked sea salt;
rice vinegar and salt (think salt and vinegar chips but in edamame form);
chili flakes;
grated parmesan cheese;
fresh lemon or lime juice;
grated garlic or garlic powder;
a combination of garlic and chili flakes;
onion powder;
sesame seeds;
a splash of soy sauce;
sambal oelek and lime for something with kick;
coconut oil and sumac.
If you have another flavor combination you love, be sure to leave it in the comments and I will add it to the list.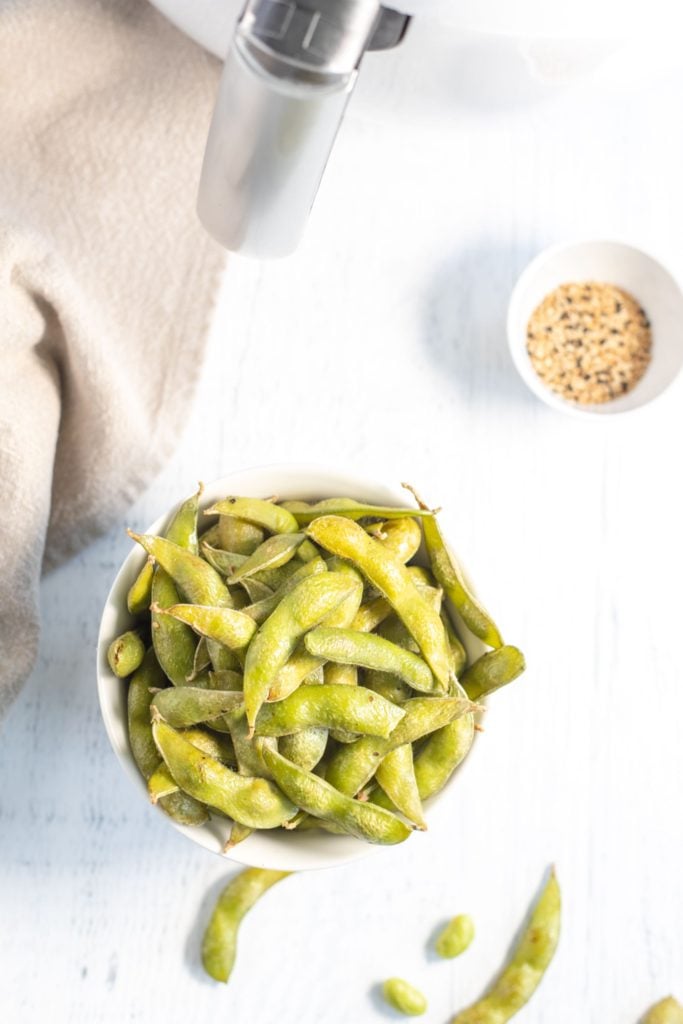 Assembly Instructions: How To Cook Edamame In The Air Fryer
Making edamame in the air fryer is super simple.
We are going to place the fresh or frozen edamame in a bowl, drizzle over the sesame oil, sprinkle on the salt and pepper, mix well, and then place them on a rack in the air fryer for about 10 minutes.
I do have a few tips to make sure your edamame turn out perfectly every time:
Dont pile your edamame on top of each other on the air fryer rack.
Space them out so that they are touching, but not on top of each other. This makes sure they all cook at the same rate, and you don't end up with some cooked and some partially cold edamame.
Do two batches if you have to.
If you have a smaller air fryer, don't be afraid to divide your uncooked edamame into two batches to ensure there is enough space for even cooking.
Shake the edamame halfway through cooking.
This will ensure that if any pieces of the edamame have gotten stuck in the rack etc they will not burn.
Allow to the cooked edamame to cool slightly before serving.
As you or your guests will have to squeeze the soybeans out of the edamame pod, you want them to be a touch warm, not super hot, we don't want any burnt fingers!
Make sure the edamame is evenly spaced to allow for even cooking.
That's it.
Other than that, making edamame in the air fryer should be an absolute breeze.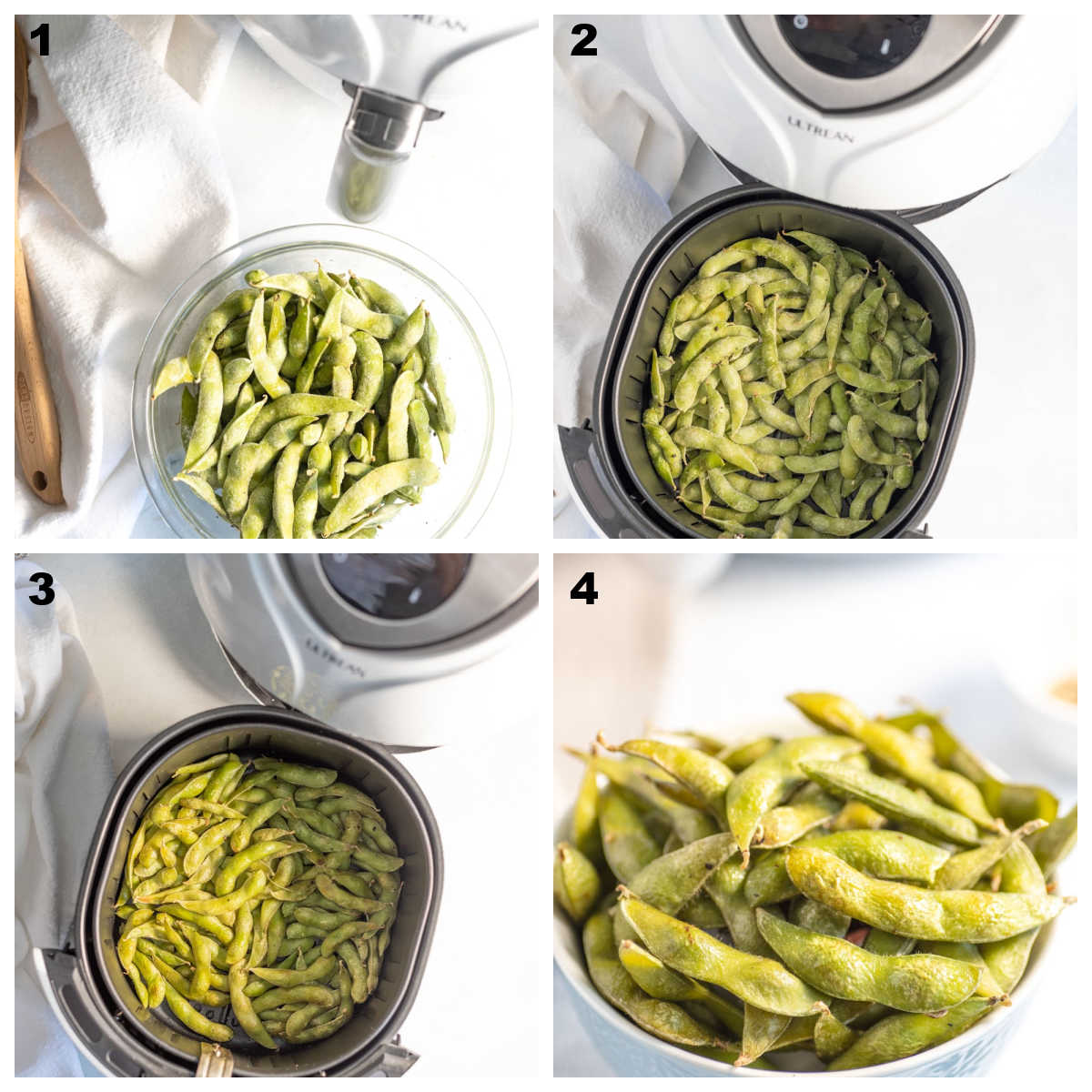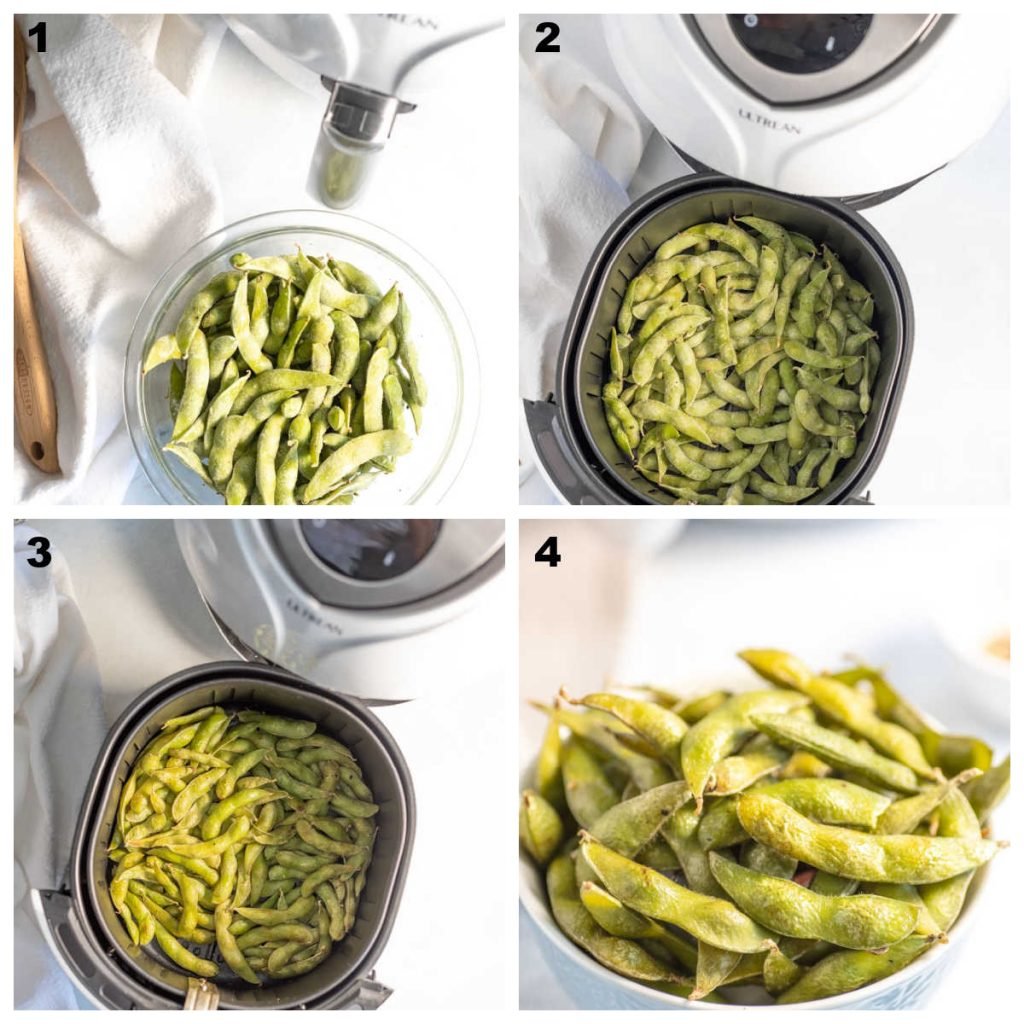 Storing Cooked Edamame
Once cooked, the edamame pods can be stored in an airtight container in the fridge for 1-2 days.
They can be eaten cold or reheated.
Cooked and cooled edamame can also be re-frozen if you find you have cooked too many, and don't want them to go to waste.
Expert Tip: shell cooked edamame, and store the beans in a resealable bag in the freezer for easy grab-n-go additions to stir-frys, noodle dishes, and dips.
Cooked edamame will last in the freezer for about 2-3 months if stored correctly.
To freeze:
arrange the beans in a single layer on a baking sheet small enough to fit into the freezer, trying to make sure they are not touching;
Pop the tray of beans into the freezer, and leave them in there until almost frozen solid;
Once almost frozen, remove the beans and transfer to a freezer-friendly container or Ziploc bag;
Pop the shelled and frozen edamame back into the freezer until ready to use.
Although a little bit of extra work, freezing the beans in this way means you can remove as many as you need for a meal, instead of having to grab a whole clump frozen together.
How To Eat Edamame
Unshelled edamame comes inside a long green pod, which is slightly fuzzy (sounds appealing I know).
Do not eat the pod, it is not delicious.
Once you have cooked the edamame in the air fryer as per the instructions in the recipe card, you are going to squeeze one end of the edamame pod.
When you squeeze one end of the pod, the edamame beans, otherwise known as soybeans, will slide right out the other side.
There are usually 2-4 beans inside.
Those beans are what you eat!
How To Use Cooked Air Fryer Edamame
Edamame beans are super versatile and make the perfect accompaniment to lots of different meals.
You can try:
eating them as a snack as is (try using one of the flavor combinations above if you want to change things up);
enjoy them alongside a cold glass of beer;
add the beans to a stir-fry or noodle dish;
add to a risotto for something different, like this Creamy Edamame and Spinach Risotto;
eat as a side to some sushi;
add the beans to a homemade hummus or blend with a pre-made hummus for a little bit of extra texture and protein;
add to a grain bowl like this Rainbow Brown Rice and Sesame Vegetable Bowl;
you can also add the cooked edamame to homemade dips and salsas like this Smashed Edamame Salad from Family Food On The Table.
Whether you choose to make fresh or frozen edamame in the air fryer, there are so many options for serving up.
You just need to find one that suits you and your tastebuds!
Need More Easy Air Fryer Recipes?
We have been using the air fryer more and more for basic recipes that are on regular rotation in our house.
After you try your hand at edamame in the air fryer, why not try these recipes out:
Happy Eating.
xx
Recipe
The information shown is an estimate provided by an online nutrition calculator. It should not be considered a substitute for a professional nutritionist's advice.