Imagine serving this amazingly colorful and gorgeous puff pastry caramelized onion tart up at your next get-together. Not only is it striking in appearance, but it is also super easy to bring together. Using frozen puff pastry makes it even easier, and just perfect for hassle-free entertaining.
vegetarian. nut-free.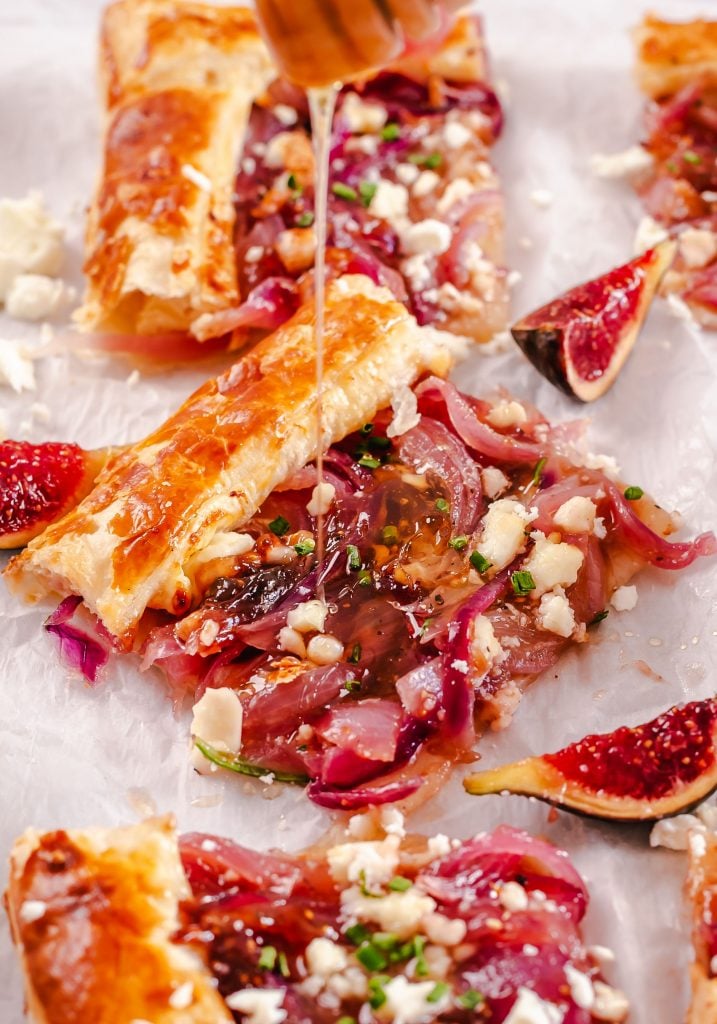 Puff pastry appetizers are a wonderful way to start a dinner party, if you prefer to have individual serves, rather than a whole tart, then try out this Mini Cheese and Caramelized Onion Tart Puff Pastry Appetizer recipe instead.
Puff Pastry Caramelized Onion Tart with Feta and Fig Jam
Just look at the colors on this gorgeous caramelized red onion tart!
So beautiful.
And the good news is, you aren't going to need anything particularly fancy to get this deliciousness ready to go.
You will need:
puff pastry: I tend to use store-bought puff pastry to save on time, but you can always use a homemade version like this one from Baking A Moment;
cold butter: this is for adding to the top of the tart before cooking it, so use a good quality butter;
red onions: you can use brown onions or vidalia onions if your prefer sweet onions, I use red onions here for the beautiful colour;
fig jam: this can usually be found in the jam section of a well-stocked grocery store. Also feel free to substitute another jam if you are finding it hard to locate fig;
feta: we are going to be crumbling the feta, so it won't matter if you buy a whole block or pre-crumbled feta. You can always sub in some goat cheese, cream cheese, or other crumbly cheese of choice if preferred;
egg: an average sized egg will do, nothing huge;
coconut sugar: I use coconut sugar here but you can sub in some brown sugar if that is what you have on hand;
apple cider vinegar: this can be found in the health food section and also in the vinegar section of most well stocked grocery stores.
You may want some fresh thyme, parsley, mint, basil, or chives chopped and sprinkled on top when serving for an extra little pop of color.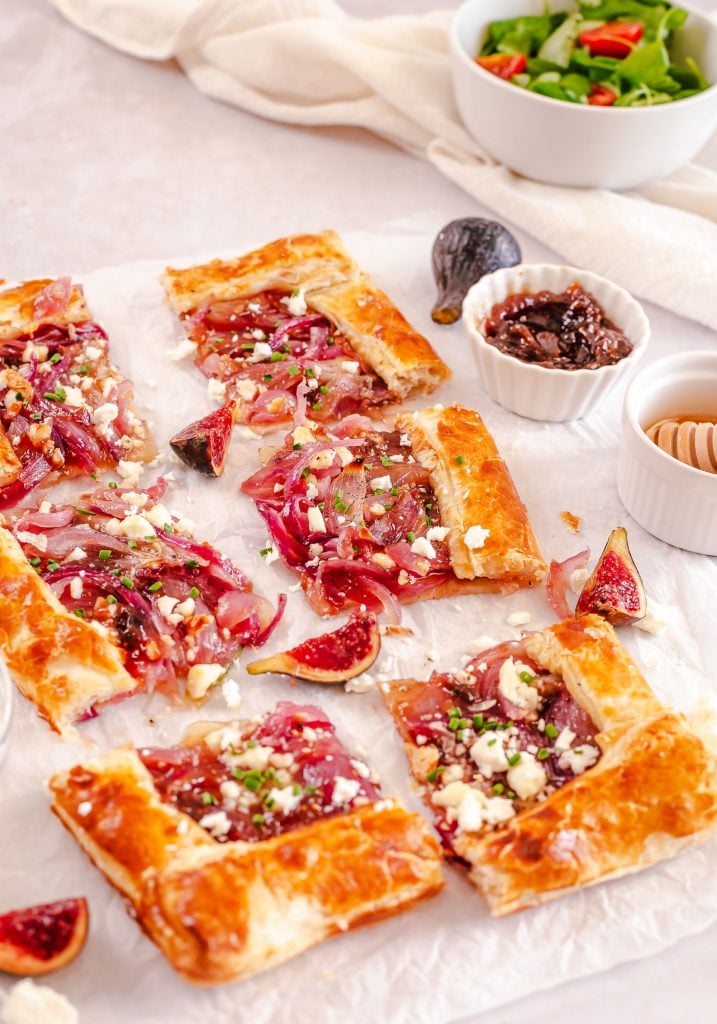 Assembly Instructions
The good news is, even though this puff pastry appetizer is stunning, it is super simple to bring together.
Simply thaw the puff pastry sheets and arrange them on a baking sheet to prevent sticking, spread the jam over the pastry with a pastry brush, top with caramelized red onions, feta, and butter, and bake until perfectly crispy on the edges.
Stunning and simple, the best kind of appetizer.
For an extra glaze, heat up the remaining half of the fig jam (you might want to loosen it by adding a little water and heating it in the microwave), and brush it on the edges once baked and cooling.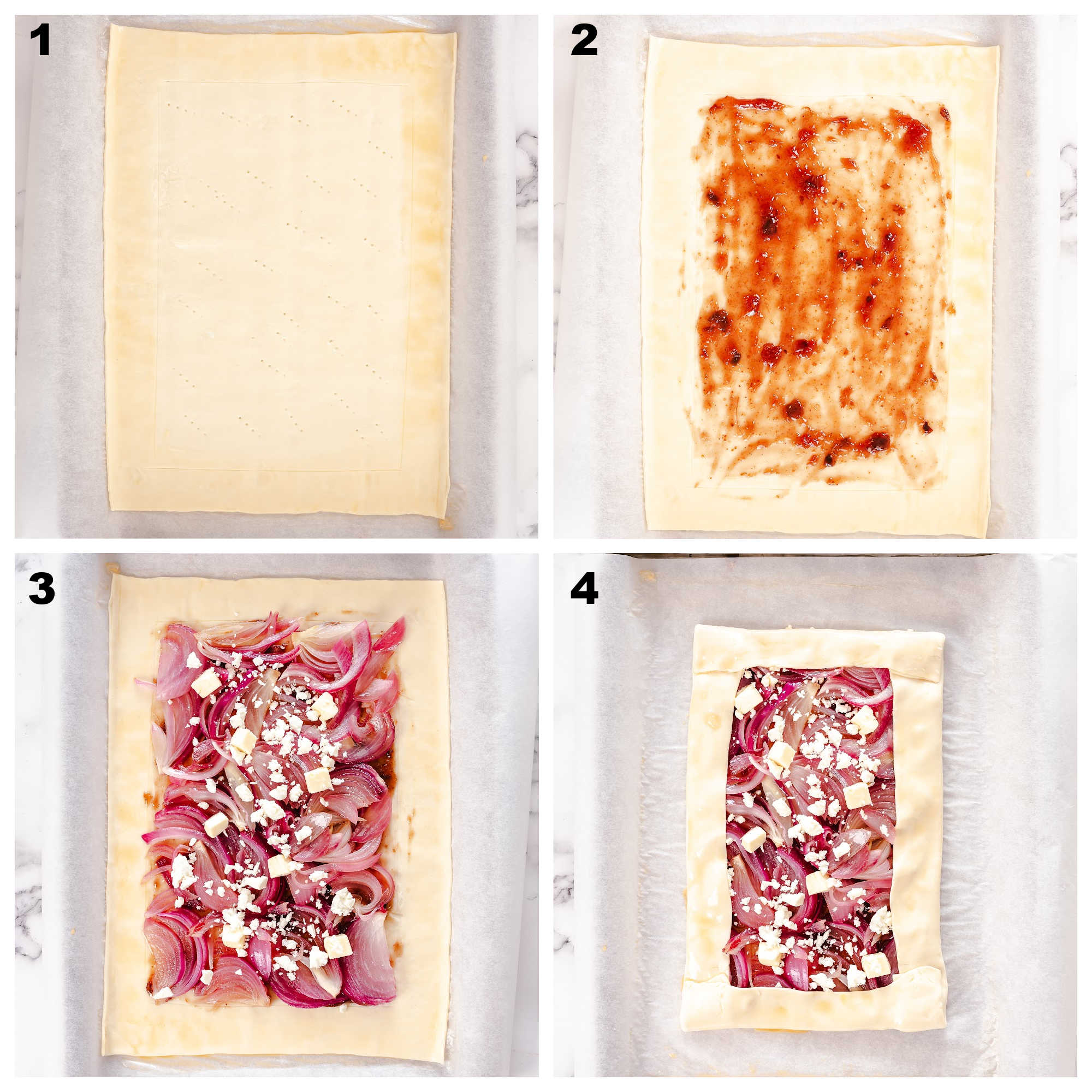 How To Caramelize The Onions
I have a full post on caramelizing onions here: Balsamic Caramelized Onions Plus Tips, Tricks, and Uses.
But the short version is:
Heat the olive oil in a large skillet over medium heat;
Add the sliced onions and a dash of salt;
Stir to combine, and spread the onions out over the bottom of the pan;
Let them cook and cook and cook while you occasionally stir and scrape up any stuck bits;
After around 20 minutes add the coconut sugar and apple cider vinegar;
Stir to combine;
Cook again until the sugar mixture becomes syrupy, and you are good to go.
The most important thing is to not rush the process.
We want to allow the onions the release all of their natural sugars so they caramelize properly.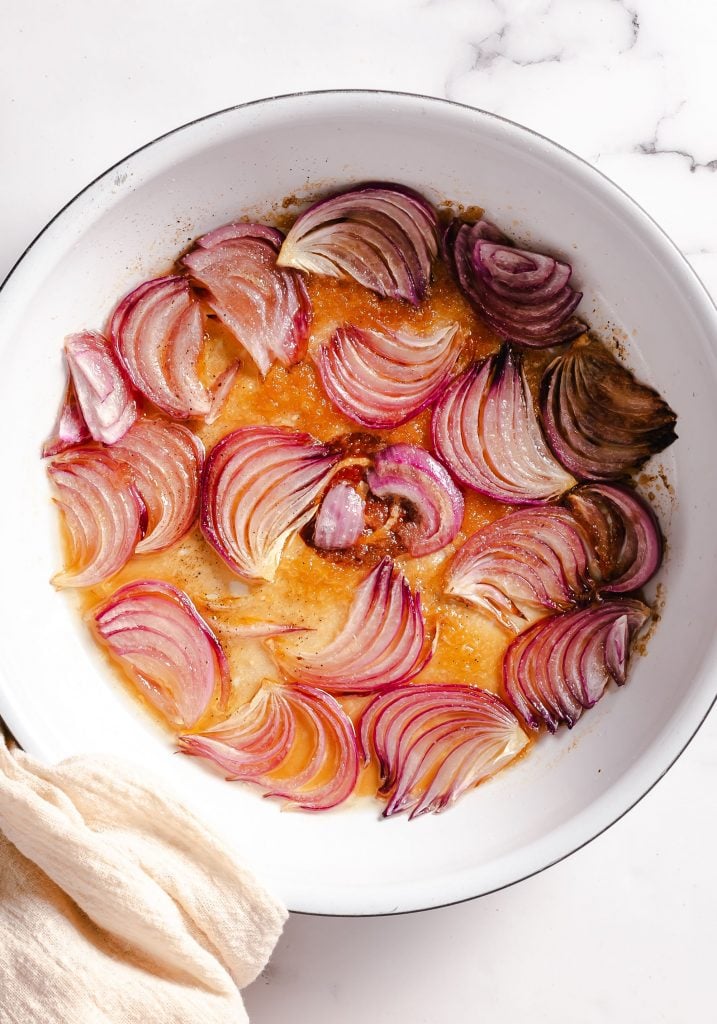 Storing Savory Tart Leftovers And Prepping Tips
This red onion and feta tart is best eaten straight from the oven (allow to cool slightly to avoid a burnt tongue).
If you do have leftovers, they can be stored in an airtight container in the fridge for 2-3 days once the tart has been cooled to at least room temperature.
Leftovers can be eaten hot or cold.
I find reheating in the air fryer for 4 minutes works perfectly, as it crisps up the pastry perfectly.
Alternatively, you can reheat in a preheated oven for about 8-10 minutes.
This red onion tart can be eaten cold, which makes it great for packing leftovers for lunch the next day.
If you like to prep ahead of time, the onions can be caramelized and stored in the fridge for up to 4 days, or in the freezer for up to 3 months, and then used as called for in the recipe when needed.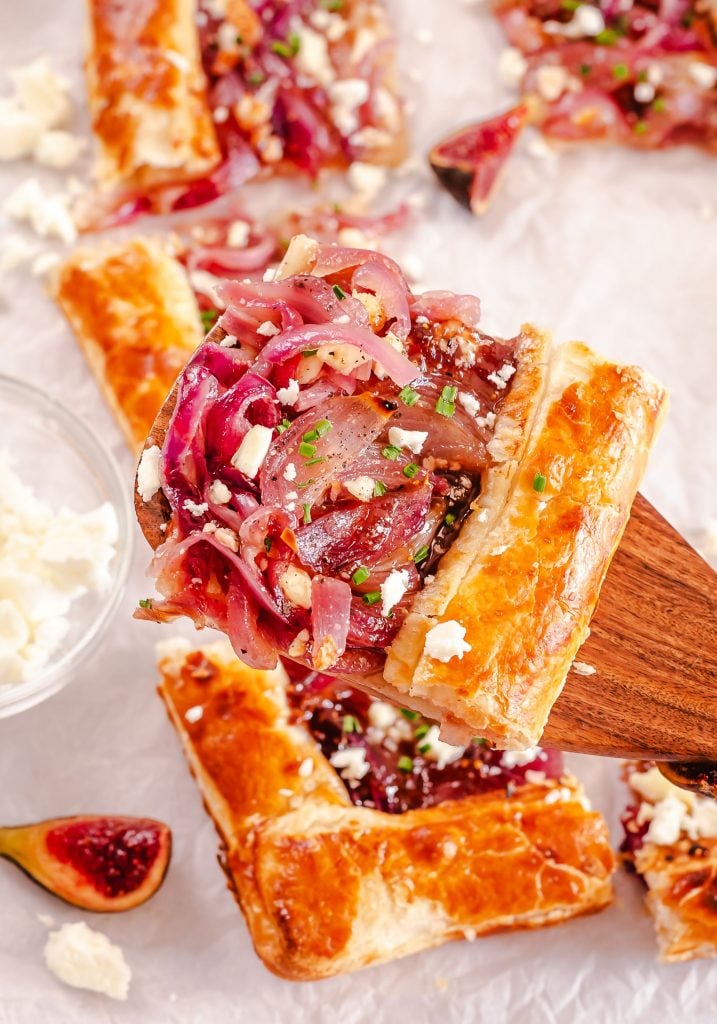 Tips, Tricks, and Substitutions
Although this is my preferred method of preparing this onion tart, there are a few substitutions you can make depending on what ingredients you can get your hands on.
Why not try using:
premade pie crusts, or mini pie shells, instead of puff pastry;
little premade tart crusts or tartlets from specialty grocery stores to make something similar to french onion tartlets.This is perfect if you would like to serve up individual tarts;
homemade pie dough: be sure to use a pie dish with a removable bottom and use pie weights to par-bake the crust before loading up with the onions and feta.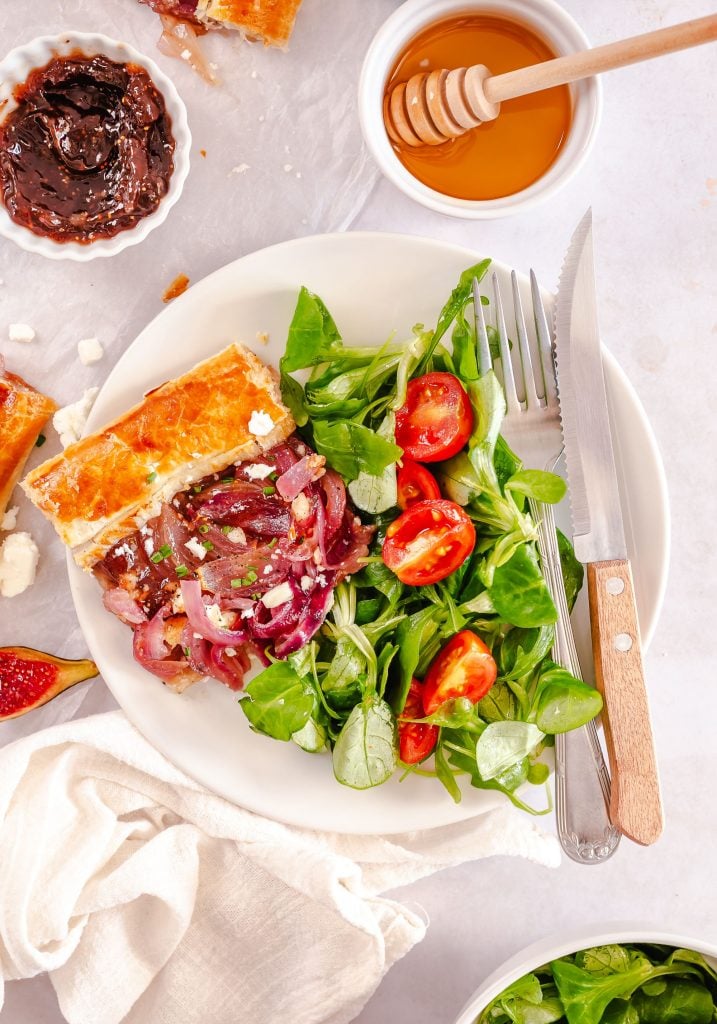 More Easy Puff Pastry Ideas
Puff pastry appetizers are great for serving at a dinner party as they can be easily held with one hand and pair wonderfully with other appetizers.
Alternatively, onion tart can be served up as a lunch or main meal alongside a nice leafy green salad.
If you need more pastry appetizers to serve with this tart at a dinner party or gathering, then why not try one or more of these ideas:
So many delicious options.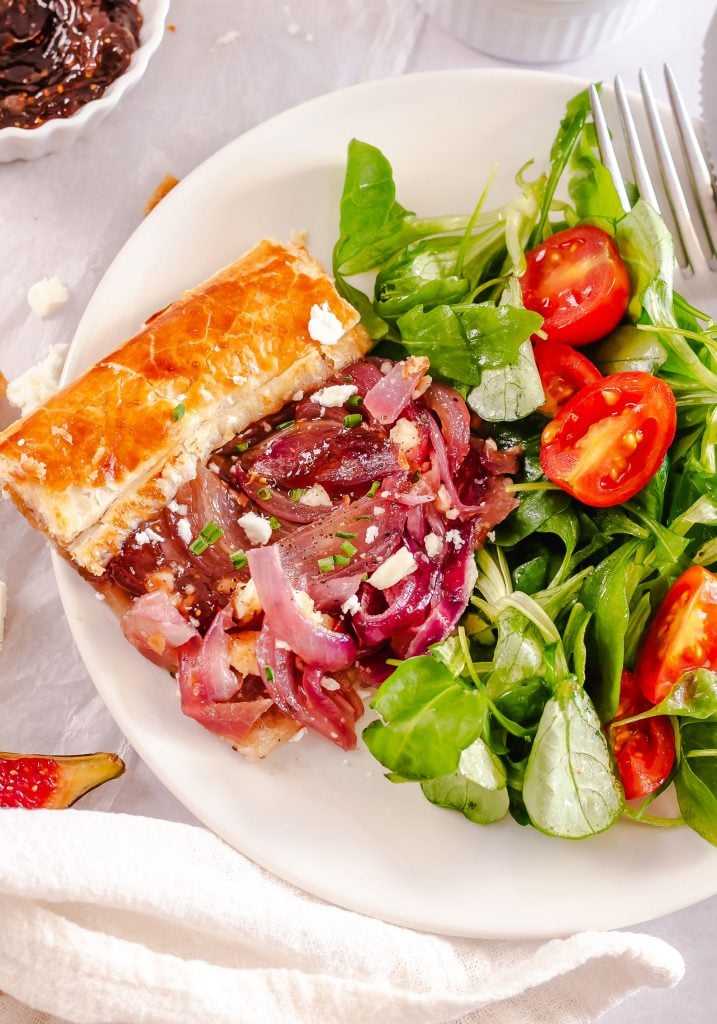 Happy Eating.
xx
Recipe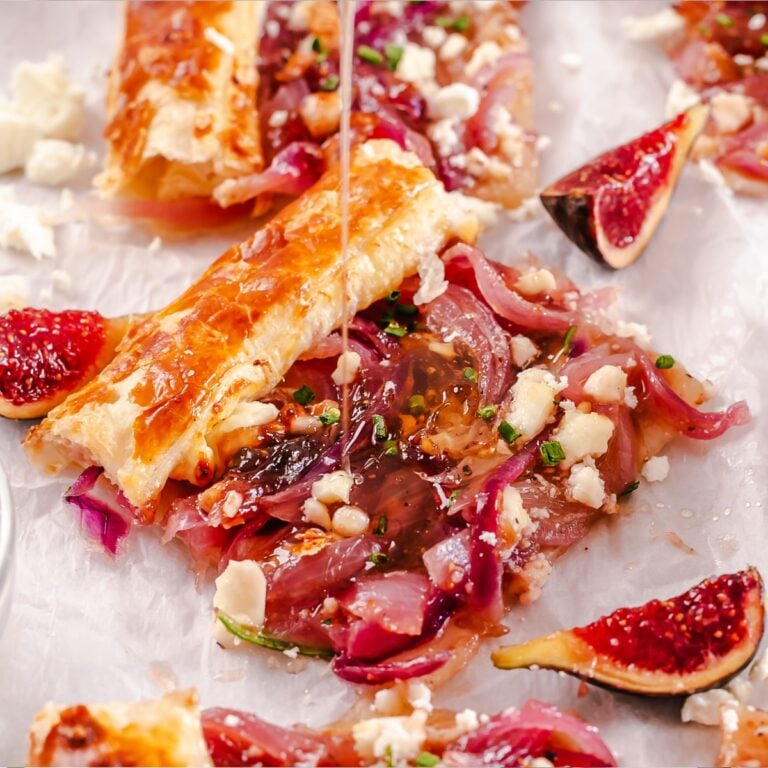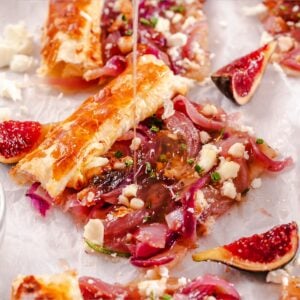 Puff Pastry Caramelized Onion Tart
Imagine serving this amazingly colorful and gorgeous puff pastry caramelized onion tart up at your next dinner party. Not only is it striking in appearance, but it is also super easy to put together. Using frozen puff pastry makes it even easier, and is just perfect for hassle-free entertaining.
Ingredients
Quick Caramelized onions (See Notes)
2

tablespoons

olive oil

4

medium-sized red onions

sliced thinly

4

tablespoons

coconut sugar

2

teaspoons

apple cider vinegar
Assembling The Tart
1

puff pastry sheet

thawed

1 ½

tablespoons

cold butter

cubed

4

tablespoons

fig jam

3-4

tablespoons

feta

crumbled

1

egg

whisked with 1 teaspoon of water
Instructions
Preheat oven to 400F (200C).

In a larger skillet heat the olive oil over medium heat. Once hot add the thinly sliced onion and stir to coat completely.

Cook the onion until completely softened, about 10 minutes, and then add in the coconut sugar and apple cider vinegar. Stir to combine and continue to cook until the sugar has melted and has become almost syrupy in consistency. Set aside to cool slightly.

Roll out the thawed puff pastry sheet and transfer it to a baking sheet lined with parchment paper. 

Score the pastry all around the edge with a fork and poke the inside of the pastry rectangle several times.

Spread 3 tablespoons of the fig jam across the inside of the puff pastry, avoiding the edges, and reserve the rest for later.

Arrange the cooked red onion across the pastry and then sprinkle on the feta cheese and cubed butter.

Fold in the edges to make a rim, and brush the edges with the egg and water mixture.

Bake in the preheated oven for 20-25 minutes until the edges of the pastry have become golden brown.

Remove from the oven and use a pastry brush to brush the remaining fig jam over the edges (for best results warm the jam in the microwave to give it a looser texture that makes brushing easier).

Allow to cool for a few minutes, slice, and serve.
Notes
Caramelized Onions:
The method used here is for quick caramelized onions. If you would prefer caramelized onions with a more intense flavor then follow the instructions in this recipe: Balsamic Caramelized Onions Plus Tips, Tricks, and Uses.
Puff  Pastry Tip:
The puff pastry will bake at its best when it is thawed but still cold.
Don't leave it out to get too warm or it will become difficult to work with.
Nutrition
Calories:
365
kcal
Carbohydrates:
39
g
Protein:
6
g
Fat:
21
g
Saturated Fat:
7
g
Polyunsaturated Fat:
2
g
Monounsaturated Fat:
10
g
Trans Fat:
1
g
Cholesterol:
48
mg
Sodium:
245
mg
Potassium:
150
mg
Fiber:
2
g
Sugar:
14
g
Vitamin A:
168
IU
Vitamin C:
6
mg
Calcium:
70
mg
Iron:
1
mg
Tried this recipe?
Leave a comment HERE and let us know how it was!
The information shown is an estimate provided by an online nutrition calculator. It should not be considered a substitute for a professional nutritionist's advice.