With a great pop of color from the addition of matcha green tea, these crinkle matcha cookies are a super fun recipe with a unique flavor to add to your cookie recipe collection. Easy to make, these sweet cookies with a light matcha flavor are slightly crispy on the crinkled edges with a chewy center.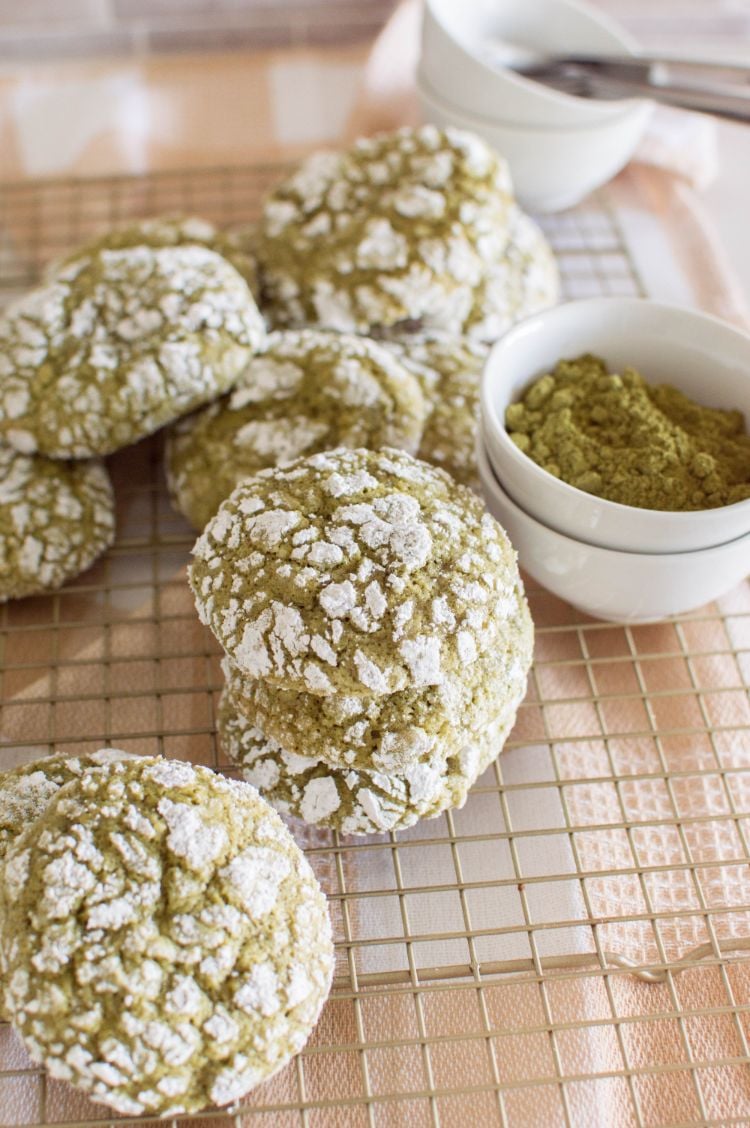 Love cookies that are a little bit different? Why not try these Oatmeal, Dark Chocolate, and Rhubarb Cookies Recipe after trying this matcha cookie recipe?
Matcha Cookies
Jump to:
These cookies are great for something a little bit different, slightly sweet, and slightly savory, they will be a hit with the whole family or anyone with a sweet tooth.
If this is your first time trying matcha you should expect a subtle green tea flavor, not an overwhelmingly strong flavor, and certainly no bitter taste.
You will need:
all-purpose flour: I use white wholemeal flour, but plain white flour works also. If you have a tried and true gluten-free blend that works in baking then that can be used here instead;
baking powder;
culinary grade matcha powder: this can be found in most well-stocked grocery stores and works wonderfully in baked goods;
coconut oil: this will need to be softened, so if you are making these cookies in colder weather you may need to soften it by popping it into the microwave for about 20 seconds at a time until soft but not warm;
granulated stevia: regular white sugar will work here also if you prefer, however, please note this will change the nutrition value;
large eggs: allow these to come to room temperature before using in this recipe;
vanilla extract: use extract, not vanilla essence;
unsweetened shredded coconut: this is optional, however, I find it adds a nice flavor to the cookies and pairs well with the matcha;
powdered erythritol: this can be found in the health food section or the baking section of most well-stocked grocery stores. If you cannot find it you can use powdered sugar instead, however, please note this will change the nutritional information.
You can also add some white chocolate chips if you feel so inclined, it pairs really well with the matcha flavor in these easy matcha cookies.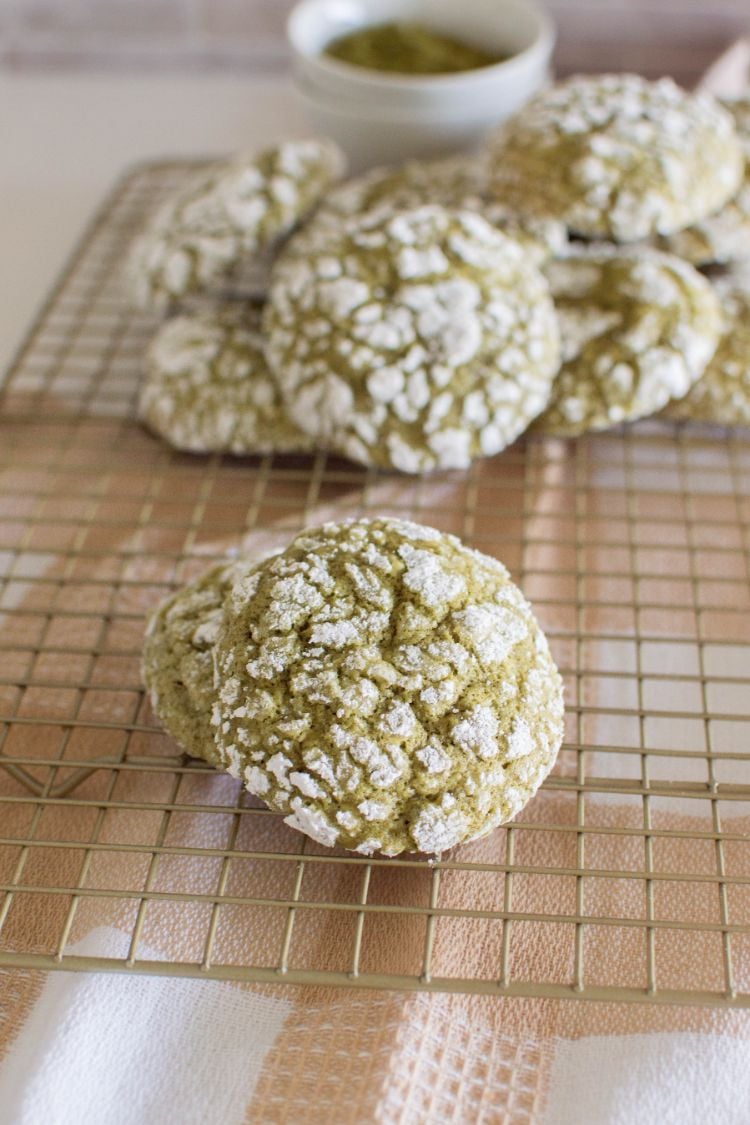 Step By Step Instructions For The Best Cookies
These cookies come together super easily but do have a few extra steps to help them hold their shape and get those crinkled lines.
Simply mix the dry ingredients together in a small bowl and the wet ingredients together in a large bowl.
Slowly add the dry to the wet and then mix together until everything is well combined.
Here is where things change a little!
We are now going to pop the cookie batter into the fridge for a minimum of two hours. This step is vital, and the cookies will not hold together well if you skip this part.
Next comes the scooping and rolling. Use a cookie scoop to get rounded cookie dough balls, then roll that in the sugar and then in the powdered sugar one ball at a time.
Then go on ahead and bake cookies for about 10 minutes.
When the cookies bake they will split and get that signature crinkle we are looking for. Matcha cookies should have crispy edges and a chewy texture on the inside.
For perfect cookies, allow the cookies to rest on the baking sheet for about 5 minutes after baking, and then transfer to a wire cooling rack to cool completely. The cookies will crisp up as they cool so do not skip this step.
Once completely cooled go ahead and dig in!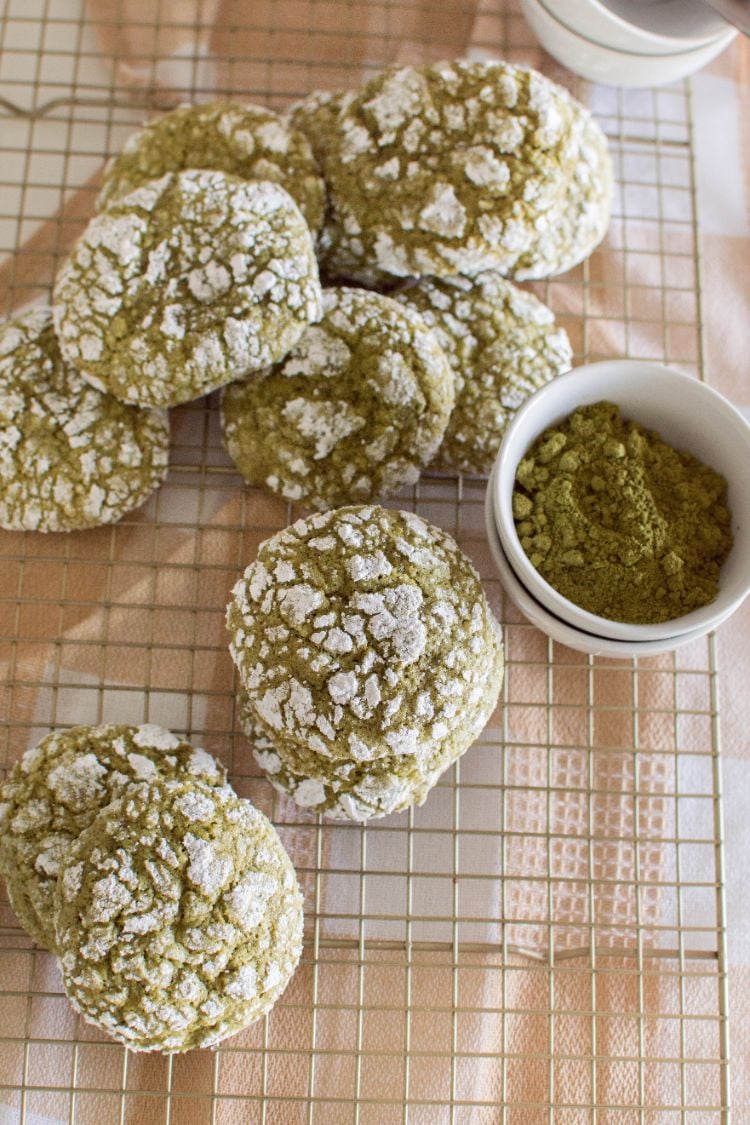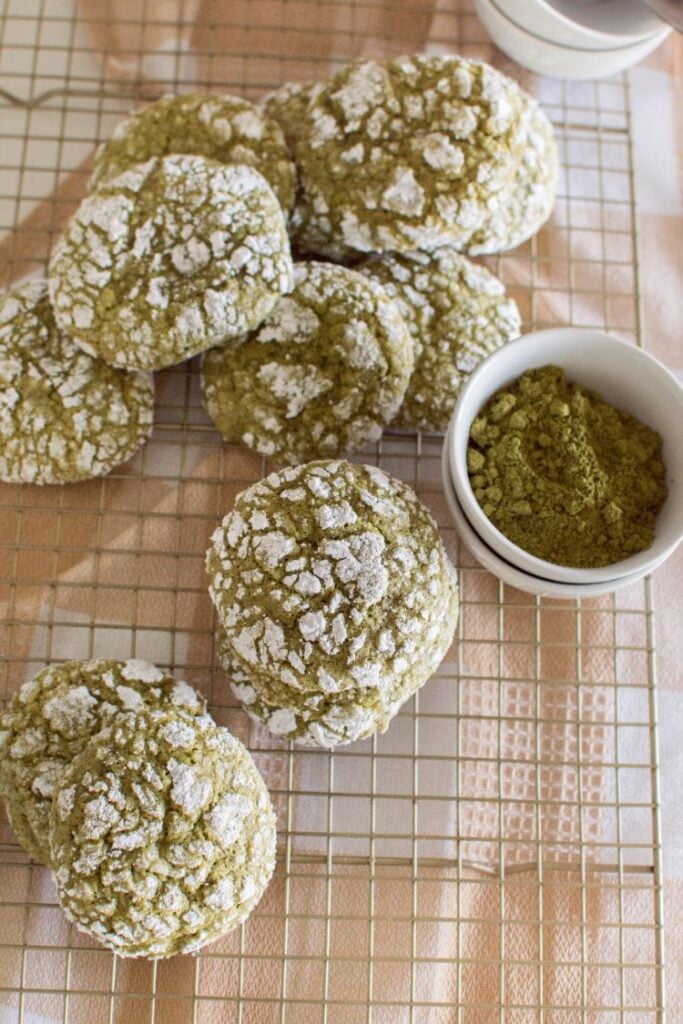 Tips, Tricks, and Substitutions
For best results, it is important to allow matcha cookies to rest in the fridge for at least 2 hours before baking them in the oven.
The batter is very sticky, and it will be too hard to scoop the cookies if it has not been cooled before scooping. They will also not hold their shape when baking if they have not cooled before baking.
Rolling in the sugar is also an important step when it comes to ensuring the cookies hold their shape.
The cookies will have a light but beautiful green color, if you want a bright green color you will need to add food coloring.
White chocolate chips are a great addition if you want to make matcha white chocolate cookies!
I like to make these cookies slightly healthier by using granulated stevia and powdered erythritol, however regular granulated sugar and powdered sugar can easily be used instead if that is what you have one hand.
Again, I use coconut oil as I prefer it for baking, but vegetable oil can be used instead if you prefer.
Culinary-grade matcha can be found in most well-stocked grocery stores, just be sure to check the ingredients to make sure they haven't snuck in lots of extra ingredients.
Want to change things up next time? Why not try adding:
chopped macadamia nuts
white chocolate chunks or white chocolate chips
dark chocolate chips
extra matcha for the matcha lover
brown butter or regular unsalted butter in place of the coconut oil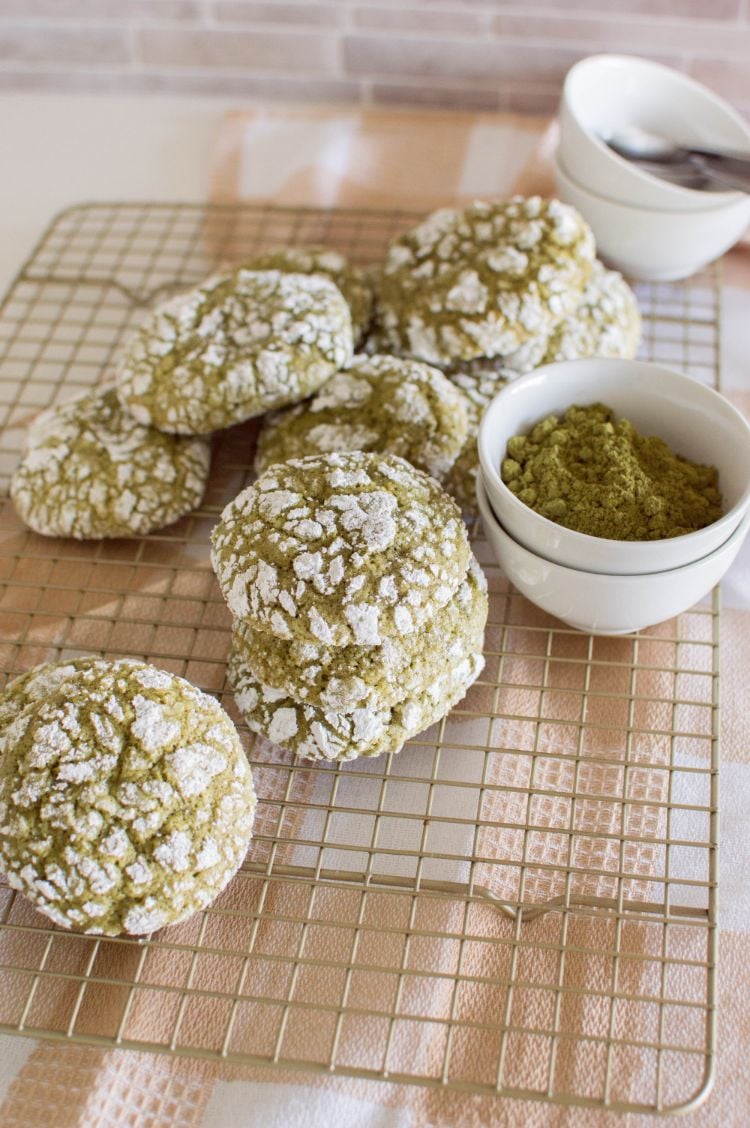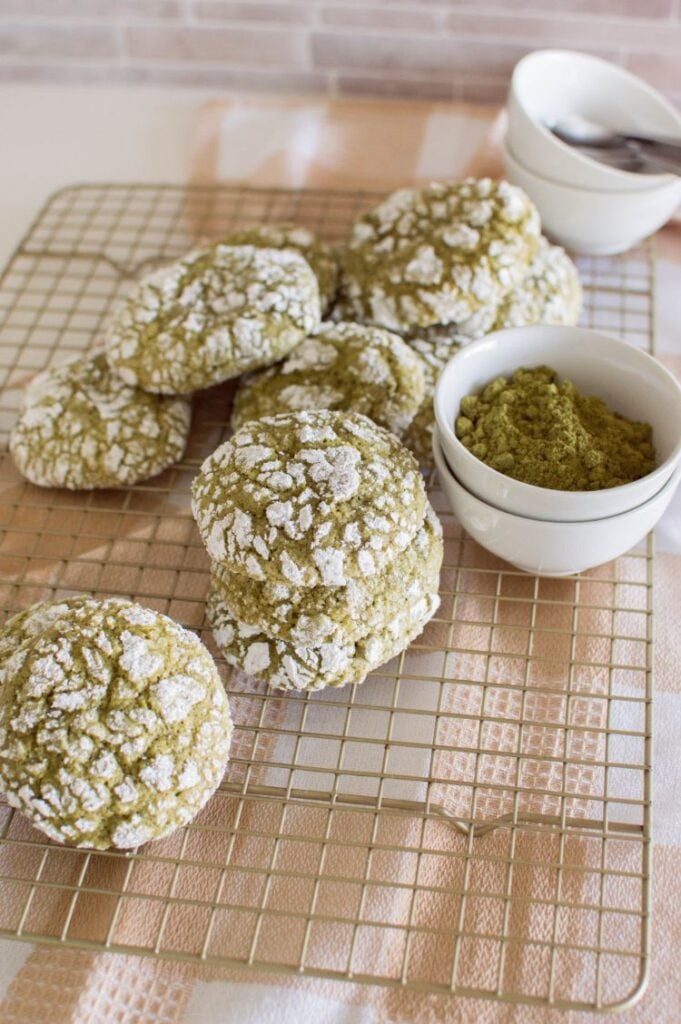 Storing Leftovers and Freezing
Once cookies have cooled completely they should be stored in an airtight container at room temperature for about one week, or in the fridge for about 2 weeks.
They can also be frozen for a couple of months, however, might lose a bit of their crispiness.
To freeze ensure cookies have completely cooled and freeze them in a single layer on a baking sheet before transferring them to a Ziploc bag or a freezer-friendly container.
Unbaked cookie batter can be kept in the fridge for 3-5 days before baking if you like to have the batter made and ready to go.
More Cookie Recipes
Enjoyed this delicious recipe and need more sweet treats to try out?
Why not try these next:
Frequently Asked Questions
Can I use regular sugar and powdered sugar instead of the alternative sweeteners?
Yes. They can be substituted 1:1.
Do I have to refrigerate the cookie batter?
Yes. If you do not refrigerate the cookie batter the cookies will be too sticky to scoop and they will not hold their shape properly when baking.
Do I have to roll the cookies in sugar?
Yes. This helps them to hold their shape when baking and also helps them to get crispy crinkles.
Loved this delicious cookie? Be sure to leave a star rating or a comment below.
Happy Eating.
xx
Recipe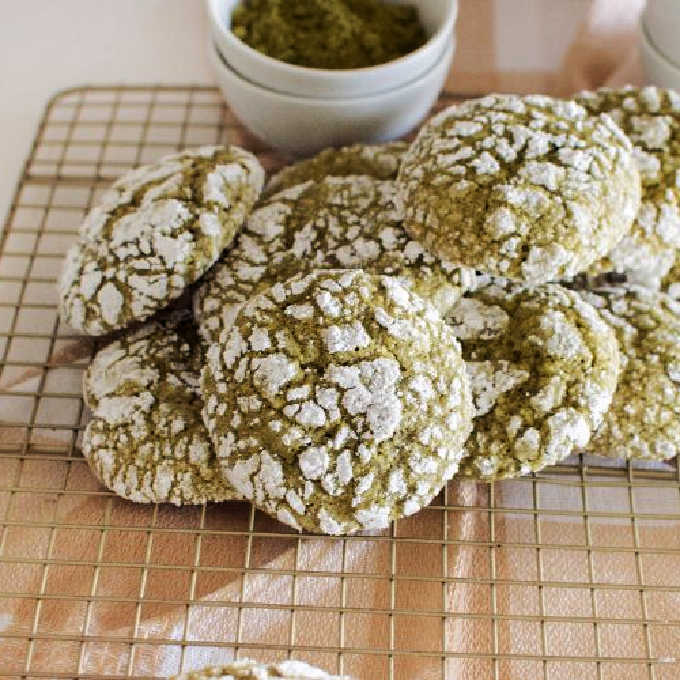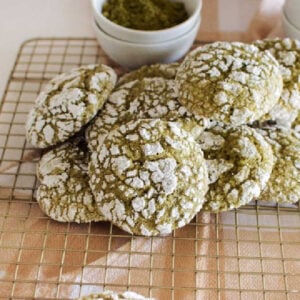 Crinkle Coconut Matcha Cookies
With a great pop of color from the addition of green tea, these matcha cookies make a fun addition to your cookie recipe colllection.
Ingredients
1 ¼

cups

all-purpose flour

1

teaspoon

baking powder

¼

cup

matcha powder

¼

cup

coconit oil

¾

cup

granulated stevia

(I use Natvia)

2

large eggs

at room temperature

1

teaspoon

vanilla extract

½

cup

shredded coconut
For Rolling
½

cup

granulated stevia

(I use Natvia)

½

cup

powdered erythritol
Instructions
In a small bowl, sift together the flour, baking powder and matcha powder.

In a large bowl, mix together the oil, granulated sugar, eggs and vanilla extract until well combined.

Slowly add the dry ingredients to the wet ingredients. Mix well to combine. Once everything is combined gently fold in the coconut.

Wrap the bowl with plastic wrap and refrigerate the cookie dough for a minimum of 2 hours (this step is vital in aiding the cookies to hold their shape when baking).

Line a cookie sheet with parchment paper and preheat the oven to 350F (175C).

Use a cookie scoop to scoop out spheres of cookie dough. Roll each cookie in the granulated sugar and then into the powdered erythritol and place it on the baking sheet, leaving enough space for the cookies to spread.

Bake for 8-10 minutes, until the cookie crinkles are slightly crispy. Remove from the oven and allow to cool on the baking sheet before moving to a wire drying rack and allowing to cool completely before serving. The cookies will crispen up as they cool, so this step is important.
Notes
This batter is not like a traditional cookie batter. It is extremely sticky, which is why using a cookie scoop is recommended and why resting time in the fridge is required before baking to allow them to hold their shape.
A baking mat with pre-printed cookie circles is handy for having evenly spaced cookies.
Nutrition
Calories:
104
kcal
Carbohydrates:
10
g
Protein:
4
g
Fat:
5
g
Saturated Fat:
4
g
Polyunsaturated Fat:
0.2
g
Monounsaturated Fat:
0.5
g
Trans Fat:
0.002
g
Cholesterol:
22
mg
Sodium:
17
mg
Potassium:
57
mg
Fiber:
0.4
g
Sugar:
1
g
Vitamin A:
229
IU
Vitamin C:
0.02
mg
Calcium:
17
mg
Iron:
1
mg
Tried this recipe?
Leave a comment HERE and let us know how it was!
The information shown is an estimate provided by an online nutrition calculator. It should not be considered a substitute for a professional nutritionist's advice.