Gather all of the beautiful, fresh, Fall and Winter fruit available, pop it into the crock pot, and warm up with this delicious Homemade Fall Harvest Hot Crockpot Apple Cider. Warm and comforting this homemade spiced apple cider recipe is a must in your arsenal of Fall drinks to nourish and delight.
Disclaimer: This post includes affiliate links, and I will earn a commission if you purchase through these links. Please note that I've linked to these products purely because I recommend them and they are from companies I trust and use myself.
Fall Harvest Hot Crockpot Apple Cider
It was totally my intention to make a big pot of this Crockpot Hot Apple Cider for Halloween night.
I envisaged a cold rainy night where we would sit on the porch and have a few sips of our delicious hot cider straight from the slow cooker, as we passed out candy to the neighbourhood kids.
Along comes Halloween night, and it is so hot, we end up sitting in the yard with the neighbours drinking icy cold beers instead. Alas, my little hot apple cider fantasy was not to be.
My poor son was stuffed into a big puffy pumpkin outfit to boot - that sweaty little man was not a happy chappy.
What Ingredients Will We Need?
Homemade crockpot hot apple cider is so comforting and delicious, I always go through a couple of batches during Fall.
Plus it makes the house smell all comfy and festive.
It requires just a handful of seasonal fruit, some spices and a touch of natural sweetener like honey or maple syrup and you have yourself a warm glass of Fall to get you in the spirit of the season.
Grab yourself some:
Apples
Persimmons
Pears
Oranges
Pomegranates
Cinnamon
Mulling Spices, and
Honey (or maple syrup to make it vegan).
Pop it all in the slow cooker and allow to simmer for around 8 hours before removing the fruit and spices and blending it all up until nice and smooth.
How Do I Serve and Reheat Crockpot Hot Apple Cider?
You can serve it straight from the slow cooker so it is still nice and warm, and make it pretty by serving it up with some apple and orange slices and a nice little bit of star anise.
You can also make it ahead of time, store in the fridge and then heat the whole batch in the crockpot on the keep warm setting or heat just one cup at a time in a saucepan on the stovetop or in the microwave.
Speaking of Fall fruit, make sure you use up leftover cranberries with some Pumpkin and Fresh Cranberry Bread or Cranberry and Clove Apple Sauce. They will definitely keep you in the holiday spirit, and make your house smell amazing to boot 🙂
Use Up Fruit About To Turn!
I have packed this crockpot apple cider full of all the beautiful, fresh, Fall fruit available at the farmers market at this time of year.
It is a great way to use up some of the old, wrinkly, forgotten fruit languishing at the bottom of the fruit bowl or the back of the fridge at the end of the week.
I have definitely been known to sneak some overly squishy pears bound for the garbage in there, and they tasted great (so much sweeter)! Play around with the fruit you have on hand, and make it your own.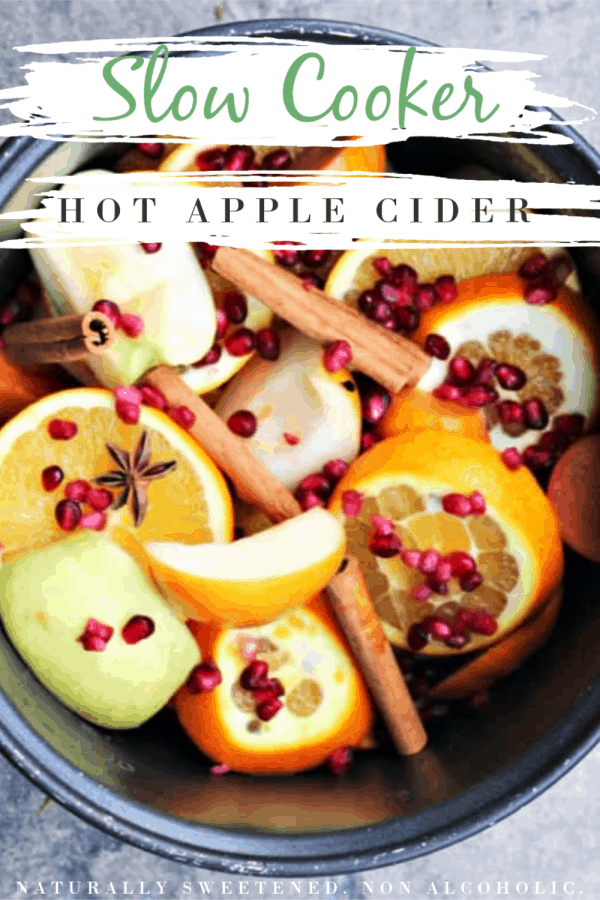 Do you have a favourite hot drink you enjoy when the cooler weather rolls around? I would love to hear from you.
The information shown is an estimate provided by an online nutrition calculator. It should not be considered a substitute for a professional nutritionist's advice.
Don't forget to follow Whole Food Bellies on Pinterest for more recipe inspiration! Or if Pinterest isn't your style, bookmark this post! Let's keep the conversation going- join my Facebook group!
Be sure to join me over on Instagram for some tips, tricks, and behind the scenes.