The perfect Slow Cooker Ratatouille recipe is easy to put together, jam-packed full of seasonal, bright, and fresh vegetables cooked just right, with a delicious rich garlic and tomato sauce. It is oh so comforting during those cold winter months. A great set-and-forget dinner the whole family will love and a great way to use up vegetables in the fridge at the end of the week.
gluten-free. dairy free. vegetarian
I love to serve homemade ratatouille on top of some Easy Smashed Potatoes With Garlic Butter and Rosemary to add a little crispiness to the dish.
Jump to:
The Perfect Slow Cooker Ratatouille Recipe
Lately, I have been seeing all these perfectly beautiful images of ratatouille with layers of spiraled vegetables, arranged just so. They really do look like works of art with their little zucchini rosettes twirling around in a fancy dish.
As beautiful as they are, I'm sorry to say those dishes take just as long as a work of art to prepare, and I for one do not have the patience!
So I'm sorry to say but that is not the recipe you will be getting from me today.
Instead, you are going to get a quick and easy ratatouille that is made in the slow cooker for set-and-forget perfection.
What You Will Need To Make Ratatouille
This recipe is so easy to make and is quite versatile in relation to the vegetables you can choose to use.
It requires only a couple of minutes of prep time and comes together in a cinch without the need for hours of modeling vegetables into perfect little shapes you won't want to cut into after the cooking process has been completed.
You are going to need:
russet potatoes
sweet potato: any color is fine
red bell pepper: choose small bell peppers so that they can be cut in rounds similar in size to the sweet potato
red onion
green zucchini
yellow summer squash: substitute for a winter squash if not in season
marinara or a tomato pasta sauce like this fresh heirloom tomato sauce if you want to make yours from scratch with fresh tomatoes
fresh garlic cloves
fresh thyme leaves
freshly grated Parmigiano Reggiano or parmesan cheese
fresh basil leaves
salt and freshly ground black pepper to serve
Eggplant also works wonderfully in this dish, however, I have not used it in this version as I find it can lead to a watery sauce if not salted prior to use, and people tend to skip that step and then complain about the recipe.
If you do wish to use eggplant then select a medium eggplant and make sure you peel it, and salt it before using it otherwise you may end up with a watery sauce from the excess liquid that comes out of it when cooked.
How To Make Ratatouille
Now clearly with this slow cooker version of ratatouille, I am not promising the finesse of a perfectly arranged French stunner. However the flavors will be there, the house will smell amazing, and you get to multitask by using the set-and-forget slow cooker.
This makes it perfect for the Holiday season when you have 6 batches of cookies waiting to go into the oven, a couple of pots on the stovetop, events to attend, and children all hyped up from the excitement of the whole thing.
In those situations, my friends', slow cookers and quick meals are total lifesavers!
Chop all of the vegetables you plan to use before you start arranging them in the slow cooker.
They should be cut in similar-sized discs so that they cook evenly. You want the potatoes, sweet potatoes, red bell peppers, and red onion in thin rounds about ⅛ inch (⅓ cm), and the zucchini and squash into slightly thicker rounds about ½ inch (just over 1 cm).
We are then simply going to add half of the sauce to the bottom of the bowl of the slow cooker, and then arrange the vegetables on top in a circle, alternating between different colored veggies, before adding the rest of the sauce and cooking.
It should be cooked on high for 3-4 hours, or low for 6-8 hours.
TIP: sauté the garlic in olive oil before adding to the slow cooker if you don't mind some extra dishes. If you are using an instant pot to make this then use the sauté function first to sauté the garlic before switching to the slow cooker setting.
Slow Cooker Recommendations?
If you happen to be in the market for a good slow cooker, I use and love this one, it is super cheap but gets the job done perfectly:
If you don't want too many gadgets in the kitchen you can always use the slow cook setting on your pressure cooker/instant pot instead. Most have them and they work very well! I have tried this particular recipe in my instant pot and a Philips multicooker and it turned out perfectly both times.
Serving Suggestions
This hearty dish can be served as a main dish or a side dish.
It is traditionally served with a grain of some sort, and goes well with:
It also goes well with a simple side salad if you prefer to keep things lighter.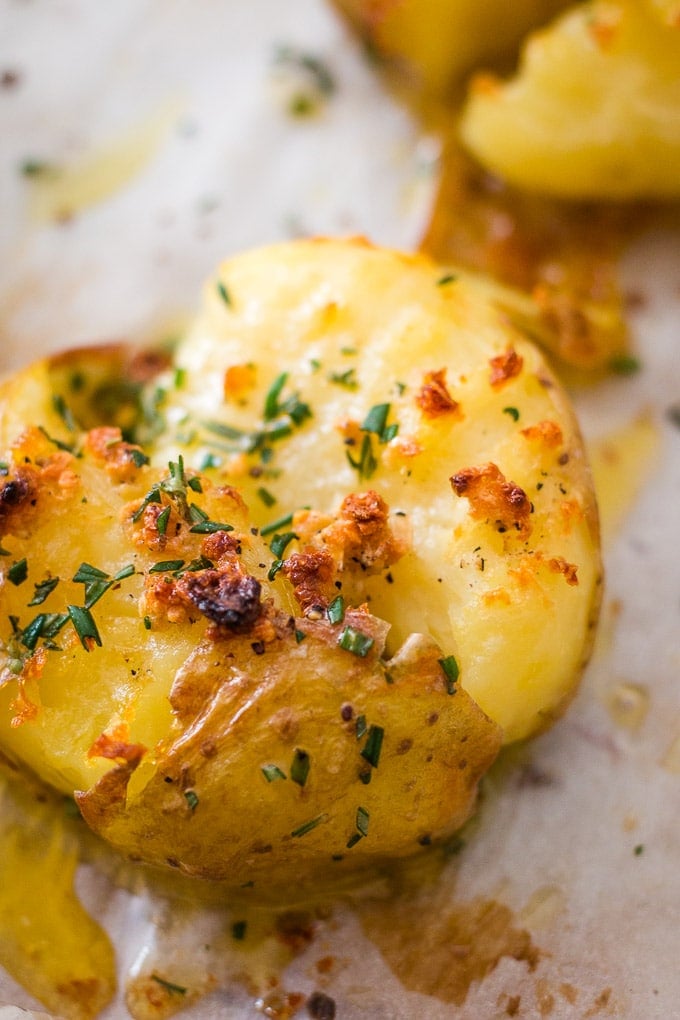 Storing and Freezing Leftovers
Leftover ratatouille should be allowed to come to room temperature before being stored in the fridge for up to 5 days in an airtight container.
Ratatouille freezes well for up to 3 months if stored correctly in a freezer-friendly container. You may want to add some extra fresh herbs when serving to freshen up the flavors after reheating.
Frequently Asked Questions
How to fix a watery/runny ratatouille?
If you find that your ratatouille has become watery this is easily fixed. Simply remove the lid from the slow cooker and allow the ratatouille to cook for an extra hour or so until some of the liquid evaporates and the sauce thickens up.
Can I make ratatouille the day before?
Yes. In fact, it arguably tastes better if made the day before. It can be made and stored in the fridge for up to 5 days and then gently reheated when it comes time to serve.
What should ratatouille be served with?
It is usually served with a grain. Rice, quinoa, pasta, or risotto would work well with a scoop of ratatouille on top. It also works well with mashed potatoes, or for something different why not serve it inside a baked potato or on top of Smashed Oregano Lemon Garlic Potatoes with Feta.
If you try out this delicious recipe then be sure to pop back and leave a comment to let me know how you went, I always love to hear from you!
Happy Eating.
Recipe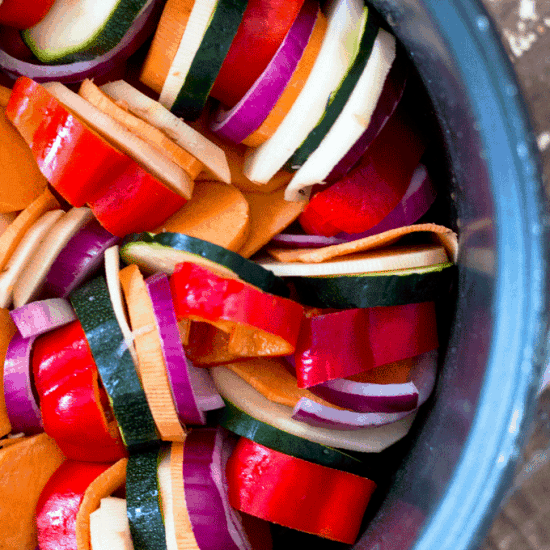 The Perfect Slow Cooker Ratatouille
The Perfect Slow Cooker Ratatouille Recipe is easy to put together, jam packed full of seasonal vegetables cooked just right, and oh so comforting during those cold winter months.
Ingredients
2

large russet potatoes

1

medium sweet potato

2

red bell peppers

1

red onion

1

large green zucchini

1

large yellow squash

3

cups

marinara or tomato pasta sauce

(try this homemade version)

1

teaspoon

fresh thyme leaves

removed from stems

5

cloves garlic,

minced

½

cup

parmigiano regiano

½

cup

basil leaves,

chiffonaded

salt and pepper,

to taste
Instructions
Slice the potatoes, sweet potato, red bell peppers, and red onion into thin rounds (about ⅛ inch or ⅓ cm). Slice the zucchini and squash into slightly thicker rounds (about ½ inch or just over 1cm).

Add one cup of tomato pasta sauce and the thyme leaves into the bottom of the slow cooker and stir to combine.

Arrange the chopped vegetables on top of the tomato sauce, alternating between colors (i.e. the potato followed by sweet potato, followed by bell pepper, followed by zucchini etc). Repeat until all of the vegetables have been used up.

After each row add a dash of salt, pepper, and a bit of the minced garlic. Then layer more veg on top.


Pour the rest of the tomato sauce on top, pop on the lid, and set the slow cooker on high for 3-4 hours or on low for 6-8 hours. 

To serve, garnish with some fresh basil and parmigiana region. Leftovers will keep for about 3-5 days in the fridge.
Notes
Tomato Sauce
For a homemade marinara sauce recipe that works just perfectly try out this one, and if you don't have heirloom tomatoes just sub in another variety.
Freezing
Freezes well in a freezer-safe container. Allow to come to room temperature before freezing.
Nutrition
Calories:
182
kcal
Carbohydrates:
34
g
Protein:
8
g
Fat:
3
g
Saturated Fat:
2
g
Polyunsaturated Fat:
0.4
g
Monounsaturated Fat:
1
g
Cholesterol:
6
mg
Sodium:
745
mg
Potassium:
1097
mg
Fiber:
6
g
Sugar:
11
g
Vitamin A:
7435
IU
Vitamin C:
89
mg
Calcium:
162
mg
Iron:
3
mg
Tried this recipe?
Leave a comment HERE and let us know how it was!
The information shown is an estimate provided by an online nutrition calculator. It should not be considered a substitute for a professional nutritionist's advice.
Don't forget to follow Whole Food Bellies on Pinterest for more recipe inspiration! Or if Pinterest isn't your style, bookmark this post! Let's keep the conversation going- join my Facebook group!