You have made a big batch of apple cider for the Holidays, but there's some leftover and you don't want that deliciousness to go to waste. That's when you need to know how to freeze apple cider before it reaches its expiration date. In just a couple of simple steps, we will have your leftover apple cider prepped and ready for the freezer to be used throughout the year. Apple cider freezes really well and is handy to have on hand for salad dressing, baking, and heating up to enjoy a nice warm drink on a cold day, perfect for the winter months! It is also great blended with some water for a refreshing cold drink.
Jump to:
Alcoholic v Non-Alcoholic Cider
Depending on where you are from, apple cider might be a completely different thing. For the purposes of this article, we are looking at tips on freezing still (not sparkling), non-alcoholic apple cider, and non-alcoholic apple juice. Like the kind of sweet cider or juice, you would find everywhere in the United States in late September.
This can be either homemade or bought from the grocery store.
If you have alcoholic ciders, otherwise known as hard apple cider, they are not a good candidate for freezing as the alcohol is not likely to freeze as it has a different freezing temperature than other liquids.
Fres apple cider can last in the fridge for up to one week. Any longer than that and it should be frozen.
Follow the simple process below to get the best from your apple cider.
Choose Your Container
There are a number of different containers you can choose from to freeze your non-alcoholic apple cider:
in bottles: these can be either plastic or glass as long as you have a tight-fitting and secure lid to close them with;
in an airtight container that is freezer-friendly: this can be a plastic tupperware container or a glass container as long as it is a freezer-safe container. Be mindful of the size of the container in terms of how much cider you will want to defrost at a time;
in an ice cube tray: this is perfect if you will only want to defrost a small amount of apple cider at a time, for a salad dressing for example;
in a silicone muffin pan liners: this is my preferred method for freezing apple cider as it allows freezing of ¼ cup portions, which can be moved to a Ziplock bag when frozen, and removing either a small or large amount when needed. This may not be the ideal way to store if you are freezing a very large batch.
Always choose the vessel you would like to freeze your cider in with thoughts on what you will be using it for when defrosting, and what volume you will need. Doing this now will save heartache in the future when it comes time to defrost as you don't want to defrost a whole large container when you only need a little bit for the batch of muffins you are making.
You want to freeze in portions that you will want to remove from the freezer. For this reason, I tend to use silicone muffin pan liners to freeze roughly ¼ cup servings of cider. This way if I need a small amount for deglazing a pan I just grab one mold, whereas if I want a cup of hot apple cider then I will grab four or more.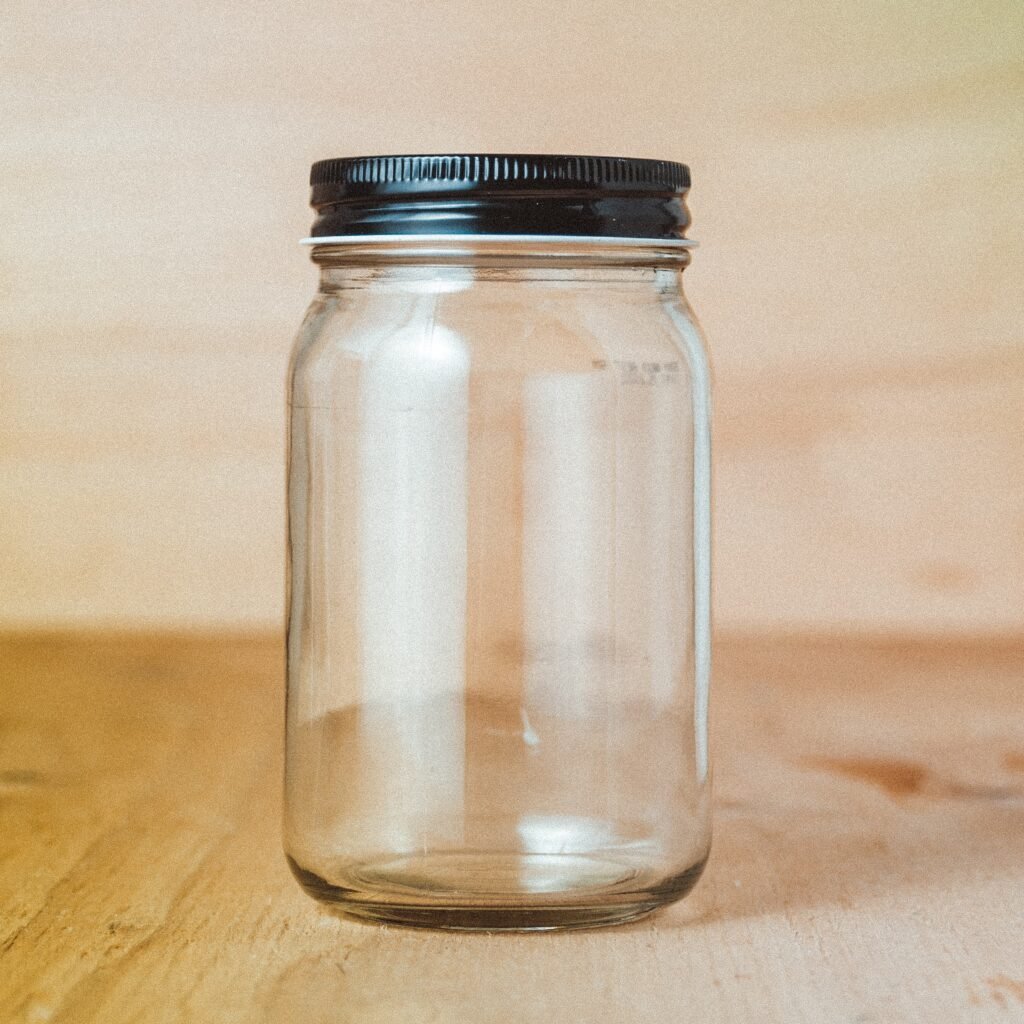 Make Sure Your Cider Is Ready
Before freezing, you will want to make sure your cider has completely cooled to room temperature.
Failing to do this not only means that the cider will take longer to freeze, but if it is overly hot it may also affect the whole climate in the freezer and spoil whatever else you have stored in there.
Pour In The Cider
When the room temperature apple cider is ready, it is time to add it to the containers you plan on using.
Simply pour the liquid into the containers, leaving enough room for it to expand after freezing. To do this, you will want to make sure you only fill the container up about ¾ of the way.
If you do not leave enough room, the contents of the container will spill out once it has frozen which can cause an absolute mess in your freezer.
Nobody wants that.
Add A Label
For proper storage, add a label to your container noting the contents, the date it was added to the freezer, and the date it needs to be removed from the freezer. This will prevent any freezer surprise disasters. You would be surprised how much frozen apple cider can resemble frozen homemade stock!
That is not a mistake I will make twice.
Add To The Freezer
Before adding to the freezer, be sure to double-check that the lid is on tight if you are using a bottle of a freezer container to prevent leaks when the container is in the freezer.
If you are using silicone muffin molds then be sure you have cleared a level surface on which to rest them inside the freezer. I have a small drawer in the top of the freezer I use for this, but if you do not, then you might want to keep them in a small muffin pan to help keep them balanced.
Pop your little containers into the freezer and freeze for about 12-18 months.
If your container is not leakproof, then be sure to leave it sitting upright in the freezer until completely frozen to prevent sticky spills.
Transfer To Freezer Bags
If you have used bottled or freezer containers then you can skip this step.
If you have used an ice cube tray or silicone muffin pan liners, then once the cider is completely frozen you should remove it from the molds and store it in freezer bags, Ziplock bags, or freezer-friendly plastic bags straight away.
This is a great way to save space, and allow you to just grab what you need when you need it.
If you plan on keeping the cider in the freezer for a long time then the best place to store cider would be in the bottom of the freezer where you would find lower temperatures.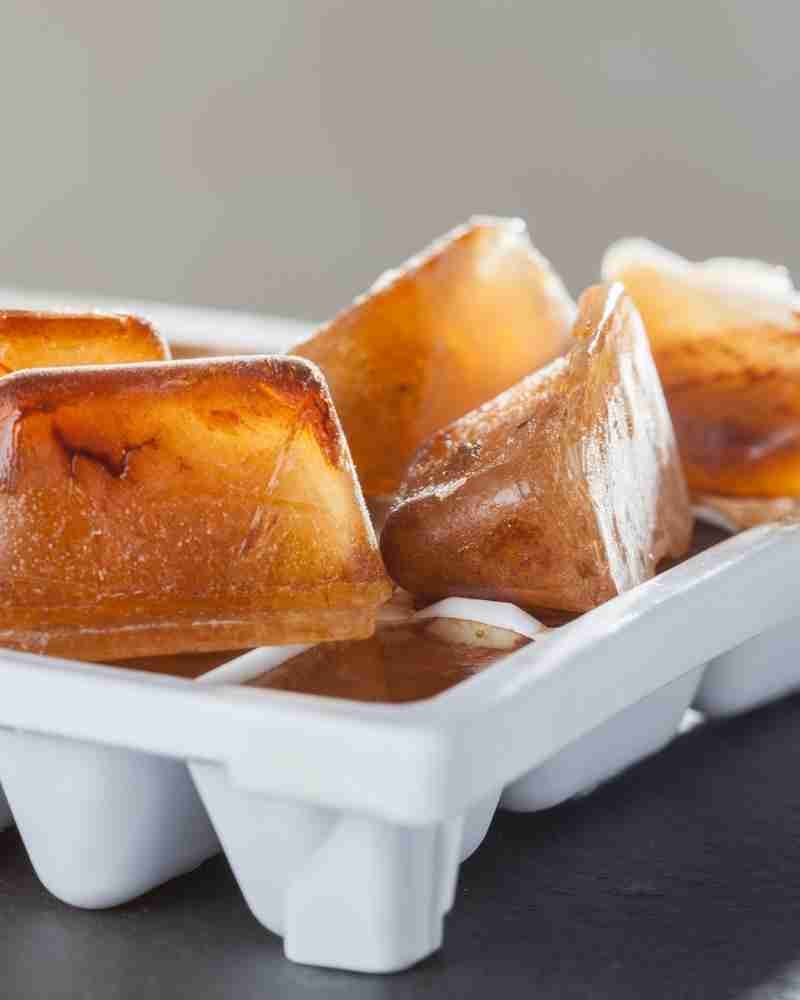 How To Defrost Cider
When it comes time to use your frozen apple cider, simply remove it from the freezer and pop it into a suitably sized bowl.
Put the bowl into the fridge and allow it to defrost completely. How long this will take will depend on how big your container or mold is, but it will likely take a few hours.
You can also use the defrost setting on a microwave oven if you are in a hurry.
Is There A Change To Cider On Defrosting?
There should be no change to the taste, texture, or appearance of cider once it has thawed if it has been stored correctly.
If it has not been stored in an appropriate container or hasn't been properly sealed, it may pick up the flavor of something strong-smelling from the freezer. Keep this in mind when positioning it in the freezer.
TIP: if you are freezing a homemade apple cider with no citrus in the recipe, then be sure to add a squeeze of lemon juice to the cider before freezing to prevent discoloration.
What To Do With Frozen Cider?
There are lots of different ways to use your apple cider once it has been frozen:
blend frozen cider cubes in a high-speed blender to make an ice cider on a warm day;
defrost and heat on the stovetop, add some apple slices, and enjoy a cup of cider as a warming winter drink;
use thawed cider in baking such as muffins and apple pie
use thawed cider to make apple cider vinegar
use in salad dressings
use in smoothies
blend with some ice cream and milk to make an apple pie milkshake
use to add a hit of flavor to an apple sauce for pork chops
Why not add a couple of frozen cider ice cubes to your next apple pie smoothie for an extra hit of flavor?
Frequently Asked Questions
How Long Can You Freeze Apple Cider?
Non-alcoholic apple cider has a shelf life of about 12-18 months.
Can You Refreeze Apple Cider?
No, this is not recommended.
Homemade Apple Cider Recipes
If you are looking for tips on how to freeze apple cider, then chances are you have a large harvest of apples you would like to use and preserve.
The best apple cider is homemade, so why not try one of these simple apple cider recipes and then keep it frozen to enjoy throughout the year: