There are absolutely no special skills required in order for you to have this delicious and creamy edamame and spinach risotto on your table for dinner tonight. If you have an Instant Pot, it can be there in about fifteen minutes, absolute tops. If you don't, then give it at least forty minutes, and a bit more arm-work - it's totally worth it though.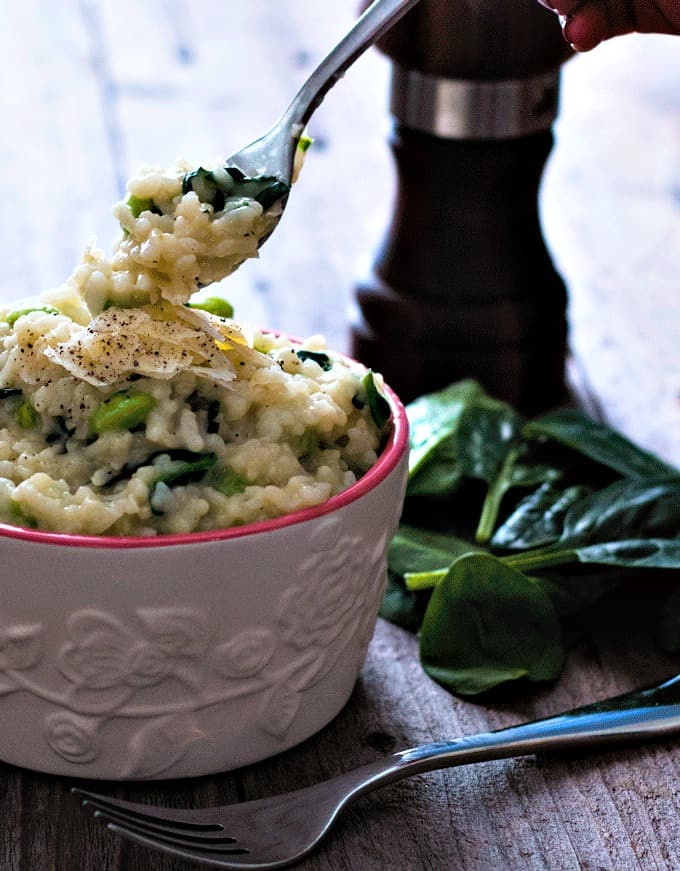 I had a very disappointing risotto at what was supposed to be a lovely Italian restaurant the night before my hubby headed to LA for 'work' (read boys weekend with a quick little work related activity on the side for good measure). Following that, I couldn't get rid of that hankering for a proper, down-to-earth, creamy risotto. I, of course, set to it and made my own over the weekend, and was very pleasantly surprised with how this version turned out.
I usually stick to mushroom risotto, but decided to experiment and came up with this edamame and spinach risotto, and it has definitely made its way into my permanent weeknight rotation recipes.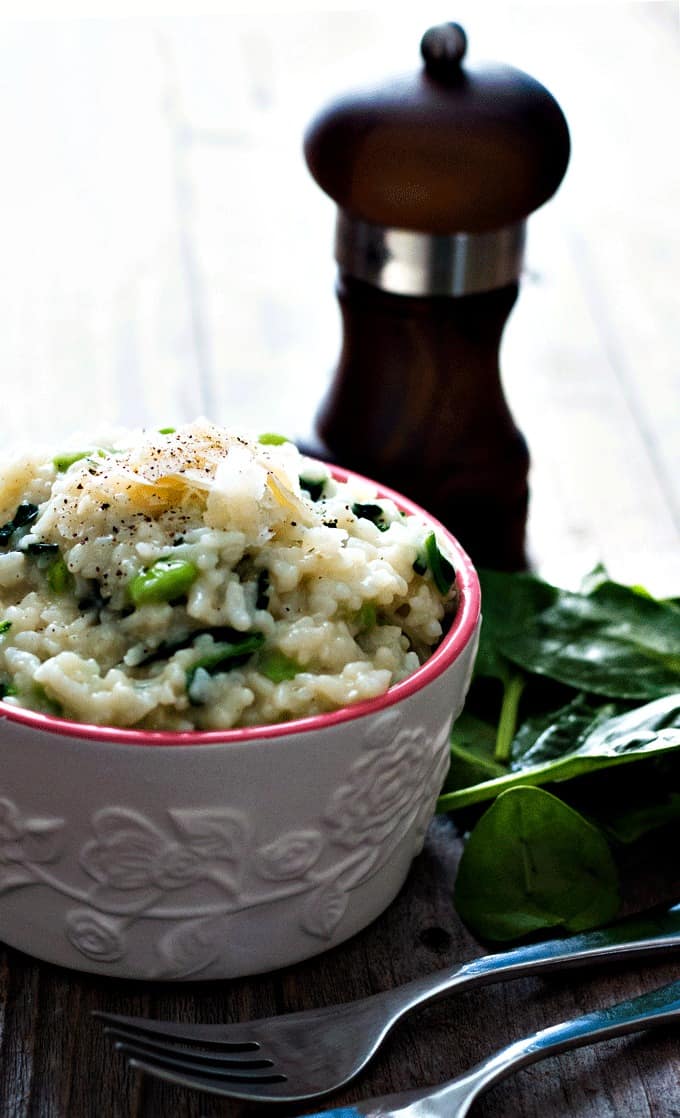 As an added bonus, my Instant Pot arrived that weekend (my long-suffering slow cooker which I have been predicting wouldn't last much longer, see here and here, finally kicked the bucket, so I had a little splurge). This meant I got an added layer of experimentation thrown in there, which was super exciting...we all have to get our kicks from somewhere right 🙂
Risotto is definitely one of my go-to meals when the hubby is away. It's easy, filling, delicious, and the flavour variations are endless. Plus, I can guarantee there will be no battle to get the kids to eat their dinner when risotto is on offer, which is such a huge deal when you are flying solo.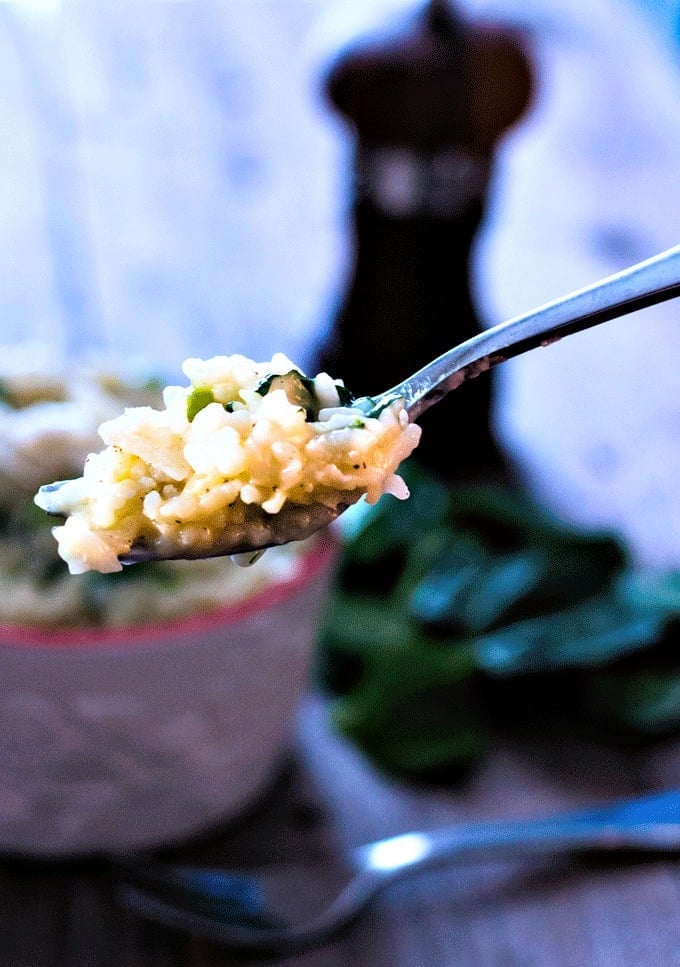 I have included instructions for making this edamame and spinach risotto in both a pressure cooker, and stove top (see the note section for stove stop instructions). Take your pick and let me know how you go. Be sure to leave a comment, like on Facebook, or pin to Pinterest for future inspiration. Happy eating.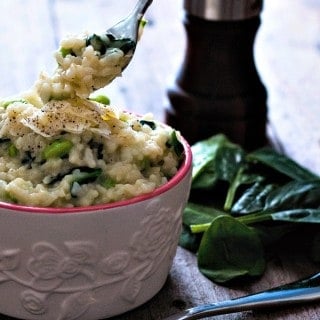 Creamy Edamame and Spinach Risotto
Creamy and delicious and ready to serve in just 15 minutes, this pressure cooker risotto is the perfect dish to have on hand in your arsenal of weeknight winners. If you don't have a pressure cooker, this can be done on the stove top (see notes)
Ingredients
1

tbsp

unsalted butter or cooking oil of choice

2

shallots

finely chopped

3

cloves

garlic

finely minced

2

cups

of Arborio Rice

½

cup

white wine

4 ½

cups

of chicken or vegetable broth

or 1L

½

cup

freshly grated parmesan

1

tbsp

unsalted butter

1

cup

frozen edamame

1

cup

baby spinach

roughly chopped

salt and butter to taste
Instructions
Heat the butter or cooking oil of choice on the sauté setting of your pot. Once hot, add in the shallots, along with a good pinch of salt. Sauté over medium heat for about 5 minutes, until translucent, being sure not to brown the onions

Add the garlic and sauté for about another minute

Add the rice, and stir to coat in the butter and onion mixture

Add the wine, and cook until the liquid has almost all disappeared, about 1 minute

Add 4 cups of the stock (set aside the extra ½ cup). Pop on the pressure cooker lid, bring to high pressure and start your timer for 6 minutes

After 6 minutes, use the quick release valve on your cooker to release the pressure. Remove the lid and add in the extra stock, parmesan, 1 tbsp butter, frozen edamame and chopped spinach. Stir to combine. Add salt and pepper to taste and serve

Garnish with fresh parmesan and finely chopped parsley (optional)

For stove top alternative please see the notes
Notes
To do this on the stove top just follow the instructions, but instead of adding the stock all at once in step 5, add about ½ cup at a time, until the liquid disappears, and then add another ½ cup until all the stock has been used.You may need more stock. After about 30 minutes it should be all cooked, and you can continue from step 6
Nutrition
Calories:
241
kcal
Carbohydrates:
24.4
g
Protein:
14.1
g
Fat:
8.3
g
Saturated Fat:
3.5
g
Cholesterol:
19
mg
Sodium:
330
mg
Fiber:
1.9
g
Sugar:
3
g