For a quick and easy one-pan meal this creamy pesto gnocchi recipe ticks all the boxes. Loaded with basil pesto, sundried tomatoes, spinach, and cream, this meal is super comforting and comes together in less than 20 minutes. Serve with a simple side salad and some fresh crusty baguette for mopping up the pesto sauce and you will be in one pot wonder heaven. Guaranteed to be a new favorite recipe for your family.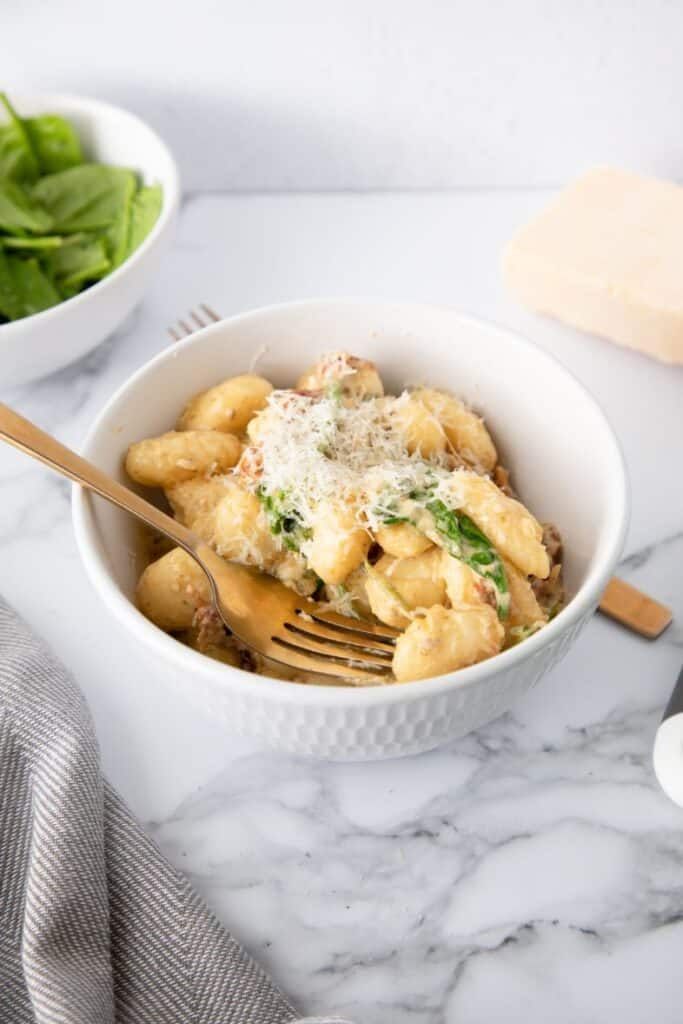 I love the simplicity of shelf-stable gnocchi and use it regularly. Why not try this One Pan Lemon and Garlic Chicken and Gnocchi for your next meal?
Creamy Pesto Gnocchi Recipe
This creamy pesto gnocchi might be a quick and easy meal, but it's packed so full of flavor that you will keep going back for more.
This gnocchi really is incredibly easy. The sauce only takes a few minutes to whip up, and to make things even easier, the gnocchi is cooked in the sauce. Not only does it save time, but cooking the gnocchi in the sauce results in the most amazing thickened sauce that coats the gnocchi perfectly.
This truly is a one-pan meal. No cooking the gnocchi in a separate saucepan, just simmer for a few minutes with the sauce, and dinner is done. Serve with a leafy salad and some crusty bread for a complete meal that everyone will love.
This recipe is:
made in just one pot
able to be made in advance
super easy to make
vegetarian
perfect for lunch the next day
Serve as a main meal as is, or for something a bit heartier add some grilled and sliced chicken breasts, or leftover rotisserie chicken on top before serving.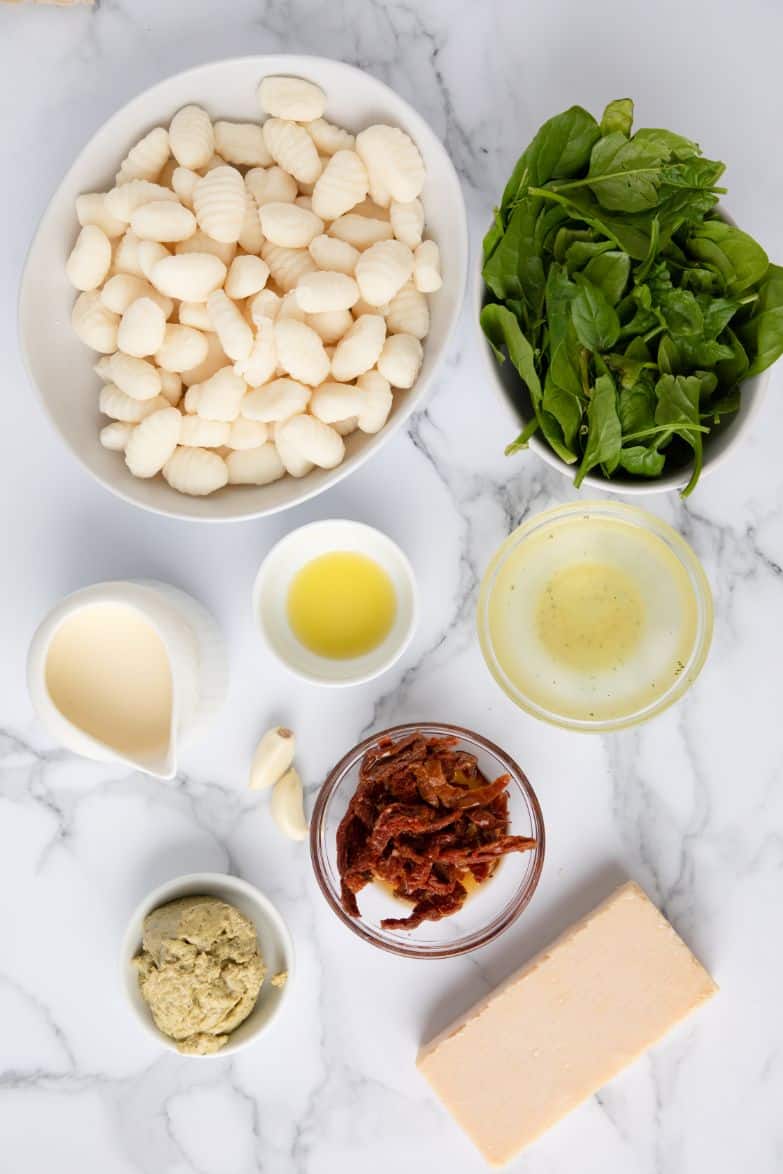 Assembly Instructions
This pesto recipe comes together so easily and requires nothing grand in the way of kitchen skills at all. Use a large skillet to be sure you have enough room for all of the ingredients, and for easy stirring.
A great tip for adding more flavor to the meal is to use the olive oil from the jar of sundried tomatoes to fry the garlic instead of using plain olive oil.
Once the garlic is lovely and fragrant we are simply going to throw in the heavy cream, chicken broth, and pesto and let everything come to a simmer over medium heat.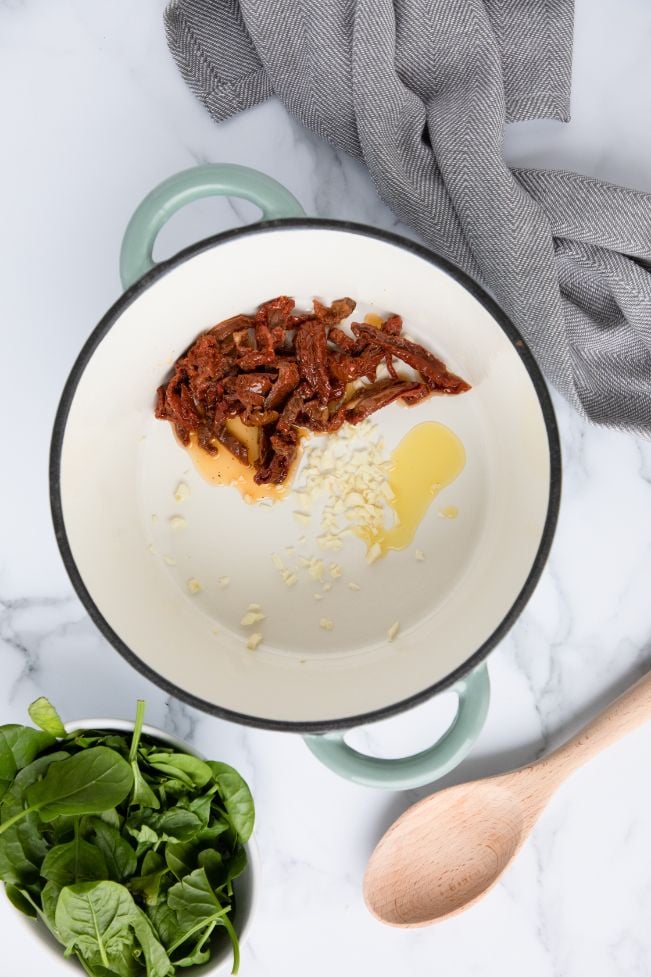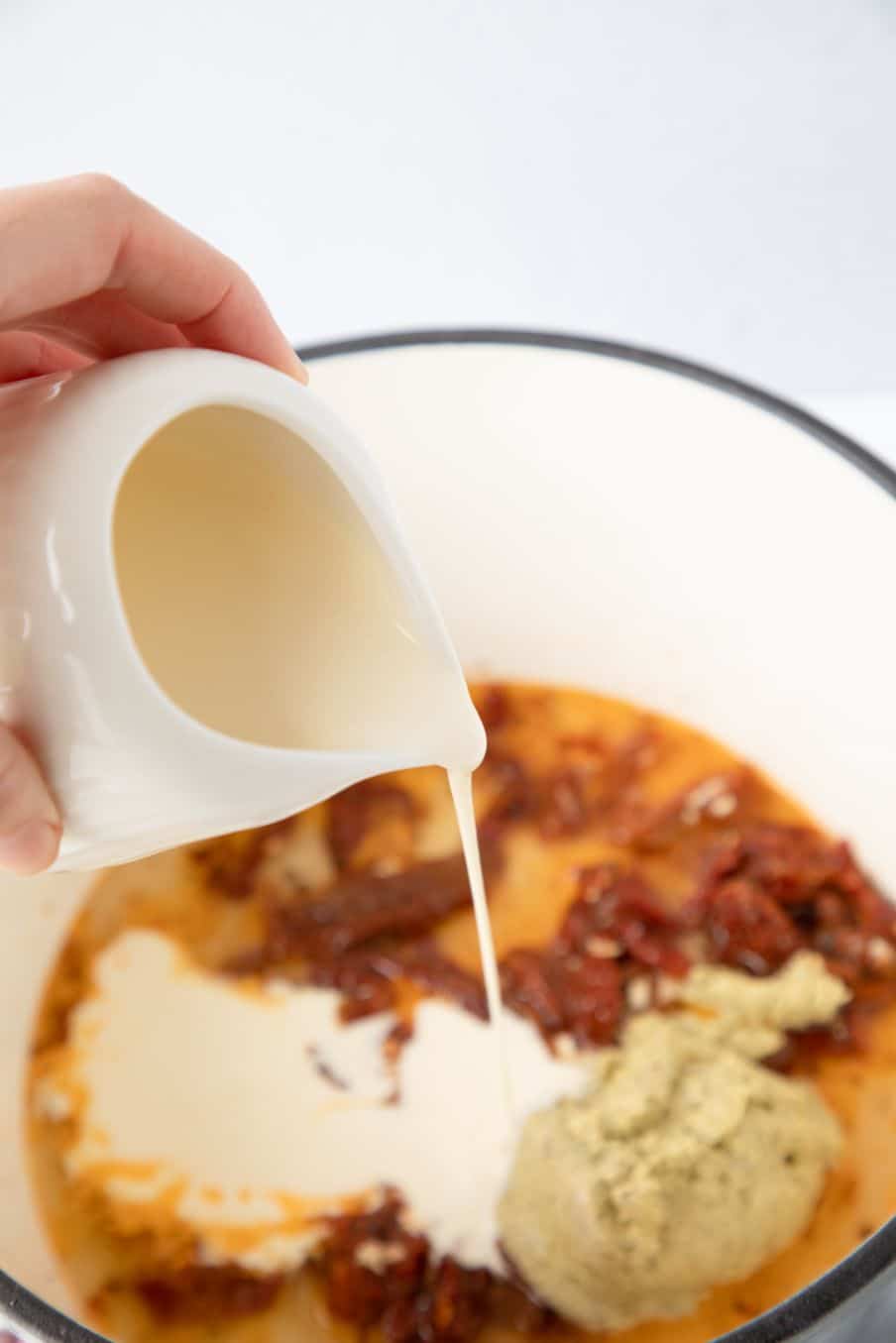 The gnocchi does not have to be cooked prior to being added, and instead cooks in the pesto sauce and actually acts as a sauce thickener when it releases starch upon cooking. It will only take a couple of minutes to cook through.
However, if you prefer to cook the gnocchi beforehand then simply boil a large pot of salted water and cook according to the package instructions. Remove the cooked gnocchi with a slotted spoon to avoid transferring extra water to the creamy basil pesto sauce.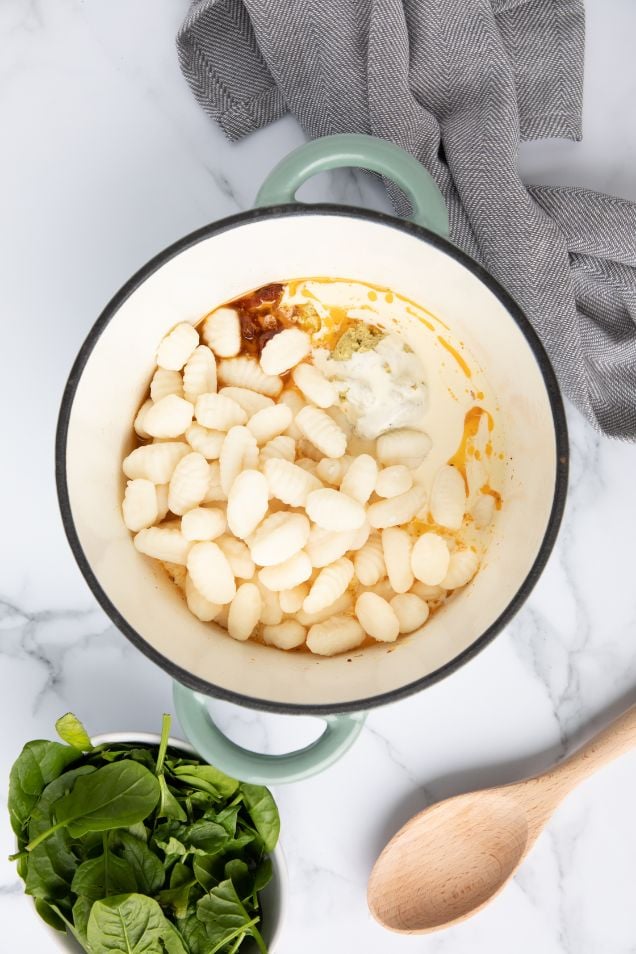 Once everything is cooked through you can go ahead and throw in the baby spinach and half of the parmesan cheese. The spinach will wilt, the cheese will melt, add a dash of freshly ground black pepper and the dish will be perfect.
Use the oil from the jar of sundried tomatoes to fry the garlic and add an extra pop of flavor to the dish.
Be sure to stir gently to avoid breaking up the gnocchi as it cooks.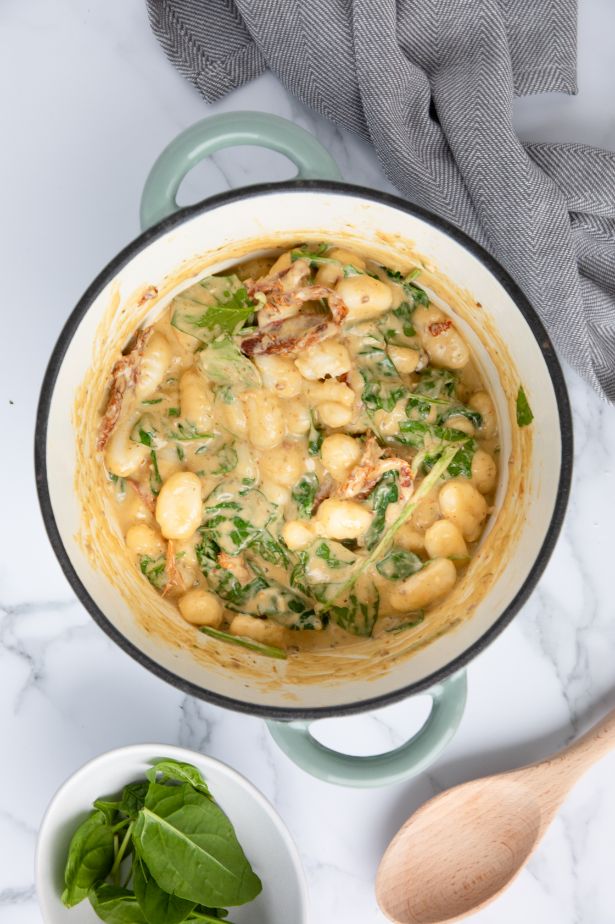 Tips, Tricks, and Substitutions
This really is a super versatile dish that will fast make its way onto your regular recipe rotation.
Why not try changing things up and:
add some cooked and sliced chicken breasts on top
stir through some shredded kale in place of the baby spinach
add some cherry tomatoes, grape tomatoes, or chopped red bell pepper while cooking for a burst of flavor
try using some cauliflower gnocchi in place of potato gnocchi.
Although I do love homemade fresh gnocchi, I would avoid using it in this recipe as it is not likely to hold its shape whilst the gnocchi cooks in the pesto cream sauce.
Instead, stick to shelf-stable gnocchi as that tends to be a lot more hardy. This can usually be found in the pasta aisle of well-stocked grocery stores.
I use a simple homemade basil pesto in this recipe as it is something I always tend to have on hand due to excess greens in the garden. However, store-bought pesto will work just as well.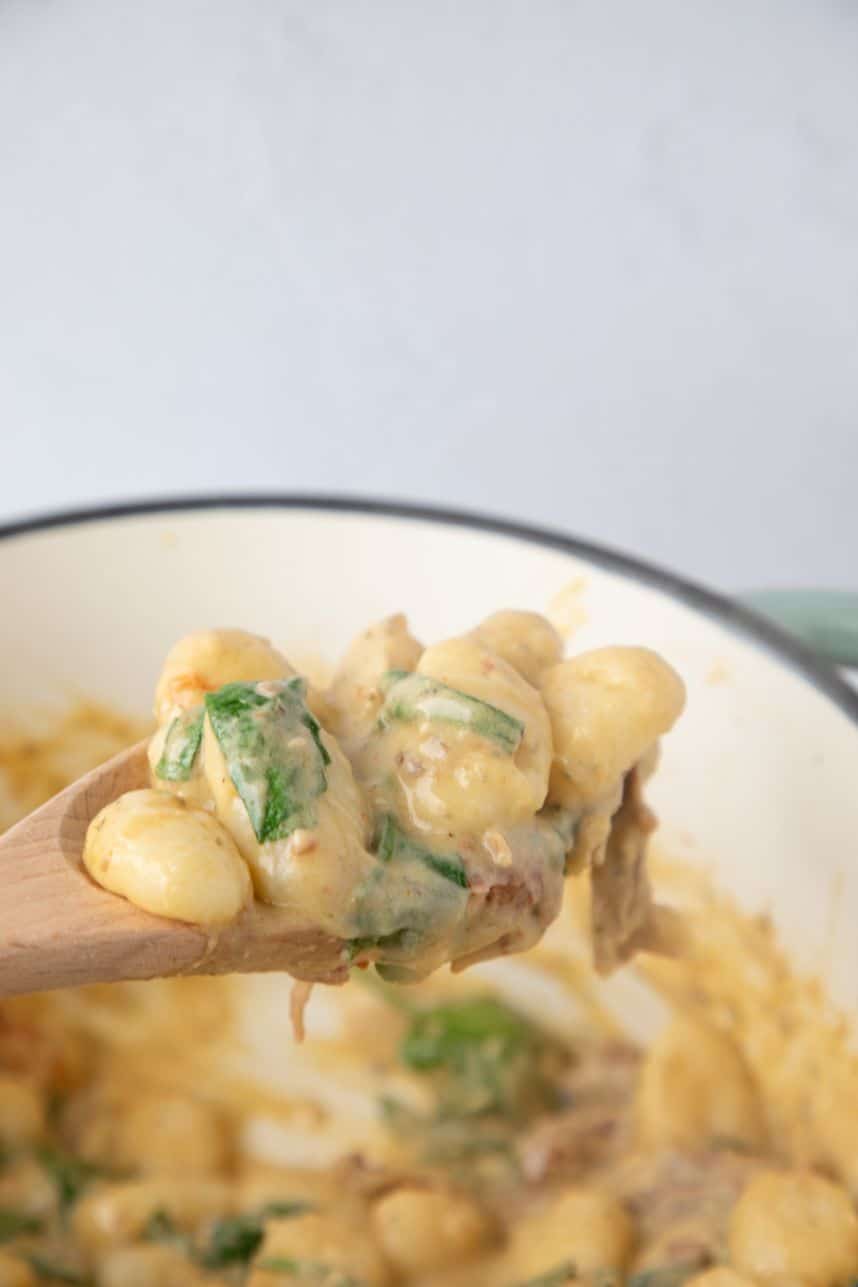 Homemade Pesto Recipes
You could try changing things up and using a different flavor of pesto depending on what you have growing in the garden.
Some of my favorites to make include:
Most homemade pestos will work well in this recipe, and it is always handy to have some on hand for quick meals.
Storing Leftovers and Making Ahead
Leftover pesto gnocchi should be stored in an airtight container in the fridge for up to 2 days.
Simply reheat in the microwave for a minute or two. You may need to add a splash of water to loosen up the sauce, as it can thicken overnight with the starch from the gnocchi.
I tend to find the sauce can become a little bit grainy when reheated due to the gnocchi falling apart a little, so please keep this in mind if textures bother you.
Leftover pesto gnocchi can also be eaten cold.
This recipe is not suitable for freezing.
Note: reheating the leftover gnocchi can cause it to fall apart a little and can lead to the sauce becoming a little grainy.
To make ahead simply make the pesto sauce, allow it to cool completely, and keep stored in a glass container in the fridge for 3-4 days.
When the time comes to serve simply heat the pesto sauce on the stovetop, add the gnocchi and bring everything to a simmer. Follow the rest of the recipe as written.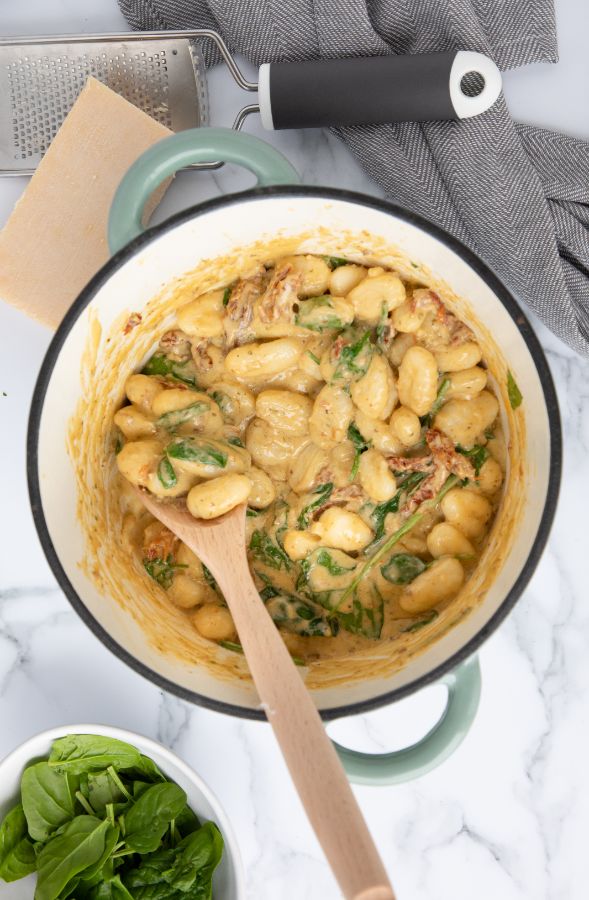 Serving Suggestions
I like to serve my creamy pesto gnocchi with some fresh crunchy baguette for mopping up the sauce, and a side salad of lettuce, tomatoes, cucumber, and red onions for a simple dinner with an extra hit of veggies.
You could also try serving it up:
The sky is your limit when it comes to serving the perfect meal for you and your family on busy weeknights.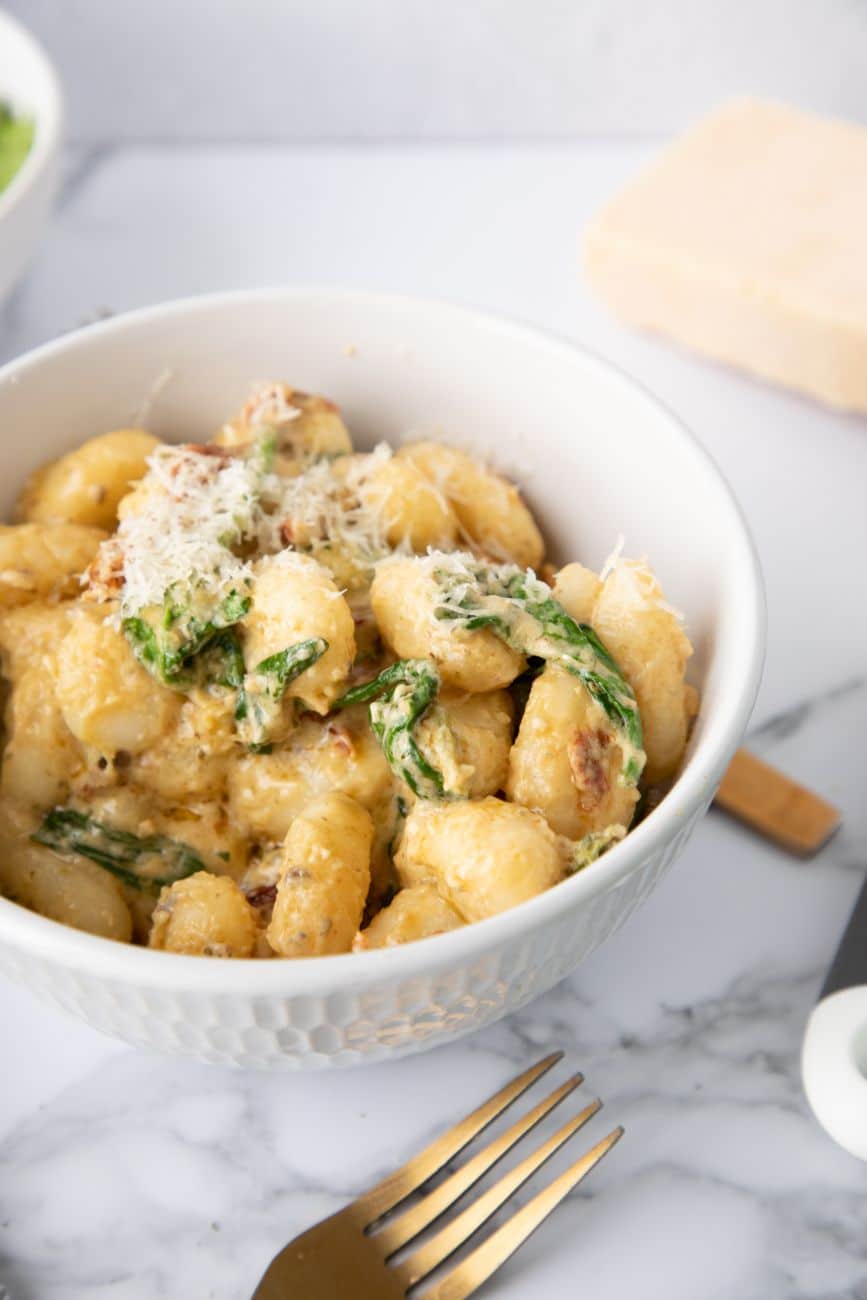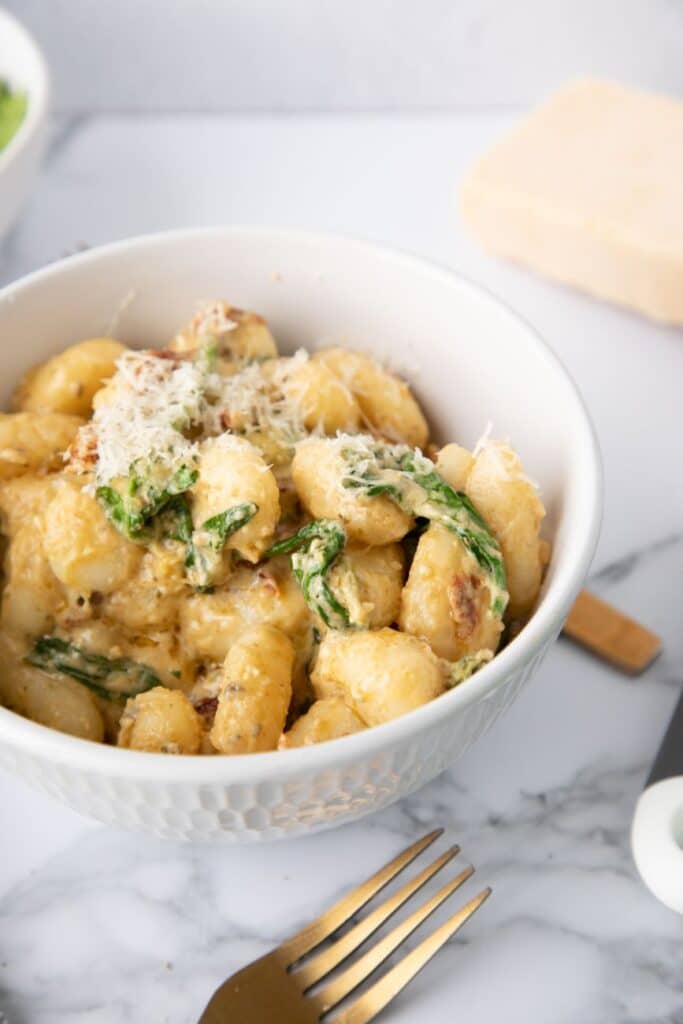 Frequently Asked Questions
What is the creamy pesto sauce made of?
It is a combination of garlic, pesto, cream, chicken broth, sundried tomatoes, and parmesan cheese.
Can I use homemade pesto for this creamy pesto gnocchi recipe?
Yes. Homemade pesto works amazingly in this recipe.
Can you pan fry gnocchi instead of boiling it in the sauce?
Yes. Simply pan fry the gnocchi in a separate saucepan, and spoon the creamy pesto sauce over the top of the fried gnocchi when serving up.
I truly hope you love this tasty meal as much as we do. Be sure to leave a star rating on the recipe card, or comment under the recipe if you enjoyed!
Happy Eating.
xx
Recipe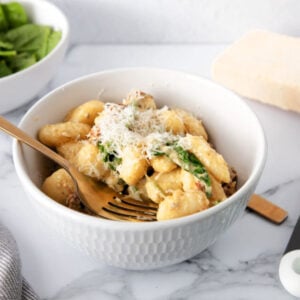 One Pan Creamy Pesto Gnocchi Recipe
This quick and easy one-pan meal is sure to become a family favorite! Coming together in under 20 minutes, this one pan creamy pesto gnocchi is bursting with flavor and packs well for lunch the next day.
Ingredients
1

teaspoon

olive oil

⅓

cup

sundried tomatoes

roughly chopped (see notes)

4

garlic cloves

finely chopped

1

lb

(500g) potato gnocchi

see notes

¾

cup

heavy cream

½

cup

chicken broth

⅓

cup

basil pesto

1

cup

lightly packed baby spinach leaves

½

cup

freshly grated parmesan cheese
Instructions
Heat the olive oil in a saucepan over medium heat. Once hot, add in the garlic and stir until fragrant, about 60 seconds. Add in the sundried tomatoes and stir again. Cook for about 1 minute.

1 teaspoon olive oil,

4 garlic cloves,

⅓ cup sundried tomatoes

Add the cream, chicken broth, and basil pesto, and stir well to combine. Add the gnocchi and bring the whole thing to a simmer. Reduce heat slightly and cook for about 3 minutes, or until the gnocchi is cooked through.

¾ cup heavy cream,

½ cup chicken broth,

⅓ cup basil pesto,

1 lb (500g) potato gnocchi

Remove the pan from the heat and add the spinach leaves and half of the parmesan. Stir to combine until the spinach wilts and the cheese melts.

1 cup lightly packed baby spinach leaves,

½ cup freshly grated parmesan cheese

Divide the gnocchi between bowls, sprinkle with the remaining parmesan and serve.
Notes
Sundried tomatoes
Look for sundried tomatoes stored in oil, not dry sundried tomatoes. Remove them from the oil before using them and roughly chop them.
For extra flavor, use the oil from the jar of sundried tomatoes instead of olive oil to sauté the garlic.
Gnocchi
Use shelf-stable gnocchi and not fresh gnocchi. Fresh gnocchi will likely fall apart whilst cooking in this recipe and is not recommended.
Storing leftovers
Store leftovers in an airtight container in the fridge for about 3 days.
This recipe is not suitable for freezing.
Nutrition
Calories:
505
kcal
Carbohydrates:
50
g
Protein:
13
g
Fat:
29
g
Saturated Fat:
14
g
Polyunsaturated Fat:
1
g
Monounsaturated Fat:
6
g
Cholesterol:
61
mg
Sodium:
915
mg
Potassium:
427
mg
Fiber:
4
g
Sugar:
6
g
Vitamin A:
1955
IU
Vitamin C:
7
mg
Calcium:
258
mg
Iron:
5
mg
Tried this recipe?
Leave a comment HERE and let us know how it was!
The information shown is an estimate provided by an online nutrition calculator. It should not be considered a substitute for a professional nutritionist's advice.