Just like frozen fish fingers, this baked fish finger recipe is a huge hit with the kids (and adults), the only difference being that this one is made from scratch so that you have complete control of the ingredients. A big bonus is that you can make a big batch of these little fishy bites and pop them in the freezer too, making them just as handy as that blue box we all loved growing up.
After seeing how much the kids enjoyed homemade Air Fryer Chicken Nuggets I had to come up with an alternative for frozen fish fingers too so that they could enjoy another one of my favorite foods growing up.
Quick & Easy Baked Fish Finger Recipe From Scratch
Jump to:
Fish fingers are a handy little bite to have on hand during a busy week
Sure you can always buy a box from the freezer section at the store, but if you prefer to have control of the ingredients (how hard is it to find out where the fish comes from in those pre-made versions?!?) then this fish finger recipe from scratch is for you.
Don't worry, the ingredient list is pretty small and simple too!
You are going to need:
Firm white fish: I used Cod for this recipe but there are a few different varieties you can use which are detailed below;

Eggs;

Flour: You can use plain flour, or sub in some gluten-free flour if that is what you need;

Bread crumbs: You can use homemade breadcrumbs that have been toasted in the oven, panko breadcrumbs from the store, or a gluten-free variety, such as Orgran, which can be found in the health food section of well stocked grocery stores;

Paprika: Use plain paprika or switch things up and try using smoked paprika or a bit of a flavor mix with a cajun spice.

You might also want to have some lemon wedges, mayo, sriracha, tartare sauce, or yogurt and lemon on hand for serving.
The Fish
For this recipe, I used Cod as I can find a nice one at my local store.
However any other firm white fish would work.
Try one of these if you find it hard to get your hands on Cod in your area:
Barramundi (I tend to go for this when it is on special as it can tend to be quite expensive as an everyday ingredient);
Snapper;
Dory;
Bream;
Ling;
Tilapia (this is popular in the US but you really need to look at the source etc);
Basa (like Tilapia please look at the source of this fish before purchasing).
I have also used this recipe for salmon when I was able to get it at a good price and it worked really well.
You will want skin off for this recipe, as leaving the skin on can sometimes lead to a tough bite of food when crumbing and baking in this manner.
The Breadcrumbs
You can make your own breadcrumbs and simply toast them to give them a similar crunchy texture like you would find with panko breadcrumbs.
If you are pressed for time, or really don't want to make your own breadcrumbs, then you can usually find some great pre-prepared panko breadcrumbs in the Asian section of the grocery store.
Expert Hint: if you want EXTRA crispy fish fingers then spread the breadcrumbs on the prepared baking tray you plan to use, and toast in the preheated oven for about 3-5 minutes. Allow them to cool completely before using them to coat your fish fingers.
The Flour
Use all-purpose plain flour for this recipe.
You can use white flour, which will give you a flavor more like the traditional pre-prepared frozen fish fingers.
If you prefer, you can always use a wholemeal flour which will give an almost nutty undertone which I love, but you do you.
Why not try adding some finely grated parmesan to the breadcrumb mixture to make the fish fingers a little more fancy?
Assembly Instructions
Once you have a little workstation set up, this fish finger recipe will prove to be super simple!
I have a few tips to make sure you get the best out of your homemade fish fingers made from scratch:
Spray a wire rack with nonstick spray and place over a baking sheet. This step allows the fish fingers to cook all over without the need for you to flip them over while cooking, and the spray stops the fish fingers from sticking to the rack.

Slice the cod fillets into strips similar to what you would find if you bought pre-made fish fingers. Try hard to keep the fish strips equal in size to ensure they all cook evenly.

Set up your dipping station with 3 separate plates. Whisk the eggs and pour onto a plate, mix the flour with the paprika and salt and place on another plate and give the breadcrumbs their own plate as well. Mixing the spices into the flour makes sure they are distributed evenly instead of ending up with little bits here and there.

Using tongs (I love using a couple of pairs of small tongs for this type of cooking as it stops you from getting all of the dipping ingredients stuck to your fingers) dip the fish into the flour mixture, then into the eggs, and finally into the breadcrumbs. Set on the prepared wire rack and then into the oven.

Bake for approximately 15-17 minutes. The cooked fish fingers should be golden all over and the fish should be completely cooked inside.

Use some tongs to move the fish pieces from the flour to the egg and then into the breadcrumbs. This will keep your hands clean and make for a less messy cooking process.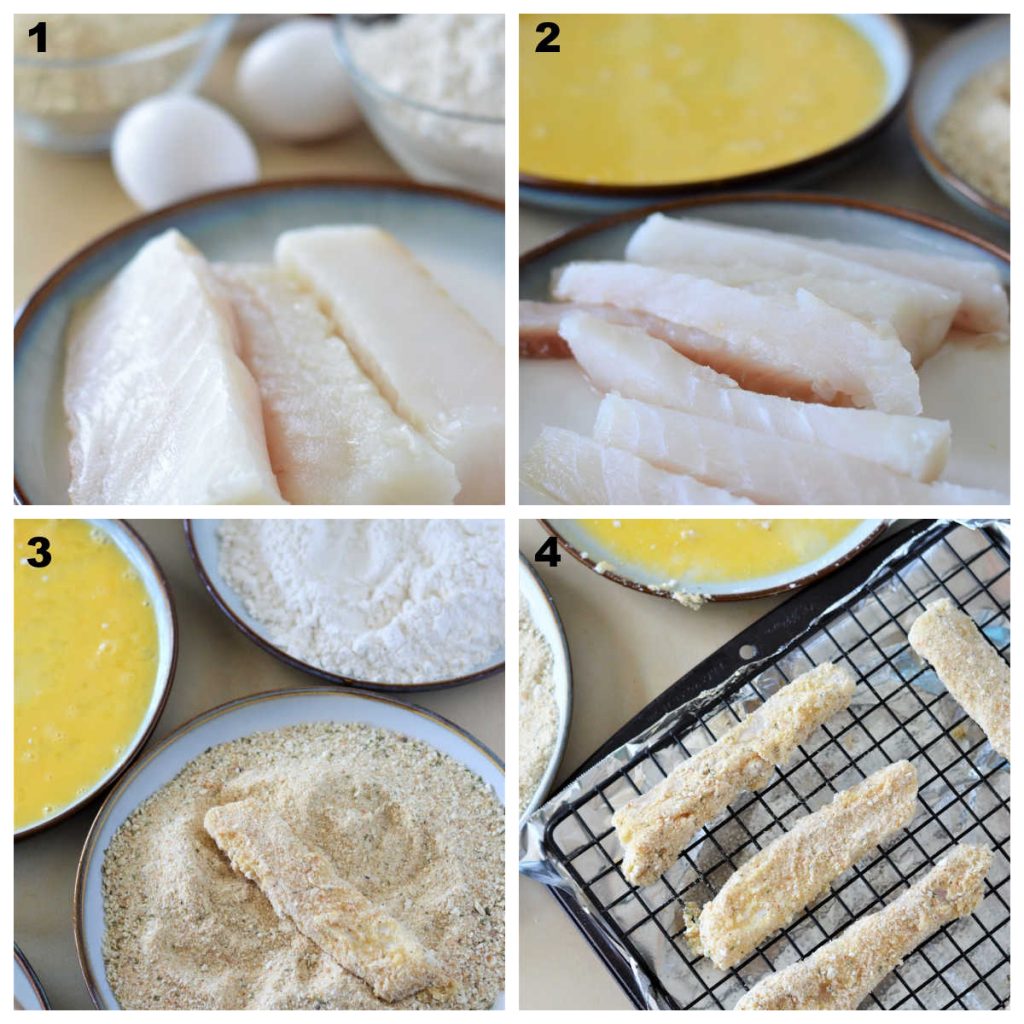 Cooking In The Air Fryer
If you would like to adapt this fish finger recipe for the air fryer then you are in luck.
Simply follow the instructions in the recipe card as is, but cook the fish fingers in the air fryer for 5 minutes before flipping them over and cooking for another 5 minutes.
They should be golden all over.
The air fryer is also great for heating up leftover fish fingers, as it crisps them up on the outside fairly quickly, meaning the fish won't be overcooked on the inside.
Storage Instructions
Homemade fish fingers should be eaten straight away once baked or they can become quite soggy.
If you do find you have a lot of leftovers, then you can store them in an airtight container in the fridge for about 2-3 days, and then crisp them up in the air fryer for about 2 minutes before serving.
If you don't have an air fryer then why not try and use up your leftover fish fingers in one of the serving suggestions below where it doesn't matter if they are crispy?
It is best to eat fish fingers straight away once cooked or they can become soggy.
Can Homemade Fish Fingers Be Frozen
Yes.
Homemade fish fingers can be frozen once they have been completely prepared to the point of coating in breadcrumbs but NOT cooked.
To freeze, arrange the fish fingers in a single layer on a baking sheet small enough to fit into the freezer.
Pop them into the freezer until almost frozen solid.
Once almost solid, remove the fish fingers from the freezer and transfer to a freezer-friendly container or Ziploc bag and pop back into the freezer until ready to use.
Freezing your food in this way stops it from sticking together in the freezer, and makes it easy for you to grab out just the amount you want at any given time.
Cooking From Frozen
Bake your homemade fish fingers from frozen just like you would a box of fish fingers purchased from the store.
Do not thaw before baking or the breadcrumbs may become soggy which no one wants.
Serving Suggestions
Growing up I would have frozen fish fingers heated up in the microwave with some baked beans from a can.
These days I think we can do a wee bit better than that.
Why not try some of these suggestions:
Use the fish fingers to make crispy fish tacos. Pair with some sour cream, guacamole, shredded lettuce and diced tomatoes;
In a sandwich with whatever other sandwich fillings tickle your fancy;
In a wrap with whatever other wrap fillings tickle your fancy. I like pairing mine with some mayo, lettuce and slices of capsicum (bell pepper);
Dip in a nice homemade sauce like Homemade Tartare Sauce or a Confit Garlic and Herb Aioli;
Use in place of crumbed fish in a fish burger with some lettuce, tomato and mayo or tartare;
Pair with some coleslaw;
Pair with some good ol' mashed potatoes or some Easy Smashed Potatoes With Garlic Butter and Rosemary;
Use in a fish finger pie....basically you layer fish fingers in a casserole dish and top with some mashed potatoes, baked beans and/or peas and cheese....this is not something I have tried myself but you go for it!
You may just want some fish fingers and chips, in which case do it!
Need More Quick and Easy Recipes The Whole Family Will Love?
I love making a homemade version of freezer staples.
Try out some of these recipes:
Happy Eating.
xx
Recipe
The information shown is an estimate provided by an online nutrition calculator. It should not be considered a substitute for a professional nutritionist's advice.