This veggie-filled spin on the traditional Pad See Ew sees your plate loaded with rice noodles and spiralized veggie noodles. It is fantastic for all the veggie smugglers out there, or even those just trying to cut back on the carbs, and get some more vegetables into their diet.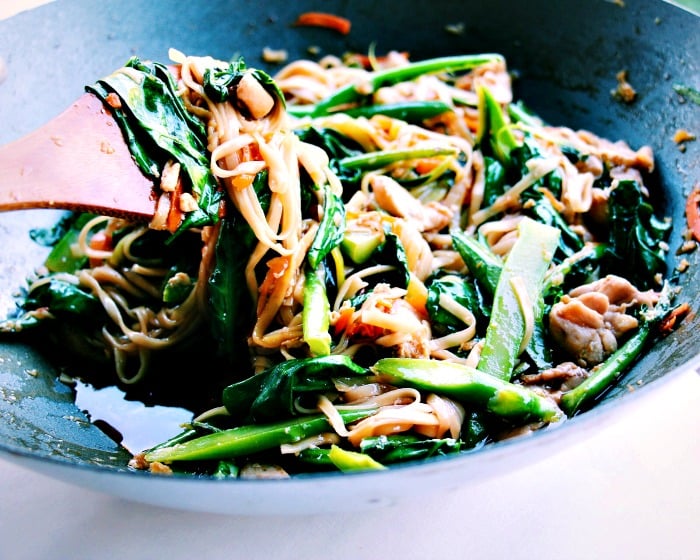 Vegetarian Pad See Ew
Jump to:
These days when a recipe says it is 'loaded' you will be expecting it to be loaded with all sorts of goodness like blue cheese, cream, and bacon.
Here, we are going to go in the totally opposite direction, and instead, load a pad see ew with lots of extra vegetables.
Vegetable noodles to be exact.
I for one am in love with spiralized veggie noodles and have been using them in everything lately.
My kids (and most kids if we are being honest) are in love with normal noodles.
So a combination of both was inevitable, and it works brilliantly.
NOTE: This is not a traditional Pad See Ew that you would find in Thai restaurants. I am not in any way, shape, or form saying that it is. This is a spin on the traditional dish using more veggies and everyday ingredients that are easy to find in the grocery store.
You will need:
flat rice noodles: these can be found in the Asian or International section of most well-stocked grocery stores. They come in dried form and if you are lucky enough to find them you can buy fresh noodles too. Please be mindful that cooking directions will differ greatly between brands and between dried and fresh rice noodles, so please cook the noodles according to package directions;
carrot: choose a carrot that is shaped well for spiralizing;
zucchini: choose an average-sized zucchini that is a good size for spiralizing;
dark soy sauce;
honey or maple syrup: you can use another liquid sweetener of choice if preferred;
vegetarian oyster sauce: this can easily be found alongside soy sauce in the grocery store;
tamari: you can use light soy sauce here if preferred. There are lots of different types of soy sauce so just check how salty it is before adding it to the dish;
white cooking vinegar;
coconut sugar: brown sugar or coconut palm sugar can be used here instead;
avocado oil or other cooking oil of choice;
fresh garlic: fresh is best, but dried garlic or pre-prepared garlic can always be used in a pinch;
egg: choose an average-sized egg;
Chinese broccoli (known as gai lan if buying from your local Asian market): this is becoming more and more widely available in good grocery stores and farmer's markets, however, you can sub in some broccolini or regular broccoli if Chinese broccoli cannot be found.
TIP: want to make a vegan pad see ew? Simply leave out the egg and replace the oyster sauce with vegan oyster sauce or hoisin sauce.
At first glance, this looks like a pretty long list, but other than the Chinese broccoli most ingredients should be stuff you will have on hand if you have a well-stocked pantry and fridge.
Tips, Tricks, and Substitutions
This vegetarian pad see ew recipe is a super quick and easy dish that will work great on a busy weeknight.
TIP: Why not add some crispy tofu strips to change things up?
If you are into veggie smuggling then this is a great dish for you.
Otherwise, it's just a great way to get more veg into your own diet, which can't be a bad thing at all!
Use a large nonstick wok and have all of your ingredients prepped and ready to go before starting to cook, as these pad see ew noodles come together very quickly.
How To Make Vegetable Noodles
You will need a vegetable spiraliser to spiralize the carrot and zucchini.
These can be found in most kitchenware shops or on Amazon.
As we are not spiralizing a lot of vegetables, a handheld device would be fine.
Simply chop the top off the carrot and zucchini so that you have a flat edge to work with. Pop into the top of the vegetable spiralizer and twist until the whole carrot and zucchini have been spiralized.
After spiralizing the carrot and zucchini into noodle-like shapes, they are gently boiled in hot water for 1-2 minutes with the rice stick noodles so that they become soft and slippery like regular noodles and become virtually unnoticeable.
Alternatively, you can leave the vegetable noodles raw, but they will be a lot crunchier, something which I find kids don't tend to enjoy.
Additional Optional Ingredients
Depending on what ingredients you have on hand, you may want to consider adding one or some of the following to your vegetarian pad see ew:
bok choy;
your choice of protein or plant-based protein;
crispy tofu like this Crispy Asian Baked Tofu;
bean sprouts stirred through at the end before serving so that they are just slightly softened;
sriracha sauce for a bit of kick.
Storage and Meal Prep
This vegetable-loaded pad see ew should be served as soon as it is ready.
The heat from the dish will continue to cook the vegetable noodles, so leaving it for too long may lead to soggy vegetables.
Leftovers should be stored in an airtight container in the fridge.
Meal Prep Tips
If you like to have elements of your meal prepped in advance you can:
Make up the sauce and keep stored in a glass jar with a lid in the fridge until needed;
Spiralize the vegetables and keep them stored in an airtight container in the fridge until needed.
Top with some chopped Thai basil before serving and you are good to go.
More dishes using lots of vegetables
We love adding lots of extra veggies to our meals.
If you loved this Thai noodle recipe then please leave a 5-star rating on the recipe card or comment below.
Check out these recipes:
Frequently Asked Questions
What is pad see ew sauce made of?
It is a simple combination of soy sauce (here we use tamari), oyster sauce, vinegar and a touch of sugar to balance everything out.
Is pad see ew healthy?
This version of pad see ew is loaded with lots of extra vegetables, which makes it healthier nutrient-wise than a dish with more noodles added in place of the vegetables.
Happy Eating
xx
Recipe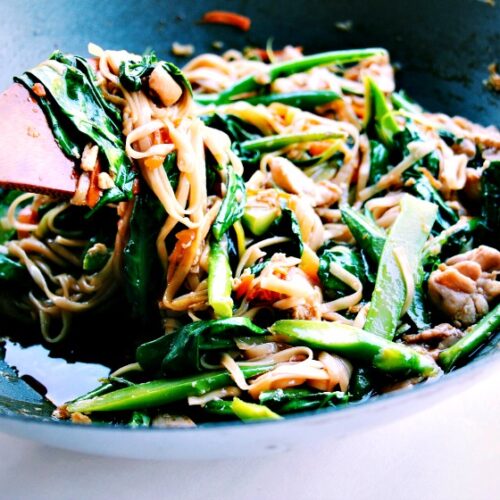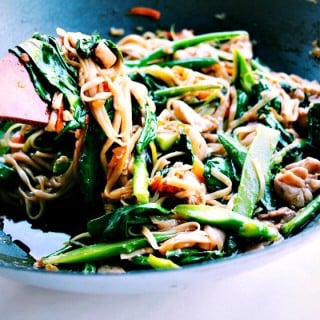 Vegetarian Pad See Ew
This spin on the traditional vegetarian Pad See Ew sees your plate loaded with rice noodles and spiralized veggie noodles. It is fantastic for all the veggie smugglers out there, or even those just trying to cut back on the carbs, and get some more veggies into their diet.
Ingredients
3.5

oz

rice stick noodles

1

large carrot

spiralized into noodle shape

1

large zucchini

spiralized into noodle shape

1 ½

tablespoon

dark soy sauce

1

tablespoon

honey or maple syrup

2

tablespoon

vegetarian oyster sauce

2

tablespoon

tamari

sodium reduced soy sauce

2

teaspoon

white cooking vinegar

2

teaspoon

coconut sugar

2

tablespoon

water

2

tablespoon

avocado oil

2

cloves

garlic

4

cups

Chinese broccoli

leaves separated from stems (stems cut vertically into thin sticks)

1

large egg
Instructions
Prepare noodles according to packet instructions. Add in the spiralized carrots and zucchini and cook with the noodles for the last 1-2 minutes. Drain when ready.

3.5 oz rice stick noodles,

1 large carrot,

1 large zucchini

Combine the sauce ingredients (dark soy sauce, maple syrup, vegetarian oyster sauce, tamari, vinegar, coconut sugar, and water) and set aside.

1 ½ tablespoon dark soy sauce,

1 tablespoon honey or maple syrup,

2 tablespoon vegetarian oyster sauce,

2 tablespoon tamari,

2 teaspoon white cooking vinegar,

2 teaspoon coconut sugar,

2 tablespoon water

Place wok on high heat. Add the oil and garlic. When the garlic starts to turn a golden color, add the Chinese broccoli stems. Stir fry for a minute or so.

2 tablespoon avocado oil,

2 cloves garlic,

4 cups Chinese broccoli

Move the Chinese broccoli to the side, crack the egg in, and scramble. It will stick to the wok, this is fine.

Add the noodles, the Chinese broccoli leaves and the sauce. Mix everything together to ensure the sauce coats everything. Once the leaves start to wilt, turn off the heat and serve.

Enjoy! (I like mine with some chilli sauce, but that's up to you )
Notes
This is obviously not the traditional Pad See Ew - I have not been able to find a clean version of kecap manis, so I have made do with ingredients I am happy to use.
Nutrition
Calories:
256
kcal
Carbohydrates:
34
g
Protein:
13
g
Fat:
8
g
Saturated Fat:
1
g
Polyunsaturated Fat:
1
g
Monounsaturated Fat:
5
g
Trans Fat:
0.01
g
Cholesterol:
41
mg
Sodium:
1235
mg
Potassium:
241
mg
Fiber:
4
g
Sugar:
13
g
Vitamin A:
6880
IU
Vitamin C:
227
mg
Calcium:
196
mg
Iron:
3
mg
Tried this recipe?
Leave a comment HERE and let us know how it was!
The information shown is an estimate provided by an online nutrition calculator. It should not be considered a substitute for a professional nutritionist's advice.