Ok ok, by loaded, I mean loaded with veggies, not some creamy/baconey sauce...but don't leave yet, they are pretty freakin' delicious noodles 🙂
I am in love with spiralized veggie noodles. My kids are in love with normal noodles. So, I decided to combine the two for our favourite make at home thai dish, to see how it would go. It went VERY well thank you!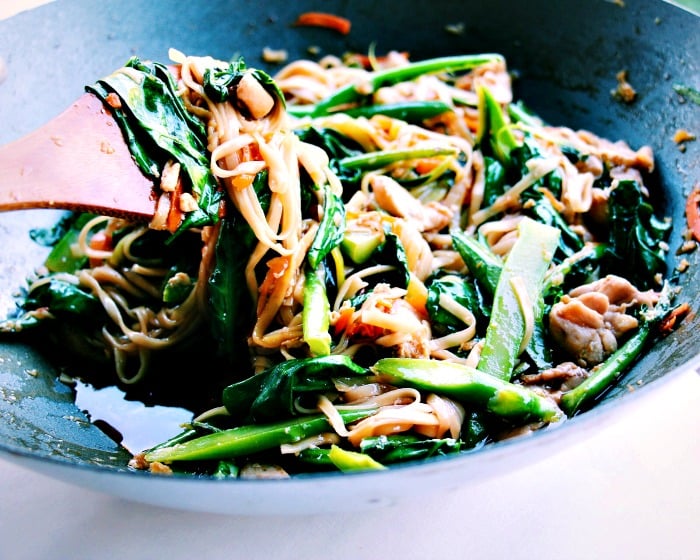 I have tried raw veg noodles with the toddler a few times, and although she will try them (a rule that she actually listens too), they are just too crunchy for her to make a really good go of them. I feel for her. So, for this dish, I boiled the veg noodles up a bit with the regular rice noodles, giving them a similar texture. This meant they were not only eaten - but enjoyed! By everyone (even the 10 month old - although by now I am sure you realise he eats everything, so that's not much of an accomplishment).
This is a super quick and easy dish which will work great on a busy weeknight. I made this version with chicken, but it has worked just as well for me with some tofu or shrimp.
If you are into veggie smuggling then this is a great dish for you 🙂 Otherwise it's just a great way to get more veg into your own diet, which can't be a bad thing at all! This is obviously not a traditional Pad See Ew - I have not been able to find a Kecap Manis (the sauce traditionally used) I am happy with, so I have made do with ingredients I am happy to use. I think it turned out pretty darn good!
For a completely different take on spiralised veggies, check out my Leek Noodles with Hazelnut Oil and Crème Fraîche.
Tried it? I would love to hear from you! Leave a comment, like on Facebook, tweet on twitter or pin to Pinterest for later this week.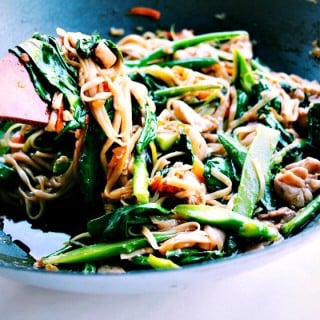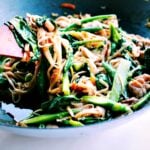 Print Recipe
Loaded Pad See Ew
This healthy spin on the traditional Pad See Ew sees your plate loaded with rice noodles and spiralised veggie noodles. It is fantastic for all the veggie smugglers out there, or even those just trying to cut back on the carbs, and get some more veggies into their diet.
Ingredients
100

g

rice stick noodles

1

large carrot

spiralised into noodle shape

1

large zucchini

spiralised into noodle shape

1 1/2

tbsp

dark soy sauce

1

tbsp

honey or maple syrup

2

tbsp

oyster sauce

2

tbsp

tamari

sodium reduced soy sauce

2

tsp

white cooking vinegar

2

tsp

coconut sugar

2

tbsp

water

2

tbsp

avocado oil

2

cloves

garlic

2

chicken thigh

cut into thin slices

1

large egg

4

cups

Chinese broccoli

leaves separated from stems (stems cut vertically into thin sticks)
Instructions
Prepare noodles according to packet instructions. Add in the spiralised carrots and zucchini and cook with the noodles. Drain when ready.

Combine the sauce ingredients (dark soy sauce, maple syrup, oyster sauce, tamari, vinegar, coconut sugar and water) and set aside

Place wok on high heat. Add the oil and mince the garlic straight in. When the garlic starts to turn a golden colour, add the chicken and Chinese broccoli stems. Stir fry for a minute or so.

Move the chicken and Chinese broccoli to the side, crack the egg in, and scramble. It will stick to the wok, this is fine.

Add the noodles, the Chinese broccoli leaves and the sauce. Mix everything together to ensure the sauce coats everything. Once the leaves start to wilt, turn off the heat and serve.

Enjoy! (I like mine with some chilli sauce, but that's up to you )
Notes
This is obviously not the traditional Pad See Ew - I have not been able to find a clean version of kecap manis, so I have made do with ingredients I am happy to use.
Nutrition
Calories:
301
kcal
|
Carbohydrates:
34.6
g
|
Protein:
16.5
g
|
Fat:
11.7
g
|
Saturated Fat:
2.2
g
|
Cholesterol:
78
mg
|
Fiber:
3.9
g
|
Sugar:
10.3
g