I have been making this Marrakesh Carrot Salad recipe a lot lately, so I thought it fitting to float it to the top of the pile of recipes this week and reminisce a bit. It also got a shiny new pin for the occasion, so be sure to pin away  🙂
This lovely little Marrakesh Carrot Salad recipe is from the new Sprouted Kitchen cookbook from Sara Forte. Her first cookbook is actually what inspired me to look at cooking in a different way! On leaving Australia, I gifted my much-loved The Sprouted Kitchen cookbook to my sister. It was a fitting farewell present as we had made so many great meals from it, and I attach so many lovely memories to that book.
I have been eagerly awaiting the arrival of Bowl and Spoon for so long. As soon as I heard about it I pre-ordered a copy, as eager followers do, and I waited for what seemed like forever for it to get here.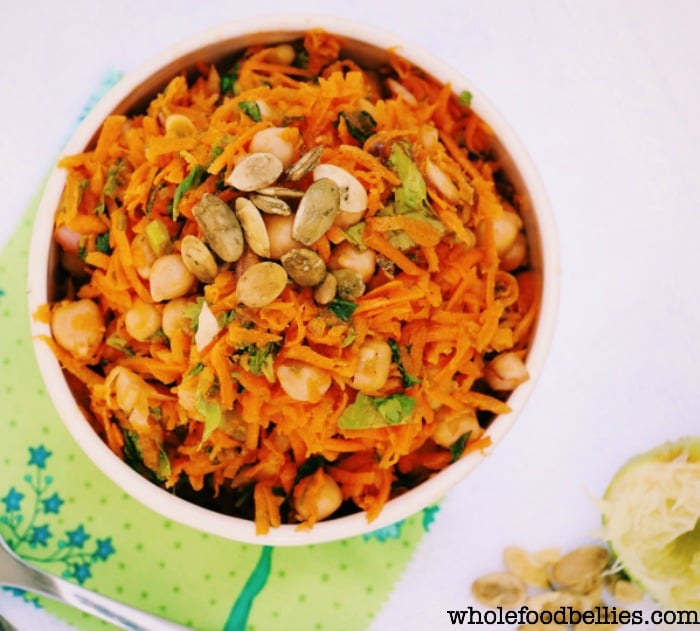 It arrived on a week where my 8 month old was sick and teething. I didn't have the time to give it the attention it deserved (meaning, I didn't have the time to sit on the couch with a glass of wine, and some sticky notes, after the kids were in bed) so it languished on the shelf for what seemed like forever.
Finally, I have had a chance to per-use my sticky notes. Yay! Now, at first glance there aren't as many bookmarked recipes as I had anticipated. Don't get me wrong there are still a heap of recipes dog-marked…it's just that with my last purchase I used nearly a whole ream.
This time, the recipes still look fantastic (her husband Hugh is the photographer, and he is just amazing), but there's a lot of time and effort to be put into them. Time and effort which I just can't afford these days.
The recipes that we have had a chance to try have all been absolutely amazing. So far we have sampled: Coconut Sorbet with Strawberry Rhubarb Sauce, Spring Noodles with Artichokes, Pecorino, and Charred Lemons, Curried Sweet Potato Soup with Crispy Black Lentils and this Marrakesh Carrot salad.
Marrakesh Carrot Salad
I thought I would include the Marrakesh Carrot Salad here, as it is the perfect side for all those upcoming backyard barbecues (hint hint: Memorial Day).  I have brought it along to two different potlucks so far, and it has been very popular. It's also quick and easy to put together, which is a huge bonus.
This is a beautiful cookbook and I still have a total foodie crush on Sara…I just think my priorities have changed since having kids, and I don't have the time needed to invest in a lot of these recipes. One day, when my kids are older, I will try some of the fancier recipes. For now, I will stick to the quick and easy 🙂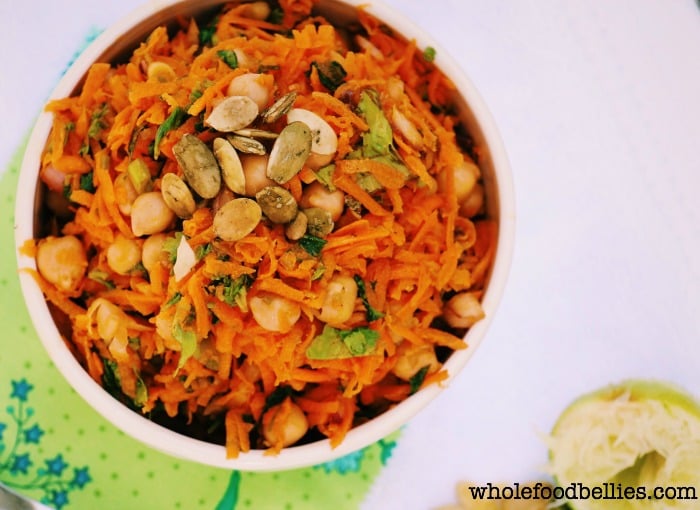 Hope you enjoy!
Are you a fan of the Sprouted Kitchen? What did you think of the new cookbook? Leave a comment, like on Facebook, tweet on Twitter or pin to Pinterest!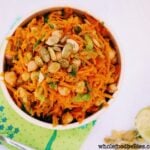 Print Recipe
Marrakesh Carrot Salad
The perfect side dish to a summer barbecue
Ingredients
4

cups

grated carrots

see notes

1

can garbanzo beans rinsed and drained

chickpeas

7

medjool dates

pitted and chopped

1/2

a small red onion

minced

4

green onions

white and light green parts only, finely chopped

1/2

cup

coarsely chopped cilantro

2 1/2

tbsp

extra virgin olive oil

Zest of 1 lime and juice of 2

1/2

tsp

ground cumin

1/4

tsp

ground nutmeg

1/4

tsp

turmeric

1/2

tsp

sea salt

1/2

tsp

freshly ground black pepper

1/2

cup

pumpkin seeds

Crumbled feta cheese for garnish

optional
Instructions
In a large bowl, combine the carrots, garbanzo beans, dates, red onion, green onions and cilantro

In another bowl, whisk together the olive oil, zest and juice of the limes, cumin, nutmeg, turmeric, salt and pepper

Pour the dressing over the carrot salad and toss to coat. Sprinkle on the pumpkin seeds and feta cheese if using. Serve or cover and chill in the fridge until ready to use
Notes
To grate the carrots quickly, use the grating attachment on a food processor
The dates are a lot easier to chop if you pop them in the fridge for a while first
Nutrition
Calories:
429
kcal
|
Carbohydrates:
70.6
g
|
Protein:
11.6
g
|
Fat:
18.4
g
|
Saturated Fat:
3
g
|
Sodium:
90
mg
|
Fiber:
10.4
g
|
Sugar:
36.2
g
I was not asked to do this review. All opinions are my own and I purchased the cookbook myself.