When you need a nice hearty salad that sticks to your ribs and leaves you feeling satisfied then you want a warm winter vegetable salad. Loaded with all the beautiful veggies winter has to offer, roasted to perfection, along with leafy greens, red quinoa and a beautiful creamy dressing, your belly will be in salad heaven. Easy to prep ahead of time for a busy week and packs well for lunch the next day too.
Disclaimer: This post includes affiliate links, and I will earn a commission if you purchase through these links. Please note that I've linked to these products purely because I recommend them and they are from companies I trust and use myself.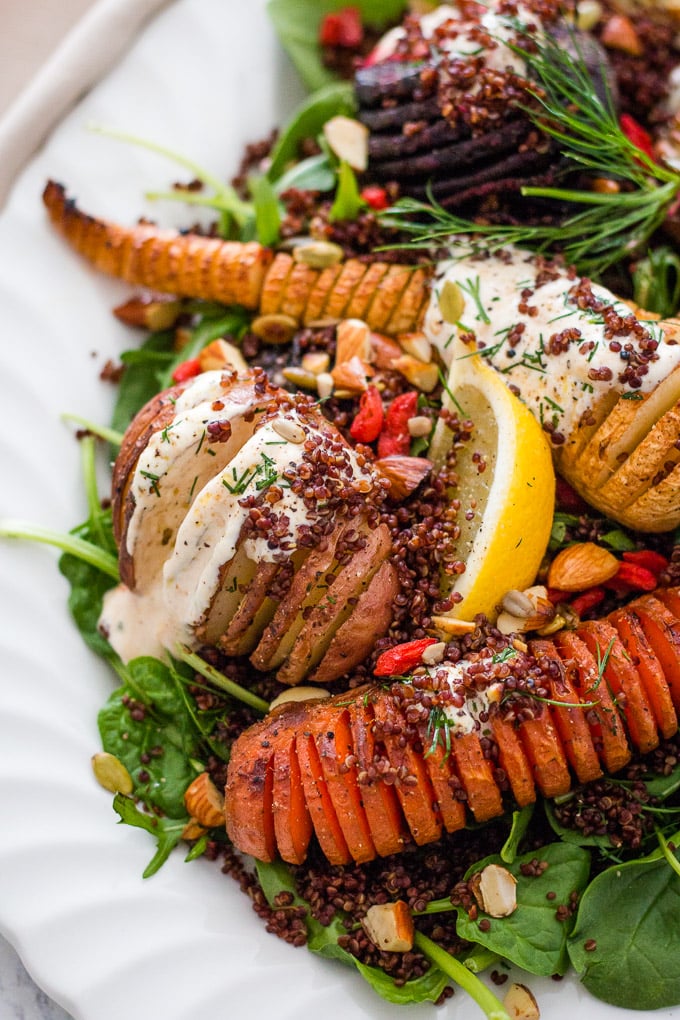 Warm Winter Vegetable Salad
Isn't this salad just gorgeous?
I love gathering all the seasonal winter veggies I can find, and roasting them to perfection before loading them onto a bed of leafy greens, sprinkling with some nuts and seeds and a delicious dressing before getting my munch on.
I Hasselbacked these veggies so they are nice and soft on the inside and a bit crispy on the outside.
It makes for the most perfectly cooked veggies, but if you don't have the extra 10 minutes it takes to Hasselback the veg, then just go on ahead and roast them without that extra step (don't worry it will still taste delicious!)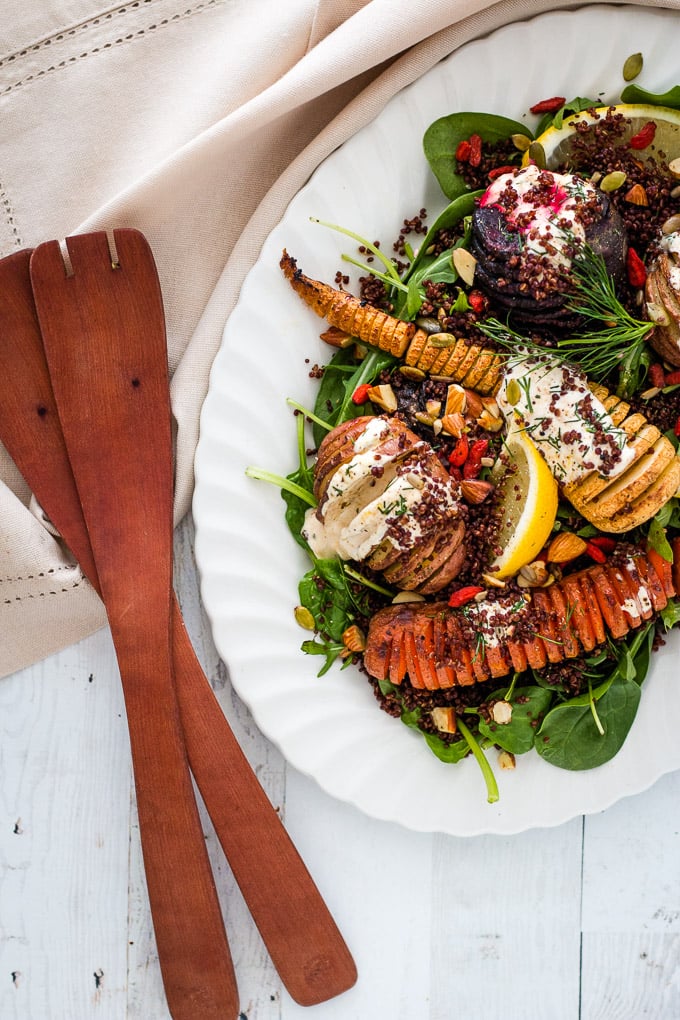 What Veggies Can I Use For A Winter Vegetable Salad?
If you are going to Hasselback the veggies then use whatever root veggies you can get your hands on, I'm thinking:
Potatoes
Carrots
Beets
Parsnip
Turnip
Sweet Potato
Pretty much any solid veggie you can cut slices into without it falling apart.
Brussels sprouts also work here, but I would just add them to the baking sheet along with the other veggies, don't try and Hasselback them as it just won't work.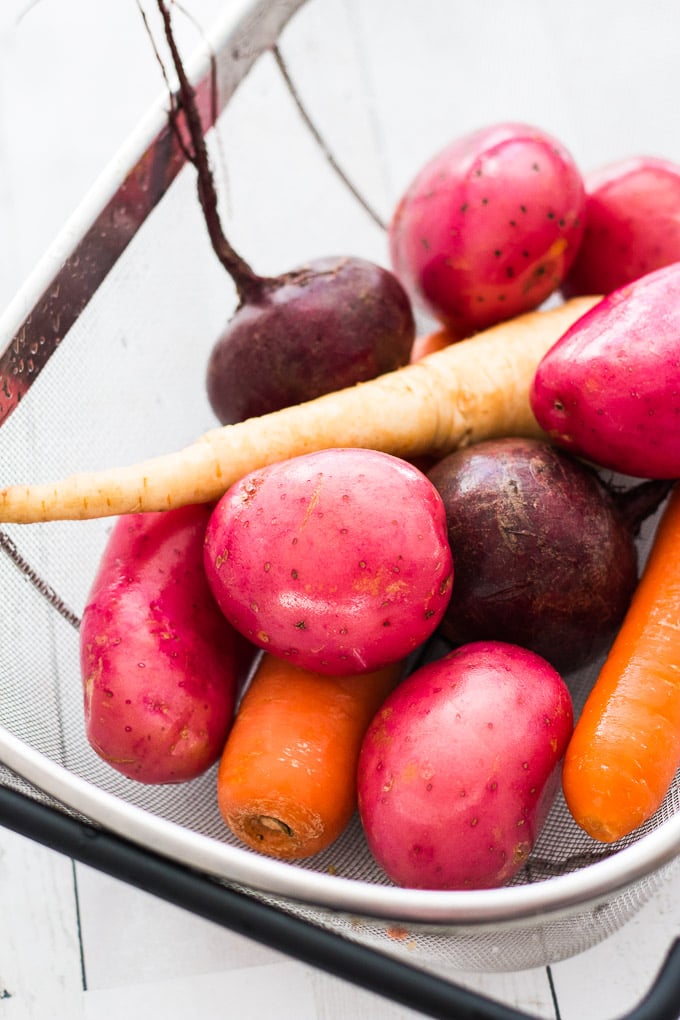 Now For The Toppings (They Make A Salad Don't You Know!)
This is always my favourite part.
Adding toppings to a salad makes the difference between something that looks ok and something that makes people say 'wow, did you actually make that?'
It may look a little impractical but trust me, these toppings make a warm winter salad even more amazing.
I like to load on some:
Goji berries
Almonds (hazelnuts or walnuts would work here as well if that is what you have on hand)
Pumpkin seeds
Sunflower seeds
Cooked red quinoa (or normal quinoa if that is what you have - don't go out and buy red quinoa especially. It is delicious and gives the dish a great color, but normal quinoa works just as well. I promise)
Go to town and add what you like in a salad. Don't be afraid to make substitutions, if you don't tend to have quinoa in the cupboard then use some other grain instead: black rice, barley or farro would work great in a warm vegetable salad.
If you do want to venture out and try some red quinoa for something new then you should be able to find it in the health food section of your grocery store. Otherwise bulk bin stores will have it or you can always grab some from Amazon here:
Can This Salad Be Made Ahead Of Time?
If you want to serve it warm it works best if you serve it straight away once the veggies are cooked.
Alternatively, you can always cook the veggies and then give them a quick warm-up under the broiler or in an air fryer right before cooking.
Otherwise, a winter vegetable salad works just as well served cold, which makes it a great salad to serve for lunch the next day. Personally, I would try and keep the dressing separate until serving just to make sure the veggies don't get soggy, but it's not a big deal if you don't.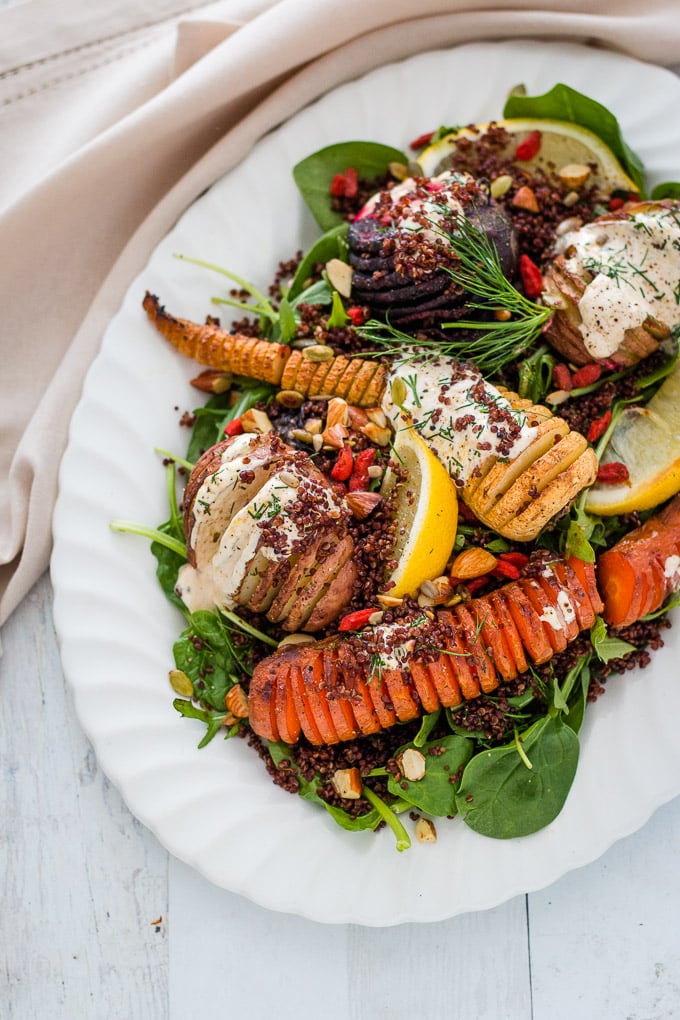 I Have Tried The Warm Winter Vegetable Salad, Now I Need Something Else.
Of course you do, salads are amazing (especially when you realise they don't have to just be iceberg lettuce and chopped tomatoes).
Try these salads on for size, they are firm favourites in this house: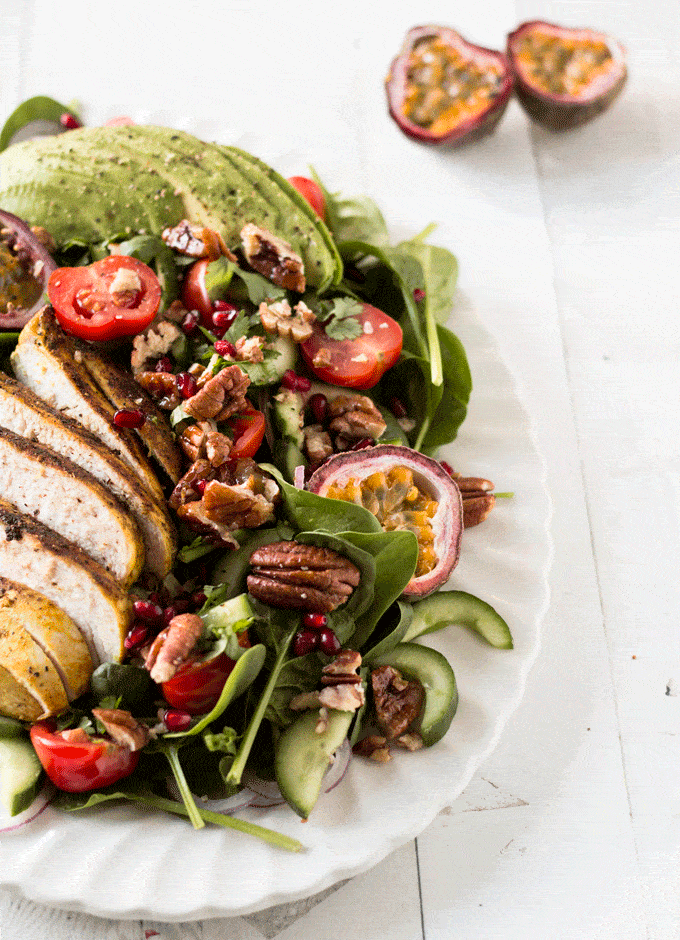 Be sure to pop back and leave a comment when you try this warm winter vegetable salad, I love hearing from you.
Happy eating.
xx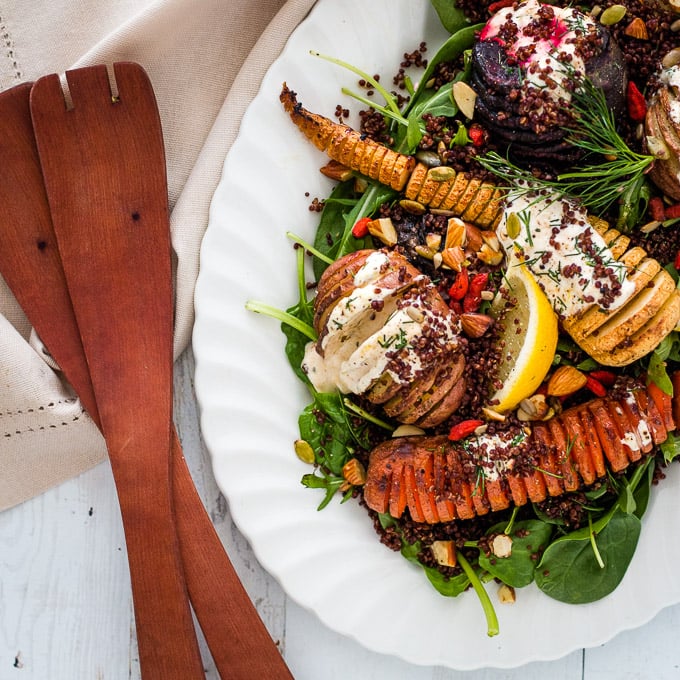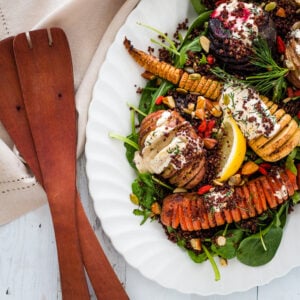 Warm Winter Vegetable Salad
Ingredients
4

potatoes

2

large carrots

2

beets

1

parsnip

1

whole head of garlic

separated and peeled

1

lemon

cut into wedges

2

tbsp

olive oil

2

tbsp

apple cider vinegar

1

cup

natural plain yoghurt

2

tbsp

dill

chopped

3

cups

baby spinach

1

cup

dry red quinoa

cooked according to package instructions

¼

cup

goji berries

¼

cup

chopped almonds

¼

cup

pumpkin seeds

¼

cup

sunflower seeds
Instructions
Preheat the oven to 350F (180C)

Wash the vegetables and then carefully slice each one at similar intervals (½cm/1/5inch) the whole way along. Use chopsticks or wooden spoons on either side of the vegetable to make sure you don't cut the whole way through. Once sliced, place on a large baking sheet.

Squash the garlic cloves and scatter them on the baking sheet with the veg.

Drizzle 2 tbsp of olive oil over the veggies, making sure it gets into the cuts. Season with salt and pepper and roast for about an hour, until the veggies are tender.

Remove the tray from the oven, pick out the garlic and lemon and put aside to cool down. Sprinkle the rest of the veg with the apple cider vinegar and pop back into the oven for about 10 minutes until crispy.

Combine the garlic and yoghurt in a small bowl, squeeze in the lemon from the cooked wedges and add in the dill. Give it all a good stir and season to taste.

Arrange the baby spinach on a large platter plate. Top with the cooked veggies, followed by the cooked quinoa, goji berries, almonds, pumpkin and sunflower seeds.

Drizzle the yoghurt mix over the warm winter vegetable salad and serve.
Notes
Substitute whatever nuts and seeds you have on hand. Walnuts and hazelnuts work well here, as do hemp and flax seeds. 
Nutrition
Calories:
385
kcal
Carbohydrates:
52
g
Protein:
14
g
Fat:
15
g
Saturated Fat:
2
g
Cholesterol:
5
mg
Sodium:
86
mg
Potassium:
1268
mg
Fiber:
10
g
Sugar:
7
g
Vitamin A:
4863
IU
Vitamin C:
37
mg
Calcium:
165
mg
Iron:
8
mg
The information shown is an estimate provided by an online nutrition calculator. It should not be considered a substitute for a professional nutritionist's advice.
Don't forget to follow Whole Food Bellies on Pinterest for more recipe inspiration! Or if Pinterest isn't your style, bookmark this post! Let's keep the conversation going- join my Facebook group!