Raw Coconut Matcha Fudge Bites are not your typical fudge, in fact they are not fudge at all 😛  but they taste fudgie, so I am going with it! If you are at all savvy with the whole food world, you will know that matcha green tea is all the rage right now. Seriously, people are putting matcha in everything! I, on the other hand, had only a vague awareness of what it was until a couple of months ago.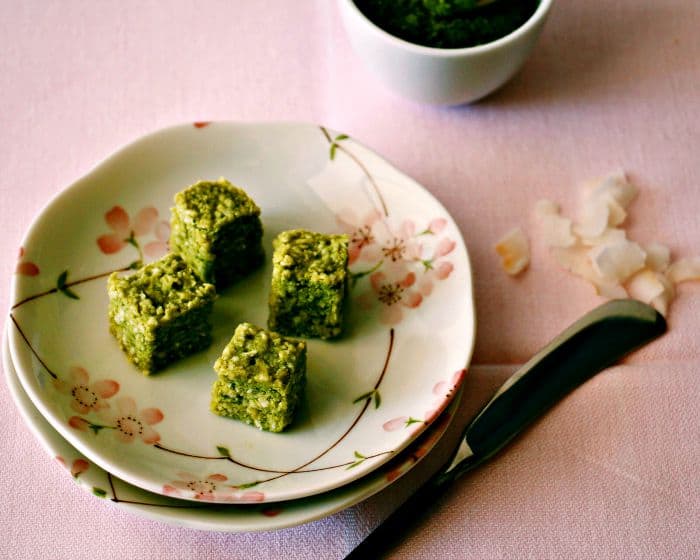 Since becoming privy to the greatness that is matcha, I tried resisting the urge to jump on that bandwagon...But if you have looked around the blog at all, you will know that clearly I have succumbed.
I joined a new book club, and they had their first meeting in this little hipster cafe, which boasted no less than 5 matcha flavoured concoctions. Being super excited about being in the real world for an hour by myself, I decided to channel my inner cool-girl (she is very well hidden) and try one of these delicacies. I had a simple Matcha Latte (which I have since recreated at home, and is now my new energy-boosting best friend) sweetened with honey, and oh so comforting.
Now I am a lover. And I too add it to everything (sorry). Including these delicious little raw coconut bites.
Have you bought into the matcha craze yet? What do you think? I would love to hear about some of the ways you use it in your everyday recipes! Happy eating.
Raw Coconut Matcha Fudge
No baking required. Just give a quick pulse in the food processor, pop into a little container and then the fridge for an hour and you have a great little energy boosting fudgey bite to keep you going on your merry way
Instructions
Pop all of the ingredients into a food processor and pulse until just combined

Press into a small square dish (I just used a little pyrex dish), lined with plastic-wrap and pop into the fridge for an hour, or the freezer for 15 mins

Remove from the fridge/freezer and cut into little bitesize squares. Enjoy

Store in an airtight container in the fridge or freezer. If you like your fudge gooey, remove and let sit for about 10 minutes before enjoying
Nutrition
Serving:
1
piece
Calories:
177
kcal
Carbohydrates:
10
g
Protein:
1.4
g
Fat:
15.4
g
Saturated Fat:
13.9
g
Sodium:
19
mg
Fiber:
2.8
g
Sugar:
4.3
g