Loaded tater tots with a difference, these brussels sprouts tots make the perfect snack, dinner, lunch box addition, or game day appetizer. They are also just perfect for preparing ahead of time, and popping into the oven as guests arrive, for a quick and easy appetizer or finger food. Vegan, egg-free, and loaded with lots of flavor, these are the perfect vehicle for getting lots of veg and goodness into your body. A great little one-handed snack for adults and kids alike.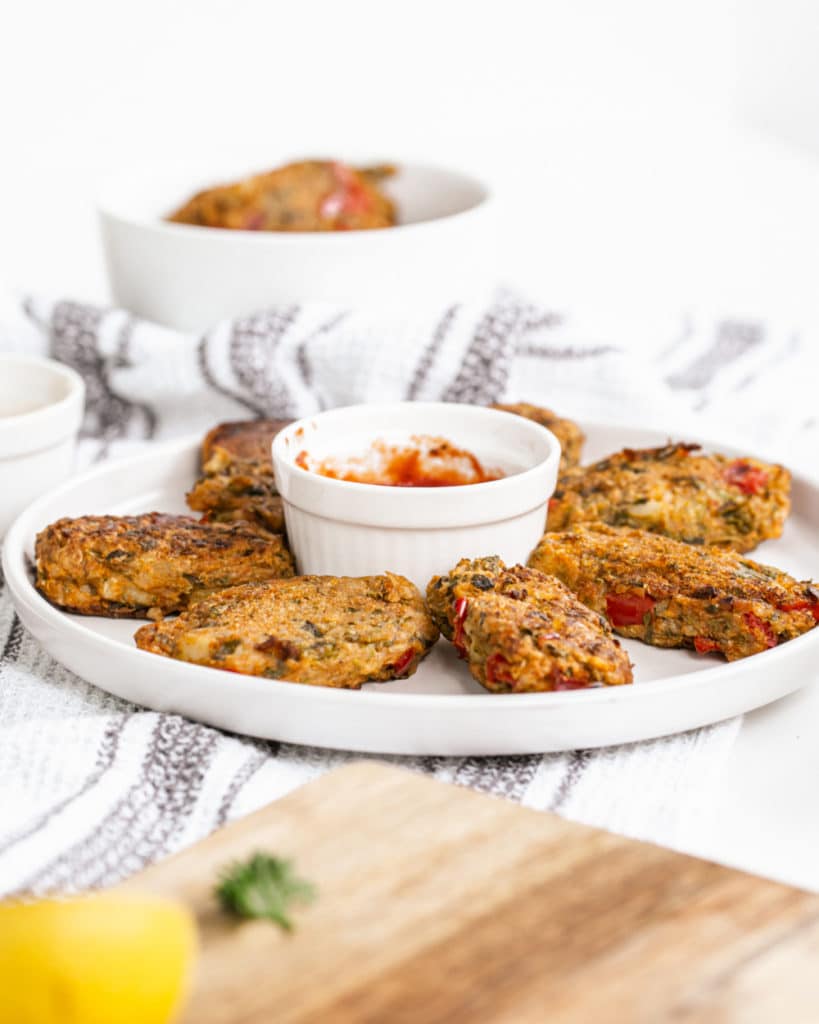 Brussels Sprouts Veggie Loaded Tater Tots
These veggie loaded tater tots are going to change how you view the humble tater tot from now on.
I mean, why have just potato, when you can also load some shaved brussels sprouts, finely chopped bell pepper, and spring onions in there too?
It just makes sense.
So let's do it.
You are going to need:
potatoes (pick a variety that is good for mashing - see below)
brussels sprouts
garlic
spring onions
red bell pepper
smoked paprika
olive oil
Salt and pepper
A Note On Potatoes
You want to choose a potato that is good for mashing, as we aren't using eggs or flour, so the potato is going to be the main ingredient that holds everything else together.
A potato that is higher in starch works well, such as:
russet (this is my potato of choice when making tater tots)
yukon gold
Dutch cream
desiree
The creamier the flesh of the potato is when mashed, the better.
Make sure you cut the potato into evenly-sized cubes that are not too small.
If they are too small they will take in a lot of water when cooking and you will end up with a watery mashed potato that will not hold together well.
If they do become watery you can save the mixture by adding some flour, one teaspoon at a time, until the mixture becomes thick enough to hold itself together.
How To Make Veggie Tater Tots
Once you get going, these veggie tots are pretty easy to make.
You will need to:
Chop potatoes and boil until soft. Mash once cooked.
Chop the spring onions and bell peppers finely and sauté with the garlic.
Wash and grate the brussels sprouts. 
Mix together the warm mashed potato with the grated brussels sprouts, and sautéed veggies (it is important to do this while the potatoes are still warm as they are a lot easier to work with)
Stir with your hand until everything is well combined.
Pre-heat oven to 350F.
Using wet hands, shape the tater tots and place them in an oiled baking sheet.
Bake them for 20 minutes on one side, or until they get a bit brown and crispy on the edges, flip and cook for another 10 minutes on the other side.
You want to make your vegetable loaded tater tots as similar in size as you can so that they all cook evenly.
A note on Brussels sprouts
The reason I like to use brussels sprouts here instead of another leafy green is that brussels sprouts do not hold a lot of excess water, so there is no need to worry about squeezing out that liquid before using.
If you decide to replace brussels sprouts with something like cabbage, you will need to salt the cabbage and squeeze out excess water before mixing with the other ingredients and shaping into tater tots.
Freezing, Meal Prepping, and Storage For Your Loaded Tater Tots
These tots can easily be made ahead of time and simply reheated the next day or when needed.
How To Reheat
I find they reheat best in an air-fryer, as it makes them crisp up nicely on the outside.
However, if you do not have an air-fryer you can always re-heat the tater tots in the microwave, however they will not retain crunchiness.
They can also be reheated in the oven. Simply brush with some olive oil and pop into a hot oven for about 7 minutes, or until heated through.
How To Freeze
These loaded tater tots also freeze well, which makes them just perfect for meal prepping.
Simply prepare as per instructions, allow the tots to cool completely once cooked, and then freeze.
To freeze, arrange the tater tots in a single layer on a baking sheet small enough to fit into the freezer. Pop into the freezer. Remove when frozen and transfer to a freezer-friendly container or Ziploc bag and pop back into the freezer until ready to use.
To serve, simply remove from the freezer, brush with a little bit of olive oil and bake in the oven for about 15-20 minutes, or until heated through.
What To Serve With Your Veggie Tots
Brussels sprouts veggie loaded tater tots are really good on their own with a little sprinkle of salt on top.
However, if you want to change things up you can always try them with:
chipotle aioli
paprika spiced mayo
ketchup
blue cheese sauce (hello game day appetizer!)
If you have some leftovers they work perfectly if you roughly chop them and throw them into a salad for a bit of texture.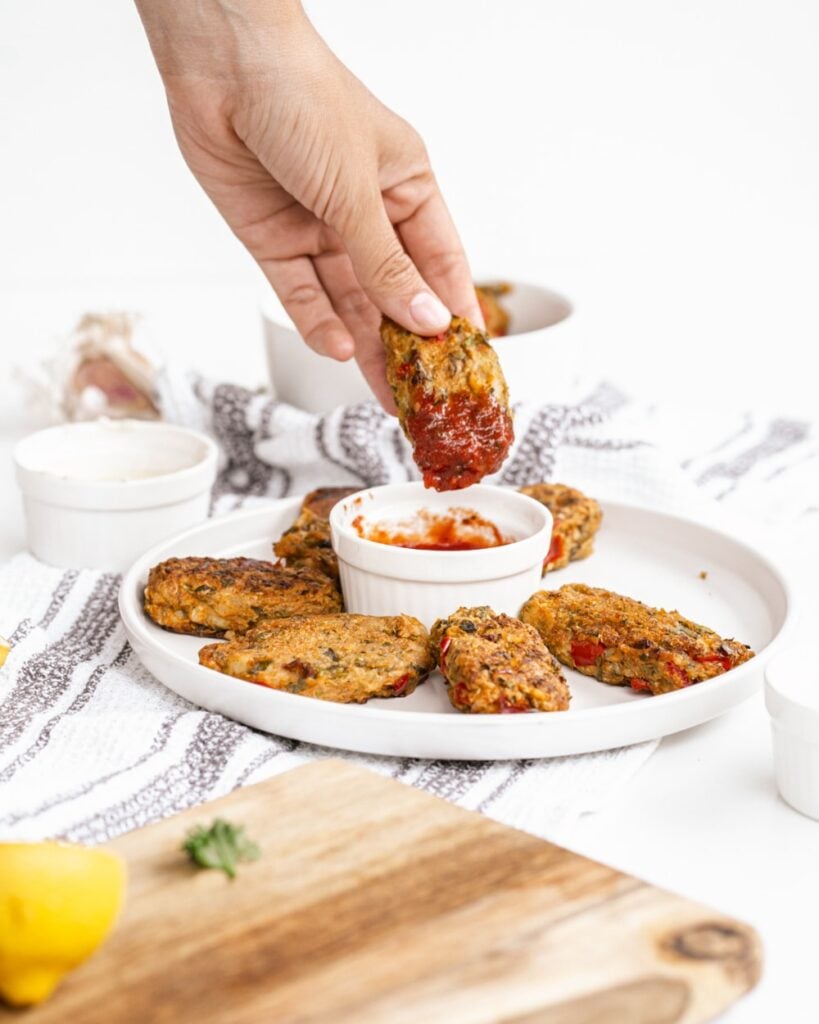 Need More Easy Recipes Like These Veggie Tots?
It is always handy to have a few easy finger food recipes on hand.
Check these super simple and delicious recipes out:
Happy Eating.
xx
Recipe
The information shown is an estimate provided by an online nutrition calculator. It should not be considered a substitute for a professional nutritionist's advice.