These delicious little Baked Zucchini, Feta, and Quinoa Bites are jam-packed full of great ingredients and flavors. Perfect as a main when paired with a salad, or as a fun addition to big and little lunch boxes. Nut free so we don't have to worry about sending them to school.
Disclaimer: This post includes affiliate links, and I will earn a commission if you purchase through these links. Please note that I've linked to these products purely because I recommend them and they are from companies I trust and use myself.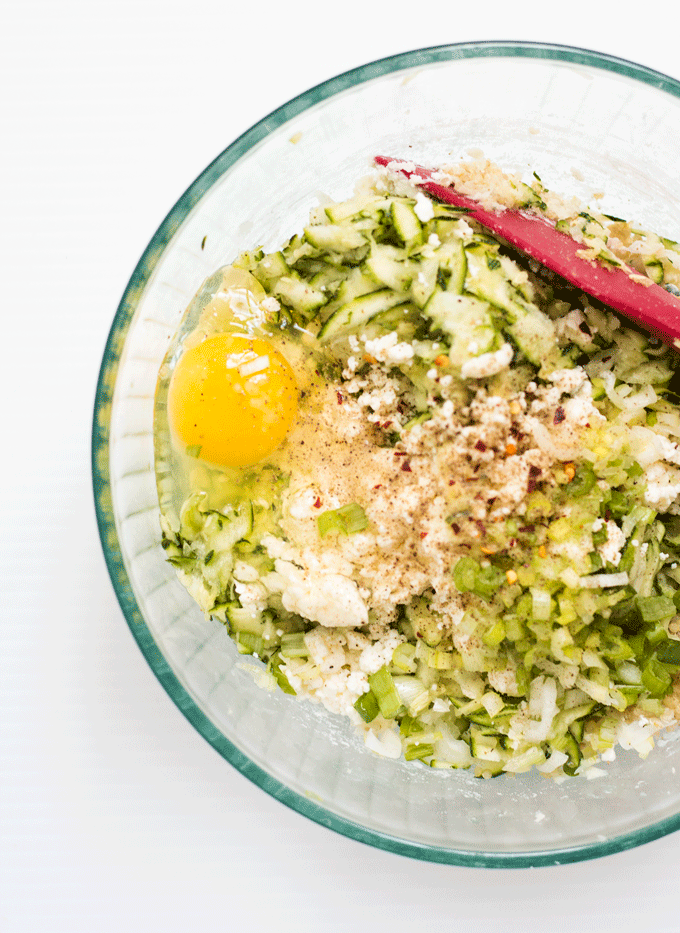 Baked Zucchini, Feta, and Quinoa Bites
It can be really daunting when you first start out on ditching processed foods and only eating whole real food. I found my biggest savior was having some simple and versatile recipes on hand so I had something to grab when the munchies kicked in.
These baked zucchini, feta, and quinoa bites I am about to share fit the bill perfectly.
They are:
loaded with veggies;
easy to sub in ingredients - no zucchini? Try some grated carrot instead;
freezer-friendly;
lunch-box friendly (no nuts, so we don't have to worry about nut-free zones at school);
easy to put together, get the kids to help!
good for dipping;
a great way to use up leftover quinoa.
How To Cook Quinoa And Why You Should Use It
Quinoa is, for want of a better word, a powerhouse of awesomeness. It is:
gluten-free,
high in fiber, magnesium, B vitamins, iron, potassium, calcium, phosphorus, vitamin E, and various beneficial antioxidants,
one of the few plant foods that contain all nine essential amino acids,
a great source of protein,
easy to prepare, store and cook with,
SUPER versatile. I love to use it in casseroles,

breakfasts

, and bites like these.
How to cook quinoa in the pressure cooker
Rinse the quinoa under cold running water to remove its bitter flavor.
Add the quinoa and water into the inner pot. I use 1:1 ratio of quinoa to water.
Add the lid and seal the vent.
Select the rice setting, and once cooked do a quick pressure release.
How to cook quinoa on the stove top
Rinse the quinoa under cold running water to remove its bitter flavor.
Tip into a pan and add double the amount of salted water
Place over medium heat and bring to a boil.
Reduce to a simmer for 10 to 15 minutes, or until tender and the liquid is absorbed.
Fluff it up with a fork, then pimp it.
How to store cooked quinoa
Keep stored in an airtight container in the fridge, or place in Ziploc bags in the freezer and just defrost when you are ready to use.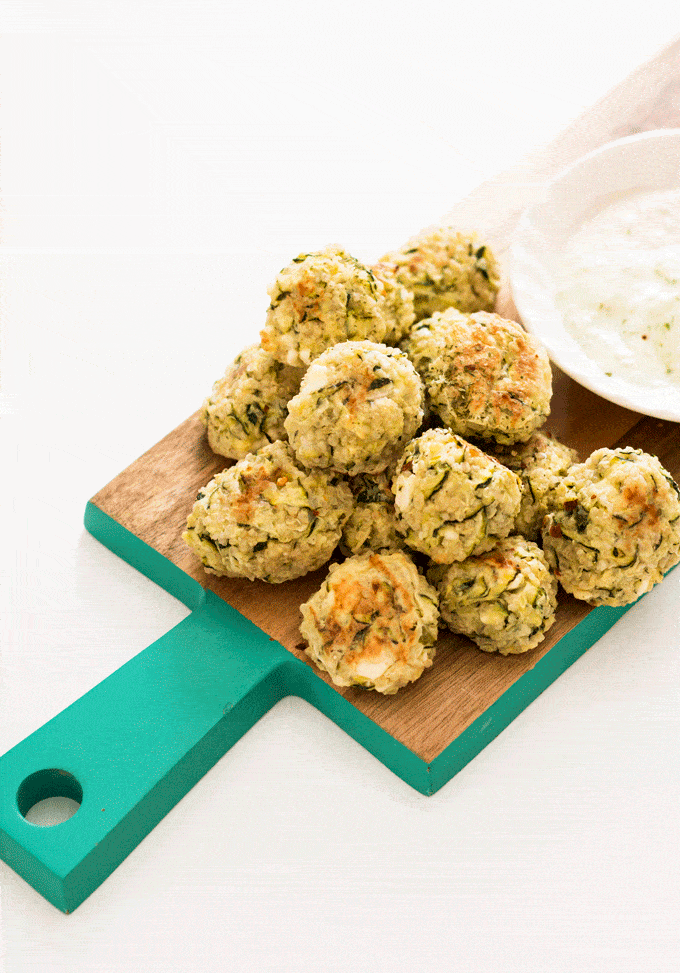 How To Serve Up Baked Zucchini, Feta, and Quinoa Bites
Now, on to our little quinoa bites. These guys pack a flavor punch and are chock full of yummy veggies. My kids love them and so do we. I have served them up:
falafel style with some hummus and yogurt,
over a salad alongside a nice soft-boiled egg,
cold as snacks throughout the day (great for lunchboxes),
as sandwich/wrap fillers alongside some arugula, tomatoes, and hummus.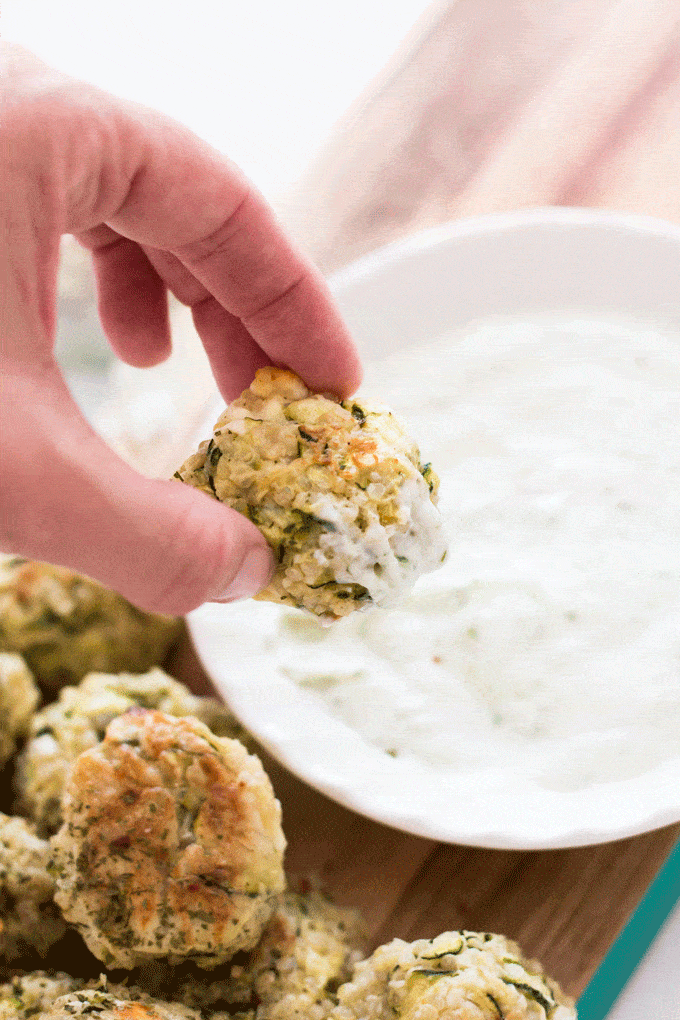 Got Leftovers?
Got leftover quinoa? Cold, leftover quinoa is a brilliant filler in salads or veggie burgers, too.
I make a huge batch of zucchini and quinoa bites and freeze some for during the week when dinner is just too hard, or you have no leftovers for lunch the next day (my husband practically cries when there are no leftovers and he has to take a regular old sandwich for lunch).
Happy Eating.
Recipe
Baked Zucchini, Feta and Quinoa Bites
Delicious zucchini and quinoa poppers are just full of all good things. Perfect as a main when paired with a salad, or as a fun and easy snack.
Ingredients
1

cup

cooked quinoa

cook according to package instructions

2

medium zucchini

3

tablespoon

whole wheat flour

½

brown onion

finely chopped

3

cloves

garlic

crushed

2

spring onions

white and light green parts only, finely chopped

Zest from ½ a lemon

⅔

cup

crumbled feta

or vegan alternative

1

large egg

or 1 chia egg

Salt and pepper to taste
Instructions
Preheat oven to 400 degrees. Line a baking sheet with parchment paper and set aside

Using the grating attachment on your food processor or the large holes of a box grater, grate the zucchini. Pop it into a sieve and set over a large bowl or in the sink. Sprinkle it with a pinch of salt and let it sit for about 10 minutes to release some of its water

After 10 mins place the zucchini in a nut milk bag or clean dishtowel, and squeeze well to remove as much water as you can. Once you think you have squeezed it all out, squeeze some more - it needs to be really dry

Place the dried zucchini in a mixing bowl. Add in the flour, chopped onion, garlic, spring onions, lemon zest, crumbled feta, egg, salt and pepper and mix well

Wet your hands (to prevent sticking) and form little balls/poppers using a heaped teaspoon of mixture at a time. You should be able to get about 25

Bake the poppers for 15 mins, flip over and bake for another 15 mins until golden and crispy

Remove from the oven and let cool on the baking sheet for 3-5 minutes before serving
Notes
Serve as a falafel with hummus and yoghurt, in a salad with a nice soft boiled egg, cold as snacks throughout the day or in a wrap with salad essentials. Freeze well - just pop into the freezer in a single layer, once frozen transfer to storage dish of choice and pop back in the freezer
Nutrition
Calories:
27
kcal
Carbohydrates:
2.7
g
Protein:
1.4
g
Fat:
1.2
g
Saturated Fat:
0.7
g
Cholesterol:
11
mg
Sodium:
50
mg
Fiber:
0.5
g
Sugar:
0.5
g
Tried this recipe?
Leave a comment HERE and let us know how it was!
If you tried this recipe please comment and rate it.
I love hearing your feedback and answering your questions! And if you make this please tag me on Instagram with @wholefoodbellies so I can share it <3
Try some other 'bite' recipes perfect for little lunch boxes:
You can find a full index of my recipes here.
Don't forget to follow Whole Food Bellies on Pinterest for more recipe inspiration!
Or if Pinterest isn't your style, bookmark this post!
Let's keep the conversation going- join my Facebook group!