Creamy and delicious, homemade coconut butter in the blender is the perfect replacement for nut butter. Whether it's spread on toast, used in baking, glazing donuts, or stuffed inside some homemade dark chocolates, this is one versatile treat that needs to become a staple in your house!
Homemade Coconut Butter In The Blender
Jump to:
Coconut butter is freaking amazing!!!
Seriously.
After purchasing my first jar I immediately set out to make my own, as that stuff can get pretty pricey when purchased from the store.
Homemade coconut butter is so simple, I actually feel like I might be insulting you by posting it as a recipe, but here we go.
You are going to need:
Organic unsweetened coconut flakes
That's it.
Insulted?
You can also add a little pinch of sea salt if you like a bit of savory with your sweet, but it isn't necessary.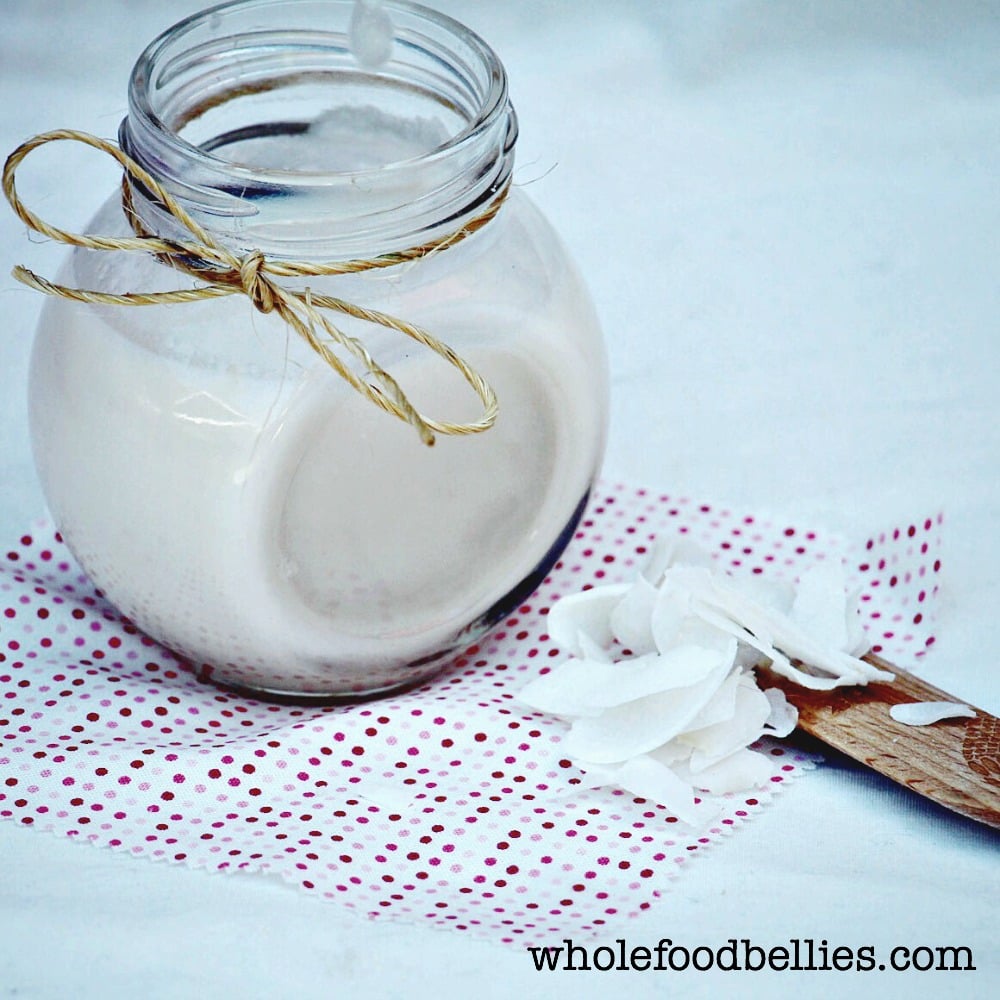 How To Make Coconut Butter In The Blender
To make your homemade coconut butter you are going to need a blender.
I make mine using a Vitamix, which makes it a pretty quick process.
Any other high speed blender will work.
Alternatively, a food processor will work, it may just take a little bit longer, and you may need to add more coconut flakes for it catch the blades enough to blend smoothly.
You are simply going to add the coconut flakes to the blender and process until smooth and creamy.
Depending on the blender, you may need to stop and scrape down the sides of the jug with a spatula occasionally, to make sure all of the coconut flakes are processed and you don't end up with any gritty bits.
Why Make Coconut Butter: Tips and Suggestions For Serving
Ok, now we have the how...what about the why?
Ah, because it's delicious!!
Coconut butter is:
Dairy free
Nut free
Gluten free
Egg free
Refined sugar free
Vegan, and
Vegetarian
This makes it perfectly allergy-friendly (unless you are allergic to coconut...in which case just don't go there).
It makes a great substitute for nut butters in bars, baking and sandwiches.
Serving Suggestions
spread the coconut butter on some toast in place of nut butter,
dip some dark chocolate in there,
use it in baking as a replacement for nut butters,
add a big dollop when cooking your oats for added creaminess
use it to glaze homemade donuts like these baked strawberry yogurt donuts
eat it straight from the jar like you used to do with nutella when you were a kid
There are so many ways to use this delicious spread, use your imagination and I am sure you will find something that tickles your fancy.
Waste Not Tip: After making the Coconut Butter go ahead and make yourself a nice smoothie in the same blender so that you get all the coconutty goodness from the sides.
Need More Coconutty Goodness?
Try out these delicious recipes:
Happy Eating
xx
Recipe
The information shown is an estimate provided by an online nutrition calculator. It should not be considered a substitute for a professional nutritionist's advice.