Creamy and delicious, homemade coconut butter made in the blender is the perfect replacement for nut butter. Whether it's spread on toast, used in baking, glazing donuts, or stuffed inside some homemade dark chocolates, this is one versatile treat that needs to become a staple in your house! Plus it is easy and can be made ahead of time and used throughout the week.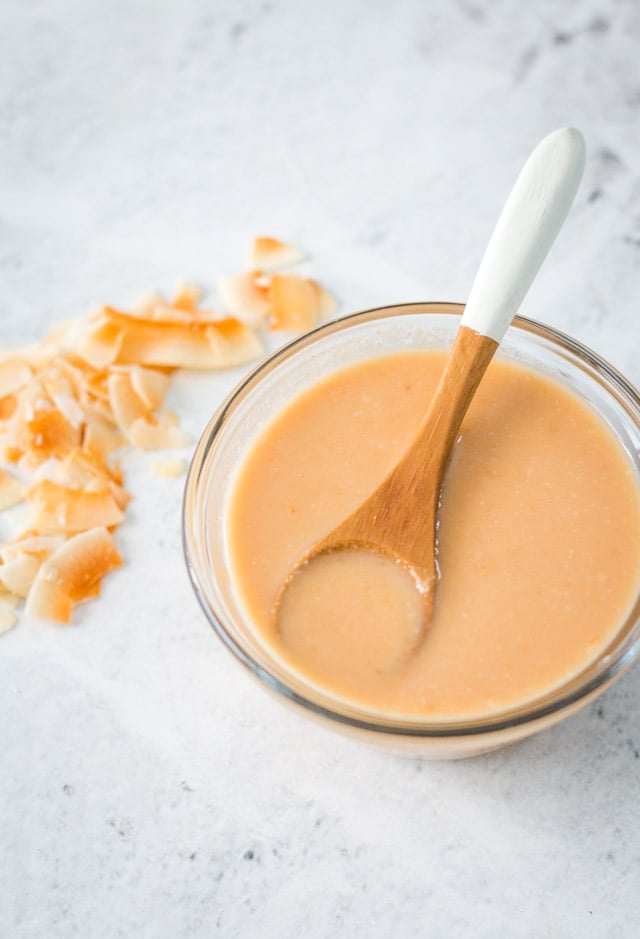 Homemade Coconut Butter In The Blender
Jump to:
Coconut butter is freaking amazing!!!
Seriously.
It is:
Coconut butter is naturally:
Dairy-free
Nut free
Gluten-free
Egg-free
Refined sugar-free
Vegan, and
Vegetarian
This makes it perfectly allergy-friendly (unless you are allergic to coconut...in which case just don't go there).
It makes a great substitute for nut butters in bars, baking and sandwiches.
After purchasing my first jar I immediately set out to make my own, as that stuff can get pretty pricey when purchased from the store.
Homemade coconut butter is so simple, I actually feel like I might be insulting you a wee bit by posting it as a recipe, but here we go.
You are going to need:
unsweetened coconut flakes
a high-speed blender
That's it.
You can also add a little pinch of sea salt or up the ante and use toasted coconut flakes if you like a bit of savory with your sweet, but it isn't necessary.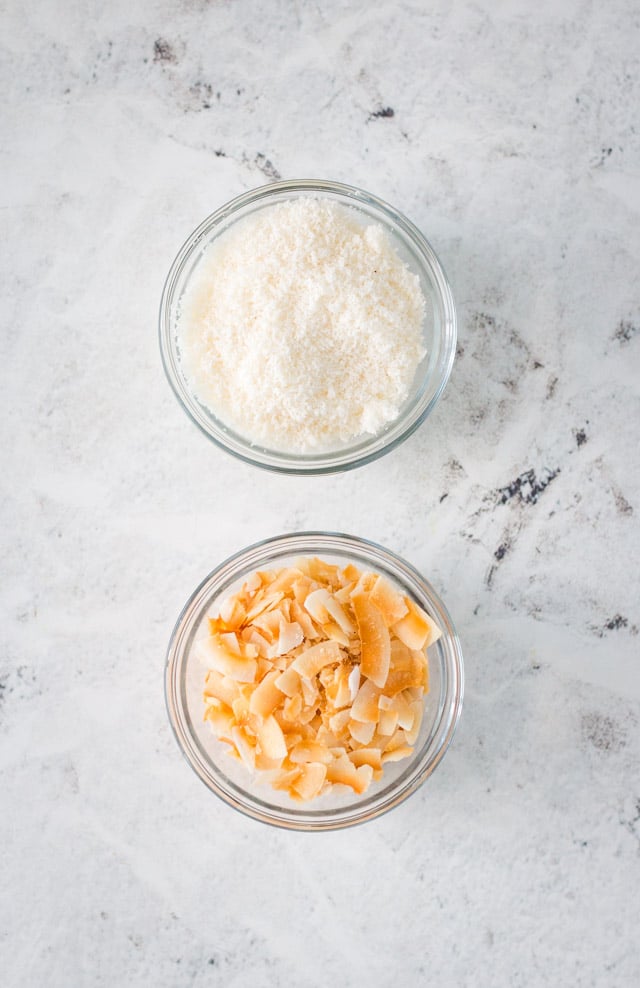 How To Make Coconut Butter In The Blender
To make your homemade coconut butter you are going to need a good blender.
I make mine using a Vitamix, which makes the whole process take about 5 minutes from start to finish to get a smooth and creamy coconut butter.
If you have a different brand of blender it may take a bit longer, and you may have to spend some extra time scraping down the sides of the blender jug to really get everything blended together well.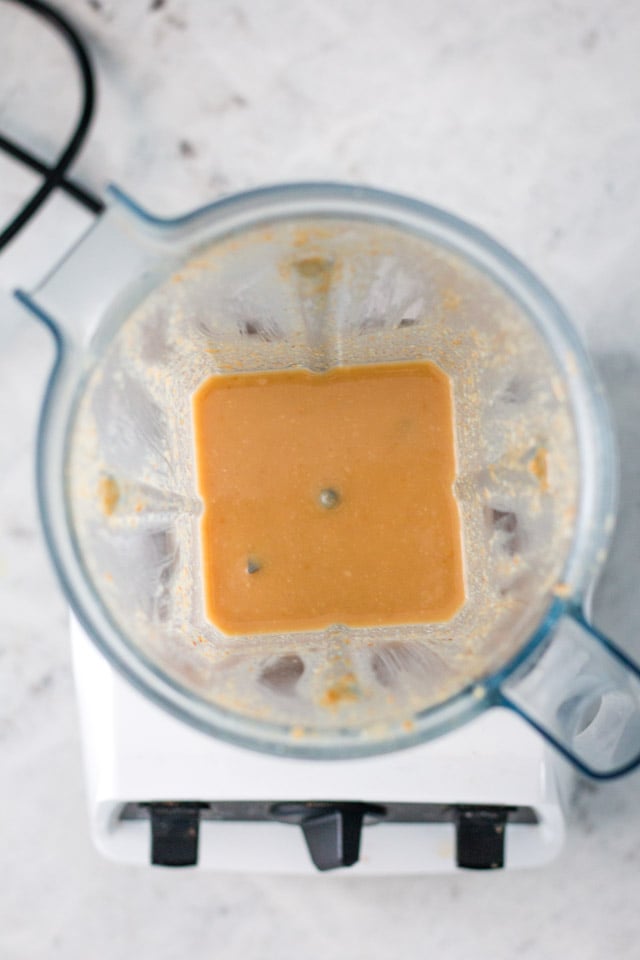 Alternatively, a food processor will work, but it will take a fair bit longer, and you may need to add more coconut flakes for it catch the blades enough to blend smoothly. I have tried making this in my Cuisinart food processor and had to ass one extra cup and process everything for about 20 minutes before it become smooth enough.
The process is pretty straightforward.
You are simply going to add the coconut flakes to the blender and process until smooth and creamy, stopping to scrape down the sides of the blender jug every minute or so to make sure all of the coconut flakes are incorporated and you don't end up with grainy or gritty lumps.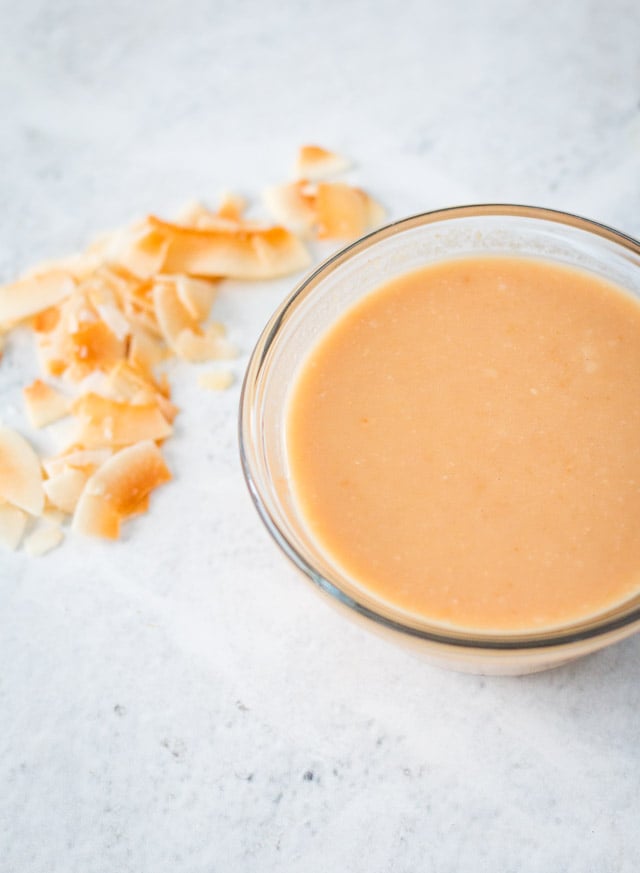 Tips, Tricks, and Substitutions
I use toasted coconut flakes to make my homemade coconut butter as they are larger than desiccated coconut and catch under the blades more easily, making for a smoother process.
You can absolutely use desiccated coconut if preferred, as it is a lot cheaper, however, you will have to spend more time scraping down the sides to ensure the coconut is all incorporated, and you will likely have to add an extra cup or two of the coconut to get enough volume to catch under the blades.
You can use toasted or untoasted coconut flakes.
I find toasted coconut adds more of a nutty flavor to the butter, and as I tend to use coconut butter as a peanut butter replacement, it works better.
To change up the flavor a bit more you can add in some:
vanilla bean extract
pure vanilla extract
a pinch of sea salt
TIP: if you are buying toasted coconut flakes be sure to look for the unsalted version if you plan on using your coconut butter as a sweet enhancer. The salted version will absolutely still make coconut butter, it just tends to be more on the savory side of things (perfect for noodle sauces, etc).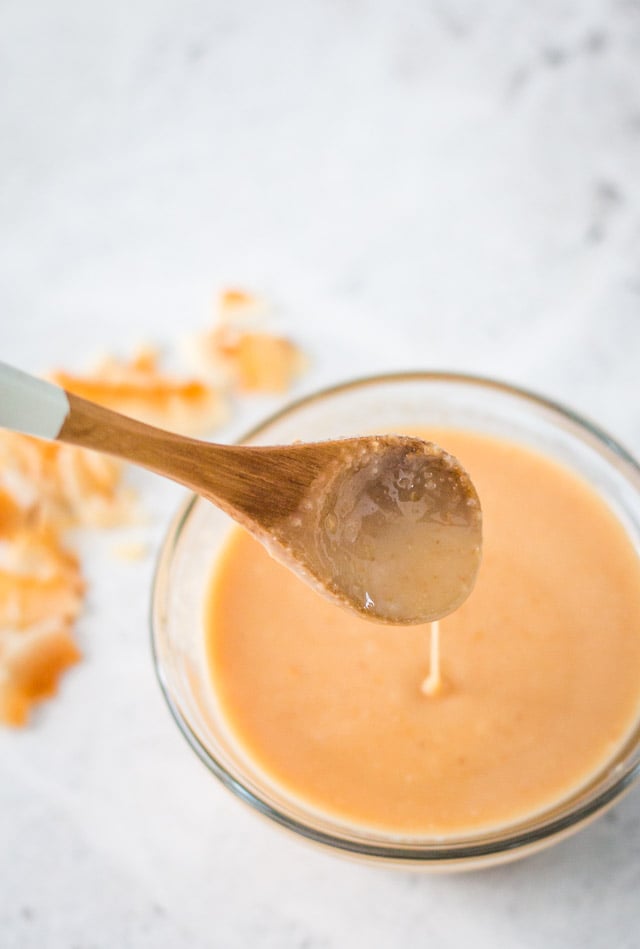 Serving Suggestions
There will be no judgment here if you end up eating your coconut butter straight from the blender!
This is my favorite time to enjoy it as it is nice and warm and toasty after being freshly blended.
Otherwise why not try serving it:
spread on some toast in place of nut butter, it makes an excellent peanut butter alternative;
with a side of dark chocolate for dipping;
used in baking as a replacement for nut butter;
added to your morning oats for added creaminess;
use it to glaze homemade donuts like these baked strawberry yogurt donuts;
eat it straight from the jar like you used to do with Nutella when you were a kid.
It is also great when used to make homemade allergy-friendly satay sauce!
There are so many ways to use this delicious spread, use your imagination and I am sure you will find something that tickles your fancy.
Waste Not Tip: After making coconut butter in the blender, go ahead and make yourself a nice smoothie in the same blender so that you get all the coconutty goodness from the sides. It pairs perfectly with some banana and cinnamon.
Need More Coconutty Goodness?
I am a huge coconut fan, it is such a versatile ingredient that I end up using it in multiple dishes throughout the week, both sweet and savory.
Try out one of these delicious recipes next:
Frequently Asked Questions
How should coconut butter be stored?
Store homemade coconut butter in a glass jar with a lid in the fridge for about 3 months. Please be mindful that it does become solid when kept in the fridge, so allow time to come to room temperature, or melt gently in the microwave when you want to use it.
It can be stored at room temperature if preferred, as technically it is shelf stable, however, please be sure that the container you are keeping it in is airtight.
Can I make coconut butter without a blender?
Technically yes. You can use either a food processor or a handheld stick blender, however, it will take a lot longer and you will not end up with as smooth a butter as you will get with using a high-speed blender.
Happy Eating
xx
Recipe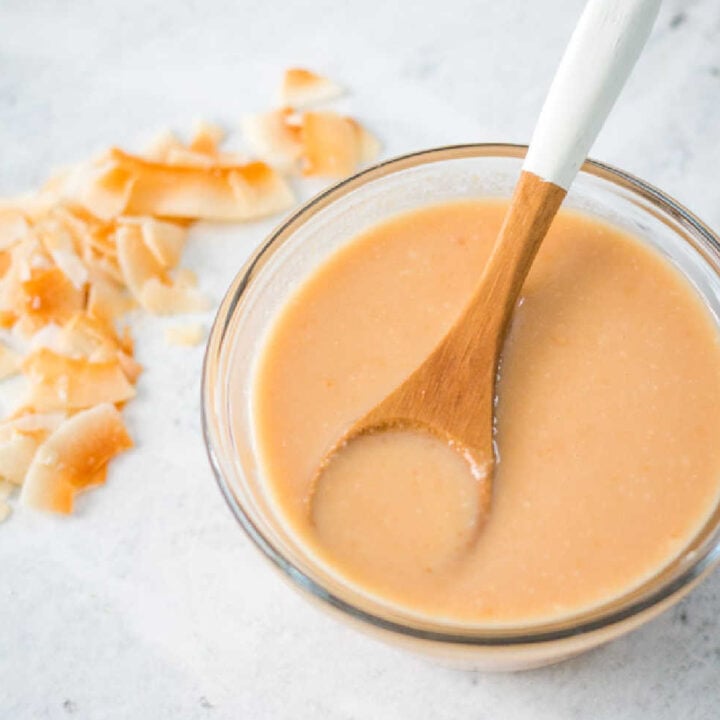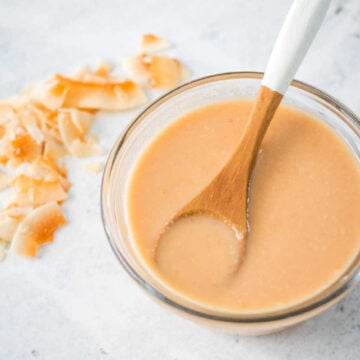 Coconut Butter
Creamy and delicious, coconut butter is the perfect replacement for nut butters, whether it's on toast or in baking, and is dark chocolates best friend when it comes to dipping
Equipment
High speed blender

see notes
Ingredients
3

cups

unsweetened coconut flakes

I used toasted (see notes)
Instructions
Empty all of the coconut flakes into the jug of a high-speed blender. Start on low and process for about 2 minutes, until the mixture becomes gritty.

3 cups unsweetened coconut flakes

Stop the blender, and use a spatula to scrape down the sides of the jug. Pop the lid back on and process again, increasing the speed, for about another minute or two before repeating the stop-and-scrape process.

After about 5 minutes, and a couple of scrapes down the side of the jug, you should be able to increase the speed to max. Process at maximum speed for about 30 seconds and you should end up with a super smooth and runny coconut butter.

If it is not completely smooth you can add more blending time.

When smooth and creamy it is done. Store in a glass jar with a lid at room temperature or in the fridge (see notes).
Notes
Equipment
I used a Vitamix blender to make this batch of toasted coconut butter and it came together in about 5 minutes of blending, stopping every minute or so to scrape down the sides of the blender jug.
Depending on the strength of your blender you may need to add more time.
A food processor or hand-held immersion blender could be used also. However, the time needed will increase by a lot. You will need at least 20 minutes of processing time, and the result will not be as smooth.
Coconut Flakes
I used unsweetened toasted coconut flakes. Be sure to pick the unsalted variety.
Desiccated coconut can also be used, however, you will likely need to add at least one more cup of coconut to make up enough volume for it to catch under the blades and process smoothly.
Storing
Coconut butter should be stored in a glass jar with a lid at room temperature for about 3 months.
It can also be stored in the fridge, however, it will harden.
If it does harden, simply heat it gently in the microwave until it becomes workable.
Nutrition
Calories:
1683
kcal
Carbohydrates:
60
g
Protein:
18
g
Fat:
165
g
Saturated Fat:
146
g
Polyunsaturated Fat:
2
g
Monounsaturated Fat:
7
g
Sodium:
94
mg
Potassium:
1385
mg
Fiber:
42
g
Sugar:
19
g
Vitamin C:
4
mg
Calcium:
66
mg
Iron:
8
mg
Tried this recipe?
Leave a comment HERE and let us know how it was!
The information shown is an estimate provided by an online nutrition calculator. It should not be considered a substitute for a professional nutritionist's advice.