Need a new favorite weeknight dinner that is super easy to make but ridiculously luxurious and moreish? This Creamy Cajun Shrimp Pasta Alfredo ticks ALL of the boxes. Combining shrimp and fettuccine with a super creamy and cheesy Cajun spiced sauce with lots of garlic, this dish makes your house smell amazing and will have everyone coming back for seconds. Easily double-batched if you are serving a crowd, and packs well for lunch the next day. Kick it up a notch by adding a big handful of baby spinach or arugula (rocket) for some added greens.
You know we love a good seafood meal around here, why not try this Maple Glazed Sheet Pan Salmon and Veggies for your next weeknight meal.
Cajun Shrimp Pasta: A Note On Ingredients
This ingredient list may look a little long and daunting, but don't worry, we only use fairly simple ingredients that are basic pantry staples.
You are going to need:
Pasta of choice: for these photos, I used a fettuccine pasta, but I have also made this with bow ties and penne pasta, and I can confirm it works well with different styles of pasta;
Large Shrimp (prawns) raw, peeled and deveined: You can use either fresh or frozen, depending on what you have access to. If you do choose to use frozen shrimp, run it under cold water for about 5 minutes to make sure it is completely thawed before cooking. Not allowing the shrimp to completely thaw will lead it to become rubbery when cooked;
Cajun Spice: If you can't find a cajun blend at the store, I have included a homemade Cajun seasoning blend for you below (and in the recipe card);
Lemon juice: Fresh is best, but feel free to use bottled lemon juice if that is what you have;
Butter: Use salted or unsalted depending on what you have on hand. If you do use salted, please keep this in mind when seasoning your dish;
Shallots: Don't get these mixed up with green onions or spring onions. Shallots, otherwise known as eschallots, are pinkish in color and slightly oval-shaped. They can be found beside the garlic and onions in the veggie section of the store;
Garlic: I prefer fresh garlic over the powdered or pre-minced versions, but you do you;
Italian Seasoning: This blend is super easy to have on hand, it can easily be found in the spice section of the store. You can also make your own using a recipe like this one from Spend With Pennies;
White Wine: if you prefer not to use white wine you can always use more broth;
Chicken, vegetable, or seafood broth: the type of broth you use can change the flavor of the dish, so keep this in mind. The rest of the ingredients in this dish are pretty punchy, so I prefer to use a mild-flavored powdered chicken broth or a Homemade Vegetable Broth.
You are also going to need olive oil, butter, cream cheese, parmesan cheese, and heavy cream.
You know what products you like, and whether you like the light versions or the whole milk versions, so go with your preferences.
How To Make Cajun Shrimp Pasta
I know the ingredient list is long, which can seem a little daunting, however, rest assured that once you get going, this actually comes together really quickly and easily.
Having all of your ingredients prepped and ready to use really makes for a more seamless cooking experience.
First up we are going to make the Cajun seasoning (if you aren't using a store-bought variety that is).
This is simply a matter of combining some smoked paprika, garlic powder, onion powder, dried oregano, dried thyme, red pepper flakes, cayenne pepper, and salt and pepper.
For specific measurements please see the recipe card at the bottom of the page.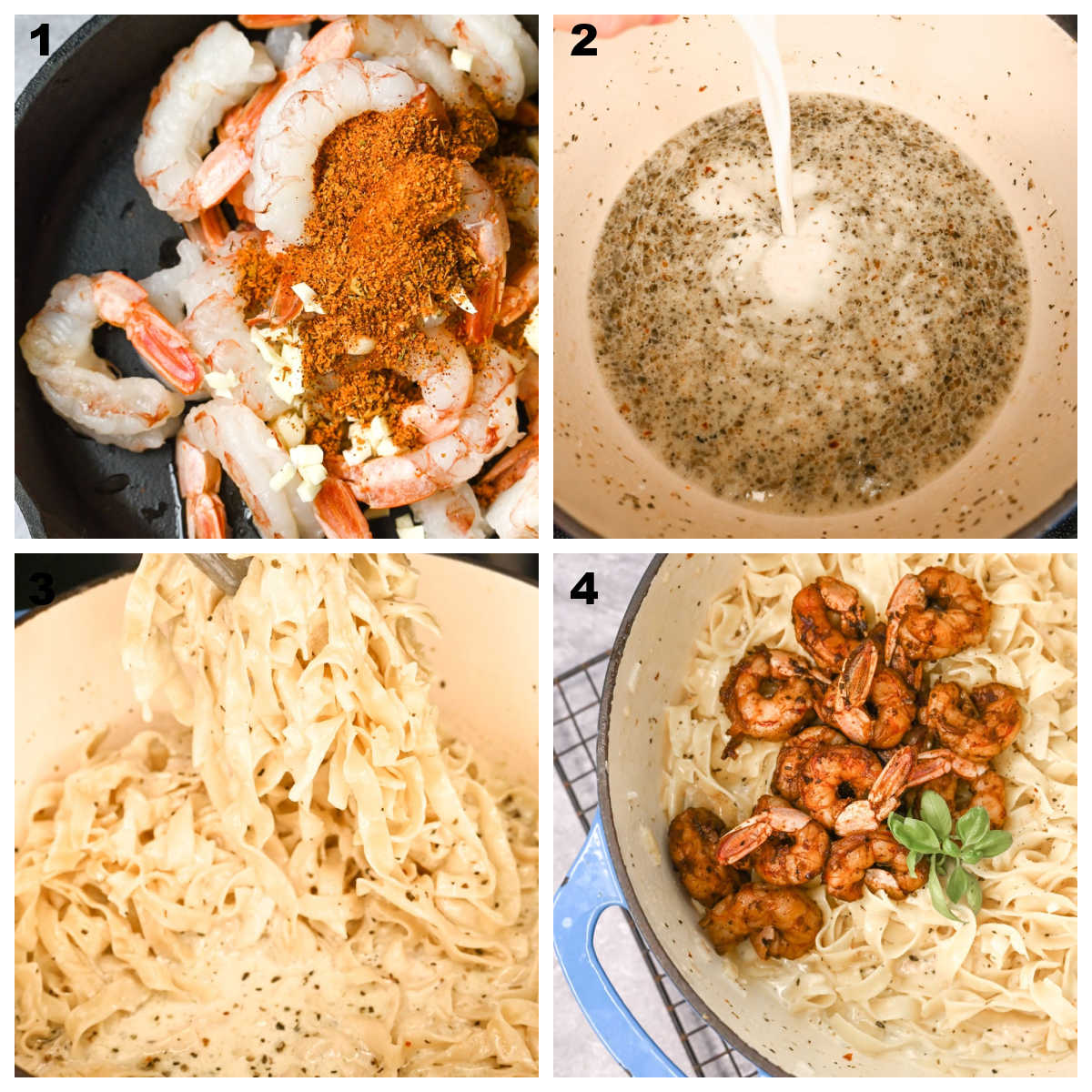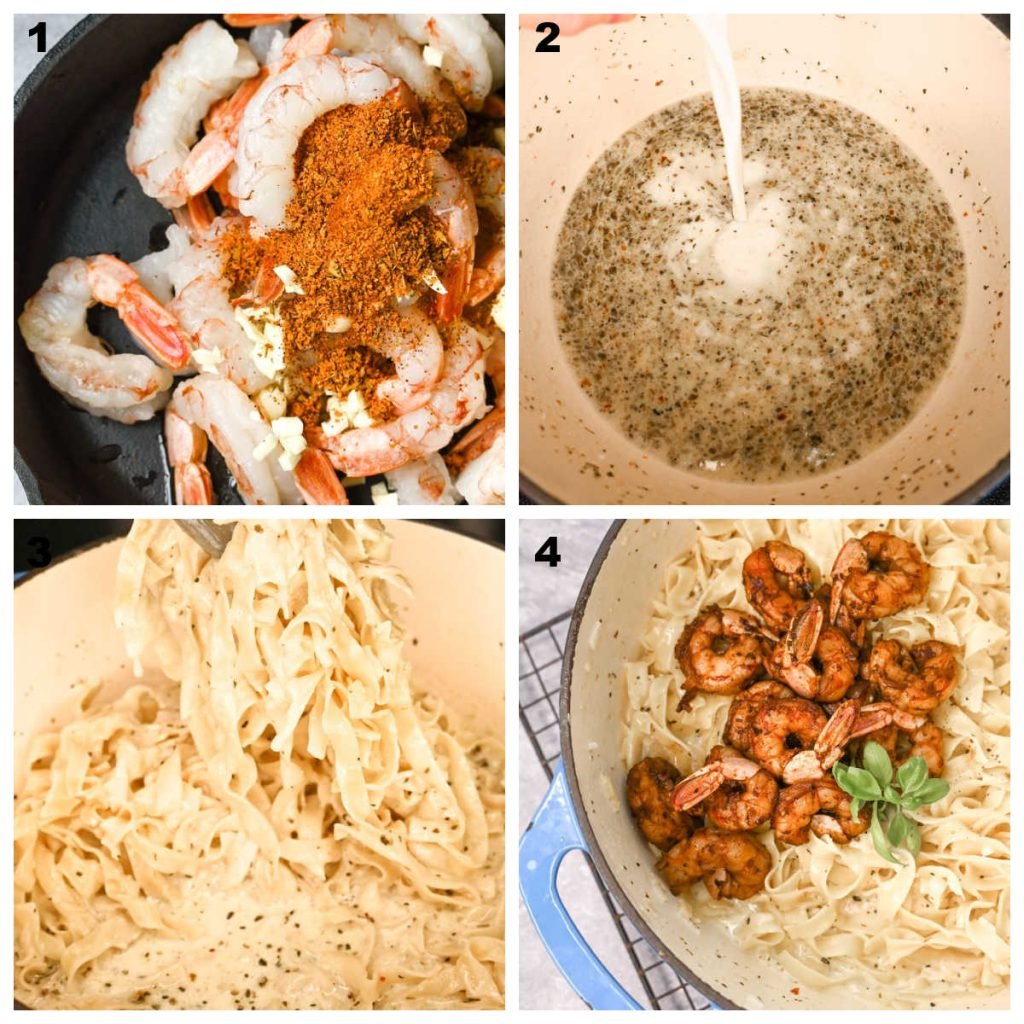 Then we are going to:
In a large pot cook the pasta according to the package instructions until al dente, drain and set aside;
Melt some butter in a large skillet, toss the prepared shrimp with the cajun spice and lemon juice and add to the pan, cooking on medium heat for about 3 minutes on each side, or until the shrimp is light pink and cooked through;
Using the same pot you cooked the pasta in (we are always aiming for fewer dishes) we are going to cook the shallots, garlic, and spices in some olive oil before adding the white wine and broth;
Simmer until reduced by about half and then add in all of your dairy ingredients. Stir continuously until the cheeses are completely melted and you have a perfect creamy sauce;
Add the cooked pasta and the cooked shrimp to the alfredo sauce, toss and serve.
At this point, you will want to sprinkle on some freshly chopped basil and some chili flakes if you like a bit of a kick.
Tips, Tricks, and Substitutions
The cream cheese will melt a lot more quickly if you have taken it from the fridge and allowed it to soften prior to adding it to the rest of the sauce.
Tip: if you have a high-powered blender then simply cut your parmesan block into chunks and pulse it in the blender until it resembles an almost powder-like consistency. This melts a lot more quickly and is a lot quicker than grating by hand.
Is There a Good Substitute For Cajun Seasoning?
It is so easy to make your own Cajun seasoning blends (see the recipe card at the bottom of this post).
However, if you prefer, you can sub in a Creole seasoning blend instead.
Swap at a 1:1 ratio.
I prefer to make my own Cajun seasoning as I can make sure it has the right amount of kick for the whole family (i.e. none...I simply add some chili flakes to my own when serving).
Can I Use Frozen Shrimp?
Yes.
If you do not have access to fresh shrimp, or it is super expensive, frozen shrimp can be a great option.
You will want to prepare the frozen shrimp by placing it into a colander and running it under cold water for about 5 minutes.
Make sure that the shrimp is completely thawed before cooking.
Using shrimp that has not thawed completely will lead to rubbery shrimp when cooked, which no one wants.
Should I Remove The Tails From The Shrimp?
This is up to you.
Keeping the tails on while cooking does add a lot more flavor, so it is recommended to leave them on and simply remove them with your fork whilst eating.
However, if you are serving this up to young children, or fussy eaters, you may want to remove the tails prior to cooking to reduce the likelihood of a huge mess and a lot of complaining.
If you do leave them on, and one of the kids accidentally eats them, don't worry, they are perfectly safe to eat.
Don't I Need To Make A Roux For A Thick Sauce?
Nope.
The combination of the heavy cream and cheese, and the starchiness of the pasta creates the perfect consistency for this cajun shrimp alfredo.
Want To Add Some Vegetables to Your Creamy Shrimp Pasta?
I usually make up this Cajun Shrimp Alfredo as is, and serve with a nice big side of steamed broccoli or a healthy green salad.
However, if you want to get some more veggies into this dish then you can try adding:
a big handful of baby spinach when adding the pasta to the sauce;
some thinly sliced kale when adding the pasta to the sauce;
a handful of arugula (rocket) when adding the pasta to the sauce;
some finely chopped red or green bell peppers which should be lightly sauteéd along with the shallots and garlic;
or some broccoli florets which should be lightly sauteéd with the garlic as well.
I also love adding a nice big handful of fresh basil to the top of the dish when serving up.
How To Store Leftovers
Leftovers should be stored in an airtight container in the fridge.
It will last about 3 days.
This can also be frozen for up to 3 months if stored correctly.
The sauce may not look as appealing as when it was freshly cooked though, so I prefer to eat it fresh.
When reheating you may want to add a little bit of water to the mix to loosen up the creamy cajun sauce.
Need More Decadent Recipes Like This?
We tend to be fairly healthy eaters around here, but every now and again I get a real hankering for a great recipe full of cream and cheese.
Especially on a busy weeknight in winter.
Once you have tried this creamy cajun shrimp pasta recipe, why not try one of these recipes out next:
Happy Eating.
xx
Recipe
The information shown is an estimate provided by an online nutrition calculator. It should not be considered a substitute for a professional nutritionist's advice.