These turkey curry meatballs come together in one skillet in about 30 minutes, making them the perfect weeknight meal for the whole family. They pack well for lunch the next day and can be made ahead of time, which is just perfect for meal prepping. Serve with steamed rice or a side of steamed veggies if you prefer to keep your meal light and low carb.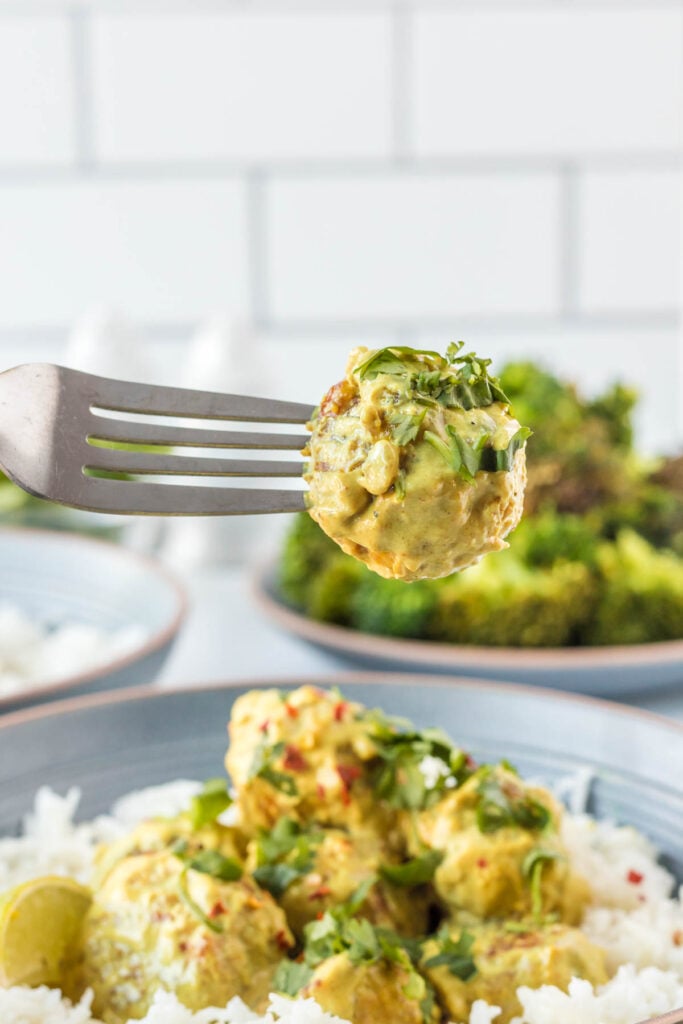 If you love meatballs as much as we love meatballs for easy dinners throughout the week then you are probably going to want to try these Honey Ginger and Garlic Asian Pork Meatballs next! They have been the most popular meatball recipe on the site for years, and with good reason!
Curry Turkey Meatballs
What can be better than a quick and easy meal made in one skillet that the whole family can enjoy?
Not much on a busy weeknight, that's for sure!
For this recipe you are going to need:
cooking oil of choice: I use coconut oil, but you could also use olive oil, or avocado oil, or other neutral oil of choice;
ground turkey: this has become fairly popular lately, and can usually be found in the meat section of most grocery stores. I have also tested this with ground pork, ground chicken, and ground beef and it has worked just fine;
panko breadcrumbs: these can be found in the Asian or international section of most grocery stores. In a pinch you can sub in some plain breadcrumbs or fresh breadcrumbs if preferred.
brown onion;
garlic: fresh is best, but you can use prepared garlic or dried garlic in a pinch;
curry powder: use whatever is your preferred brand.
heavy cream or half and half: you can also sub in full fat coconut milk if you would prefer to keep this dairy-free;
lime juice: again, fresh is best, but you can use the bottled stuff in a pinch if needed;
maple syrup: you can sub in honey or another liquid sweetener of choice if preferred;
cilantro leaves (coriander): you will need the fresh stuff here. If you are not a fan of cilantro you could use some chopped green onions instead;
chili flakes: use these to taste depending on whether you like spicy foods. If you are serving up to kids that don't like any spice you might want to leave out the chili flakes and only add them when serving.
Of course, you will also need about a teaspoon salt and freshly ground black pepper.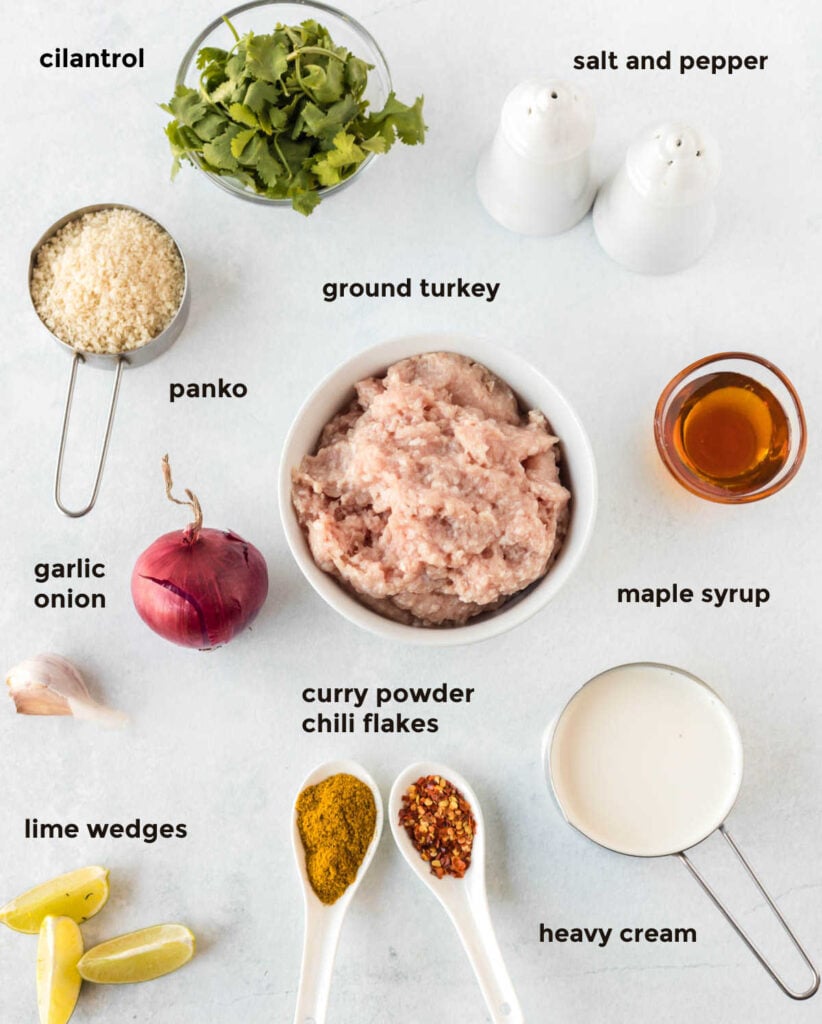 Assembly and Cooking Tips
Use a large mixing bowl and a bit of elbow grease to really mix the meat mixture well and make sure all of the ingredients are evenly dispersed.
When rolling the meatballs it is important to make sure they are similar in size so that they cook evenly.
Turkey is a lean meat and will dry out if cooked for too long.
So try and keep each meatball about 2 tablespoons worth of mixture in size.
Anything smaller will need less cooking time, or they will dry out.
Turkey is quite lean and will dry out if overcooked. Make the meatballs even in size so they cook evenly and you don't end up with dry and tough meatballs.
It is also important to turn the meatballs a few times whilst cooking over medium-high heat, to ensure they are evenly browned and sealed before adding the curry sauce.
The meatballs do not need to be completely cooked through in their initial cook, as they will be cooked in the curry sauce afterward.
Be sure to whisk the sauce ingredients well before adding the meatballs to ensure a nice smooth sauce.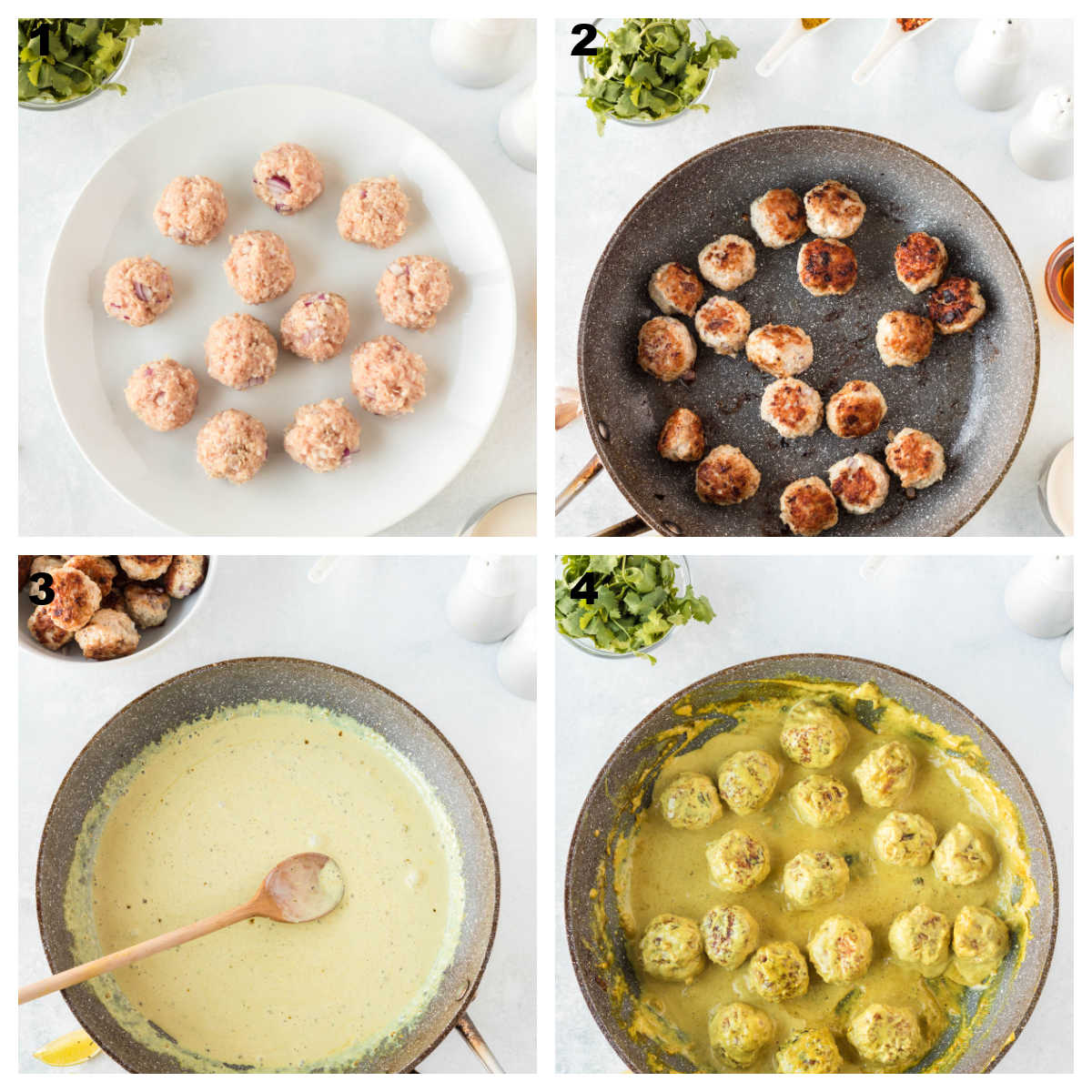 Meal Prepping and Leftovers
Meatballs are perfect for meal prepping.
Simply assemble the meatball mixture as per the instructions on the recipe card.
Cook the meatballs without the sauce.
Remove from the heat and allow to cool completely before storing.
They can be stored in the fridge for 3-4 days if stored correctly, or in the freezer for up to 3 months.
Freeze the meatballs in a single layer before transferring them to a freezer-safe container or Ziploc bag and storing them in the freezer.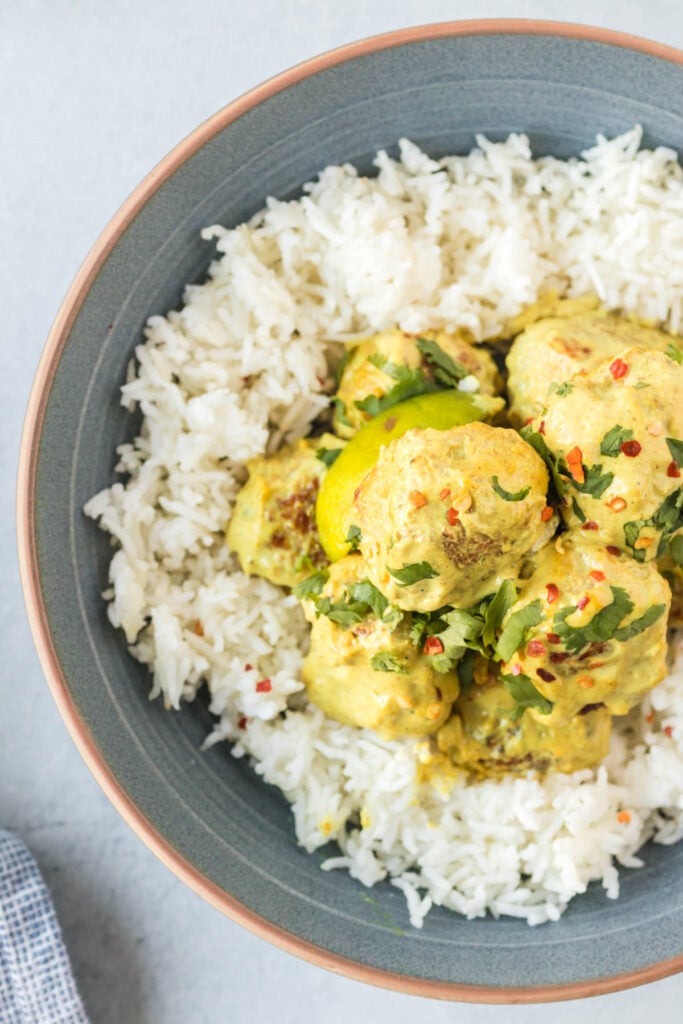 To Reheat Frozen Meatballs
You can reheat frozen meatballs in the air fryer, in the oven, or on the stovetop.
In the air fryer, frozen meatballs will take about 10 minutes to cook at 350F (175C).
In the oven, they will take about 20 minutes at 350F (175C).
On the stovetop, they will take about 10-15 minutes over medium-low heat.
Just be sure they are heated through, make up your curry sauce, and you are good to go with the rest of the instructions.
Storing Leftovers
Leftover meatballs should be stored in the fridge in an airtight container for 3-4 days.
Simply reheat in the microwave, or on the stovetop, before serving.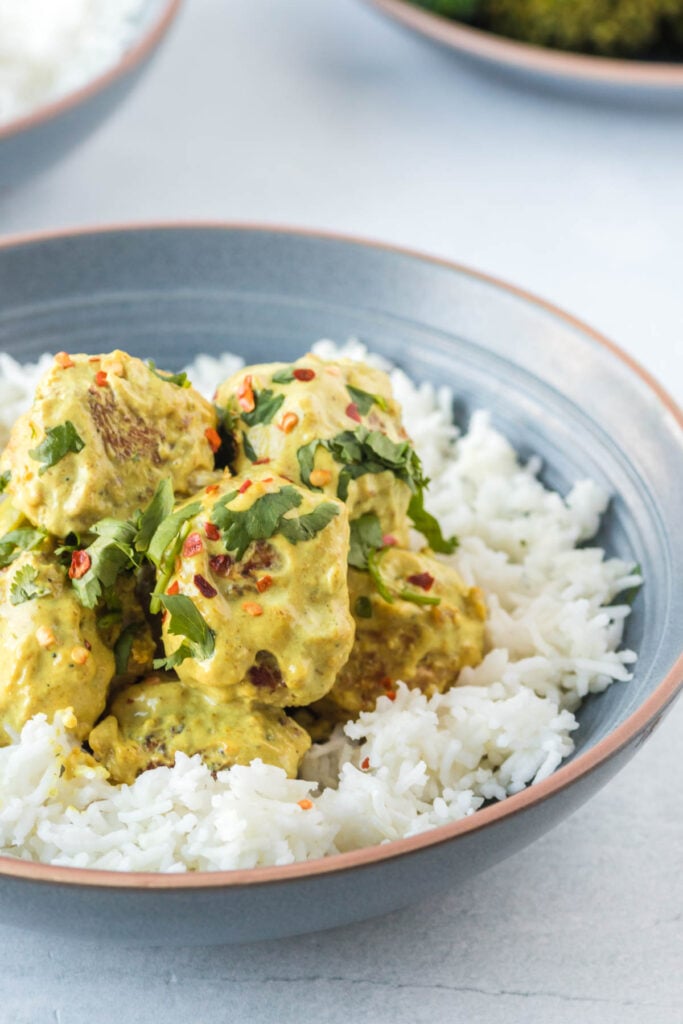 How To Serve
The best thing about meatballs for dinner is how versatile they are to serve!
If you like a strong curry flavor then you may want to add some more curry powder, taste and adjust the recipe as you go.
Serve these turkey curry meatballs with:
steamed broccoli or some Lemon and Garlic Air Fryer Broccoli;
steamed jasmine rice, brown rice, broccoli rice, or cauliflower rice;
sautéed vegetables like red bell peppers or bok choy;
roasted vegetables like green beans;
a side of quinoa;
sautéed cabbage;
zucchini noodles or other veggie noodles;
mashed potatoes;
or in a bread roll like you would a meatball sub.
Or you could serve it with a simple side salad if preferred.
Want to change things up? Why not try using red curry paste or green curry paste and coconut cream in place of the curry powder and heavy cream for Thai curry meatballs?
If you have a favorite way of serving that I have missed, please feel free to leave a comment below to share!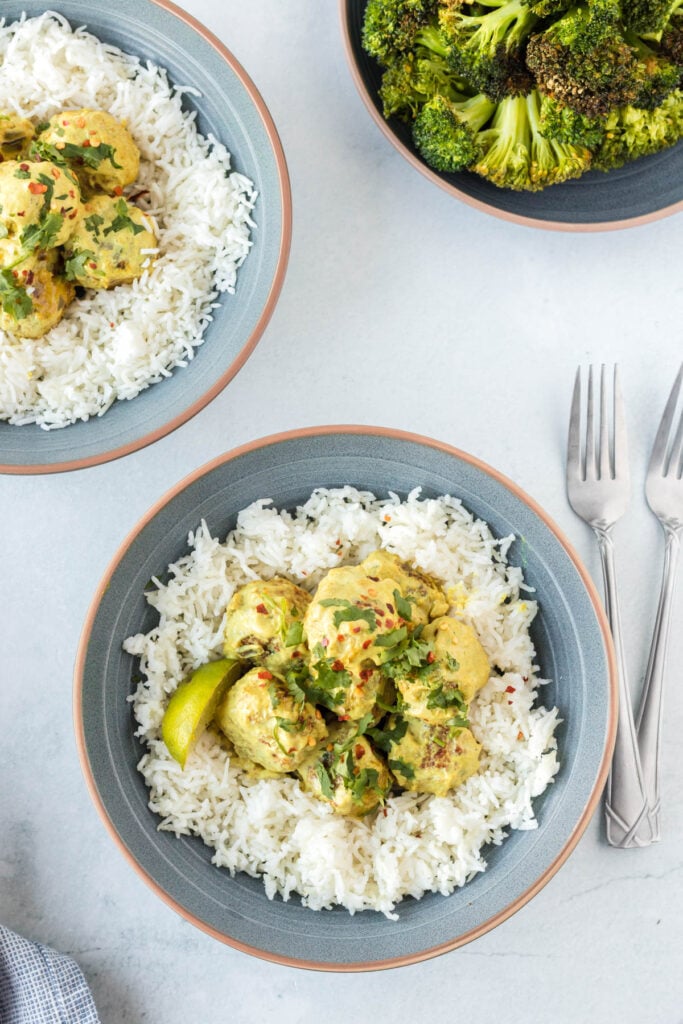 Need More Meatball Recipes?
Meatballs are always super popular for a quick and easy weeknight meal.
Even more so because they can easily be prepared ahead of time.
Why not try one of these meatball recipes next:
Can you tell we like meatballs in the whole food bellies house?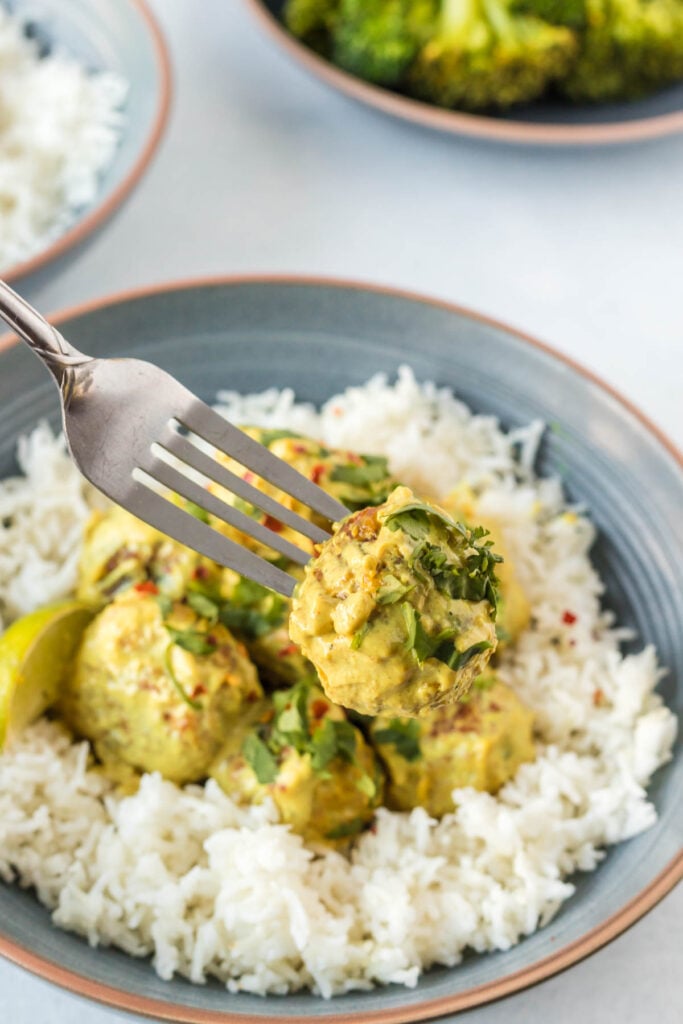 Frequently Asked Questions
Can the meatballs be made ahead of time?
Yes.
Simply make them up according to the recipe card and store them in an airtight container in the fridge for 3-4 days.
If you would like to freeze them, make the meatballs up without the sauce, and freeze them in a single layer before transferring them to a Ziplock bag or freezer-safe container. Store in the freezer for 3 months.
Can I use meat other than turkey?
Yes.
I have tried these curry meatballs with ground chicken, ground beef, and ground pork.
Happy Eating.
xx
Recipe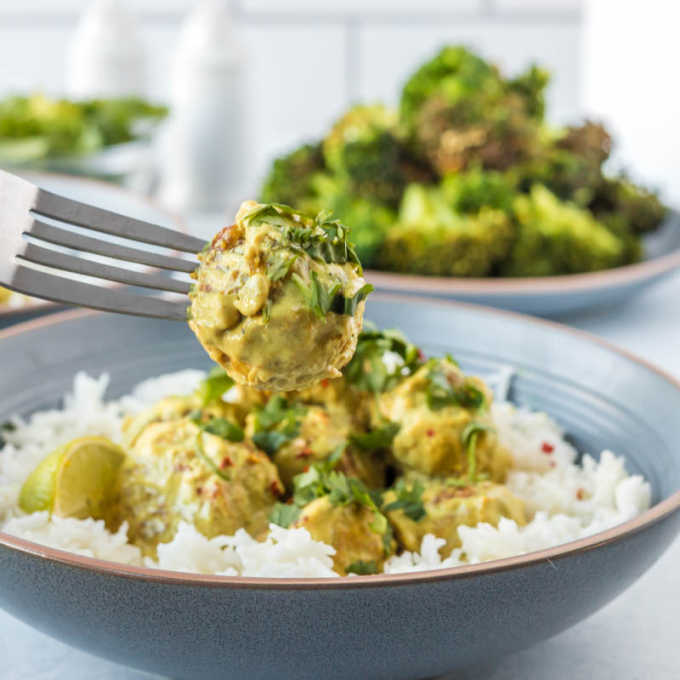 Ground Turkey Curry Meatballs
Quick and easy to make, turkey curry meatballs are great for a busy weeknight. Can be meal prepped and frozen. Kid friendly and one saucepan.
Ingredients
Meatballs
2

lbs

(1 kilo) ground turkey

(turkey mince)

½

cup

panko breadcrumbs

1

small onion

diced

¾

teaspoon

salt

½

teaspoon

ground pepper
Curry Sauce
2

cloves

garlic

minced

1

tablespoon

curry powder

1

cup

heavy cream

3

tablespoons

lime juice

1

tablespoon

maple syrup

(or honey)

¾

teaspoon

salt

½

teaspoon

pepper

½

cup

chopped cilantro leaves

chili flakes to taste
Instructions
In a medium bowl, place all of the meatballs ingredients, and mix well to combine.

Take 2 tablespoons of the mixture and, using your hand, roll it into ball shapes. They should be even in size.

Add a drizzle of cooking oil of choice to a large skillet over medium heat, and add in the meatballs. Cook the meatballs for about 10 minutes, turning a few times so that the meatballs are evenly browned. They don't have to be cooked all the way through at this stage as they will continue to cook once added to the sauce. 

Remove the meatballs from the skillet and set them aside on a plate until needed. 

In the same skillet, add another drizzle of oil followed by the garlic, and cook for about 2 minutes, or until fragrant. 

Add the curry powder, cream, lime juice, maple syrup, salt, and pepper, and whisk until the sauce is smooth. 

Add the meatballs back into the skillet with the curry sauce and stir to cover the meatballs. Simmer for about 15 minutes, until the sauce has thickened, and the meatballs are cooked through the center. 

Serve with rice if desired, and garnish with fresh cilantro and chili flakes.
Notes
Storing and Freezing
Cooked meatballs should be stored in an airtight container in the fridge for up to 4 days.
They can also be frozen for about 3 months, however, they should be cooked through and frozen without the sauce.
Nutrition
Calories:
348
kcal
Carbohydrates:
10
g
Protein:
38
g
Fat:
18
g
Saturated Fat:
10
g
Polyunsaturated Fat:
2
g
Monounsaturated Fat:
4
g
Trans Fat:
0.02
g
Cholesterol:
128
mg
Sodium:
708
mg
Potassium:
561
mg
Fiber:
1
g
Sugar:
4
g
Vitamin A:
637
IU
Vitamin C:
4
mg
Calcium:
57
mg
Iron:
2
mg
Tried this recipe?
Leave a comment HERE and let us know how it was!
The information shown is an estimate provided by an online nutrition calculator. It should not be considered a substitute for a professional nutritionist's advice.