Move over pumpkin spiced latte, this matcha chai green tea spiced latte is so so perfect for the colder weather and is packed full of the goodness of matcha green tea. 
Disclaimer: This post includes affiliate links, and I will earn a commission if you purchase through these links. Please note that I've linked to these products purely because I recommend them and they are from companies I trust and use myself.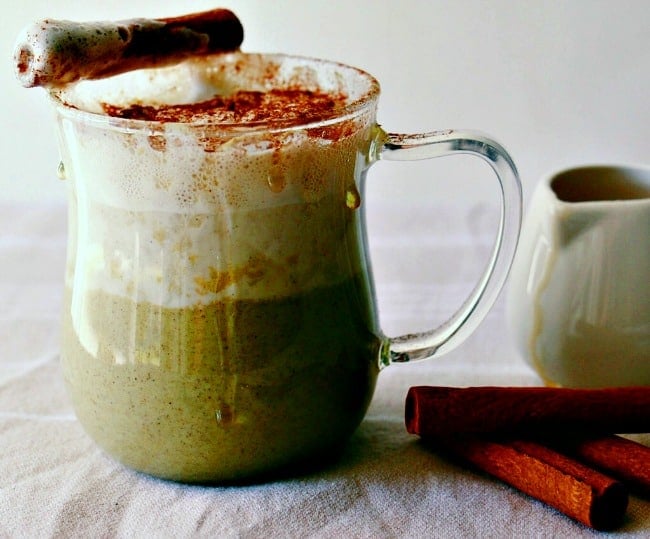 Chai Green Tea Spiced Latte
A couple of months back, when I posted my raw matcha coconut fudge, my mum called to ask what exactly matcha was, and why I was using it.
I gave her the spiel...
Potential Benefits of Matcha
Matcha is a bit of a powerhouse of goodness. It:
is loaded with antioxidants: in fact it contains about 3 times more antioxidants than those found in other high quality green teas;
it may help improve cholesterol and blood sugar levels;
it may help reduce the risk of heart disease;
matcha boosts energy and metabolism;
it increases focus, and
can help improve skin health
Needless to say, she was sold!
She was super excited and set out immediately to get herself some matcha. However, living on a tiny island at the bottom of Australia (one that is often left out of maps), and refusing to move with the times and order things online…the search was fruitless.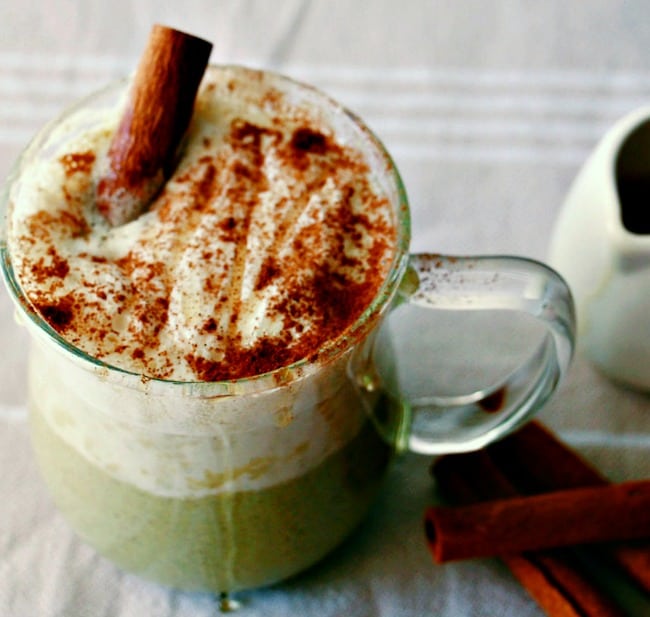 Eventually, when we hit Hawaii for a family reunion months later (for more on Hawaii check out my Ahi Tuna Burgers), she managed to snag the biggest container she could find and lugged it the whole way back to Australia with her.
A couple of weeks later, and I find out she still has no idea what to do with the stuff.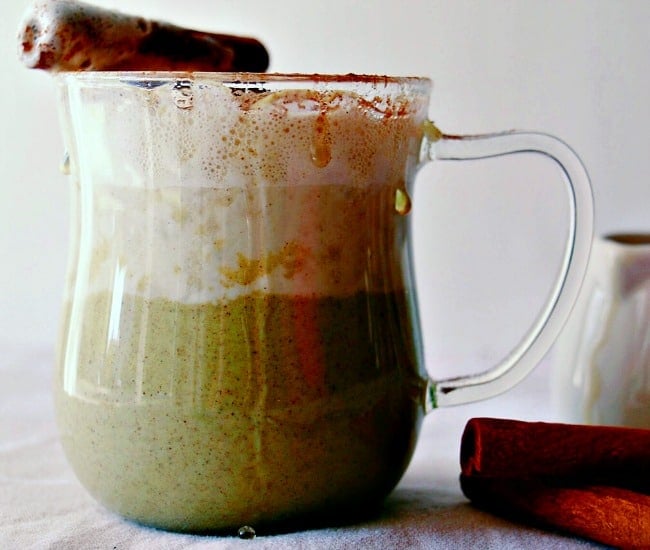 How To Make This Matcha Chai Green Tea Spiced Latte Recipe (Don't Worry It's Easy!)
So! I figured I would provide her with a super simple matcha latte recipe.
This is not it. The weather cooled off, everyone started talking about pumpkin spiced lattes, and I got carried away while playing in the kitchen.
I came up with this amazing Chai Green Tea Spiced Latte, which I can guarantee my mum will hate, but I just had to post it anyway (sorry mum).
If you havent used matcha before, and would like some guidance on what brand to use, I use this one and love it:
How To Serve Up A Green Tea Latte
Now there are two ways you can use this little recipe. You can:
add some extra heated milk, a drizzle of honey (or more maple syrup for the vegans), and serve as is (goes well with a rainy night and a blanket on the porch),
OR, you can use it as a delicious creamer in your coffee (goes well with a strong coffee and a will to carry on).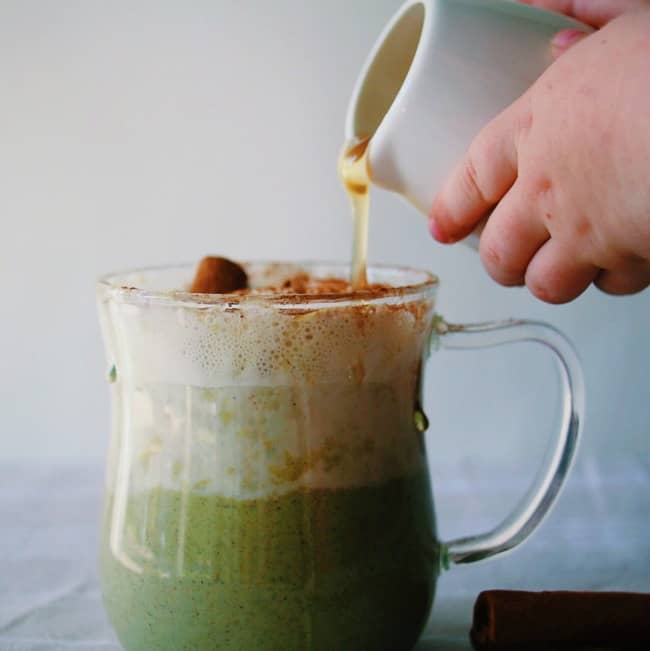 Chai Green Tea Latte or A Dirty Hippy?
I have adding mine to my coffee as a creamer all week, and I am totally hooked.
I think the cool kids are calling green tea, chai latte, coffee concoctions Dirty Hippies these days, but that name just doesn't appeal to me....
So we will be going to go with the oh-so-sophisticated Green Tea Chai Spiced Latte.
Your morning coffee will never be the same!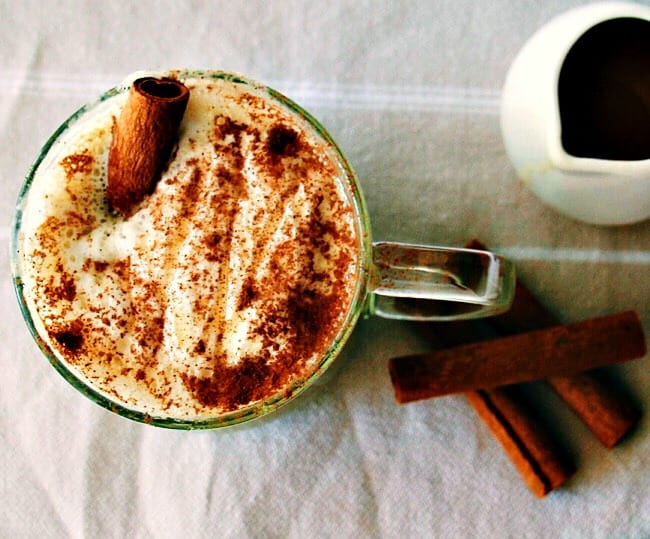 Have you tried a dirty hippy? I would love to hear your thoughts, be sure to leave a comment, like on Facebook or pin to Pinterest for later. Happy drinking.
If you are looking for more homemade comforting drink options, then check these out: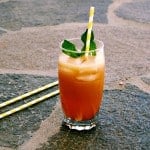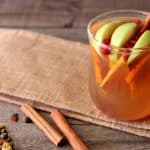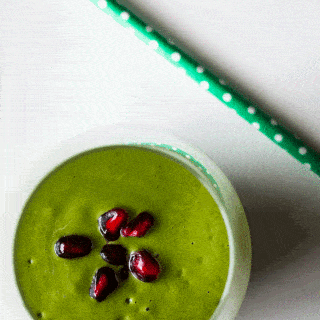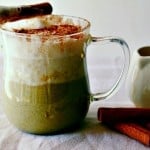 Print Recipe
Green Tea Chai Spiced Latte
Move over pumpkin spiced latte....this green tea chai spiced latte will warm you up on those chilly Fall nights. Perfect as is, or added as a delicious creamer alternative to your morning coffee
Instructions
Pop all ingredients into a blender and blend until combined

Pop the mixture into a small saucepan over medium heat. Heat until the mixture reaches your desired temperature

Remove from heat and serve immediately as is, topping with some extra milk (I froth mine) a sprinkle of cinnamon, and some honey/maple syrup if desired OR chill and use as a creamer in your morning coffee
Nutrition
Calories:
31
kcal
|
Carbohydrates:
4.6
g
|
Protein:
0.5
g
|
Fat:
1.1
g
|
Saturated Fat:
0.1
g
|
Sodium:
80
mg
|
Fiber:
0.9
g
|
Sugar:
3.3
g
Don't forget to follow Whole Food Bellies on Pinterest for more recipe inspiration! Or if Pinterest isn't your style, bookmark this post! Let's keep the conversation going- join my Facebook group!
If you enjoyed this recipe then you might want to try these:
If you tried this recipe please comment and rate it. I love hearing your feedback and answering your questions! And if you make this please tag me on Instagram with @wholefoodbellies so I can share it <3