Move over pumpkin spiced latte, this matcha chai green tea spiced latte is so so perfect for the colder weather and is packed full of the goodness of matcha green tea, cinnamon, and nutmeg.
Disclaimer: This post includes affiliate links, and I will earn a commission if you purchase through these links. Please note that I've linked to these products purely because I recommend them and they are from companies I trust and use myself.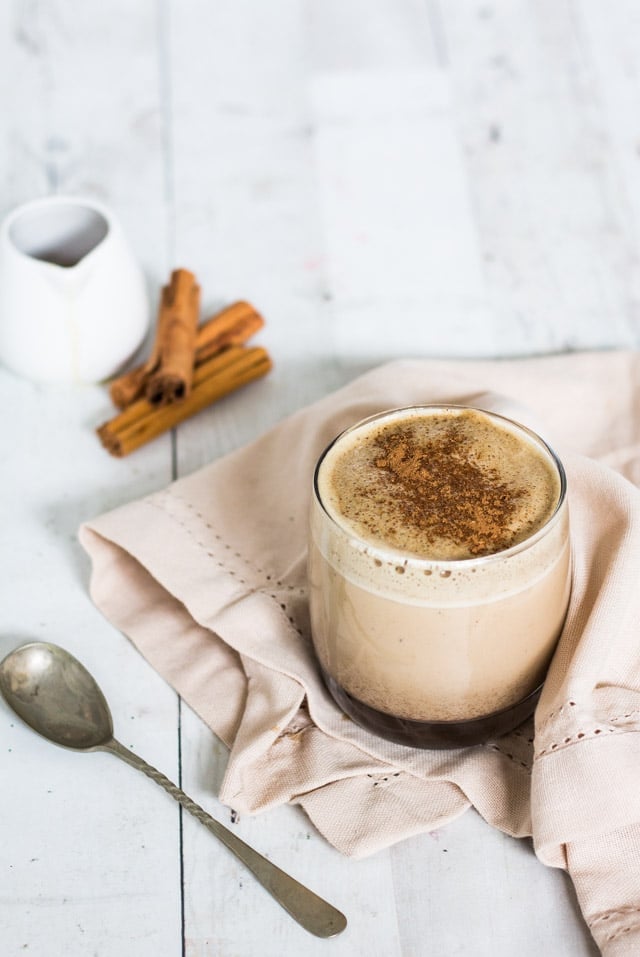 Chai Green Tea Spiced Latte
If you just want the recipe, then feel free to click on the 'Jump To Recipe' button above. If you want some tips, tricks and serving suggestions for the recipe, you will find them in the post below. I try to include only useful information.
Get all of the comforts of a spiced latte at home with the addition of the benefits you get from matcha green tea, cinnamon, and nutmeg.
This Homemade Spiced Latte is naturally sweetened with maple syrup (or honey if you prefer), so no need for refined sugars.
Great as a comforting warm drink by itself, or poured over some ice for that comforting taste without the need for a hot drink.
You will need:
almond milk or milk of choice
ground cinnamon
vanilla extract
ground nutmeg
maple syrup or honey for serving
extra cinnamon or cacao for serving
This green tea latte also works well as a creamer for your morning coffee if you want those Fall flavors but need more of a caffeine hit to get going in the morning.
Simply store in a glass jar with a lid in the fridge and add it in place of your normal milk or creamer in the morning.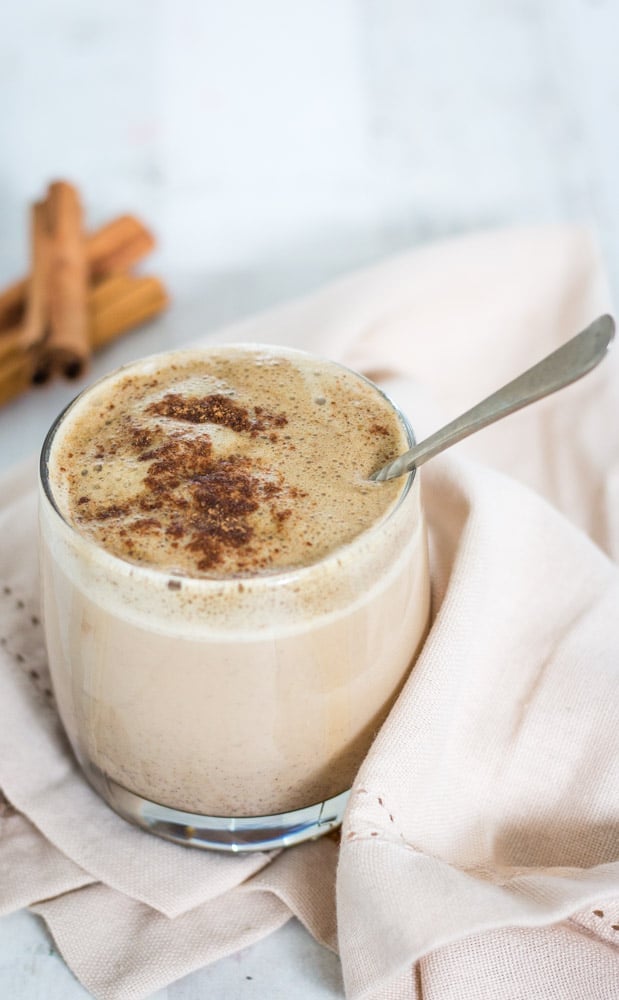 What Are The Potential Benefits of Matcha?
Matcha is a bit of a powerhouse of goodness. It:
is loaded with antioxidants: in fact it contains about 3 times more antioxidants than those found in other high quality green teas;
it may help improve cholesterol and blood sugar levels;
it may help reduce the risk of heart disease;
matcha boosts energy and metabolism;
it increases focus, and
can help improve skin health
Needless to say, it is a pretty powerful little powder!
How To Make This Matcha Chai Green Tea Spiced Latte Recipe (Don't Worry It's Easy!)
For those that haven't used matcha before, it can be a bit intimidating.
There are blends you can buy in places like Trader Joe's that will more or less dissolve in milk, which makes them sure easy to use.
However, they tend to be loaded with refined sugar, and other unnecessary ingredients, so it is best to avoid them where possible.
Look for plain matcha powder where possible.
The problem with plain matcha powder is that it does not dissolve as well, especially if you aren't preparing your matcha in a more traditional way, with a small whisk.
Although I love the tradition and calmness that comes with preparing matcha in that way, I just don't have the time or patience.
There are two ways to approach this:
You can do what I do in this recipe and blend all of the ingredients together in a high-speed blender which helps the matcha to blend a lot quicker;
Or you can simply strain your drink before serving.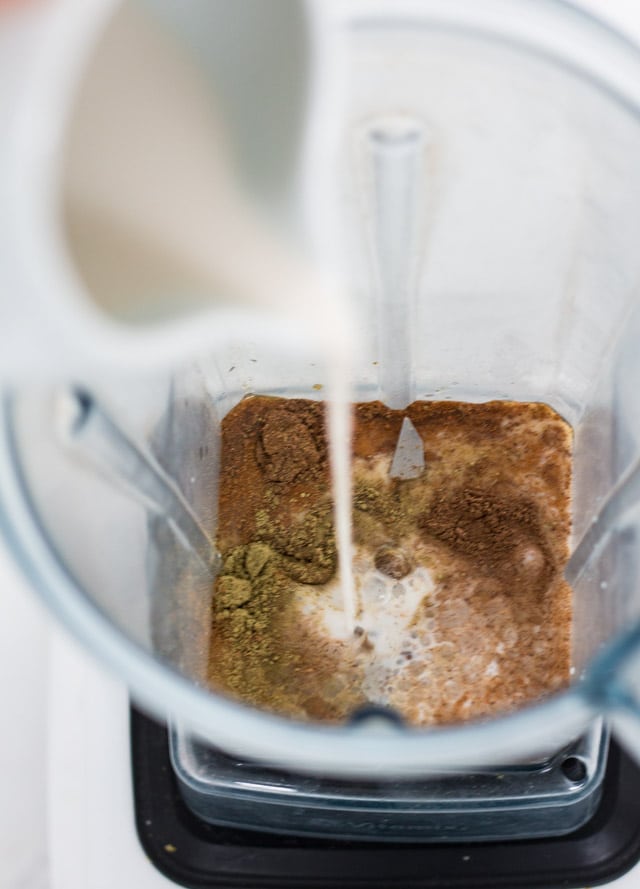 I apologise if this offends the purists out there.
That is not my intent.
If you haven't used matcha before and would like some guidance on what brand to use, I have been using this one for a few years now and find it to be consistent in taste and texture:
How To Serve Up A Green Tea Latte
Now there are two ways you can use this little recipe. You can:
add some extra heated milk, a drizzle of maple syrup (or honey if that's what you prefer), and serve as is (goes well with a rainy night and a blanket on the porch),
OR, you can use it as a delicious creamer in your coffee in the morning (goes well with a strong coffee and a will to carry on).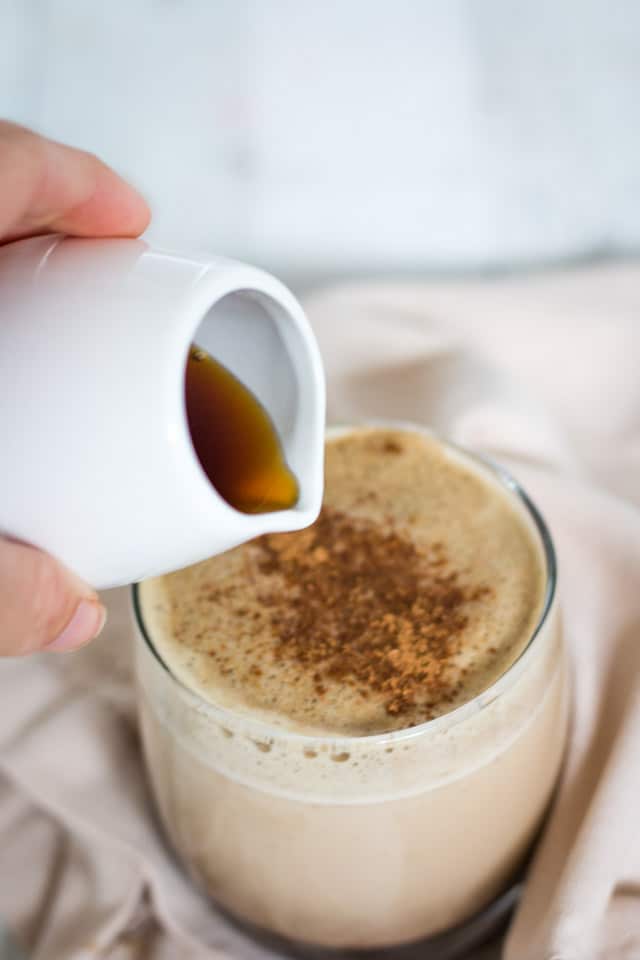 Chai Green Tea Latte or A Dirty Hippy?
I have been adding mine to my coffee as a creamer all week, and I am totally hooked.
I think the cool kids are calling green tea, chai latte, coffee concoctions Dirty Hippies these days, but that name just doesn't appeal to me....
So we will be going to go with the oh-so-sophisticated Green Tea Chai Spiced Latte.
Your morning coffee will never be the same!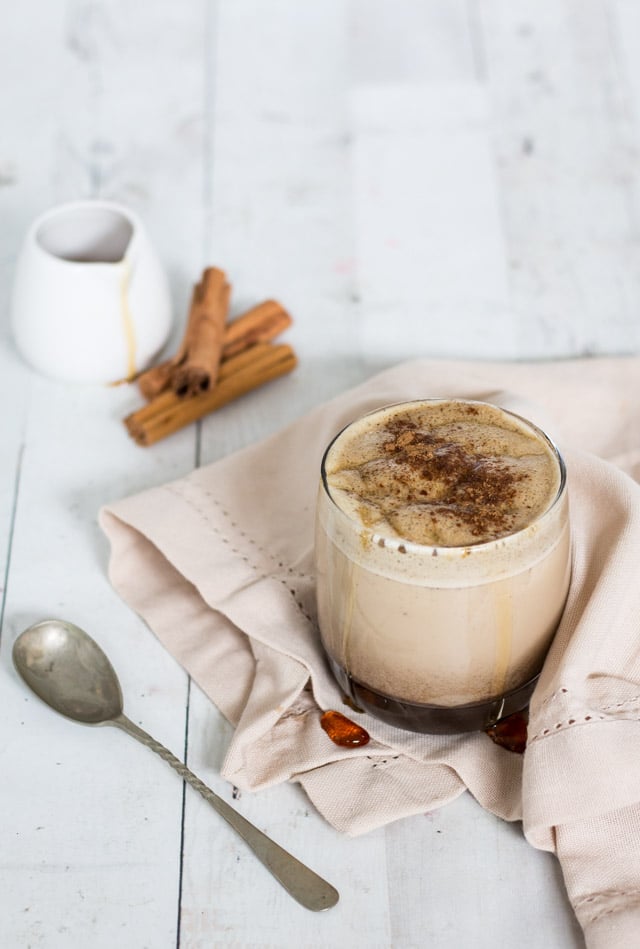 Have you tried a dirty hippy/green tea chai spiced latte?
I would love to hear your thoughts, be sure to leave a comment, like on Facebook or pin to Pinterest for later.
If you are looking for more homemade comforting drink options, then check these out:
Happy drinking.
xx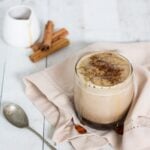 Print Recipe
Green Tea Chai Spiced Latte
Move over pumpkin spiced latte....this green tea chai spiced latte will warm you up on those chilly Fall nights. Perfect as is, or added as a delicious creamer alternative to your morning coffee
Instructions
Pop all ingredients into a blender and blend until combined (this step is optional, but helps with blending the spices)

Pop the mixture into a small saucepan over medium heat. Heat until the mixture reaches your desired temperature

Remove from heat and serve immediately as is, topping with some extra frothed milk and a dust of cinnamon or cacao and some honey/maple syrup to sweeten if desired

OR chill and use as a creamer in your morning coffee
Notes
As the spices used in this mix are natural products, sedimentation of the spices may occur. Simply strain before serving if you would like a smoother drink, although using the blender to blend prior to heating should help.
To use as a creamer, keep stored in a glass jar with a lid in the fridge until ready to use. Pour some into your coffee when ready to serve.
Nutrition
Calories:
31
kcal
|
Carbohydrates:
4.6
g
|
Protein:
0.5
g
|
Fat:
1.1
g
|
Saturated Fat:
0.1
g
|
Sodium:
80
mg
|
Fiber:
0.9
g
|
Sugar:
3.3
g
The information shown is an estimate provided by an online nutrition calculator. It should not be considered a substitute for a professional nutritionist's advice.
Don't forget to follow Whole Food Bellies on Pinterest for more recipe inspiration! Or if Pinterest isn't your style, bookmark this post! Let's keep the conversation going- join my Facebook group!
If you enjoyed this recipe then you might want to try these:
If you tried this recipe please comment and rate it. I love hearing your feedback and answering your questions! And if you make this please tag me on Instagram with @wholefoodbellies so I can share it <3